This recipe for making yourself a yummy chocolate danish at home is easy, fun, and a great way to experiment with puff pastry!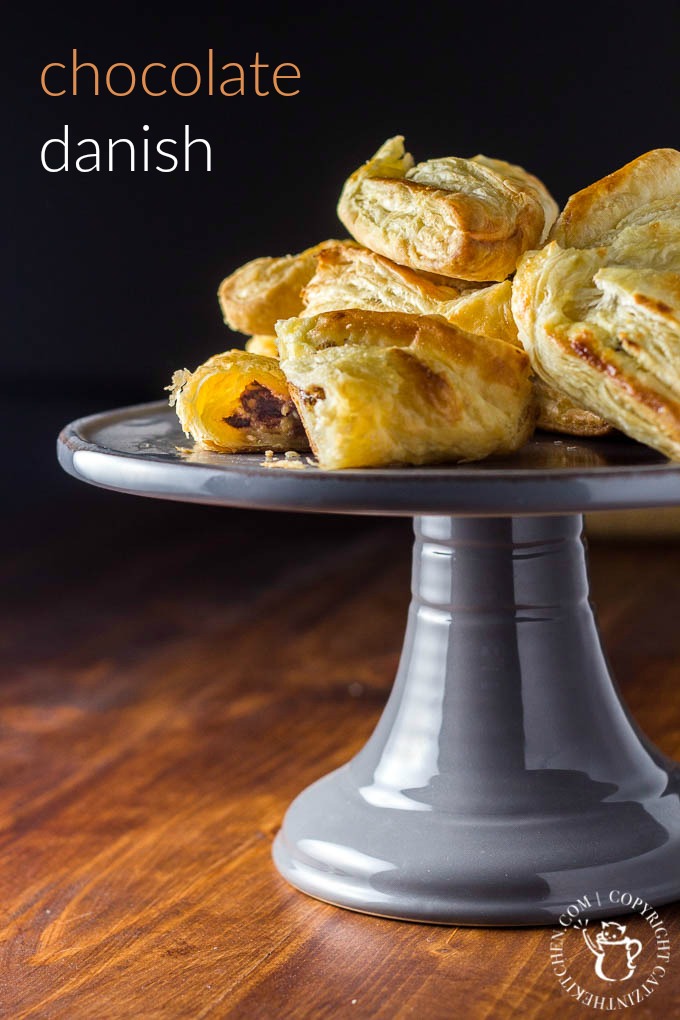 So…we've been playing with puff pastry a bit, as you may recall from this Easy Marionberry Danish post from December. We haven't tried anything particularly fancy or challenging yet, and we certainly don't feel ready to try making our own puff pastry from scratch (so, in the meantime, thanks, Pepperidge Farm!). Right now, it's just a lot of fun to try these simple fillings, usually with help from the kiddos, and glory in the fluffy, flaky, buttery goodness as it emerges from the oven.
I think Chels was the one who originally came across Giada's recipe for chocolate and cheese danishes. Once found, we obviously had to make them. We had puff pastry in the freezer, we had mascarpone and cream cheese in the fridge…it was meant to be!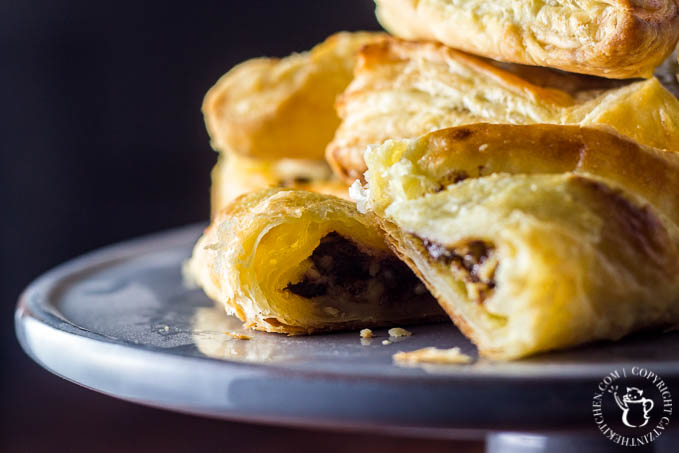 I guess I see this chocolate danish recipe as a quick and easy solution to my (frequent) craving for pain au chocolat. Grabbing a chocolate croissant at a local pâtisserie is wonderful, but not always practical, and, depending on the number of minions you have in tow (talking to you, fellow parents!), not always cheap! Those craveable little pieces of French butter and flour heaven are worth every penny, but sometimes those pennies add up faster than I'd like…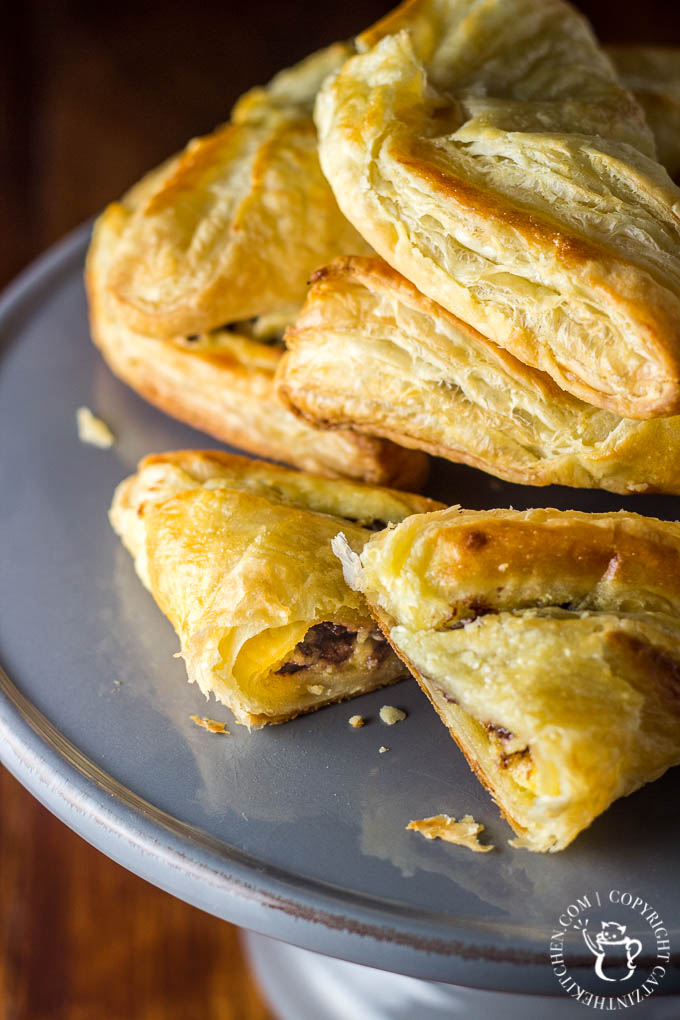 Granted, if you have to actually go out and buy puff pastry, mascarpone cheese, cream cheese, vanilla, sea salt, chocolate…that will add up a bit. Chances are, though, if you do any baking, you've got at least a few of those things in the pantry, fridge, or freezer already. If not…keep an eye out for sales and build up your stock! If mascarpone isn't on your normal grocery shopping list, most stores will carry it with their specialty cheeses in a little tub, and Trader Joe's is a great place to grab some. Grab a few extra and make tiramisu cake!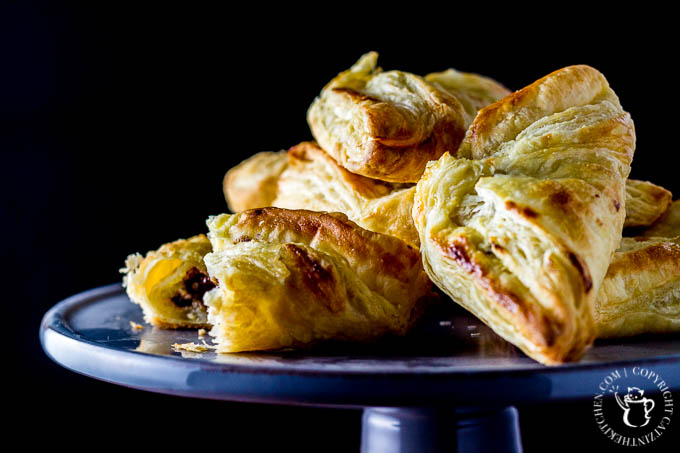 Our kiddos gobbled these up, as you can imagine – though Chels and I grabbed a couple as well! Way too yummy to last. Now, to pick up some more puff pasty and decide what to try next…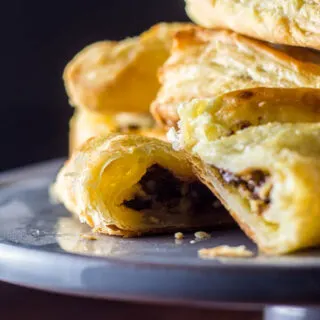 Chocolate Danish
This recipe for making yourself a yummy chocolate danish at home is easy, fun, and a great way to experiment with puff pastry!
Ingredients
2 sheets frozen puff pastry
1/2 cup chocolate chips (semi-sheet or dark)
2 eggs
1 tbsp flour
3 tbsp sugar
1/4 cup cream cheese
1/4 cup mascarpone cheese
1/2 tsp vanilla
1/8 tsp sea salt
Instructions
Set out puff pastry to thaw for recommended period of time (typically about 30-45 min).
Line two baking sheets with parchment paper and preheat oven to 400 degrees.
Separate one of the two eggs into yolk and white. You won't need the white for this recipe - make an omelette!
Mix together mascarpone cheese, cream cheese, flour, sugar, vanilla, salt, and egg yolk in a small bowl until smooth, and then fold in chocolate chips.
Cut each sheet of puff pastry into four square pieces, for eight square pieces in total. Place four pieces on each prepared baking sheet.
Spoon a couple of tablespoons of the filling into the center of each pastry square.
Fold pastry squares as desired (simplest is to fold one corner diagonally to the opposite corner, but we have some other ideas for you in this previous puff pastry post.
Beat remaining egg in a very small bowl, and brush egg wash on exposed portions of puff pastry.
Bake for 10-15 minutes, or until golden and puffy. Let sit for 3-5 minutes before serving.
Nutrition Information:
Yield:

8
Serving Size:

1
Amount Per Serving:
Calories:

219
Total Fat:

16g
Saturated Fat:

8g
Trans Fat:

0g
Unsaturated Fat:

7g
Cholesterol:

73mg
Sodium:

155mg
Carbohydrates:

17g
Fiber:

1g
Sugar:

11g
Protein:

4g