If this hearty and mellow recipe for pumpkin slow cooker turkey chili doesn't get you in the fall spirit, I don't know what will!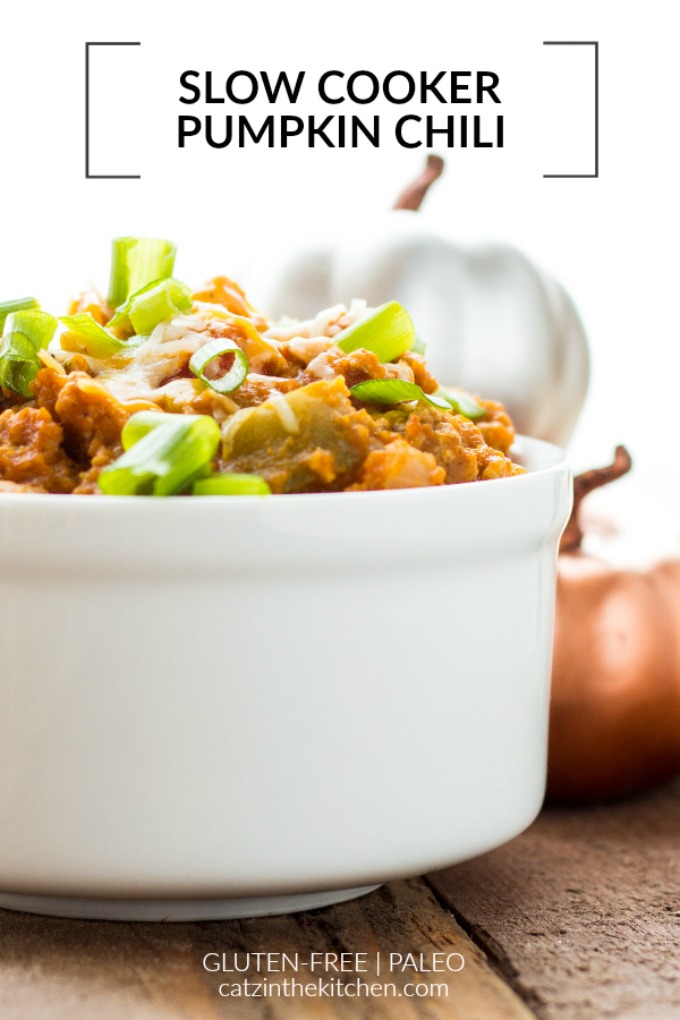 This recipe for Slow Cooker Turkey Chili with pumpkin first appeared on Catz in Oct 2014. It remains a family favorite, and also happens to be naturally gluten-free and paleo, for those on specific diets. It's been updated and re-photographed just in time for fall!
Today is a very stormy day. The wind howled all night; the rain has poured all day. A neighbor's tree branch even fell into our yard. The weather is "a perfect recipe" for chili and I'm also fulfilling a promise I made on sharing more pumpkin recipes! How's that for killing two birds with one stone?! By the way, where did that phrase come from? That's awful! Who gets their kicks from killing birds with stones?
Anyways…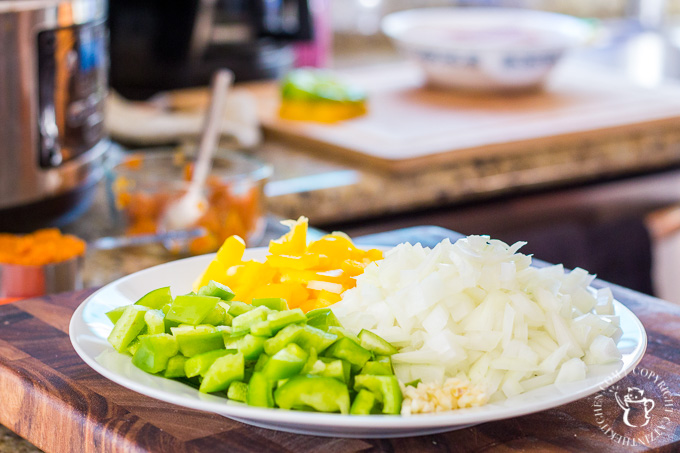 My crockpot becomes my best friend during the fall and winter months. Don't get me wrong, I use her all year long, but especially during the school year season. Since I homeschool, a lot of times the last thing I want to worry about is how I'm going to get dinner on the table when I'm already so tired at the end of the day. I'm usually the most motivated in the mornings. I like to get things done and out of the way (like cleaning), so I can spend time later in the afternoon doing other things.
That's why the crockpot is so wonderful! Dinner gets assembled in the late morning or early afternoon and cooks all day, allowing the whole family the indulgence of the good smells coming from the kitchen for hours!
Sometimes, I'll go in and out of the garage a few times just to get that "first" smell all over again…
'Cause I'm weird like that.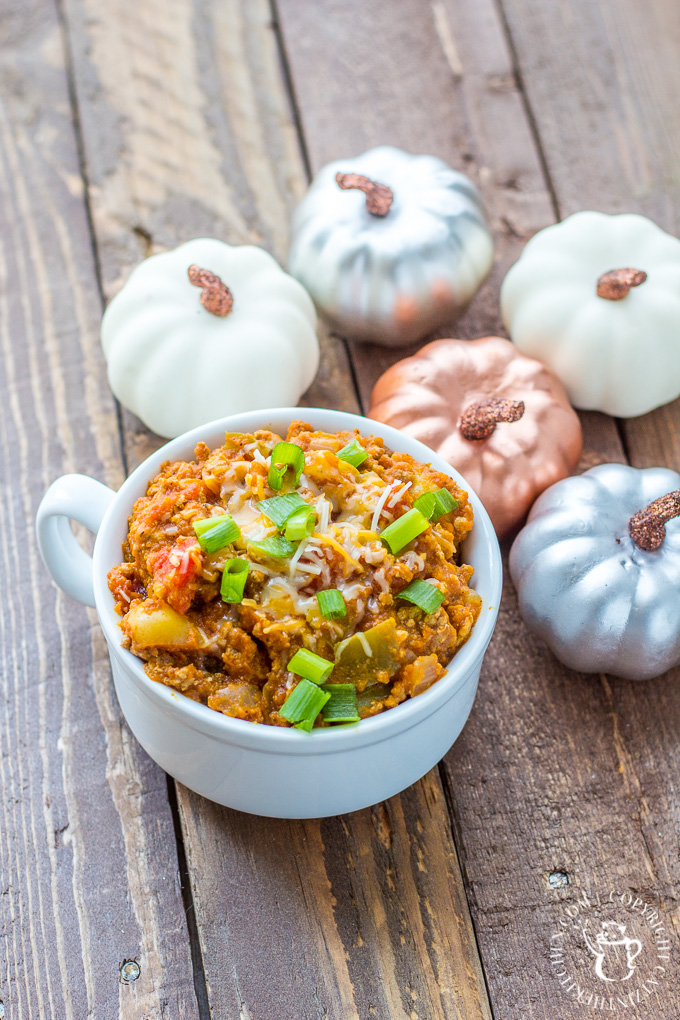 Also, it's nice to hear from your hubby that whatever is cooking "smells so good" and "when is dinner?" I can always say, "Dinner is ready when you are!" So that is what is so good about crockpots. Dinner cooks for a specific amount of time and then when it's done, it can stay in the crockpot on a warm setting. Just waiting for you, whenever you're ready!
Ah, modern day technology! So thankful! Well, sometime. And how modern is a slow cooker, anyway?
This pumpkin slow cooker turkey chili is awesome. It's chunky. It's hearty. It's full of flavor. It's full of vegetables and meat. It's also not too pumpkin-y. You know how certain flavors are just overpowering? This is not. It has a nice deep and mellow flavor that will not overpower your taste buds in the least. Top your chili with some shredded sharp cheddar cheese, a dollop of sour cream, some chopped green onion, a splash of hot sauce, and serve with cornbread, and you've got yourself one perfect meal for a stormy autumn night.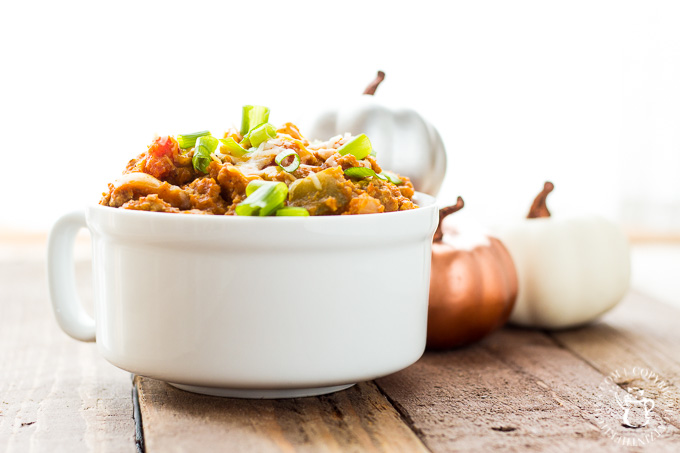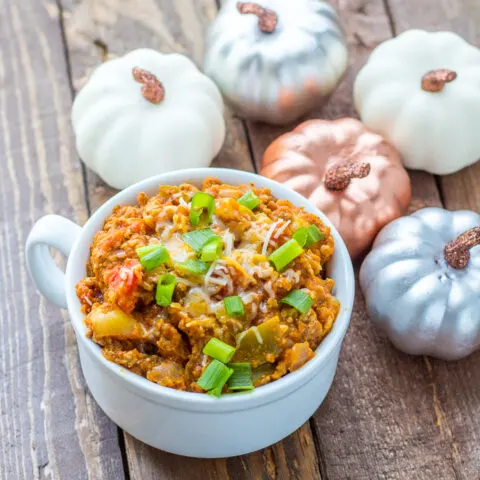 Pumpkin Slow Cooker Turkey Chili
Total Time:
4 hours
15 minutes
If this hearty and mellow recipe for pumpkin slow cooker turkey chili doesn't get you in the fall spirit, I don't know what will!
Ingredients
1 lb ground turkey
1 tbsp extra-virgin olive oil
1 green bell pepper, chopped
1 yellow bell pepper, chopped
1 cup onion, chopped
1 clove garlic, minced
1 (15 oz) can diced tomatoes
2 cups pumpkin puree
1 1/2 tbsp chili powder
1/2 tsp black pepper
Dash of salt
Instructions
Heat oil in a large skillet. Sauté onion, peppers and garlic until tender. Stir in ground turkey and cook until browned and cooked all the way through.
Pour turkey and veggie mixture into your crockpot. Mix in tomatoes and pumpkin. Stir in seasoning.
Cover and cook on low for 4-5 hours. Top with shredded cheddar cheese and sour cream.
Nutrition Information:
Yield:

6
Serving Size:

1
Amount Per Serving:
Calories:

285
Total Fat:

16g
Saturated Fat:

4g
Trans Fat:

0g
Unsaturated Fat:

10g
Cholesterol:

80mg
Sodium:

190mg
Carbohydrates:

16g
Fiber:

5g
Sugar:

6g
Protein:

21g
Nutrition information isn't always accurate.