Craving the crunchiness of pie crust and the gooey sweetness of apple pie filling? Try these healthy apple pie egg rolls and skip the guilt!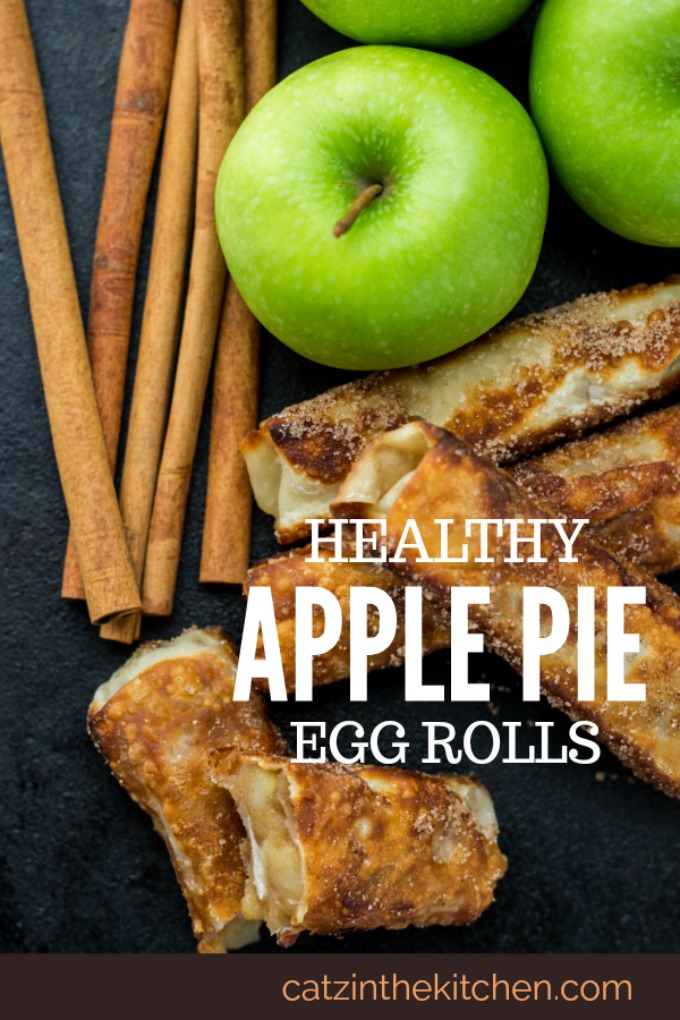 So, Chels found this amazing little recipe and suggested it for me to make…because I do the hot oil around here…and the egg roll wrappers…so this one was definitely going to be me. And I was fine with that for a couple of reasons. One, I love apple pie. Two, I love appetizers that involve egg roll wrappers. I mean, have you had the Avocado Club Egg Rolls at California Pizza Kitchen? Have you?
They're good. And so are these apple pie egg rolls.
Of course, I wasn't all on my own in the kitchen. Gracie was a big help, as always, and Mr. Christian gets seriously stoked anytime we break out the apple peeler. I can't blame him – it is a pretty epic old school piece of kitchen machinery. It's metal, it has a crank handle, you have to oil it before you put it away…even guys can get into this kind of kitchen accessory. It's like the Tonka truck of kitchen gadgets.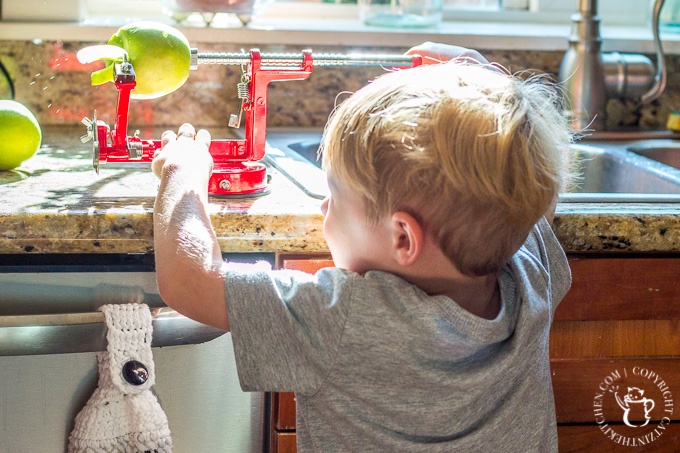 In fact, Chels and I have meant to give one of these away for awhile, ever since we made this chai apple butter last year! Let's go ahead and do that, shall we? The specific one we have has been out of stock for awhile, but we found another one that appears to be exactly like it, made by the same manufacturer, and so on. We think you'll love it as much as we do!
Apple Peeler, Slicer and Corer Giveaway!

Once you run the apples through the peeler and slice them up, they'll look something like this: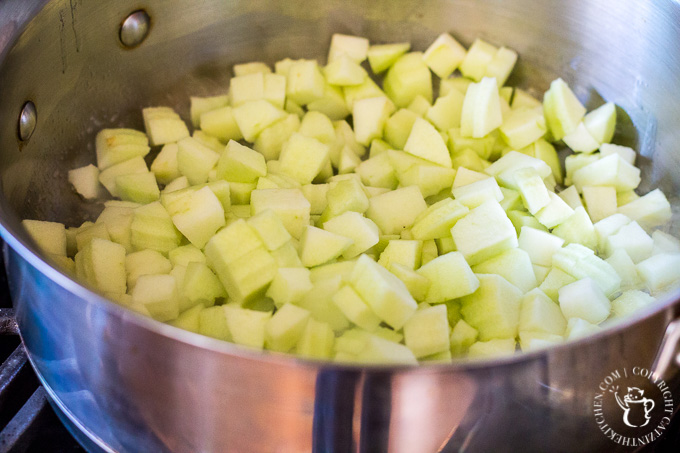 And, once you've cooked them down for your filling, they'll look more like this: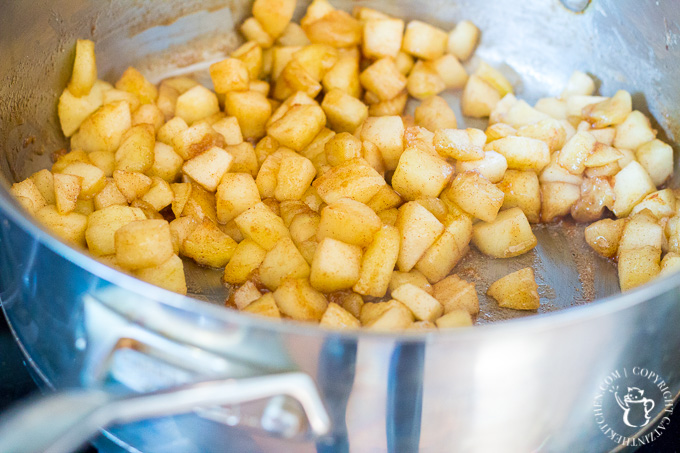 Now, the recipe calls for five cups of apples, but you could definitely throw in a couple more if you want your egg rolls to be really full! Set yourself up with a good egg roll rolling station and a nice basting brush (or finger) for wetting the edges, and go to town. Once you get your system down, this part will go fast! (If you need a refresher on rolling egg rolls – or if it's new to you! – Instructables has a great guide).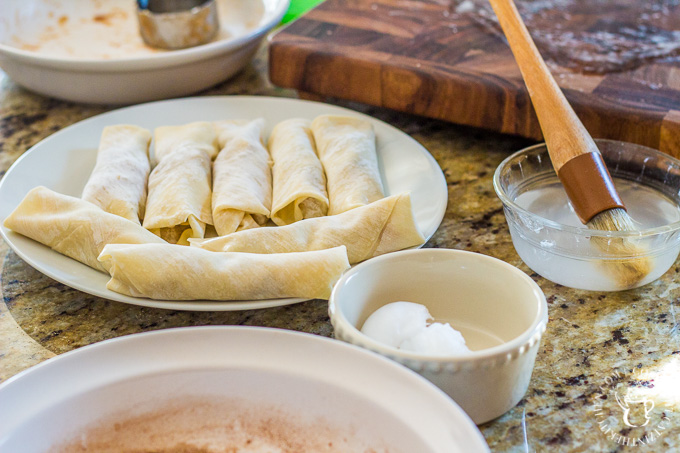 I found I needed to add a bit of additional coconut oil as I went through the frying process, so feel free to do that as needed. When they're done, they should be golden brown, crispy all the way around, and, frankly, really hot. I set mine on a cookie cooling rack as they came out of the pan.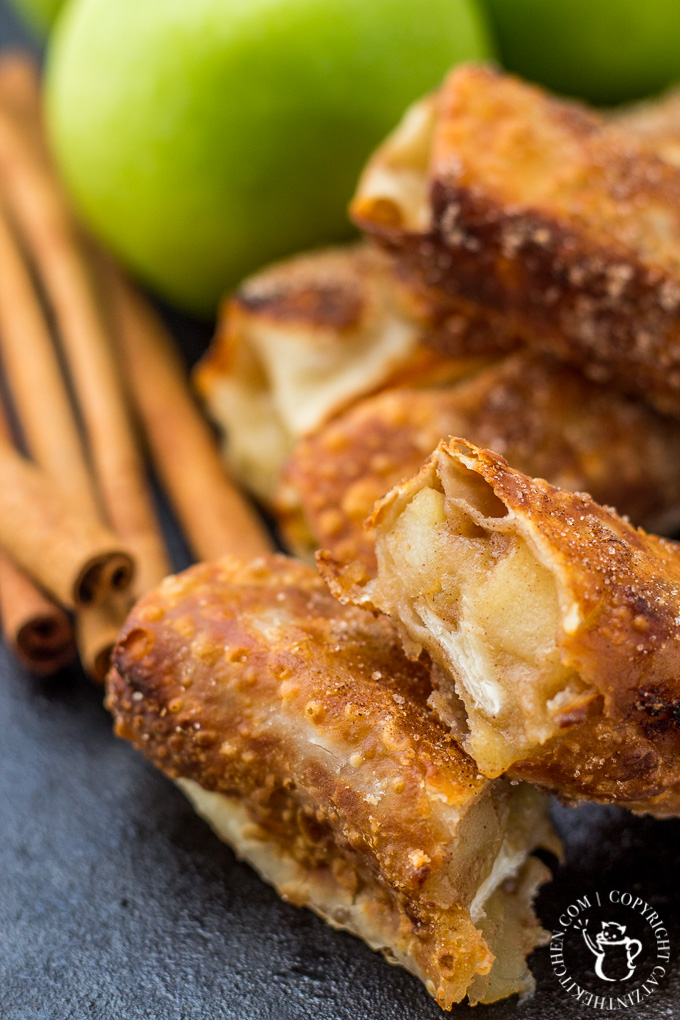 I think what really blew me away about these fun little egg rolls was how much they tasted exactly like apple pie. But…and this is a big but…that's if the whole apple pie was crispy, crumbly crust. You know, the best part of apple pie? The warm, gooey apple pie filling and the crumbly crust – the two best parts of apple pie – that's essentially all this is.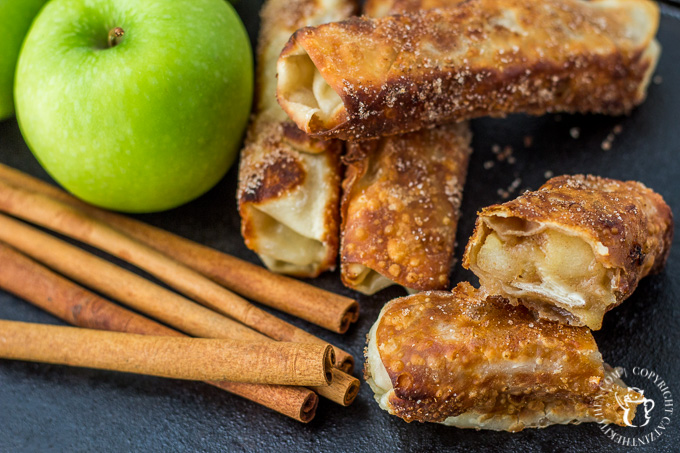 Oh, and they're a heckuva lot healthier. Eating Well claims they're about 200 calories each, and though I found myself adding a little extra coconut oil, I think they're still right around there. Compared to what you'd be dealing with for an actual apple pie…I'd say that's pretty excellent. This is a great way to get your apple pie fix without guilt, and without sacrificing flavor. Also…they're a lot of fun to eat!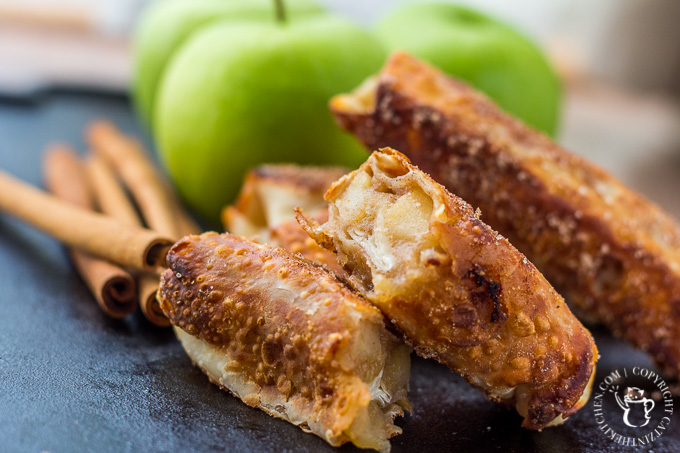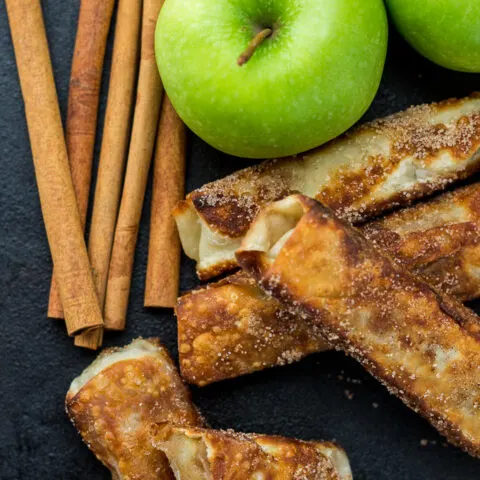 Healthy Apple Pie Egg Rolls
Craving the crunchiness of pie crust and the gooey sweetness of apple pie filling? Try these healthy apple pie egg rolls and skip the guilt!
Ingredients
2 tbsp butter
about 5 cups diced peeled apples
1/4 cup sugar
1 tbsp flour
2 tsp lemon juice
8 egg roll wrappers
2 tbsp coconut oil
1¼ tsp ground cinnamon
Ground nutmeg
Salt
Instructions
Add butter to a large skillet and cook over medium heat until just beginning to brown.
Add apples, 3 tablespoons of the sugar, ¾ teaspoon cinnamon, a pinch of nutmeg and a pinch of salt to the skillet and cook for about 6 minutes, stirring occasionally, until apples have softened.
Add flour and cook an additional 1 minute, then remove from heat and stir in lemon juice.
Lay out an egg roll wrapper on a clean cutting board and lightly wet the edges with water. Add 1/8 of the filling to the center and fold up one corner. Fold in the two adjoining corners, and then roll up tightly, laying seam side down on a plate. Repeat for remaining egg roll wrappers.
After cleaning and drying the pan, combine the remaining sugar (1 tbsp) and remaining cinnamon (1/2 tsp) in a shallow dish.
Heat oil in the pan over medium heat.
Add the egg rolls into the pan (carefully!) and cook, turning periodically until all sides are golden brown.
Dredge the hot egg rolls in the sugar and cinnamon mixture, and serve!
Nutrition Information:
Yield:

8
Serving Size:

1
Amount Per Serving:
Calories:

217
Total Fat:

7g
Saturated Fat:

5g
Trans Fat:

0g
Unsaturated Fat:

1g
Cholesterol:

11mg
Sodium:

280mg
Carbohydrates:

36g
Fiber:

3g
Sugar:

14g
Protein:

4g
Nutrition information isn't always accurate.