This warm, comforting bowl of Chipotle Turkey Chili is a perennial family favorite in our home! Apples & cheddar really top it off…literally!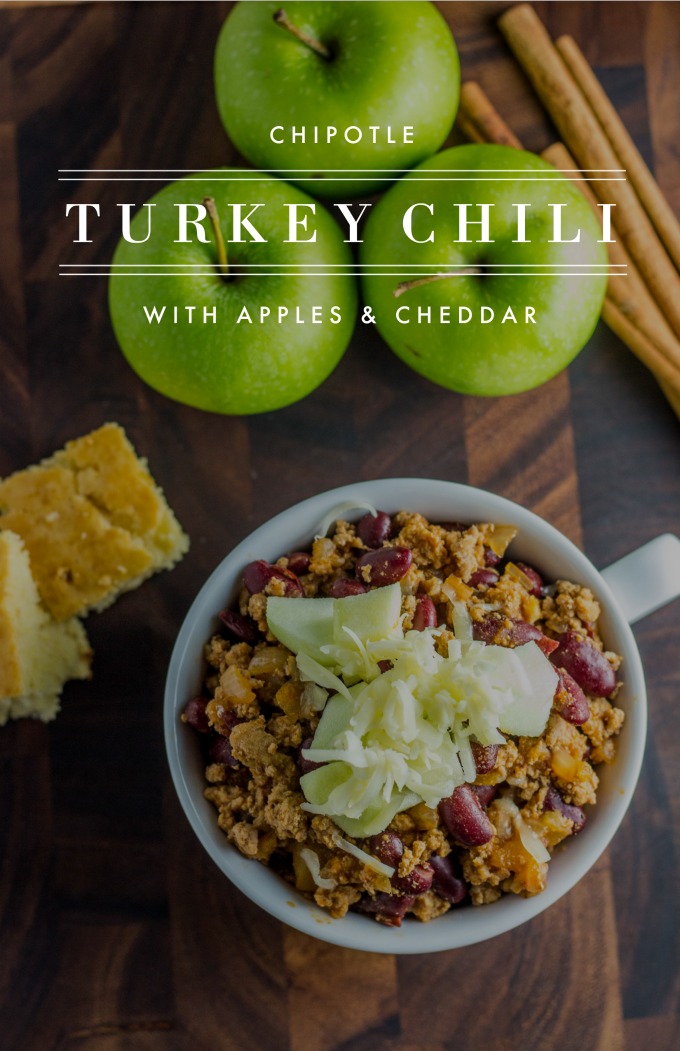 This chipotle turkey chili recipe originally appeared on Catz in April of 2014. It's a perennial family favorite from fall all the way through our rainy Pacific Northwest springtime. We've updated the photos of this tasty meal, and actually made some updates to the recipe itself. If you're looking for an easy, healthy chili recipe with a bit of chipotle smokiness, well…this is your jam.
I realize that April is not a typical time to eat chili. But here in Oregon, we're still having days of 45-50 degrees and rain. The days when I know rain is forecasted, I really enjoy serving my family comforting food. Chili is comforting and this is hands down, probably my favorite chili recipe with the crockpot sweet potato and turkey chili coming in a close second.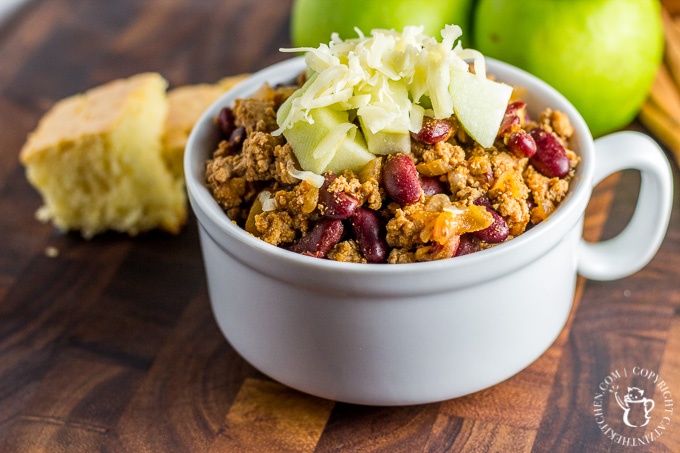 You have no idea HOW MANY TIMES I've made this chili, with the intention of taking pictures and posting it here for you. In fact, Josh walked in the door from work while I was snapping pictures of this and said, "I thought you blogged this already?" That's how many times I've made this and taken pictures and the pictures never turned out. I'm not even completely satisfied with these. But, I was losing light and Josh and the kids had to hurry and eat before they were to leave for Awana. So, they are what they are.
This chili has so many different levels of flavor. Every time I make this, I'm kind of in shock because it doesn't take hardly any time to prepare. What's even better is that my kids LOVE this chili. Christian gobbles up everything in his bowl, which is kind of unbelievable because he is the kid we fight the most on getting to eat his meals. Josh and I have come to learn that he likes things with a tex-mex kind of flavor to them and while I wouldn't call it Mexican, it does have a southwestern flavor to it.
I did adapt this recipe a bit to suit my families needs. The original recipe called for like two pounds of ground turkey, which just seemed like an awful lot to us, so I made it with just the one pound the first time. But then we felt while the flavors were incredible…there seemed to be some missing ingredients.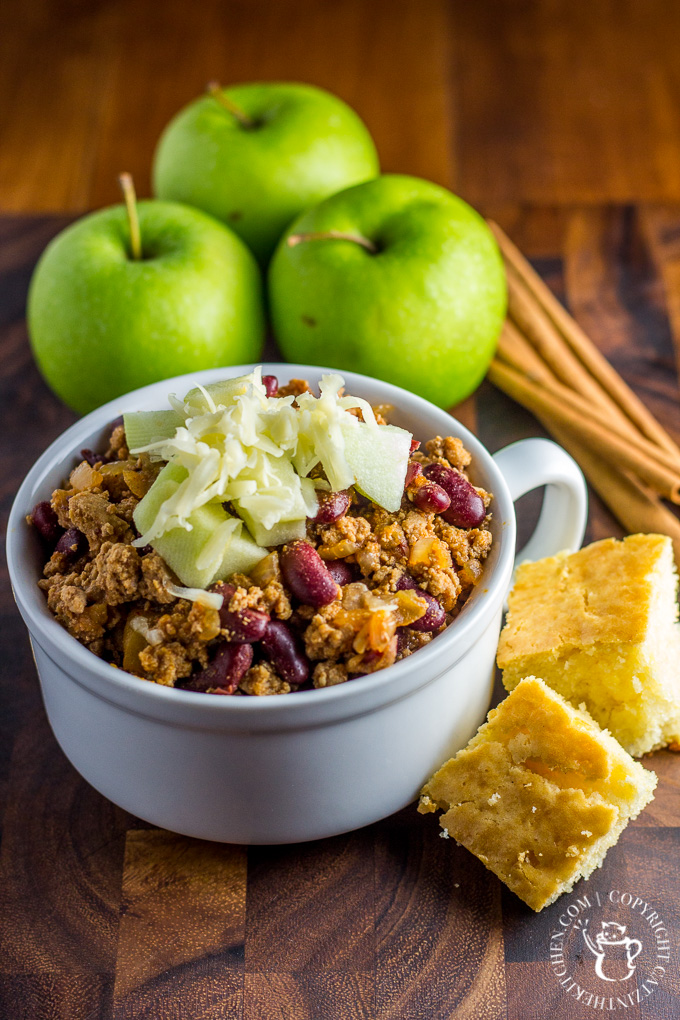 Josh suggested instead of adding the extra pound of ground turkey, we bring in a can of black beans and corn. I've also played with the heat level a bit as well, because I'm feeding this to my kids and they are like me and a little finicky to anything spicy. So I don't use a whole can of chipotle in adobo (though you are more than welcome to). When Josh and I cook with a can of chipotle, we blend everything up in the food processor and then freeze it in tablespoon increments so none of it goes to waste. Because once you open a can, you're kind of stuck with it. So for my family, a tablespoon of chipotle in adobo puree is about perfect. I have put in two tablespoons before and I liked the flavor, but the kids objected. I guess you could say it's been a good thing I've waited so long to post this chili because it's about perfect now!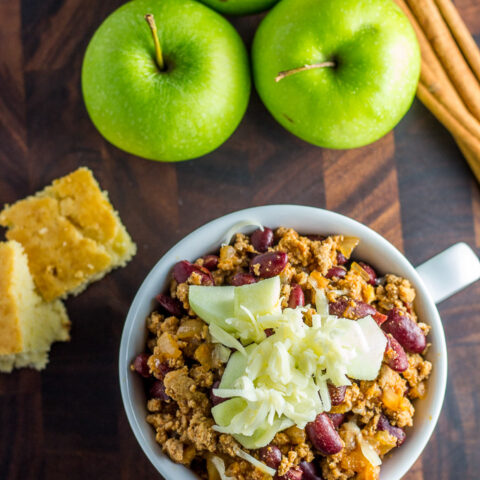 Chipotle Turkey Chili with Apples and Cheddar
This warm, comforting bowl of Chipotle Turkey Chili is a perennial family favorite in our home! Apples & cheddar really top it off...literally!
Ingredients
1 tbsp extra-virgin olive oil
1 lb. ground turkey breast
1 (15 oz can) kidney beans, drained and rinsed
1 cup frozen corn, thawed
1 tbsp chipotle in adobo, plus sauce
Salt and pepper, to taste
1 1/2 tsp ground coriander
2 tsp ground cumin
2 tsp smoked paprika
1 small yellow onion, diced
2 cloves garlic, minced
3 green apples, peeled and diced
1/2 lemon, juiced
1 cinnamon stick
2 bay leaves
1 1/2 tbsp tomato paste
3/4 cup chicken broth
1/2 cup apple cider
Shredded white sharp cheddar cheese
Instructions
Heat olive oil in a large dutch oven (or heavy pot) over medium-high heat. Add the ground turkey and cook until browned, breaking it up.
Using a food processor, puree the chipotles and sauce. Stir in 1 1/2 tbsp of chipotle pepper puree into the meat and season with salt and pepper. (Freeze the remaining chipotle puree measuring out a tablespoon into ice cube trays and store in freezer bag) Stir in the coriander, cumin, paprika, onion, and garlic. Add in one peeled and chopped green apple to the chili.
Peel and chop the remaining 2 apples and dress with lemon juice in a small bowl, set aside.
Add the cinnamon and bay leaf to the chili and cover and cook on low for 10 minutes, stirring occasionally. Stir in the tomato paste, broth, and cider and simmer for an additional 10 min.
Top the chili with shredded sharp white cheese and reserved apples.
Nutrition Information:
Yield:

6
Serving Size:

1
Amount Per Serving:
Calories:

317
Total Fat:

8g
Saturated Fat:

2g
Trans Fat:

0g
Unsaturated Fat:

5g
Cholesterol:

59mg
Sodium:

504mg
Carbohydrates:

38g
Fiber:

7g
Sugar:

19g
Protein:

30g
Nutrition information isn't always accurate.