It's chocolate cake with a little subtle something extra! Perfect for any birthday or holiday celebration, this chocolate malt cake is delicious!

In this house, birthdays are a big deal. Not a flashy big deal, but an important day. People you can have fun with, thoughtful gifts, and…my favorite part…cake!
But, more than anything else, I just love to celebrate the special people in my life.I remember praying that I would have a birthday buddy, someone to share the month of December with because when your birthday is so close to Christmas it can be kind of lonely – most people are ready for the Christmas hoopla to be over! They don't really want to try and fit one more thing into the already crazy busy holiday schedule.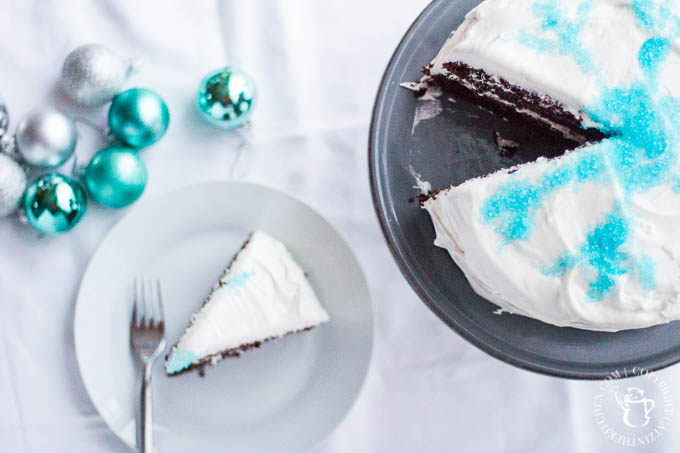 So…when Christian was born a week before my birthday, it felt perfect to me, like an answered prayer! Christian is going to be five years old soon and I'm so not ready to celebrate that bittersweet birthday milestone. I still feel as if he was just a baby. I remember his birth perfectly and watching him grow through the years has been such a beautiful, enjoyable blessing. He is such a sweet, funny, smart little guy – but how is he almost five years old?!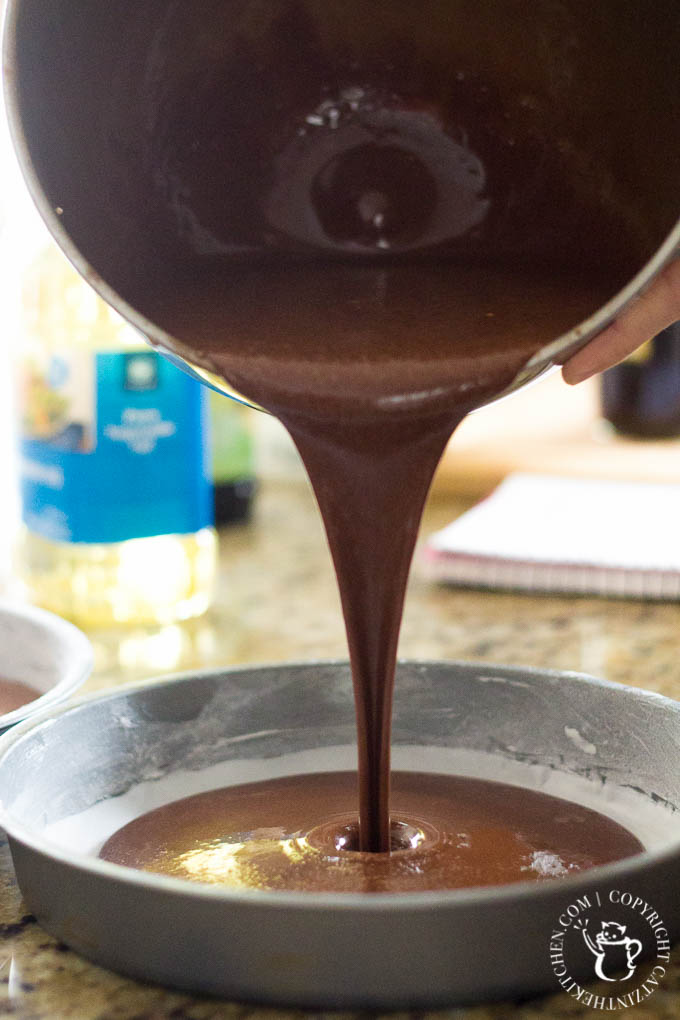 Even though I'm having a hard time watching him grow up, I do want him to feel like his birthday is a very happy and special day. I don't want to associate with a bit of sadness at all – which is why I'm already asking him what he wants for his birthday dinner (Dino Chicken Nuggets from Costco and Kraft Mac and Cheese – really?) and planning to remake this Chocolate Malt Cake that I made him last year for his birthday.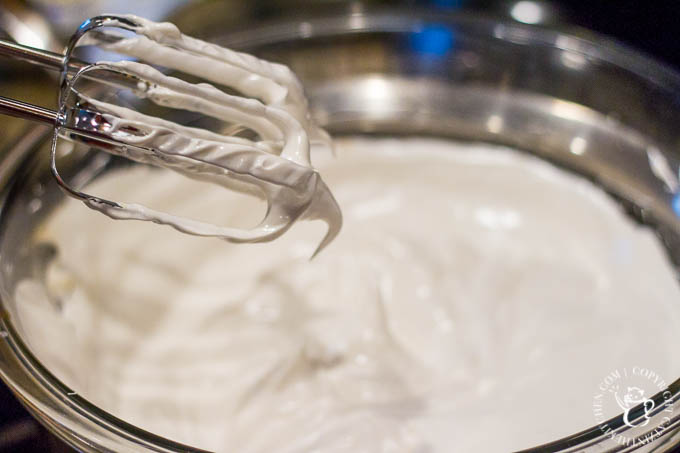 Yes, these pics are from last year's cake, but I didn't get a chance to share it in time for Christmas. Last year all he told me he wanted was a chocolate cake with white frosting and sprinkles. Well, I knew I could do that! (Last year, he wanted macaroni and cheese, too – but we made it with fancier cheese, at least.)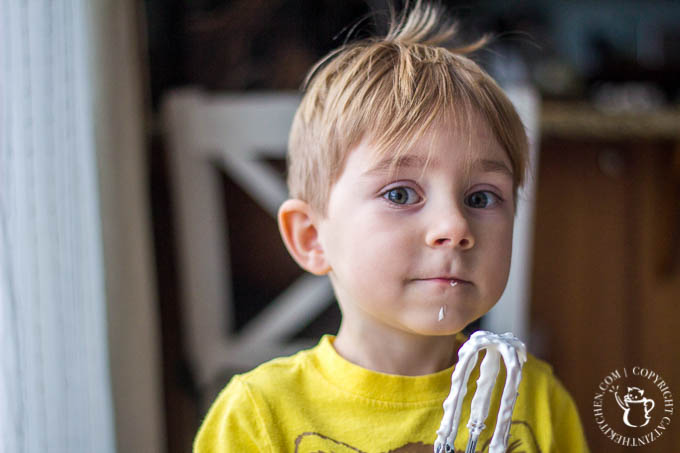 My husband's favorite kind of milkshake is a chocolate malt, so I thought that would make a fun cake flavor, and I knew for the white frosting, nothing else would do except my grandma's 7-minute frosting! ( I do plan on doing a separate post for the frosting later.)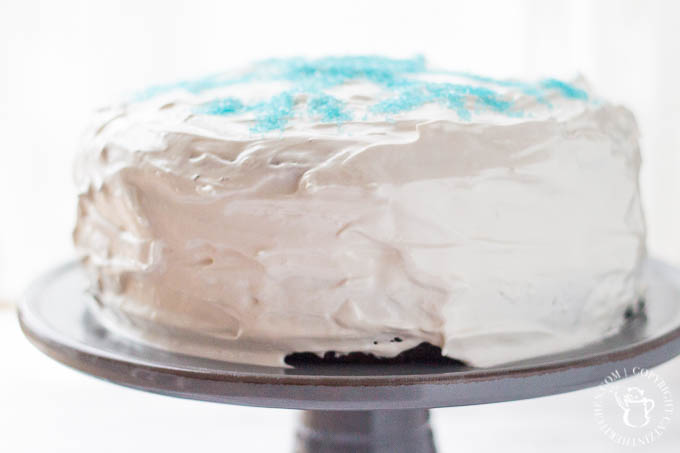 Christian has requested the same cake this year, except with mint-flavored frosting, so I'll just add a little peppermint extract to the frosting for this year's cake, which will be delicious with the chocolate malt cake and very fitting for the time of year we're in.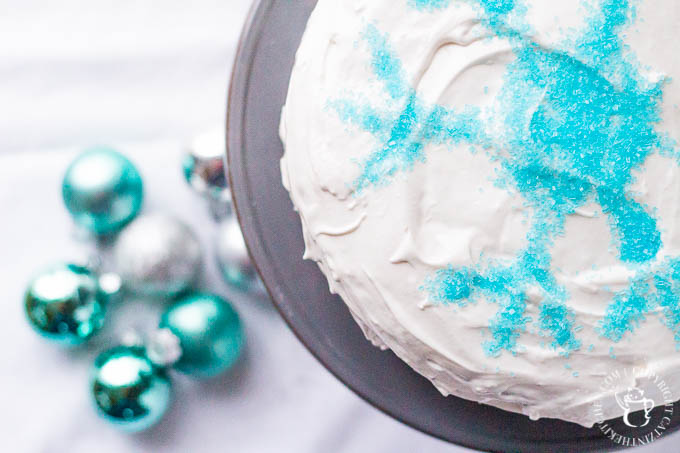 And I suppose since he only turns five years old once, he can have his Dino nuggets and and Kraft macaroni and cheese for his dinner. However, between you and me, I did try to bribe him with homemade nuggets…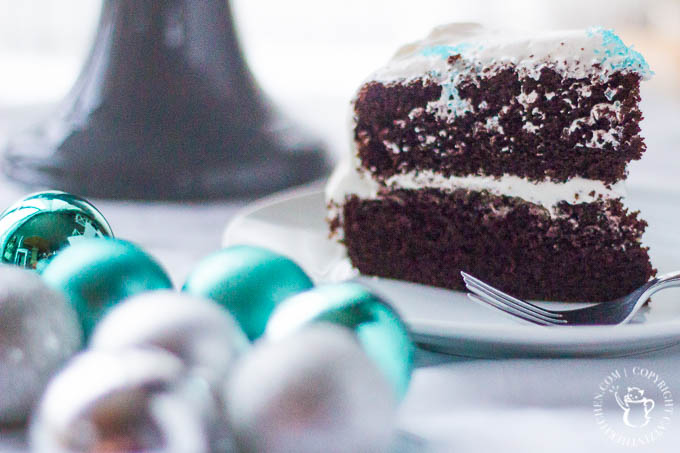 If you're in need of a delicious chocolate cake, you'll love this chocolate malt cake, easy and delicious!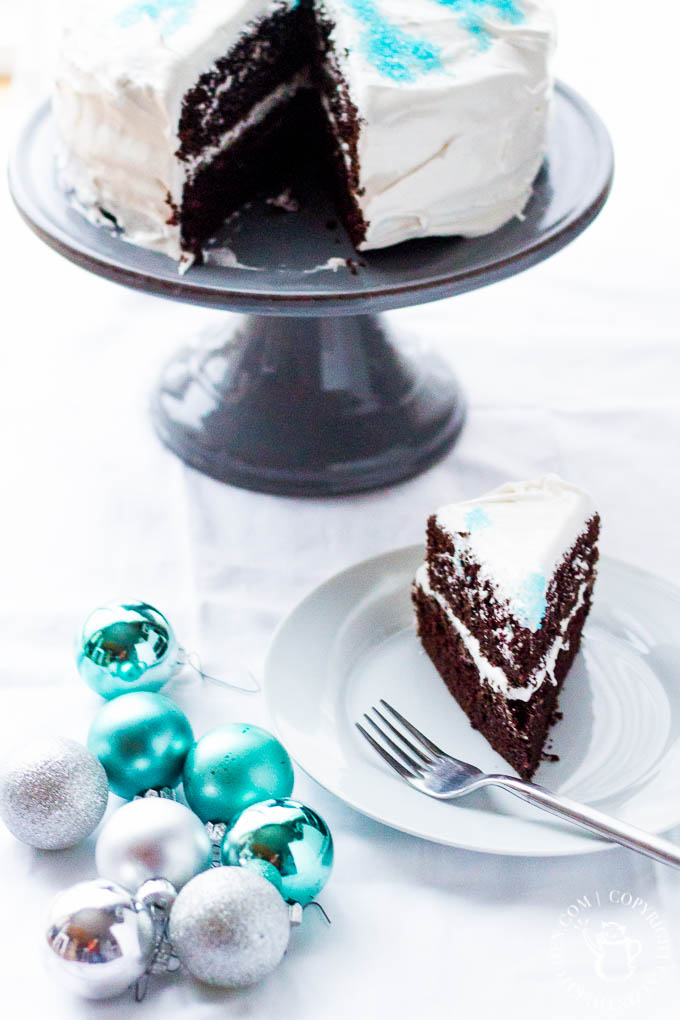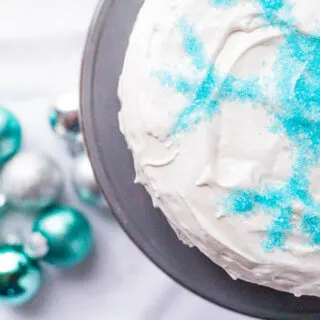 Chocolate Malt Cake
Total Time:
1 hour
20 minutes
It's chocolate cake with a little subtle something extra! Perfect for any birthday or holiday celebration, this chocolate malt cake is delicious!
Ingredients
Cake Batter:
1 3/4 cup all-purpose flour
1/4 cup malt powder
1 3/4 cup sugar
3/4 cup Hershey's Cocoa powder
1 1/2 tsp baking powder
1 1/2 tsp baking soda
1 tsp salt
1 cup milk
2 eggs
1 tsp vanilla extract
1/2 cup vegetable oil
3/4 cup boiling water
7-minute frosting:
2 egg whites
3/4 cup sugar
1/3 cup light corn syrup
2 tbsp water
1/4 tsp cream of tartar
1/4 tsp salt
1 tsp vanilla extract
Instructions
For the cake: Preheat oven to 350 degrees. Grease and flour two round 9 inch cake pans and line bottoms with parchment paper.
In a large bowl, whisk flour, malt powder, sugar, cocoa powder, baking powder, baking soda, and salt together.
In another large bowl, add milk, eggs, vanilla, and oil together and beat with an electric mixer or kitchenaid stand mixer using the paddle attachment. Gradually add flour mixture until incorporated. Carefully add boiling water to the mixing bowl and beat for one minute on medium speed.
Pour batter evenly into the prepared cake pans - the batter will be thin. Bake for 30-35 minutes or until a toothpick comes out clean when inserted in the middle of the cake. Remove from oven and cool completely before inverting the cakes onto a cake stand.
For the frosting: Prepare a double boiler. With an electric mixer, beat egg whites, sugar, corn syrup, water, cream of tartar, and salt until stiff peaks form.
Remove from heat and add vanilla extract. Continue to beat until thick and frosting has doubled.
From start to finish this whole process should take 7 minutes total.
Spread onto prepared cake evenly. Frosting makes enough to cover two 8-inch cake pans
Nutrition Information:
Yield:

10
Serving Size:

1
Amount Per Serving:
Calories:

486
Total Fat:

13g
Saturated Fat:

1g
Trans Fat:

0g
Unsaturated Fat:

10g
Cholesterol:

39mg
Sodium:

602mg
Carbohydrates:

87g
Fiber:

2g
Sugar:

65g
Protein:

7g
Nutrition information isn't always accurate.