A little bit cake, a little bit brownie, and a whole lotta festive flavor – this recipe for Chocolate Swirled Gingerbread Cake is an easy holiday delight!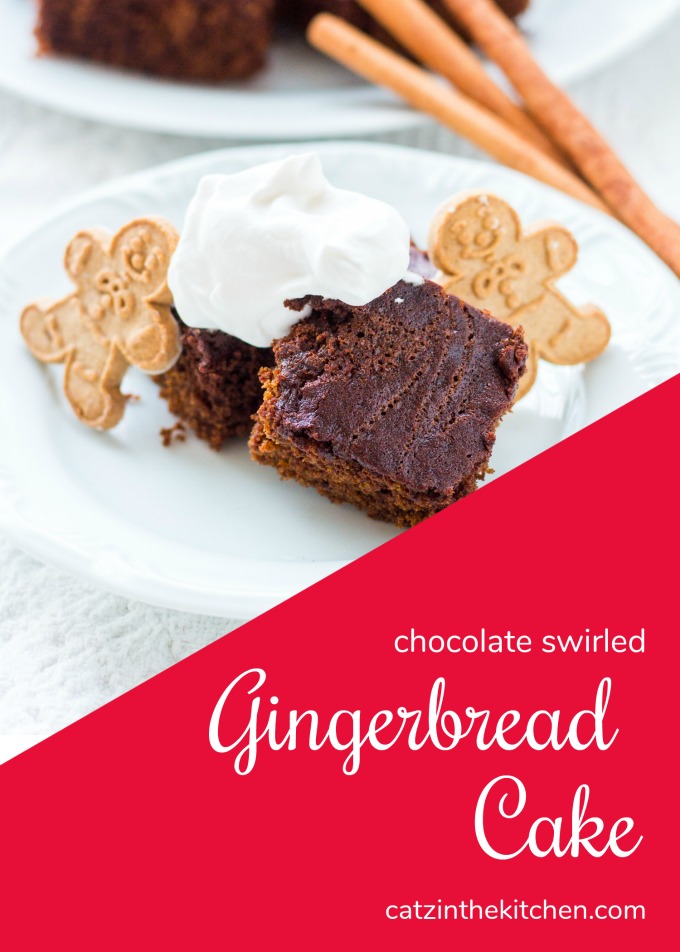 Josh and I recently got Apple Watches (our life insurance company provided them – I guess we have a mutual interest in keeping us alive…), and it has really initiated the competitive side of my personality. The watch tracks and gives us goals for our exercise, prods us to stand and move throughout the day, etc, and I cannot even begin to describe how it feels (for me, that is…I may be a little weird) to see all three of those colored rings fill up, informing me that I've crushed all of my goals! It's the little things.
I get insanely happy and may be even a little cocky!
The best part is that Josh and I can track each other's progress and send encouraging (or snarky) comments back and for to each other. Admittedly, somehow he almost always gets in more steps than me and I'm not sure how he does it!
But when I'm in the kitchen baking or cooking – all bets are off! I move so much in that area of my home, back and forth from the fridge to the counter to the pantry to the sink and to the oven and back to the counter again. Plus, I'm standing so I'm working on that goal too (which is honestly the easiest goal to achieve).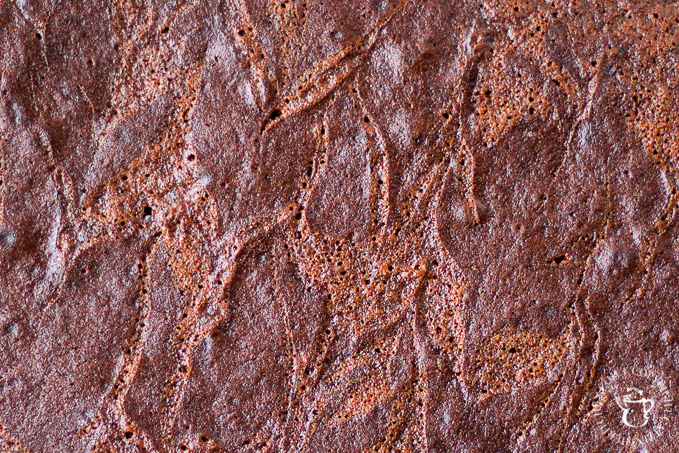 That's two out of three goals! Of course, in addition to crushing my goals and being a little competitive with the hubs, I've also got to raise (and feed!) four humans, the tiniest one being three months old and, naturally, proving to be the hardest to schedule my day around. When little Ruby decided to take a nap the other day, I jumped at the chance to get in the kitchen and bake something festive. Of course, she woke up halfway through the baking process (babies!) but, thankfully, I had Grace around to help me out with her while I got the cake finished.
Let me tell you, this gingerbread cake is good! It's got the cheerful holiday spice you expect from gingerbread, but the cake itself is moist and soft without being too cakey! The best part is the chocolate that's swirled throughout. And while this cake is absolutely perfect cut into squares to share with your neighbors in an annual cookie exchange, it's super yummy with a big dollop of homemade whipped cream, too! Or vanilla ice cream. YUM.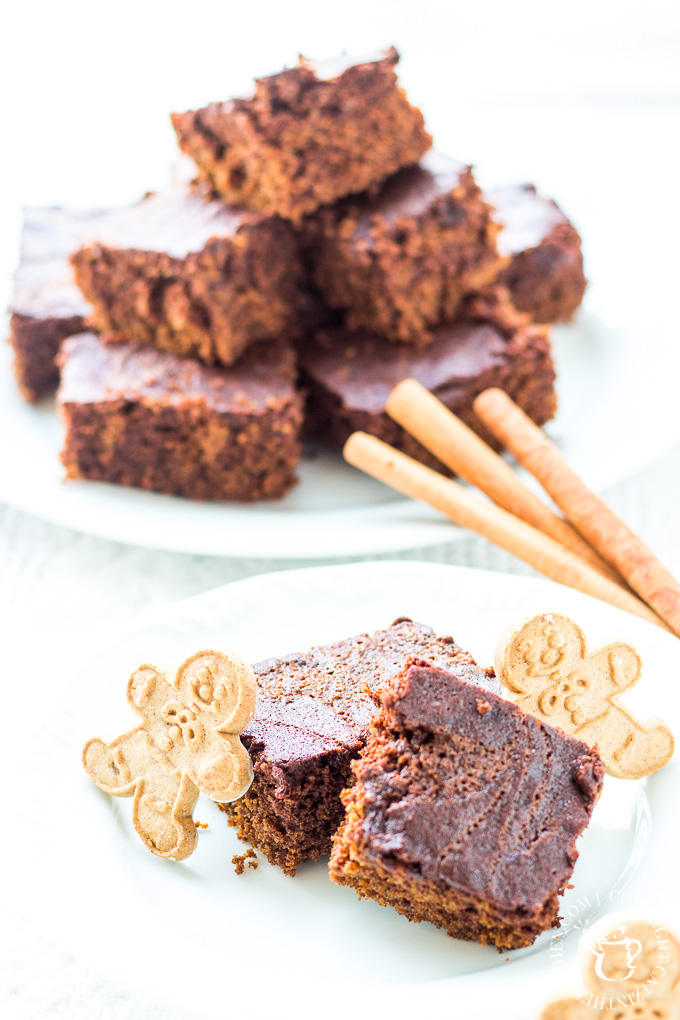 If you happen to live in the Pacific Northwest and ever travel to Central Oregon, you may pass a restaurant on Highway 22 called The Gingerbread House – they have some of the best gingerbread cake ever! I would have to say, tough, that this gingerbread cake is right up there with the gingerbread on highway 22!
This Christmas season, go ahead and make some chocolaty, spicy gingerbread cake to share with your family and friends.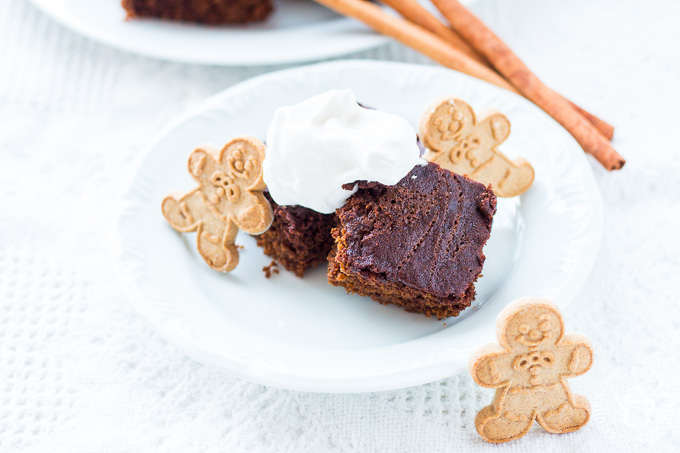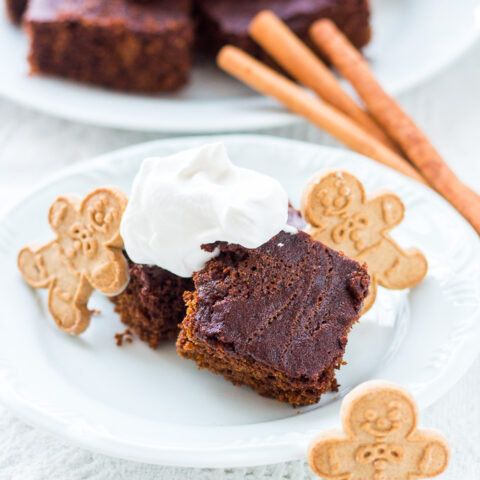 Chocolate Swirled Gingerbread Cake
Total Time:
1 hour
5 minutes
A little bit cake, a little bit brownie, and a whole lotta festive flavor - this recipe for Chocolate Swirled Gingerbread Cake is an easy holiday delight!
Ingredients
1/2 cup shortening
1 cup sugar
1 cup molasses
2 eggs
1 tsp baking soda
1 cup boiling water
2 cups all-purpose flour
1 tsp salt
1/4 cup Hersey's cocoa powder
1/2 tsp ground cinnamon
1/2 tsp ground ginger
1/4 tsp ground nutmeg
1/4 tsp ground cloves
Instructions
Preheat oven to 350 degrees. Grease and flour a 9x13 baking dish.
In a large mixing bowl combine shortening, sugar, and molasses with an electric blender; beat well. Blend eggs one at a time.
Stir baking soda into boiling water, stirring to dissolve.
In a medium sized bowl combine flour and salt and whisk to combine.
Alternately add a little of the dry ingredients to the wet ingredients, blending to combine and then adding the boiling water, a little bit all is incorporated into wet ingredients.
Scoop out 2 cups of the wet mixture and add it to another bowl and stir in the chocolate until mixed well. Add the spices to the remaining batter in large mixing bowl, mixing well.
Pour half of the gingerbread batter into the bottom of the prepared baking dish. Carefully drizzle half of the chocolate mixture onto the gingerbread batter (do not mix it together). Pour the remaining gingerbread batter on top of the chocolate, making sure it covers the dish evenly. Drizzle the remaining chocolate carefully over the gingerbread batter. Taking a knife, gently swirl the chocolate through the pan creating a marbled effect.
Bake for 40-45 minutes or until a toothpick comes out clean when inserted in the middle.
Cut into squares. Serve warm or cooled with whipped cream.
Notes
Recipe from Hershey's Fabulous Desserts Cookbook
Nutrition Information:
Yield:

12
Serving Size:

1
Amount Per Serving:
Calories:

320
Total Fat:

10g
Saturated Fat:

4g
Trans Fat:

0g
Unsaturated Fat:

5g
Cholesterol:

36mg
Sodium:

322mg
Carbohydrates:

55g
Fiber:

1g
Sugar:

38g
Protein:

4g
Nutrition information isn't always accurate.
Save
Save