This easy pumpkin custard pie is flavored with cinnamon, cloves, and allspice – which gives it all kinds of warm, fall flavors.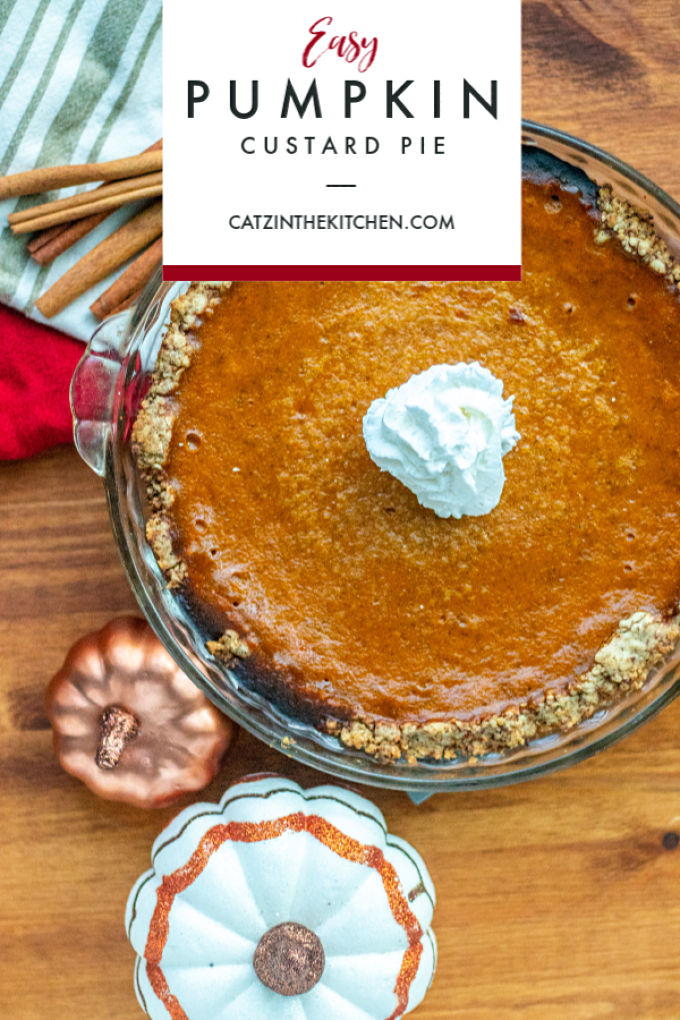 I'm completely giving this older recipe from the blog an overhaul. I'm rewriting the text and updating the photos because, gosh darn it, it's too good to not show some love to it.
Every Thanksgiving feast has to include a pumpkin pie. It's basically written into Thanksgiving law…and if you don't have a pumpkin pie on your table then you forfeit…I don't know. Your first born child or something. It's just the way it goes down!
I don't know about you, but pie-making is pretty hit and miss with me. I either execute it well or it's pieced together rather sadly. Consistency is not the name of the game when it comes to my mad pie-making skills, let's just be honest. And if any of you are like me, then you may find yourself in the same boat.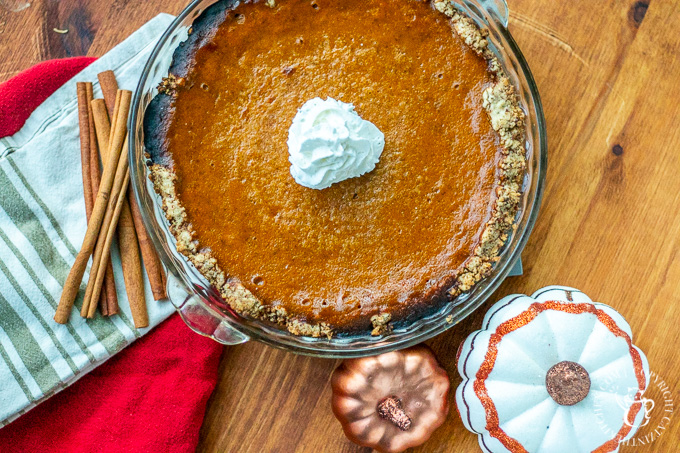 Now…you could buy a pumpkin pie from Costco and there isn't any shame in that. Let's just be clear! Nowhere in the aforementioned Thanksgiving law does it say the pie has to be made homemade; it just states that there must be a pumpkin pie of some kind on the table.
You know I'm kidding about the whole Thanksgiving law, right? I'm just stating that now – but I know that a lot of people take traditional Thanksgiving dishes very, very seriously.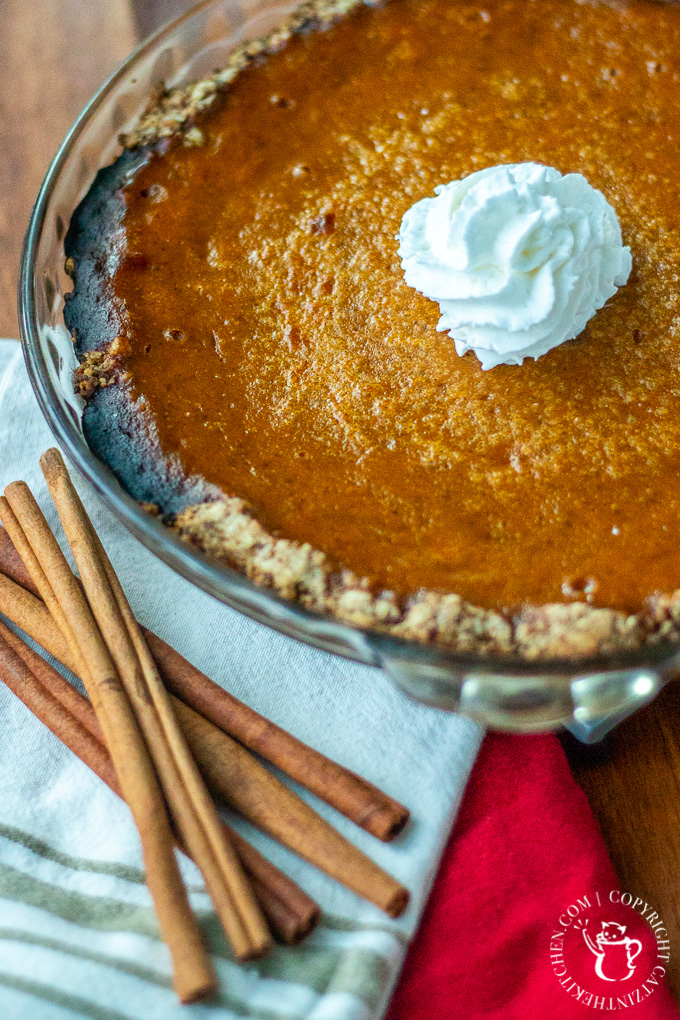 I, however, do not. I don't like green bean casserole and I'm not a big turkey lover and between you and me, I don't understand why we need to have two different kinds of potatoes on the table. Why can't we just pick one? But, variety is the spice of life and people want their mashed potatoes and their candied yams…and their PIE too!
But, I do like pie (certain pies, that is) and I love pumpkin and like I said, if you struggle with the whole homemade pie thing, this is the pie for you and here's why. First, you're not making a typical dough and because of that you're not rolling any dough out. The dough comes together with the help of a pastry blender. You place the dough in your pie plate and simply shape it as you would a graham cracker pie crust.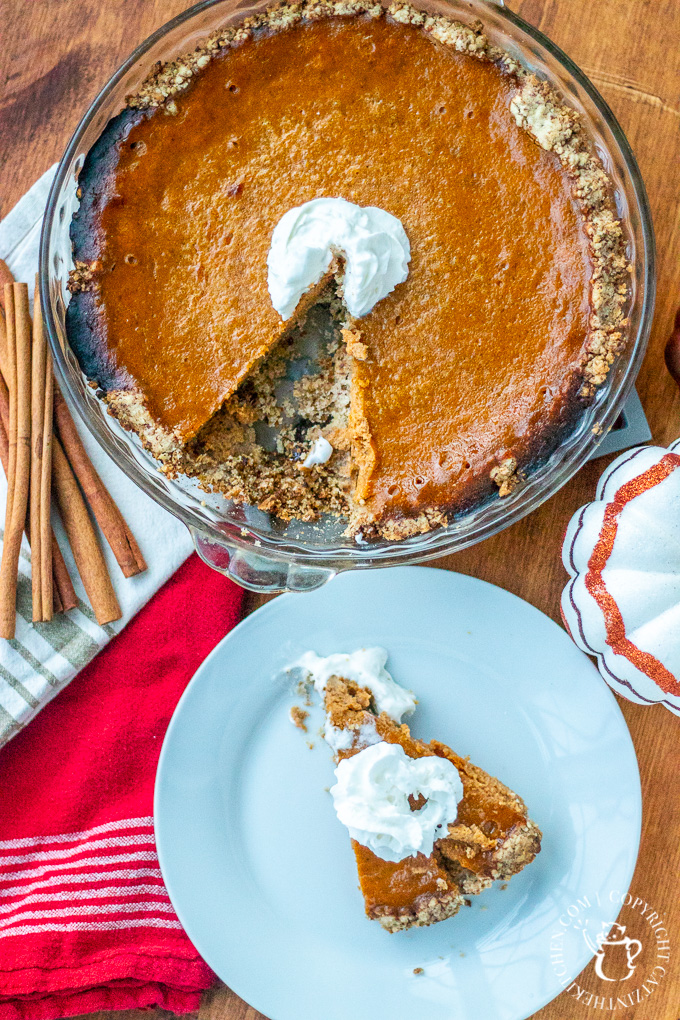 Like I said, simple! And then for the pie filling, you can use a KitchenAid Mixer if you have one, but a hand mixer will work well, too. But I bet most of the ingredients to this pie, you already have on hand, except for maybe the pecans. Which, it's Thanksgiving, so maybe you do have those on hand…?
The crust to this pie is really good and nutty because you've pulsed roasted pecans together. If you don't have a food processor, I highly recommend this Cuisinart Smart Stick. I use it whenever I need to process anything small and I use it for so many recipes – I feel like it's one of those kitchen gadget musts.
This easy pumpkin custard pie is flavored with cinnamon, ginger, and allspice – which gives it all kinds of warm, fall flavors. It is easy enough to make day-of on Thanksgiving or the day before and all you need to go with it is whipped cream or vanilla ice cream. Done! Easy!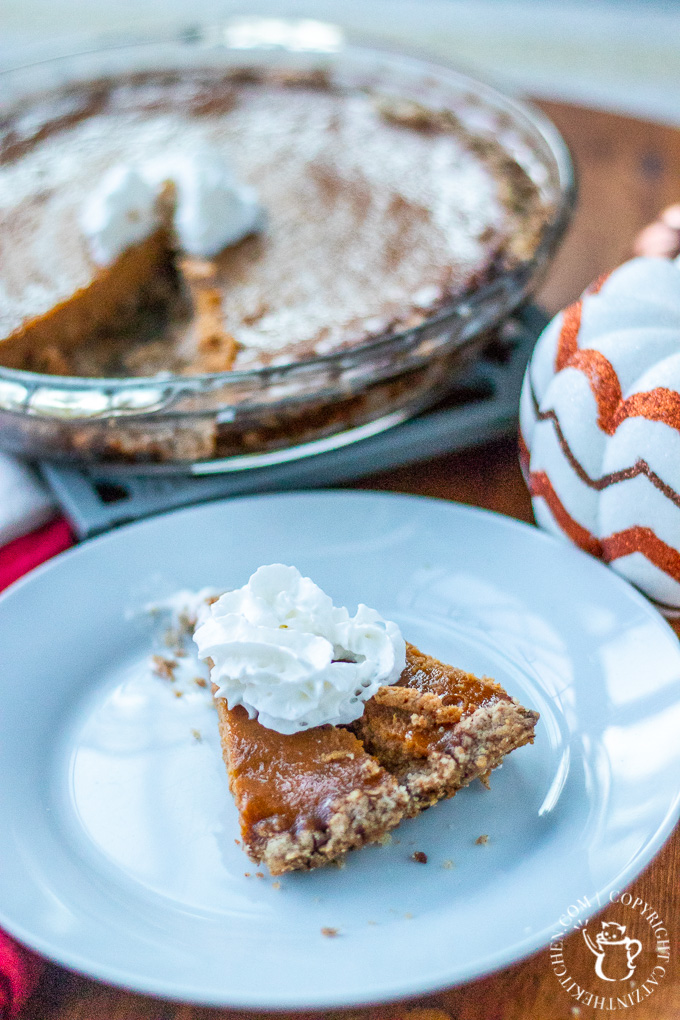 Which is basically how I like my Thanksgiving. Done and Easy!
Happy baking and Happy Thanksgiving all!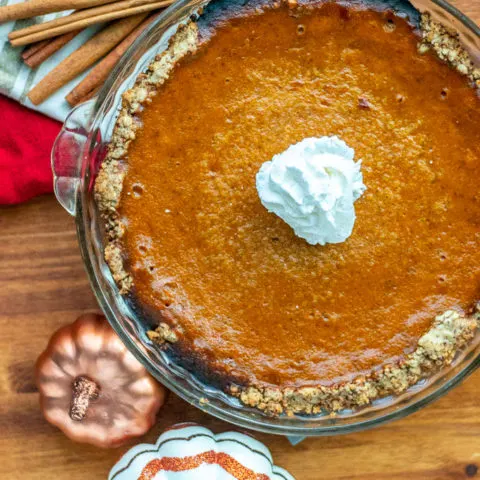 Easy Pumpkin Custard Pie
Total Time:
1 hour
10 minutes
This easy pumpkin custard pie is flavored with cinnamon, ginger, and allspice - which gives it all kinds of warm, fall flavors.
Ingredients
Pie Crust
3/4 cup toasted pecans, chopped
1 cup + 2 TB all purpose flour
1/2 tsp ground ginger
1/2 tsp salt
7 TB shortening
2 TB + 1 tsp cold water
Pumpkin Custard Filling
2 eggs
3/4 cup sugar
1 tsp ground cinnamon
3/4 tsp ground allspice
1/2 tsp ground ginger
1/2 tsp salt
1 (15 oz) can pure pumpkin
1 (12 oz) can evaporated milk
Whipped cream, optional
Instructions
Pre-heat oven to 350 degrees.
Place pecans on a baking sheet and bake for 5-10 minutes, until toasted. Allow to cool. Place cooled pecans in a food processor; cover and process until finely ground.
In a large bowl, combine the pecans, flour, ginger, and salt. Cut in shortening with a pastry cutter until the mixture resembles coarse crumbs. Slowly add water, tossing with a fork until the dough forms into a ball. Press dough onto a 9-in. pie plate, on the bottom and up the sides.
In a large bowl, beat the sugar, eggs, spices, and salt until smooth. Beat in pumpkin. Gradually beat in milk. Pour into crust.
Bake at 400 degrees for 40-45 minutes or until a knife comes out clean. Check the pie the last 15 minutes of its baking time. If the edges start to over brown, cover the edges with foil. Cool on a wire rack and garnish with whipped cream or serve with vanilla ice cream. Refrigerate leftovers.
Nutrition Information:
Yield:

8
Serving Size:

1
Amount Per Serving:
Calories:

338
Total Fat:

23g
Saturated Fat:

8g
Trans Fat:

0g
Unsaturated Fat:

14g
Cholesterol:

67mg
Sodium:

358mg
Carbohydrates:

28g
Fiber:

2g
Sugar:

25g
Protein:

6g