Trying find a way to satisfy both the carnivores and vegetarians at your table? We think this Spinach Artichoke Mac and Cheese will do the trick!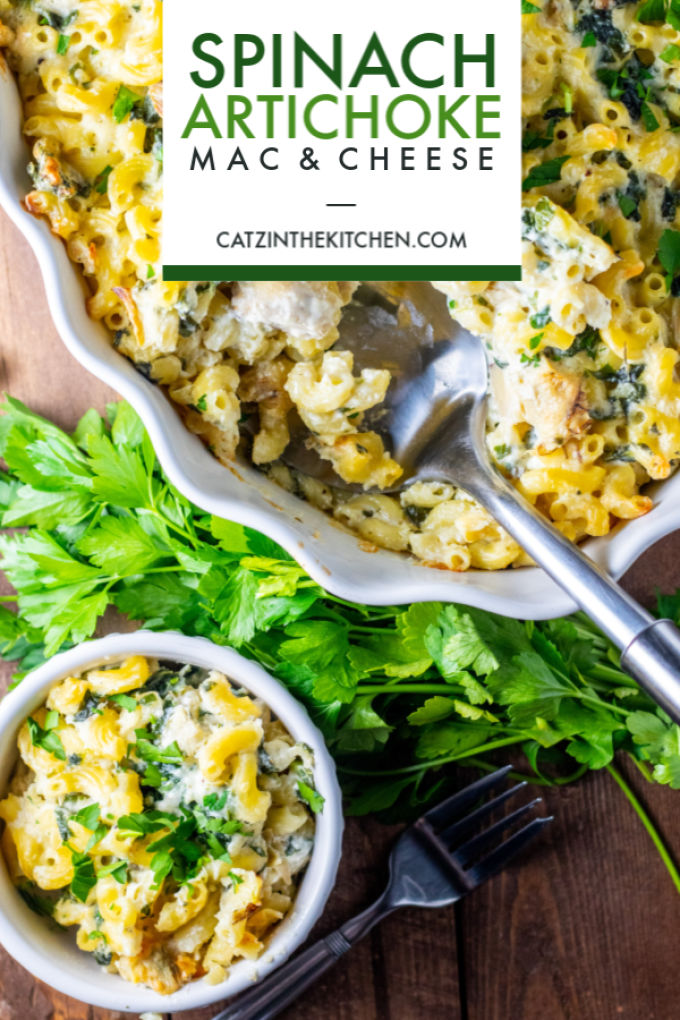 We're back this month with another macaroni and cheese dish for you to enjoy! You may or may not remember, but at the beginning of the year, I asked my kids what they wanted to me to make more often for dinner. The vote was unanimous. They all wanted more macaroni and cheese (shocker!). Last month I made a Queso Mac & Cheese dish that my whole family loved and this month I'm bringing you a Spinach Artichoke Mac & Cheese that I know you are all just going to love.
If you follow us here at Catz with any regularity, you know that I really enjoy a good cookbook and often review them on here in case you're in the market for a new one. I shared one on Bread and Wine featuring the Winter Cassoulet, then I featured Magnolia Table's Banana Bread and talked about that cookbook, and…then there have been more. Some feedback I've gotten from some of you is that you would like more vegetarian or vegan recipes to cook from. I'm happy to oblige with that, of course, but after doing some research…our grocery store doesn't carry a lot of meat substitutes that maybe Whole Foods would carry…and I don't live near one. So at least the vegan part is a work in progress (currently seven recipes on the blog in that category…but, hey, 162 in the vegetarian one!).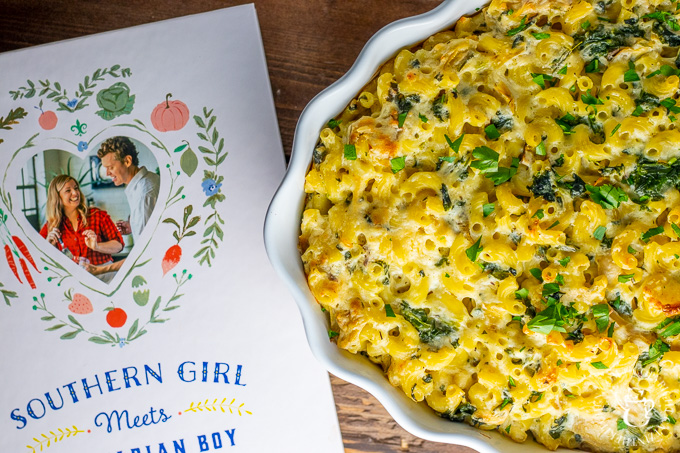 I recently bought Southern Girl Meets Vegetarian Boy, got right down to work reading the introduction (which I have to say is one of the best intros to a cookbook I've read), and started looking through the recipes. Ultimately, the reason this recipe is being featured is because I gave the kids the final choice. I gave them a few options and they all wanted this one…and it's good. Like, really, really good…and even better, it was way easier than I anticipated.
Before I jump into the recipe, let's talk about the cookbook real quick. If you don't know who Damaris Phillips is, then you're missing out. She's season nine's winner of The Next Food Network Star, has competed (and won) on Beat Bobby Flay, has her own Food Network show, Southern at Heart (I love that show), and she cohosts The Bobby and Damaris Show which is also excellent. The book itself is lovely! I absolutely love the cover design and the paperbacking on the inside. The book is actually really helpful when it comes creating meals that both meat eaters and vegetarians will enjoy and even has a section of her book called "Two Way Entrees" which is the same recipe, but made, you guessed it, one way for vegetarians and one way for meat eaters.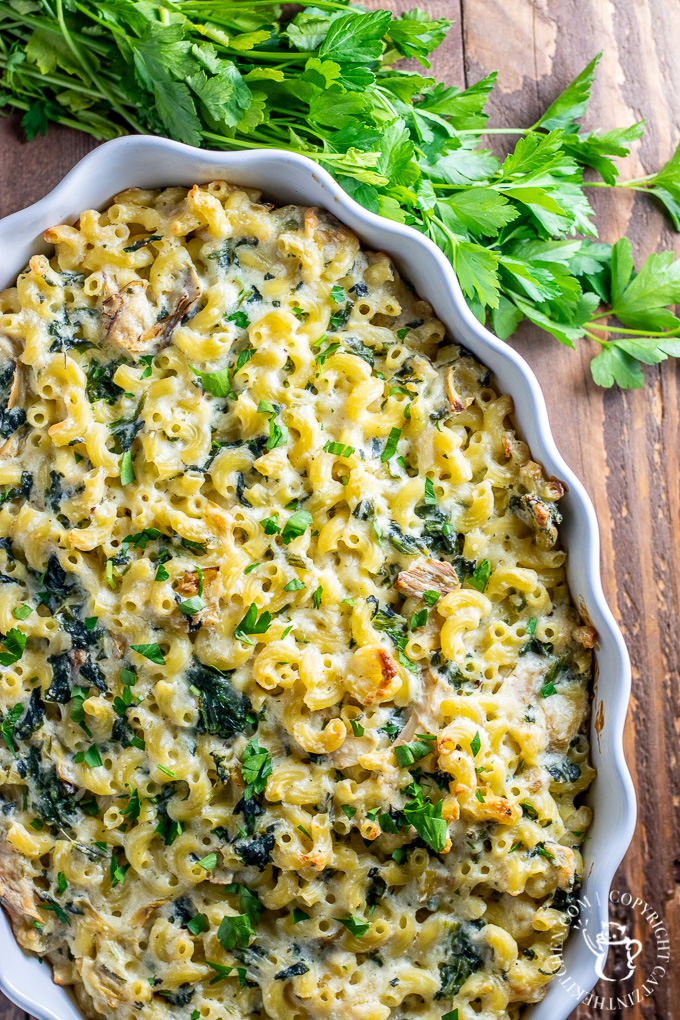 I think this is a great book to have in your collection because we all know someone with a different diet than us! It's nice to have a book we can go to that will (at least try to) make everyone happy. My only complaint, and I have this one a lot, is that there isn't a picture for every recipe. But, there are a lot of beautiful pictures and flipping through it makes me hungry. One other note about this book, it's full of recipes for the holidays – a time that can get tricky for vegetarians!
Other recipes I want to try from this cookbook:
Chickpea & Dumpling Stew
Bourbon Spaghetti and Pecan Meatballs
Blackberry BBQ Baked Beans
Lemon Custard Cornbread Pudding
(And many more…)
This Spinach Artichoke Mac and Cheese is everything you want in mac and cheese. It is creamy and full of flavor, which comes from adding a small amount of white wine to the recipe…and not at all lacking on the cheese. This particular recipe has the added benefit of being a make-ahead meal, which I love! Perfect for bringing a meal to someone. It's one of those pantry/freezer meals that can come together really easily too, and we all know how much I love those kinds of recipes! If you're looking for an easy and delicious mac and cheese, make sure you make this one!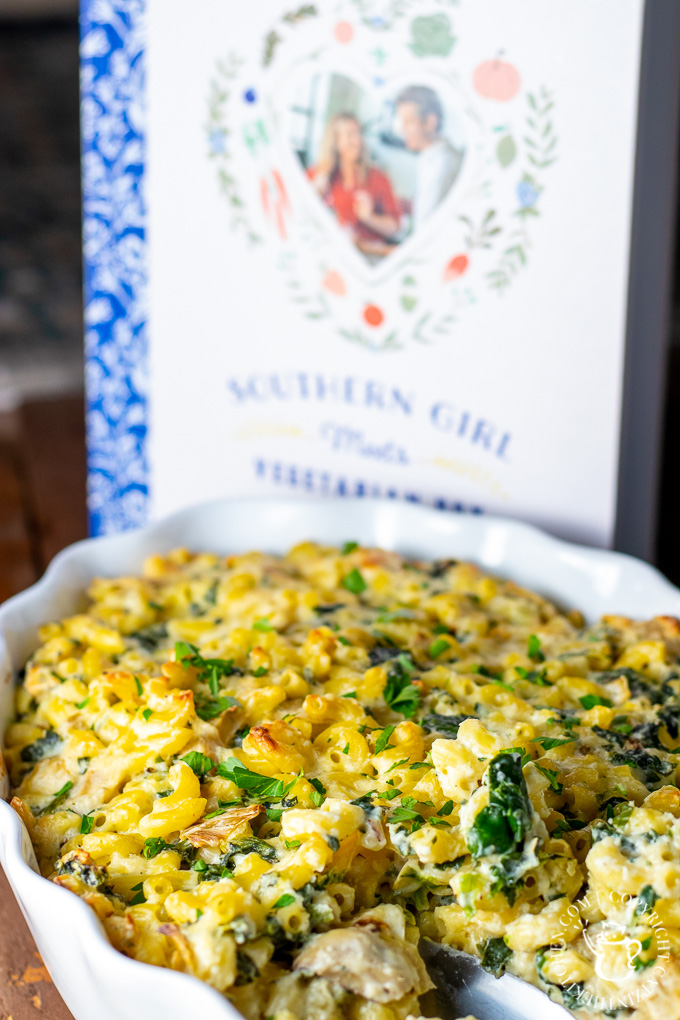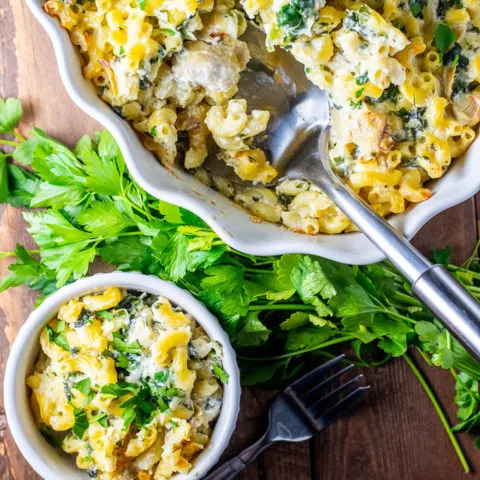 Spinach Artichoke Mac and Cheese
Trying find a way to satisfy both the carnivores and vegetarians at your table? We think this Spinach Artichoke Mac and Cheese will do the trick!
Ingredients
Kosher salt
1 lb elbow pasta
12 oz cream cheese, at room temperature
1/2 cup mayonnaise
1/4 cup almond milk
1/4 cup white wine
1 tbsp garlic powder
2 tsp onion powder
1/2 - 1 tsp ground peppercorns
1 cup grated parmesan cheese
1 cup shredded parmesan cheese
1 (10 oz) package frozen chopped spinach, thawed
1 10-14 oz) jar roasted artichoke hearts, drained and chopped (I used Trader Joe's brand)
1/4 cup fresh flat-leaf parsley, stemmed and chopped
Instructions
Preheat oven to 400 degrees. Bring a large pot of water to boil and cook the pasta for 5-7 minutes, or until al dente. Drain.
In the bowl of a stand mixer, using the whisk attachment, whisk together the cream cheese and mayo on medium speed. Gradually, pour in the almond milk, wine, garlic powder, onion powder, and pepper. Mix until smooth, creamy, and light, about 2-3 minutes.
Remove the bowl from the mixer and stir in the parmesan, spinach, artichoke hearts and cooked pasta. Salt to taste. (Note: I did not add additional salt.) Pour into a 9x13 casserole dish and bake until cheese is golden and bubbly, 25-30 minuets. Broil for an additional 3-5 minutes just to lightly brown the top. Serve warm and sprinkle with chopped parsley.
Nutrition Information:
Yield:

8
Serving Size:

1
Amount Per Serving:
Calories:

450
Total Fat:

32g
Saturated Fat:

14g
Trans Fat:

0g
Unsaturated Fat:

15g
Cholesterol:

67mg
Sodium:

713mg
Carbohydrates:

26g
Fiber:

2g
Sugar:

3g
Protein:

15g