This recipe for one pan chicken sausage with roasted asparagus and potatoes is easy, healthy, kid-friendly, and can be prepared a bit ahead of time!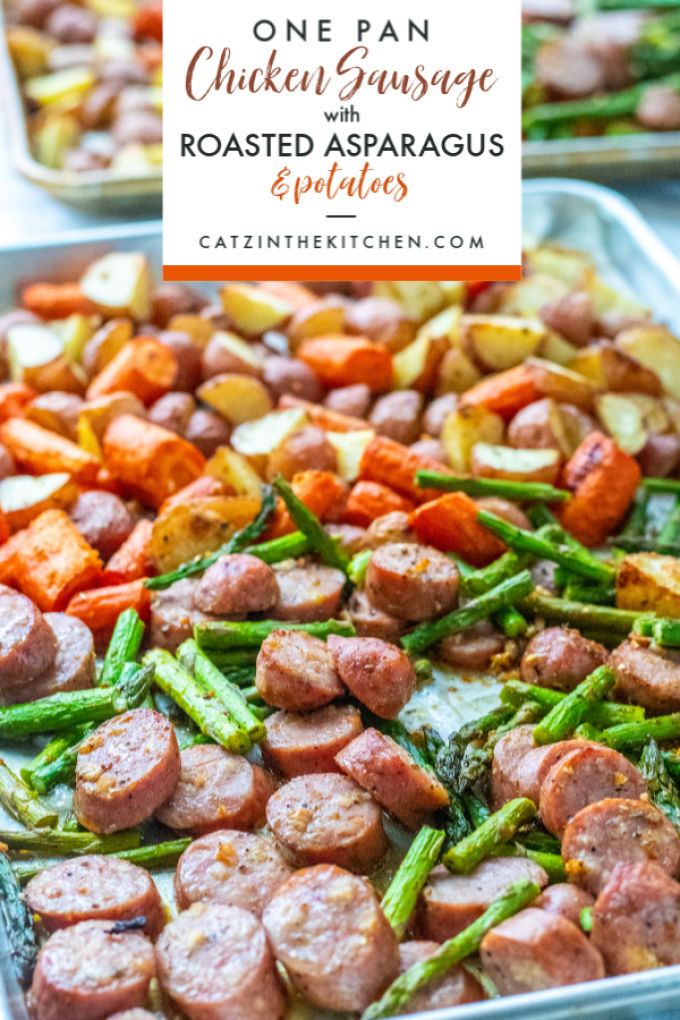 It's been awhile since I've shared a one pan meal. I'm constantly trying to come up with new ideas for dinners that maybe give me a bit more time to breathe around dinnertime because Ruby likes to be held, the kids sometimes have tasks that need my attention, or maybe I just don't want to be rushing around at dinnertime.
I'm sure you all relate to this right?
The great thing about this meal is that it can be all prepped ahead of time, like an hour or so before you're ready to get going, so that can be nice when the actual cooking comes into play. Otherwise, it's a bit of prep work at first, but then you do get that last 15-20 minutes or so where you can sit on the couch, catch up with your spouse, or maybe read a few pages of a book. Not too many…but a few!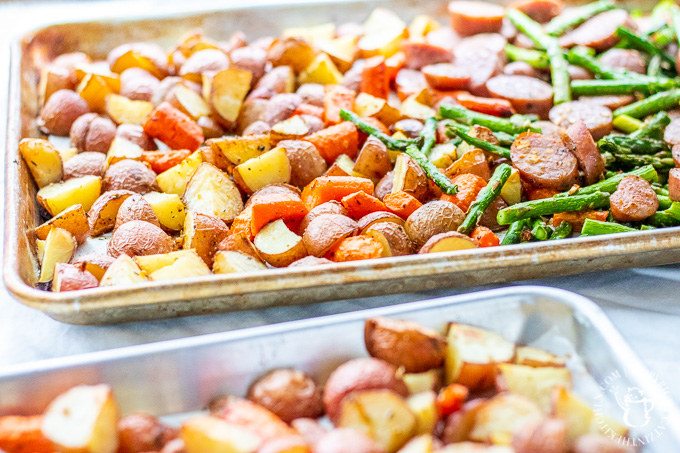 This is of course assuming that any dishes are done and the dinner table is set, but if you're like me and I hope in this respect you are, those are all jobs the kids can do! I encourage you to enlist those little helpers since you're making dinner for them. It teaches them to serve others and take some responsibility, both attitudes our children need to learn, so really, you are doing them a favor.
Motherhood is a lot of training ground with littles. I know that it is just faster and (sometimes) more efficient to do everything ourselves, but I really think the more we bring the kids alongside us to do these things, it becomes a habit. Grace often cooks beside me in the kitchen or washes dishes while I'm cooking (she also takes care of all the dinner dishes at this point). Christian and Eden set the table and clear the table every night, too.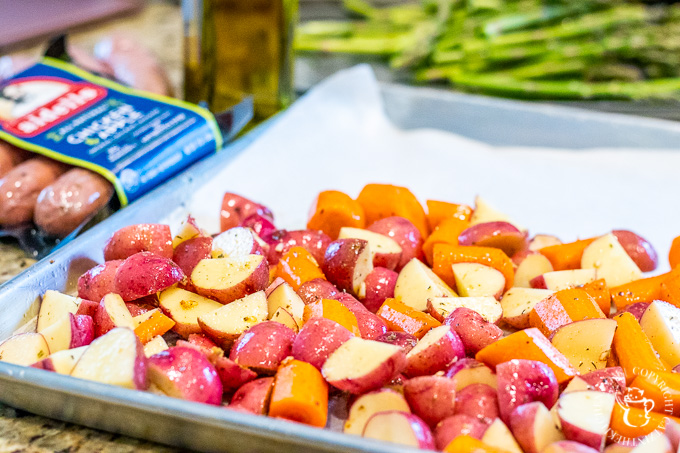 But before you get that mental image in your mind of the perfect mom with the perfect kids having a perfectly harmonious evening, let me stop you. It is actually a lot of me reminding them to stay on top of their chores, like to fold the napkins, or to not forget the spoons, and to get all of their toys and books picked up before dinner. And don't get me started on how many times Josh and I have to remind our kids to do a little less talking at dinner and a little more eating.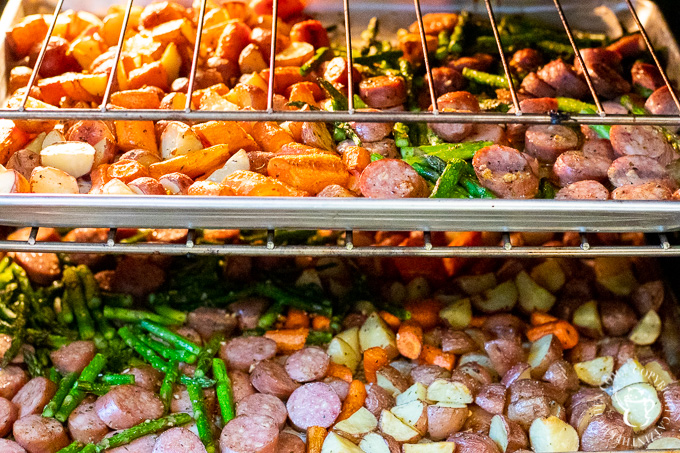 Thankfully, with this meal, the less talking and more eating isn't a problem! All four of the kids love this meal, yes, including the asparagus. Asparagus, I learned recently, is Eden's favorite green vegetable! But the winner of this chicken dinner is definitely the chicken sausage. I used the chicken apple sausage from Aidells (not a sponsored post, I just really like the ingredients and the brand), but Trader Joe's carries some delicious chicken sausage flavors, and Johnsonville also makes great chicken sausage. The chicken sausage is where it's all at here…and will probably be yours and your kid's favorite thing on the plate, too.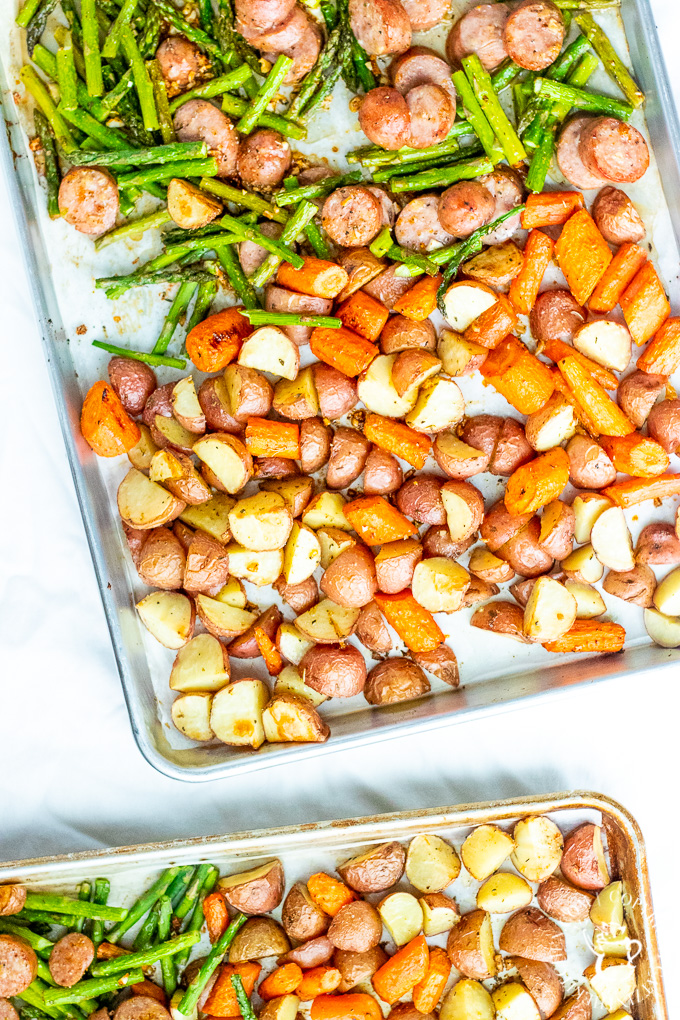 My family of six has pretty healthy appetites and so for us I actually double this recipe and make two baking sheets, just alternating the baking pans half way through the cooking process, but I think this meal would serve four just fine (and the recipe is written for four servings as well).
Let me know how you and your family enjoy this meal and if you make it, make sure you tag me on Instagram!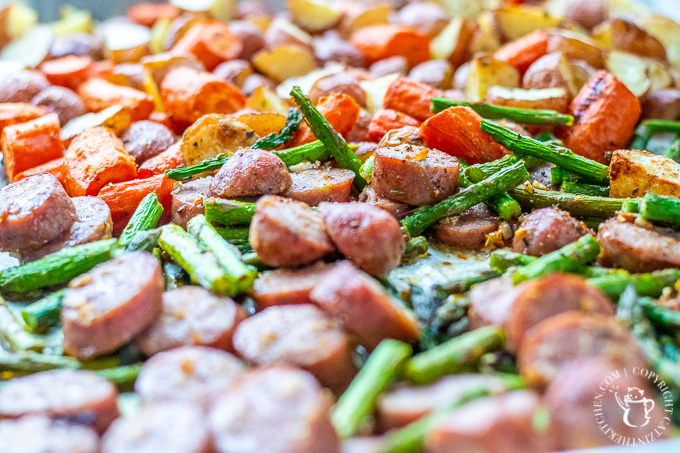 Note: Heads up – if you're lucky enough to be at Costco or Sam's Club when the Aidells staff is there handing out samples and selling their products – just buy one or two. The sausage freezes beautifully, you get more for the price, and it is cheaper all together than what you will pay at your local grocery store. Just do yourself a favor and trust me on this one!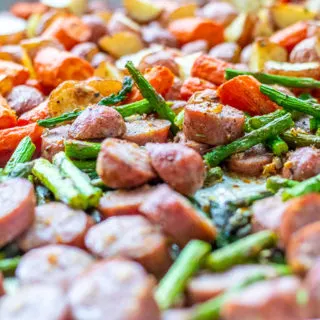 One Pan Chicken Sausage with Roasted Asparagus and Potatoes
This recipe for one pan chicken sausage with roasted asparagus and potatoes is easy, healthy, kid-friendly, and can be prepared a bit ahead of time!
Ingredients
1 (12 oz) package chicken sausage (I used the apple chicken by Aidells)
1 lb. asparagus, ends snapped off and cut into thirds
1 (24 oz) bag petite baby red potatoes, halved
6 medium carrots, peeled and chopped
4 cloves garlic, minced and divided
1/4 cup extra-virgin olive oil or avocado oil, divided
1 tsp Italian seasoning
1/2 tsp smoked paprika
1/2 tsp onion powder
Salt and pepper to taste
Instructions
Preheat oven to 450 degrees. Line a large baking sheet with parchment paper.
Spread the halved petite potatoes and carrots on a baking sheet. In a small bowl, mix together seasonings and sprinkle half of that mixture over the potatoes and carrots. Drizzle with 2 tbsp oil and half of the garlic, season with salt and pepper, and toss to combine and cook for 20 minutes.
When the potatoes have cooked for 20 minutes, drop the oven temperature down to 400 degrees. Remove the baking sheet from the oven and scoot the potatoes and carrots to one side of the baking pan. Add the sliced chicken and asparagus, carefully toss with remaining seasoning, garlic, salt and pepper, and last 2 tbsp of oil. Cook for an addition 15 - 20 minutes or until potatoes and carrots are tender. Serve right away
Nutrition Information:
Yield:

4
Serving Size:

1
Amount Per Serving:
Calories:

380
Total Fat:

22g
Saturated Fat:

4g
Trans Fat:

0g
Unsaturated Fat:

17g
Cholesterol:

37mg
Sodium:

280mg
Carbohydrates:

33g
Fiber:

7g
Sugar:

10g
Protein:

15g