Got drumsticks in the freezer? Rather with dealing with hot oil and the mess it makes, try this easy, healthier oven baked "fried" chicken!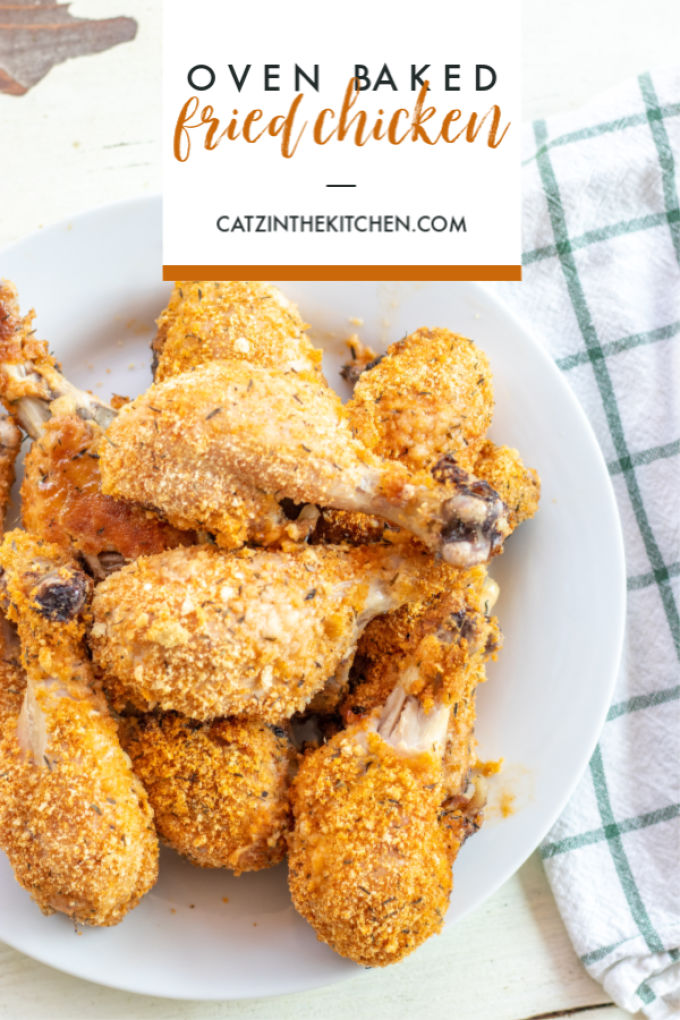 Grace, our oldest (you may remember her from the Friday Morning Pancake post), just got her permit and she is so excited! This stage of her life…I guess I thought I had so many years. I remember when we first started the "Cooking with Gracie" series, back when Grace first showed an interest in learning how to cook. It was a way for to add a "class" to our homeschooling year with Grace and then she just took off and now she's making pancakes every Friday morning, trying new recipes, and really serving our family with this interest and gift!
And now…she's learning how to drive! Where does the time go?
Learning how to cook is similar to learning how to drive. It takes practice. It takes hours. It takes patience, and if you're lucky, you'll learn to love to cook, like many learn to love driving!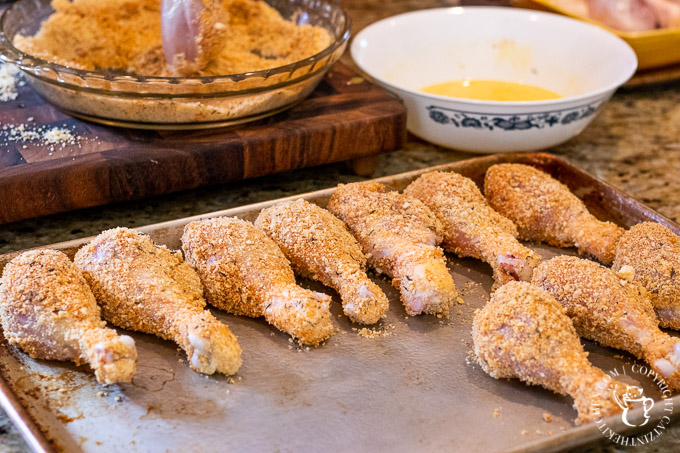 I like this Pantry to the Rescue series because it seems to me like a great starting off point for new cooks, new brides and grooms, singles living in an apartment newly on their own, or just someone looking for basic recipes that don't require a ton of ingredients you need to buy from the store, but can hopefully find in your pantry, freezer, and fridge.
I happened to stumble across this oven fried chicken recipe one day. I had a ton of drumsticks in my freezer that I was going to use for something else and then that meal fell through and this became my backup. And it's awesome!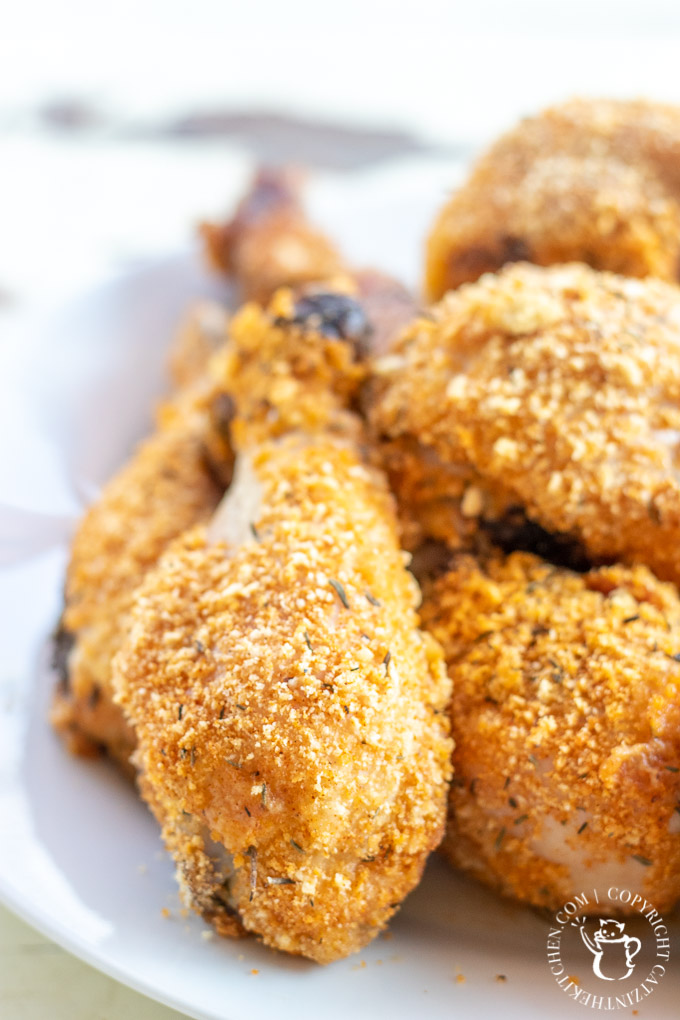 A few things to remember. It's baked in the oven, so it's not going to get that super crispy skin like you would if you were to fry it with oil splattering everywhere. (I don't know about you, but I do not have time to clean up grease right now, and Grace, who normally does our dinner dishes, doesn't like to clean it up either!) The skin will be softer, but if you really want crispy skin, you could place the chicken on a cooling rack on top of a baking sheet and that will achieve a crisper skin. The secret to crispy skin with that method is the air in the oven is circulating around all the sides of the chicken versus it laying down flat on the baking sheet.
I chose to not use this method mainly because I was feeling lazy. I didn't want more more thing to clean and for my family of six, I wasn't going to be able to fit all of the drumsticks on one cooling rack!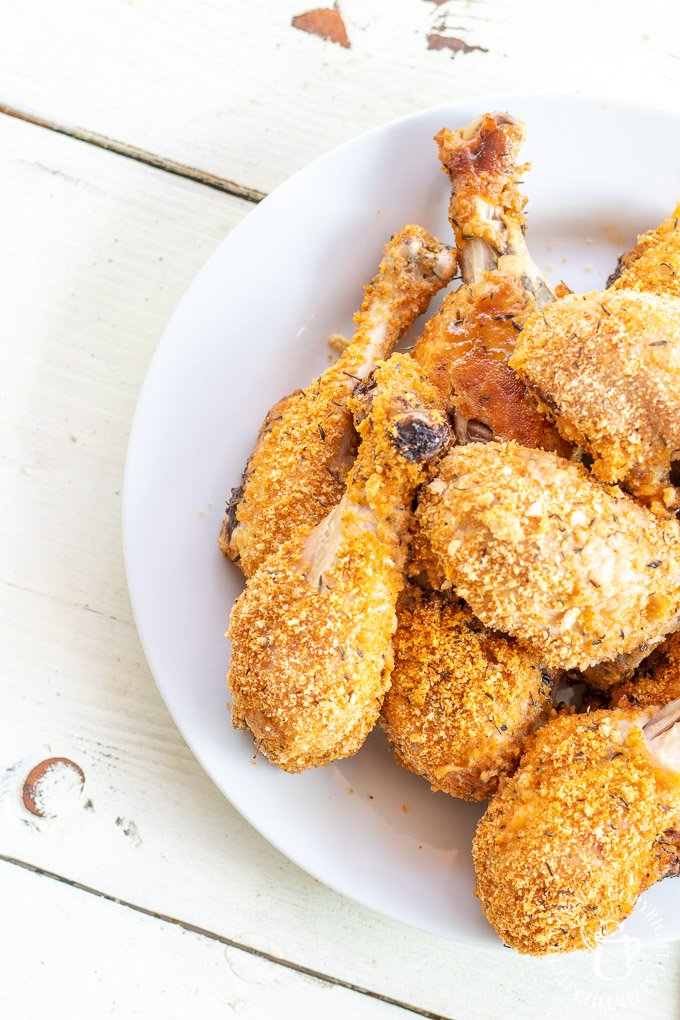 The only time consuming part of this recipe (and what helps make it a bit healthier) is skinning the chicken. The best way to do this is by holding the chicken with one hand and using a paper towel to grab the fatty skin with the other and pulling the skin off the bone by using the paper towel to help your grip. I personally find this to be the best method to do it.
I will say this recipe is a crowd pleaser, though. I made this a few weeks ago for 13 people and everyone loved it! Some of the comments were that they enjoyed the flavor and that it wasn't greasy either…and poked fun at my little brother and told him he should share the recipe with the Chick-Fil-A people (he works there). Maybe he was being nice, but he did agree…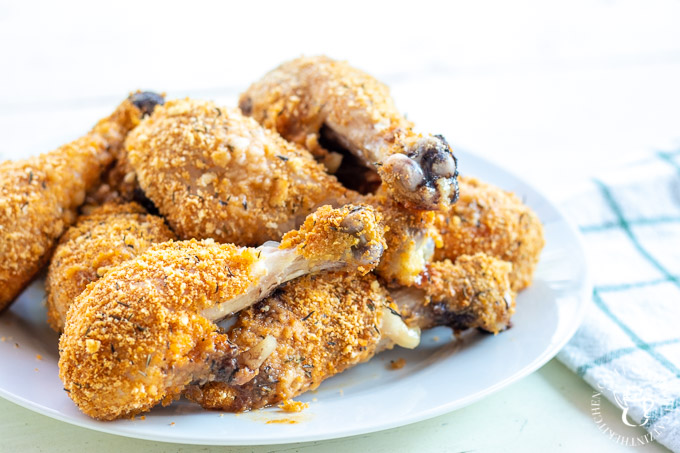 So there is that.
So, if you're lazy like me, proceed with the recipe as stated below in the card, and if you want a crispier skin, use the cooling rack method. Both ways are great – one just requires a bit more cleaning!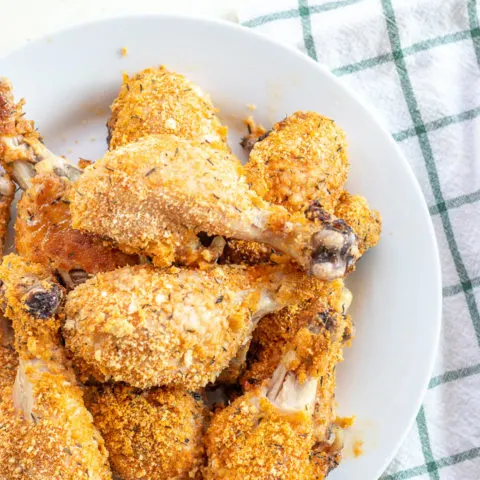 Oven Baked Fried Chicken
Got drumsticks in the freezer? Rather with dealing with hot oil and the mess it makes, try this easy, healthier oven baked "fried" chicken!
Ingredients
1 beaten egg
3 tbsp milk
1 1/4 cups finely crushed ritz crackers
1 tsp dried thyme
1/2 tsp smoked paprika
1 tsp garlic powder
1/4 tsp ground black pepper
2 1/2 - 3 lbs chicken drumsticks
Instructions
Preheat oven to 375 degrees. In a small bowl combine the egg and milk. In a shallow dish, like a pie plate, combine crushed crackers thyme, garlic powder, smoked paprika, and pepper. Set aside. Skin the chicken (using the method listed in the post) and dip the chicken pieces, one at a time, into egg mixture, coat with crumb mixture.
On a greased baking sheet (15x10x1-inch), arrange the chicken, bone side down, so that the pieces aren't touching.
Bake uncovered for 45 -55 minutes or until chicken is no longer pink (180 degrees). Do not turn chicken while baking. Remove from oven and enjoy!
Notes
Recipe adapted from The Better Homes and Garden cookbook
Nutrition Information:
Yield:

6
Serving Size:

2 drumsticks
Amount Per Serving:
Calories:

1136
Total Fat:

55g
Saturated Fat:

15g
Trans Fat:

0g
Unsaturated Fat:

34g
Cholesterol:

752mg
Sodium:

704mg
Carbohydrates:

11g
Fiber:

1g
Sugar:

2g
Protein:

139g
Nutrition information isn't always accurate.