Light, fluffy, vanilla cake with cream cheese frosting makes up the base of this treat, but it's the shredded coconut that makes them snowball cupcakes!
My daughter Eden is cupcake-obsessed. In fact, one of her favorite series of books is called The Cupcake Diaries! You might remember her last cupcake post – the one about those delicious Devil's Food Cupcakes over the summer? They were amazing – I'm not the biggest chocolate lover, and even I enjoyed one of those cupcakes.
After we made the Devils's Food cupcakes, she found another cupcake recipe she wanted to try – these Snowball Cupcakes – and they just seemed so perfect for Christmastime, so we decided that she would make them closer to that time…which is now!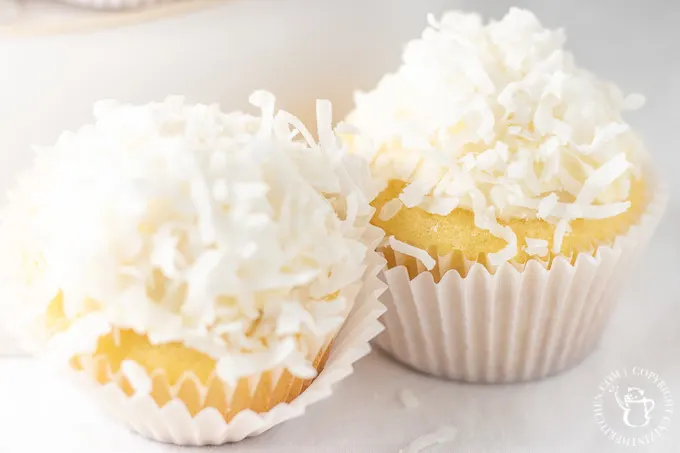 If you're looking for a simple, yet delicately beautiful cupcake to make for the winter season, look no further! We made them one afternoon and had so much fun, but I think her favorite part of the whole baking process may have been topping the cupcake with shredded coconut – it felt like decorating with sprinkles for her…which of course is always fun.
The cake itself is a very light and fluffy vanilla cake. Pretty straight forward in approach, so this is definitely a great recipe to involve the kids with, and the only coconut flavoring is the shredded coconut on top, which is just the right amount of sweetness, although the cream cheese frosting that goes onto the baked cupcake is pretty darn good, too – and so easy to make!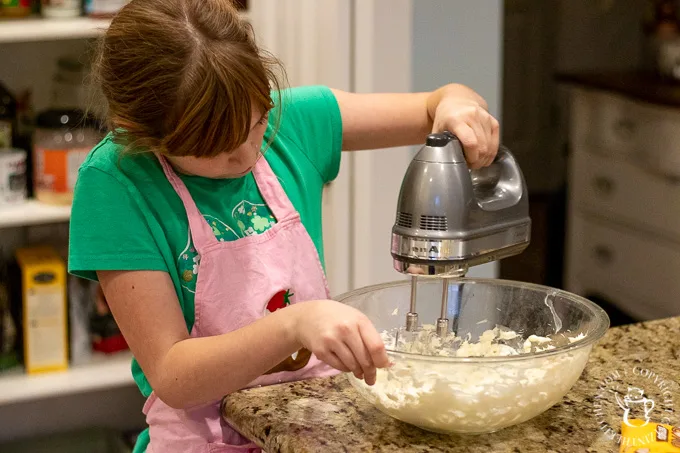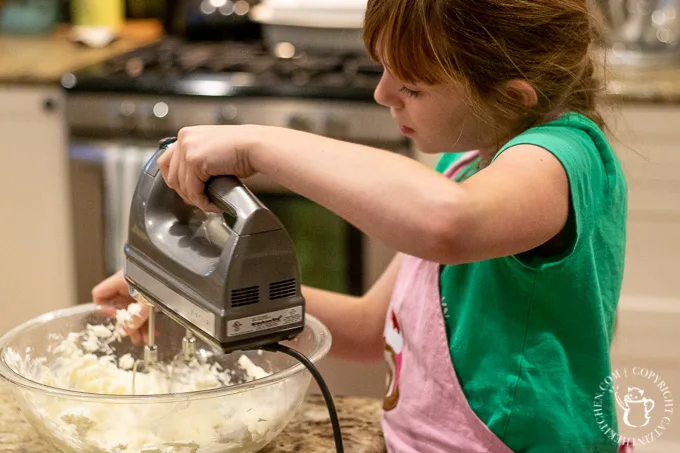 One of the things I really appreciated about this recipe was how many cupcakes you get out of the batter. So many times a recipe only make 6-12 cupcakes, which can easily be gobbled up. This recipe makes 24 cupcakes – perfect for sharing, which is what we did. We divided half the cupcakes up to give away. One set went to Eden's best friend's family who lives across the street from us, another set went to another neighbor across the street who had just welcomed a new baby into their home, and then we saved another two cupcakes for a couple of Eden's aunts – they are such big cheerleaders for her! I think it was good for Eden to see how the love of creating, making something from nothing and baking it up with love can bless so many people!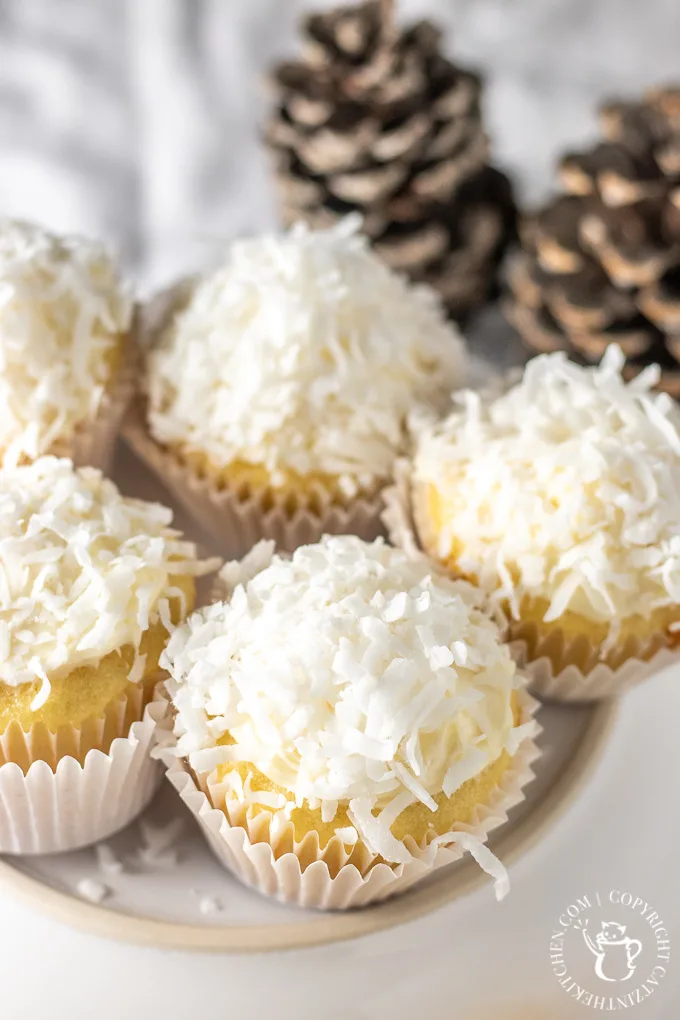 While I LOVE cookies (they're my favorite treat), these cupcakes are really worth making and inviting your kids into the kitchen to bake. Bake them up with the intention of saving some for your family – maybe just enough so everyone can have one or two – and then pick out a neighbor (or two or three) on your street for a little cupcake blessing!
Happy Baking!
Snowball Cupcakes
Additional Time:
5 minutes
Light, fluffy, vanilla cake with cream cheese frosting makes up the base of this treat, but it's the shredded coconut that makes them snowball cupcakes!
Ingredients
2 3/4 cup all-purpose flour
2 tbsp cornstarch
1 tbsp baking powder
1/8 tsp salt
1 1/2 cups sugar
3/4 cup (1 1/2 sticks) unsalted butter, room temperature
3 large eggs
3/4 cup whole milk
1/2 cup water
1 tbsp vanilla extract
2 cups shredded sweetened coconut
Cream Cheese Frosting
1 (8 oz) pkg cream cheese, room temperature
4 tbsp (1/2 stick) unsalted butter, room temperature
2 tsp vanilla extract
1 cup powdered sugar
Instructions
Preheat oven to 350 degrees F. Line two standard 12 cup muffin pans with paper liners.
In a medium bowl, whisk together the flour, cornstarch, baking powder, and salt. In a large bowl, using an electric mixer, beat the sugar and the butter on medium-high speed until fluffy and pale, about 3 minutes. Add the eggs, one at a time, beating well after each one. Scrape the bowl with a rubber spatula as needed. Add the milk, water, and vanilla and beat until combined. Turn off the mixer and scrape the bowl again. Add half of the flour mixture and mix on low speed just until blended. Turn off the mixer. Add the rest of the flour mixture and mix just until blended. Scrape down the bowl.
Divde the batter evenly between the prepared muffin cups, filling them about two-thirds full. (An ice cream scoop works well for this.) Put the pans in the oven and bake until a toothpick inserted into the center of a cupcake comes out clean, 18-20 minutes. Set the pan on wire racks and allow to cool for 10 minutes in the pan, gently lift the cupcaks out and set on the racks. Cool completely.
To make the frosting: use an electric mixer and beat the cream cheese, butter, and vanilla on medium-high speed until light and fluffy, about 2 minutes. Turn the mixer off and sift the powdered sugar in 1/2 cup at a time, beating well after each addition. Scrape the bowl down with a rubber spatula, frosting should be spreadable. If the frosting is too soft, place the frosting in the fridge for 15 minutes.
Using a small spatula or butter knife, frost the cupcakes. Sprinkle them with shredded coconut and serve. Refrigerate leftovers.
Notes
Recipe Source: American Girl Baking Cookbook
Nutrition Information:
Yield:

24
Serving Size:

1
Amount Per Serving:
Calories:

194
Total Fat:

6g
Saturated Fat:

4g
Trans Fat:

0g
Unsaturated Fat:

1g
Cholesterol:

31mg
Sodium:

128mg
Carbohydrates:

33g
Fiber:

1g
Sugar:

20g
Protein:

3g