This simple recipe for white chocolate macadamia nut cookies has been a favorite in our house for over ten years now – try it and see why!
Originally posted to the blog back in 2010, and then re-written and re-shot back in 2014, we've updated the post, recipe card, and photos again, as they had not aged well! What has aged well, on the other hand, is this recipe! Our family continues to love these cookies, and the simple fact that we've taken the time and effort to update the post three times is proof of that!
Originally, I shared this post back in April 2010, just after I had started my blog. The pictures are so bad (what was I thinking) and the writing was so terrible (what was I even saying) that I feel the whole thing needed to be re-written. When I update a post, I don't usually redo the whole thing. Usually it's just the pictures and the recipe format. But sometimes, a post just grates on me so much that I feel the need for a do-over. This cookie post definitely warranted a do-over.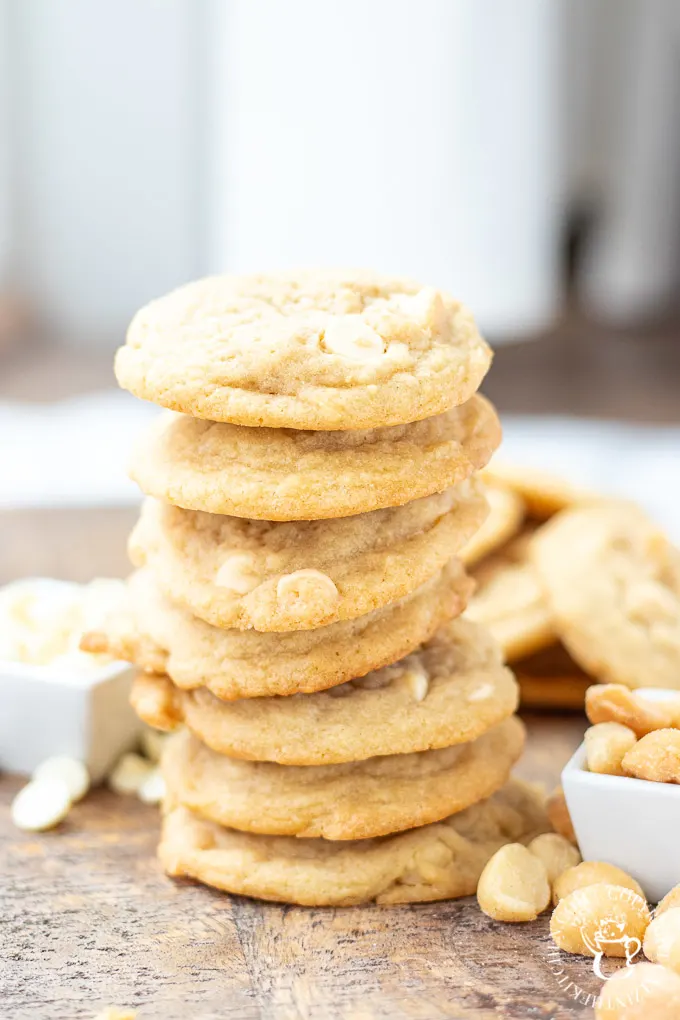 Last week, my father-in-love had hernia surgery to repair his last hernia surgery from a year ago. I know he was feeling kind of down about it because the recovery time is not only painful, but also lengthy. He can't lift anything for six months. That sucked last year because all he wanted to do was hold Christian when he was a baby. Christian is older now, and finds his Papa fascinating and loves for "Papa" to hold him and now he needs to wait another six months to be able to do that. That is just one thing among a million other things he has to take it easy for.
I'd been planning the week before his surgery to bring my in-loves a meal. For dessert though, what a better way to cheer someone up than by making their favorite cookie?! This was also perfect timing for me to test out my new cookie scoop. I had used it a few nights prior to make meatballs with and it was aaamazing. But I was anxious to try it out with cookie dough. OH MY GOSH! I'm kicking myself that I didn't shell out the money earlier to get one of these babies. My cookies have never been so circular! Haha!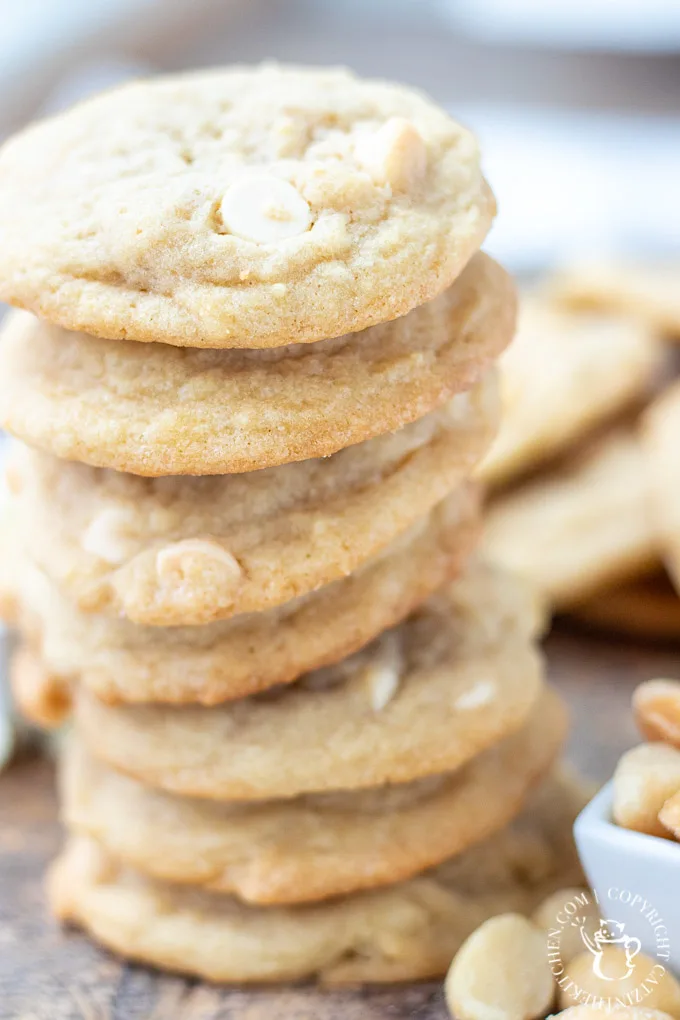 These cookies definitely brightened up my father-in-love's day and he told me that he's been carefully rationing them so they will last, lol! Of course, I would always bake him up some more. The recipe is so simple. I think cookies are just one of the best ways to show someone how much you appreciate them or if you just want to brighten their day. Kudos to you if you happen to make that someone their favorite cookie as well!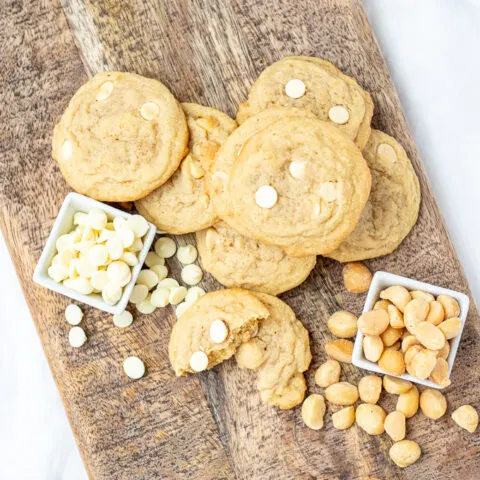 White Chocolate Macadamia Nut Cookies
Additional Time:
20 minutes
This simple recipe for white chocolate macadamia nut cookies has been a favorite in our house for over ten years now - try it and see why!
Ingredients
1/2 cup butter, softened
1/2 cup shortening
3/4 cup light brown sugar, packed
1/2 cup white sugar
2 eggs
1/2 tsp almond extract
1/2 tsp vanilla extract
2 1/2 cups all-purpose flour
1 tsp baking soda
1/2 tsp salt
1 cup white chocolate chips
1 cup macadamia nuts, chopped
Instructions
Pre-heat oven to 350 degrees.
In a large bowl, cream together butter, shortening, brown sugar, and white sugar until smooth. Beat in eggs, one at a time. Stir in extracts.
Combine flour, salt, and baking soda in a medium-sized bowl; gradually stir into the creamed mixture. Mix in the nuts and white chocolate chips.
Drop dough by tablespoons (or a medium sized cookie scoop) onto ungreased cookie sheets.
Bake for 10 minutes, or until golden brown.
Nutrition Information:
Yield:

42
Serving Size:

1
Amount Per Serving:
Calories:

138
Total Fat:

9g
Saturated Fat:

4g
Trans Fat:

0g
Unsaturated Fat:

5g
Cholesterol:

17mg
Sodium:

83mg
Carbohydrates:

14g
Fiber:

0g
Sugar:

8g
Protein:

2g
Nutrition information isn't always accurate.