This recipe for coconut rice, with its warm, nutty flavor, has become our go-to simple side for weeknight dinners!
Before I launch into how amazing this recipe is, I'm just going to be real with you mom to mom or woman to woman. (Do I have male readers? Fine, human to human.) I'm exhausted. Are you tired, too? It has taken me three days to get to the point in my schedule where I could actually sit down and write this post without interruption (I know for a fact, I'm not the only one in this boat!). My husband and son are at Bible study and I had promised the girls that I would watch a show with them, but you know what? I can't. The show they turned on – which is a show called "Miraculous," by the way – I just can't watch it. Because I'm tired and the voices of the cartoon characters at this moment in my day make me want to pull my hair out! The girls understood, thankfully, extended me a little grace, and now I'm comfortably sitting on my bed, with my cat, working on this post.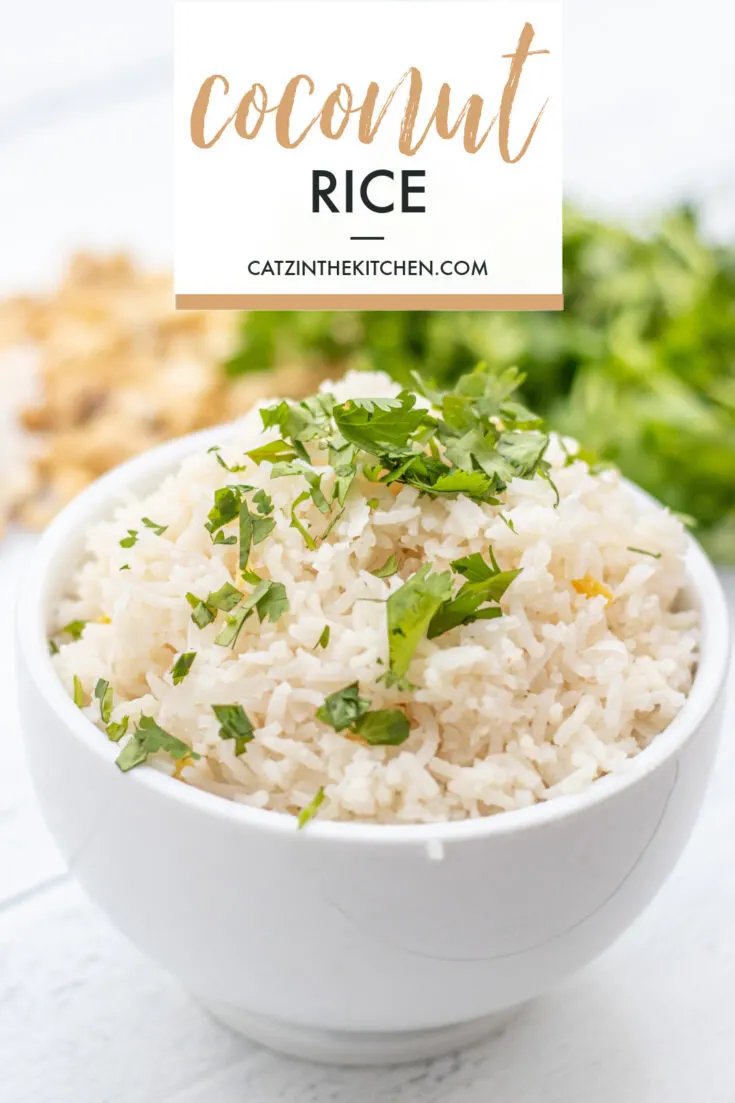 I tell you all of this because while I know it has nothing to do with a recipe at all, I do bet that you understand that the daily demands of schedules, kids, appointments, failed meals, lack of sleep, and traffic can be very wearing on a person.
So if you need permission to hide away – do it. I mean, smartly. Don't just abandon the children. But explain to someone that you need a time out. A study break. A mental regroup. A sanity saver. Whatever you call it, go ahead and give yourself permission. I know I can only wear so many hats before they start to fall off. Maybe that's you, too.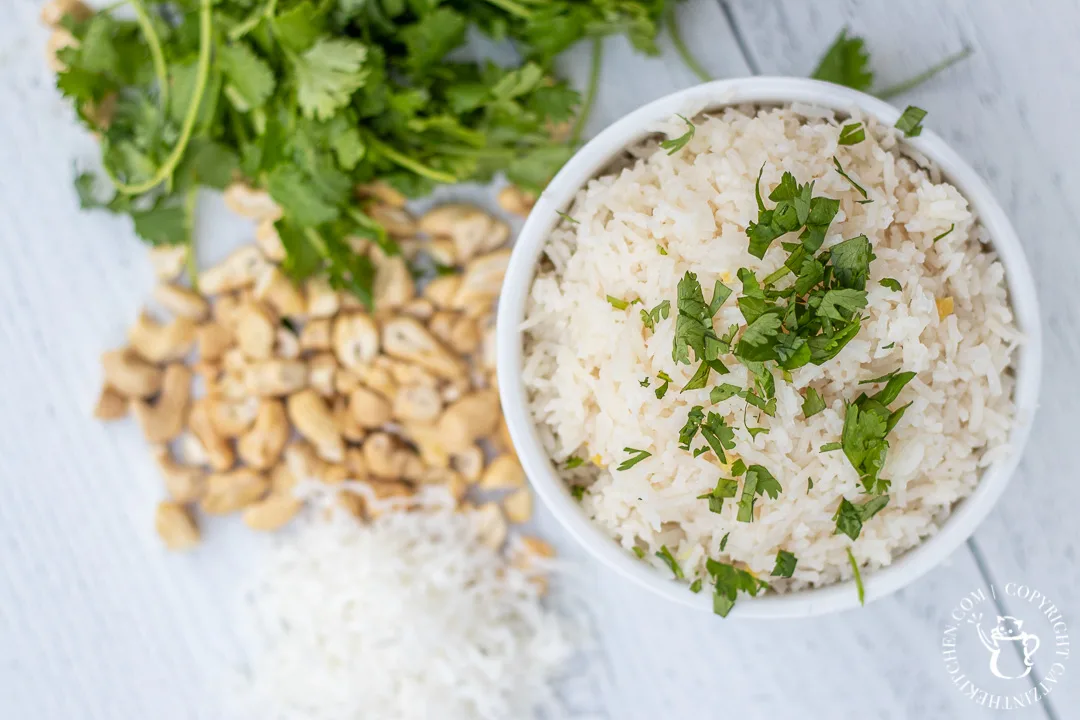 Perhaps you're reading this coconut rice post in bed, on your phone, on a lunch break, or with your morning coffee as you go through emails. If you've made it this far, let me just say as the writer and creator of this little blog, thank you so much for always coming back and reading these posts. I really do enjoy not only writing them, but also sharing the recipes with you. With every recipe, I feel like I'm sharing a bit of my heart because I hope I can help you as a mom (or dad) gather your family around the table and give them nourishing meals (that perhaps become lasting memories…that perhaps help another generation of families come together at the dinner table). You have to start somewhere.
When I lived at home, potatoes were the favored side dish. My step dad loves potatoes, not rice. I feel like the only time my mom ever served rice was when we had stir fry or a rice pilaf to go with chicken or salmon. We never just had any other kind of rice dish on the side. In my husband's family, rice is the number one side! Josh's mom grew up living in Liberia in West Africa, and rice was food they could easily get their hands on, so naturally, once Josh's mom started her own family, rice was a very normal side for her to serve.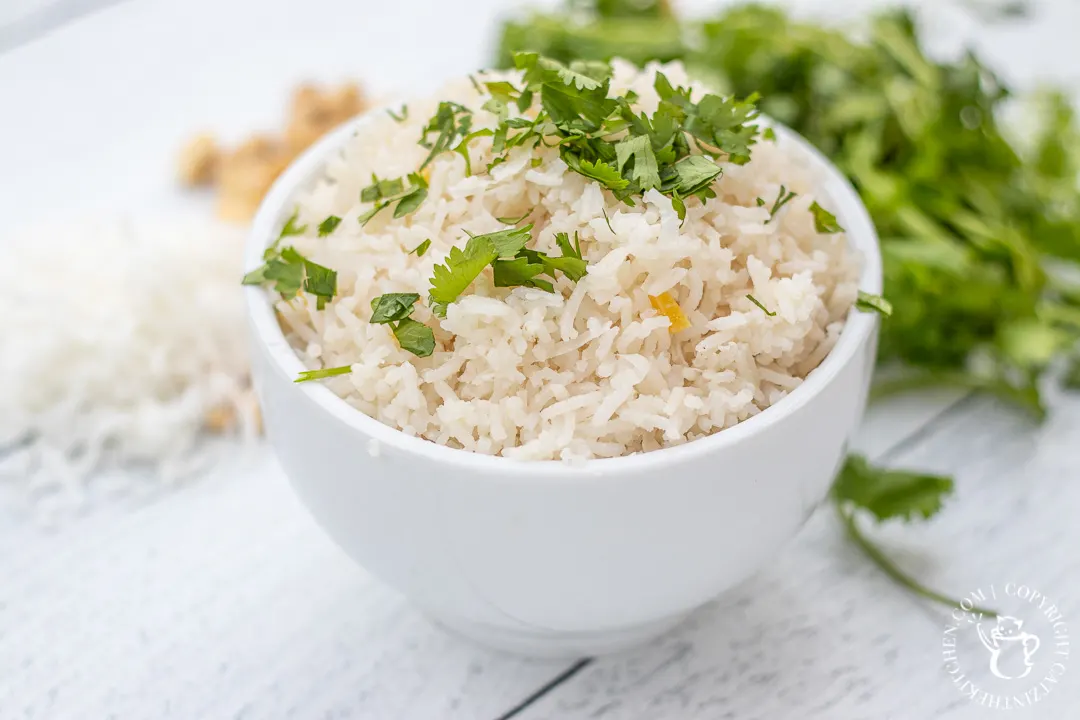 Isn't that funny how two people growing up around the corner from each other can come from totally different food experiences? Because Josh and I are married, you could also say that I try very hard to "marry" those two sides into the "food culture" of our family.
Over the spring and summer (pre-broken wrists), I made this coconut side dish A LOT! I found that it complimented so many meals, especially meals that we would grill. I happen to love coconut anything (I'm currently nursing a pint of toasted coconut gelato that I brought home from Bend, OR and I'm savoring every spoonful), so this just seemed like the most natural and progressive step. Coconut rice…how hard could it be to make?
The answer: not hard. In fact, so easy, that even when I have doubled or quadrupled it, it still turns out perfect. The flavor is nutty and fresh, the texture is soft – almost like sushi rice. I happen to love the texture of sushi rice. My kids love this recipe, when I've made it for a crowd, we've never had leftovers. It's just one really delicious side that's also healthy for you because coconut is full of iron and copper – two ingredients that can be hard to get enough of in your diet.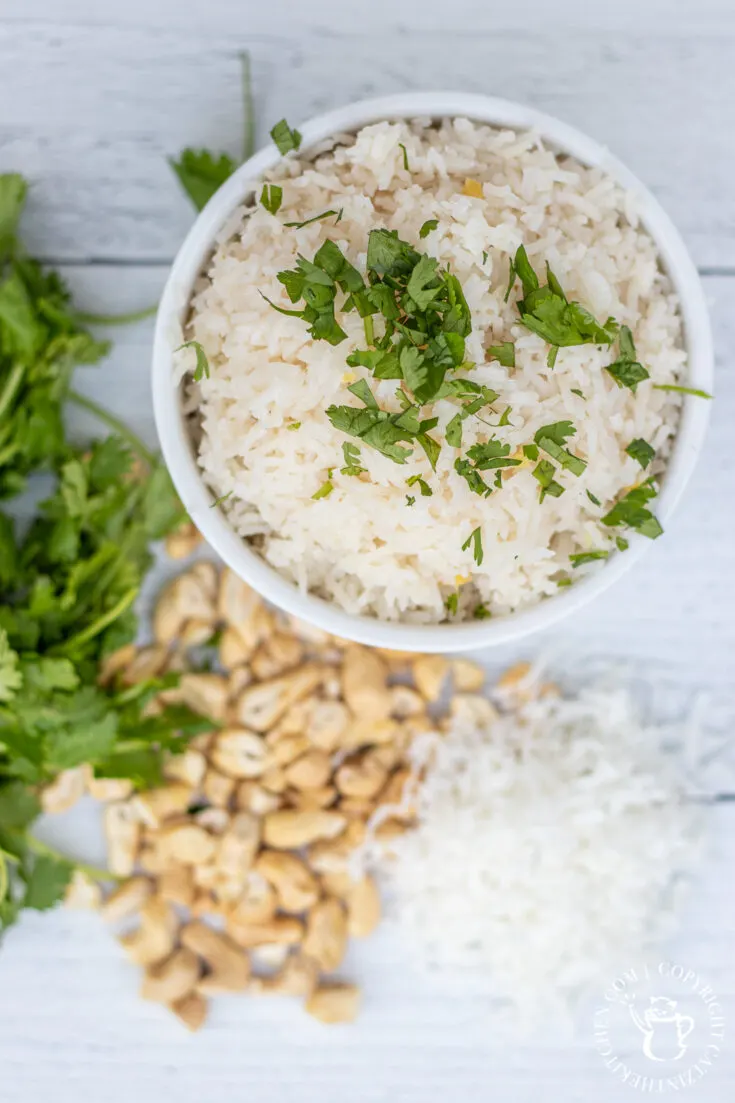 I don't know if you grew up in a potato household like me, but I promise you, not only will this become a potential weeknight staple, but for the busy tired mom who wants simple and easy and still wants to serve her family good food, this is a great side for just that.
Let me know how you like it in the comments below!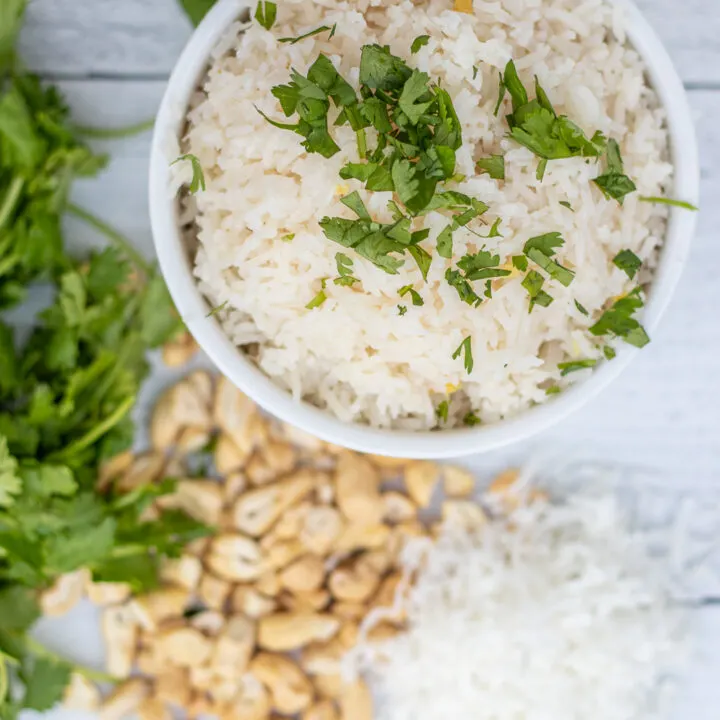 Coconut Rice
This recipe for coconut rice, with its warm, nutty flavor, has become our go-to simple side for weeknight dinners!
Ingredients
1 tbsp coconut oil
2 tbsp minced & peeled ginger
1 cup basmati rice
1 cup canned coconut mik
1 cup water
Pinch of salt
1/4 cup unsweetened shredded coconut
Topping
Chopped cilantro
Chopped cashews
Instructions
Heat 1 tbsp coconut oil in a saucepan over medium heat. Add 2 tbsp minced ginger; cook for 30 seconds. Add 1 cup of basmati rice, 1 cup canned coconut mlk, 1 cup water, and a pinch of salt.
Bring to a boil, then reduce heat to a simmer; cover and cook until the liquid is absorbed, about 15 minutes. Remove from heat and allow to stand for 10 minutes.
Stir in unsweetened shredded coconut, cilantro, and cashews. Serve
Notes
Recipe via: Food Network Magazine
Nutrition Information:
Yield:

4
Serving Size:

1
Amount Per Serving:
Calories:

220
Total Fat:

13g
Saturated Fat:

12g
Trans Fat:

0g
Unsaturated Fat:

1g
Cholesterol:

0mg
Sodium:

102mg
Carbohydrates:

24g
Fiber:

3g
Sugar:

8g
Protein:

2g
Nutrition information isn't always accurate.