You can easily modify this recipe for tasty pumpkin spice protein balls into an any time of year healthy, filling snack!
If you've read Catz for awhile, you probably know that one of our favorite places to get away as a family (or as a couple) is Sunriver in Central Oregon. Chels and I both grew up in families that vacationed there fairly regularly, and we've taken our little crew over the mountains to relax in this high desert haven as often as we could afford it ever since Gracie was a newborn. We're generally able to slow down quickly (how's that for an oxymoron), surrounded by ponderosa pines and breathing in that crisp high desert air. (This post not sponsored by Sunriver Resort!)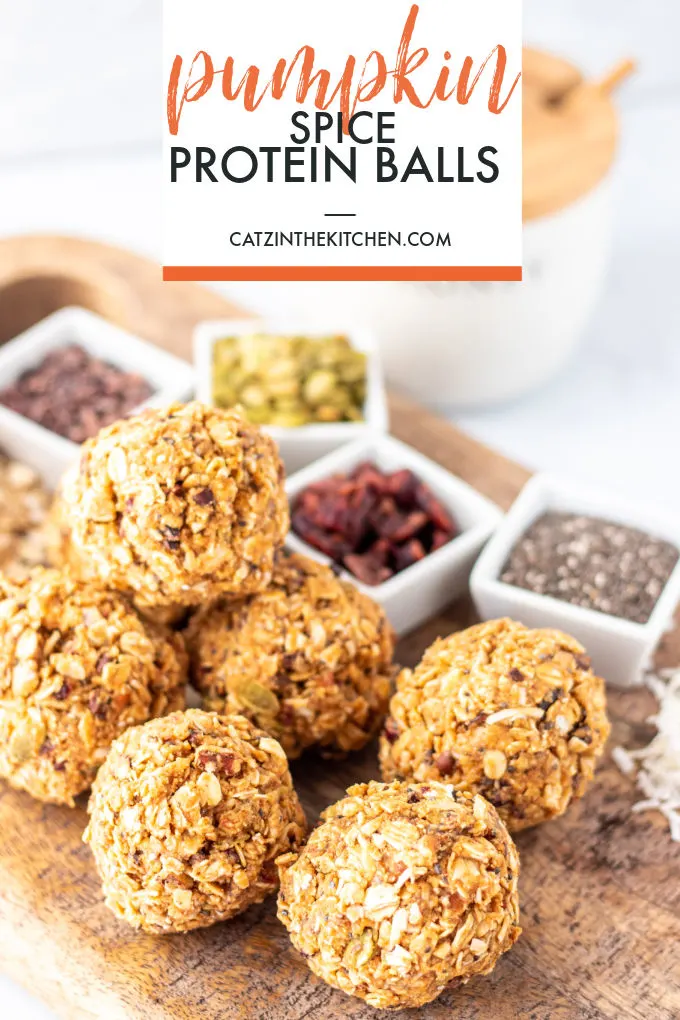 From where we live in the north Willamette Valley, to get over to Sunriver you have to cross the Cascade Mountains via a spectacular volcanic pass. On the other side, the highway straightens out and drops down into a little town with a distinctly old western look and feel called Sisters, so named after the "three sisters" – neighboring mountains that look over the town. Sisters is our stopping point on the way over and the way back for one primary reason – it's the home of Sisters Coffee Co.
For as long as I can remember (and apparently since 1989), the coffee company, operating out of a large log cabin cafe complete with portafilters for door handles, has been a favorite stopping off point for our family. The kids grab some hot cocoa, Chels and I (and now Grace, come to think of it) order coffee, along with some whole bean bags to take home, and there are generally some snacks involved. (This point not sponsored by Sisters Coffee Co!)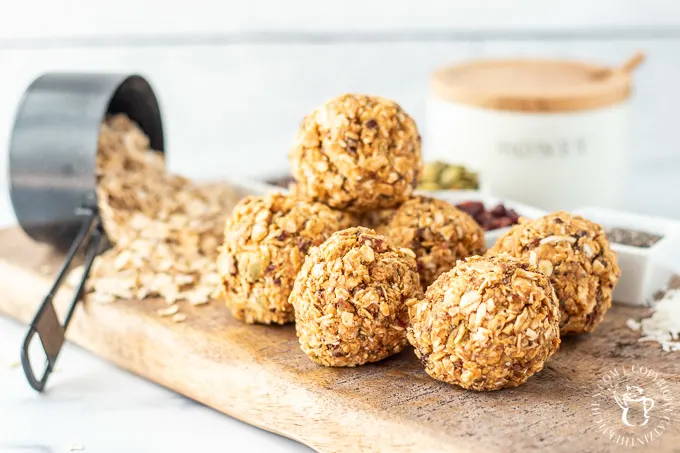 On one of our recent forays through town (okay, it was probably a year or two ago now), we noticed a new snack in the case. They were baseball-sized balls of oats and other goodies, rolled up into their version of a breakfast bar. We were starving, so I ordered a few of these intriguing "homemade" breakfast bars – we were hooked! They were slightly sweet, full of great textures and flavors, and clearly on the healthier side (I don't know if I'd go all the way to healthy with this – we'll find out when I type up my version of the recipe and run it through the nutrition analyzer here in a bit! Scary!).
Sadly, we can't make our way to the Sisters Coffee cafe everyday (it's a solid two hour drive), so I decided to take some notes and rework the recipe myself. The "breakfast bars" at the cafe were huge, as I mentioned (I think baseball-sized is about right). Chels asked me to make these just a little smaller and more snack like, so I used an ice cream scoop and targeted something more golfball-sized.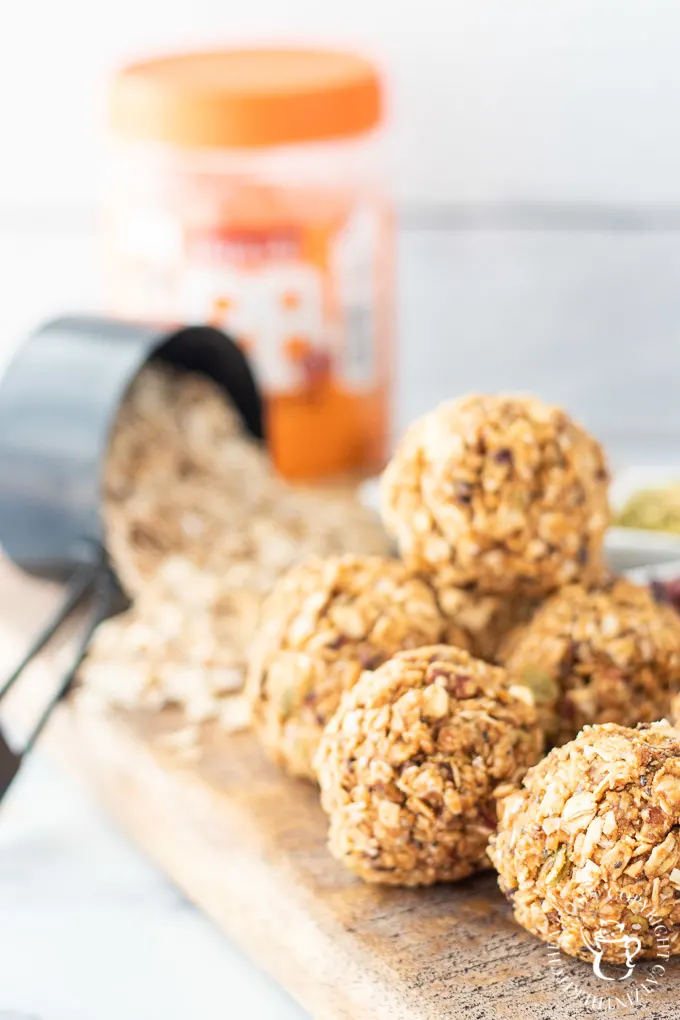 This recipe has been on my list of ideas to work on for about a year, but as I was finally getting around to it this fall, we received a package from one of my favorite fitness-related food brands, PBfit (I've talked about PBfit before in this recipe for my healthy chocolate peanut butter shake, which I make a version of almost everyday after working out). I keep PBfit's protein powder peanut spread in the house all the time, but this package contained something new – pumpkin spice PBfit. Chels and I were both intrigued. We love all things pumpkin and many things pumpkin spice, as you will clearly see if you click that link and peruse the 28 (before we add this post) pumpkin-related recipes on the blog at this point. (Here we go again – while PBfit does occasionally send us samples, as noted, this post is not sponsored by PBfit…or anyone else.)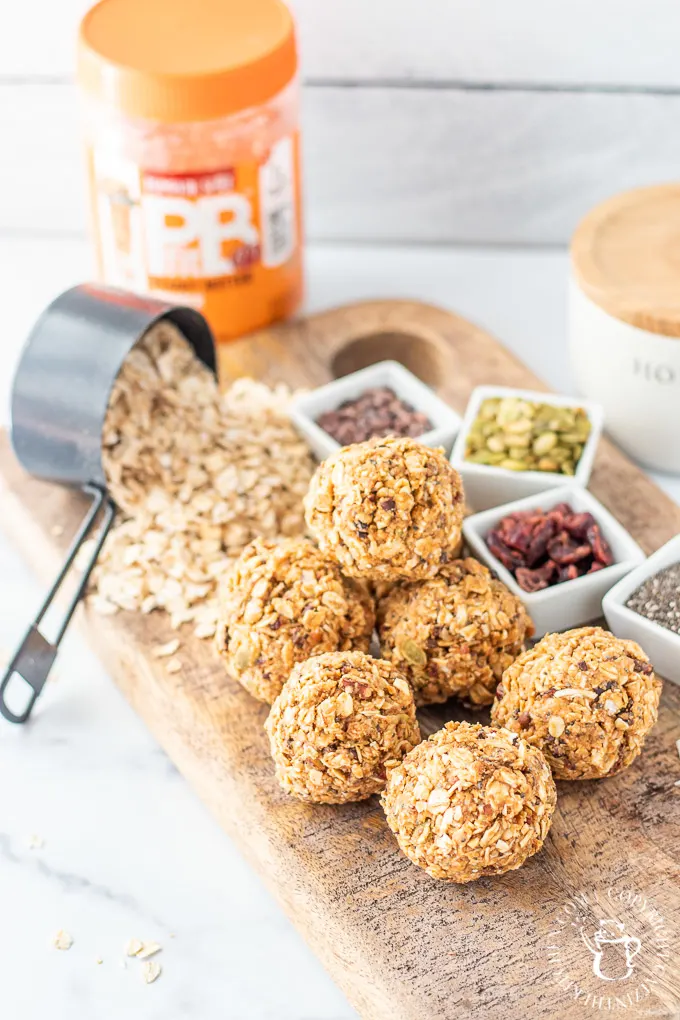 So, since it's October and time for all things pumpkin, I decided to throw a pumpkin spin on this recipe, using the pumpkin spice protein powder mentioned above, as well as pumpkin seeds (AKA pepitas). Clearly, you can make this recipe anytime of year, using normal protein powder, or no protein powder at all. You could substitute hulled sunflower seeds for the pumpkin seeds, among other things! Lots of mixing and matching you can do here – the base ingredients are definitely super flexible.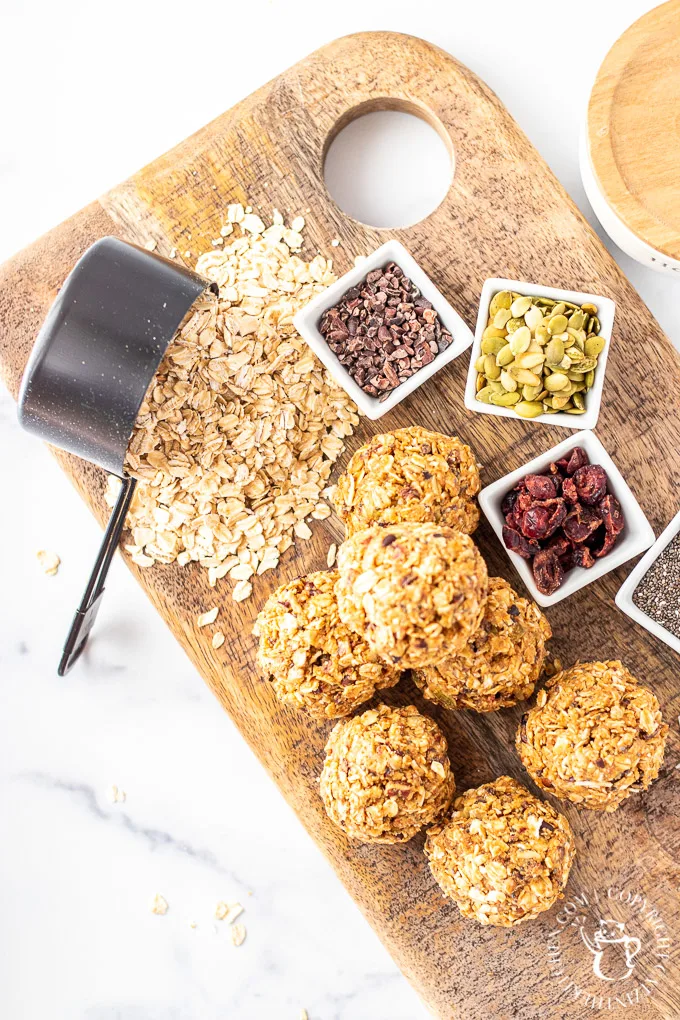 No doubt about it, there are a lot of ingredients in this recipe for pumpkin spice protein balls. Most of them Chels and I always have in the pantry – a variety of chopped nuts, coconut flakes, seeds, and the like. We did have to run out and get pumpkin seeds, but I think everything else was already here. That said, I do realize that not everyone is a food blogger, so if you don't have a three types of maple syrup and a giant container of chia seeds in your pantry…I get it. Buy small quantities or substitute as needed! (Editor's Note: You do not need three types of maple syrup to make this recipe. That was a joke aimed at the very narrow audience of my siblings, who always tease us about having so many varieties of the same type of ingredient – five kinds of mustard, things of that nature. What can I say. Life of a food blogger. And it's not bad. Also, I'm the editor. So I don't know why I'm writing this as if I was editing someone else's work. Clearly this post is too long.)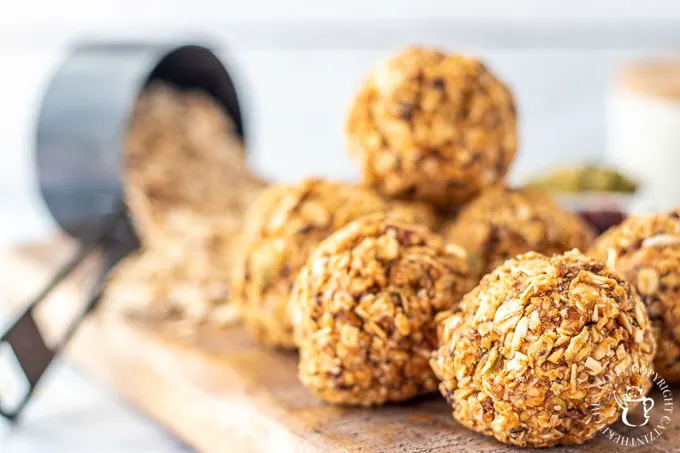 All of that fuss over backstory and ingredients aside, this is an easy one to whip up. Throw everything in a bowl, mix it up good with a wooden spoon or rubber spatula, use an ice cream scoop to turn the mixture into balls, and chill (the balls, but, sure, you can chill, too). After half an hour or so, they're all yours! Store them in the fridge, but if your family is like mine, they won't last long. Everybody, from Ruby on up, LOVES these things. Too tasty for their own good.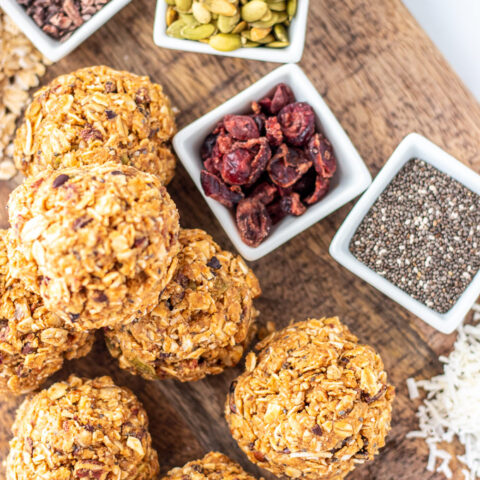 Pumpkin Spice Protein Balls
Additional Time:
30 minutes
You can easily modify this recipe for tasty pumpkin spice protein balls into an any time of year healthy, filling snack!
Ingredients
1/4 cup chopped dried cranberries
1/4 cup chopped pecans
1/4 cup coconut flakes
1 tbsp flaxseed meal
1/4 cup pumpkin seeds
1/4 cup chia seeds
1/4 cup cacao nibs
3 cups gluten-free oats (if you need them to be gluten-free)
1 tsp vanilla
1 cup natural peanut butter
1/2 cup pure maple syrup (we recommend grade A dark, robust)
1 cup pumpkin spice peanut butter protein powder
1/4 cup + 1 tbsp honey
Instructions
Mix all ingredients well in a large bowl.
Use an ice cream scoop to scoop out the mixture, and then roll into balls by hand. If your mixture won't stay together, add more honey or peanut butter until it does.
Chill in fridge for about 30 minutes before enjoying
Nutrition Information:
Yield:

12
Serving Size:

1
Amount Per Serving:
Calories:

379
Total Fat:

20g
Saturated Fat:

4g
Trans Fat:

0g
Unsaturated Fat:

14g
Cholesterol:

0mg
Sodium:

112mg
Carbohydrates:

43g
Fiber:

9g
Sugar:

14g
Protein:

13g