This recipe for chai apple pie is an easy way to dive into autumn baking season! You can use a store-bought pie crust, or make your own!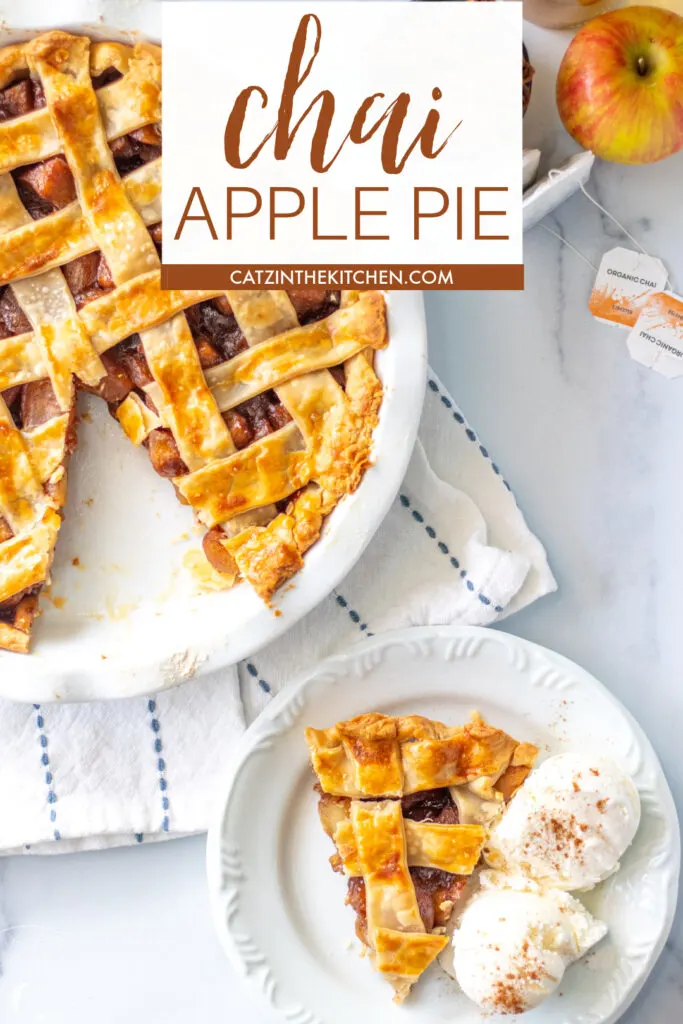 It's officially pumpkin and apple season in the cooking world (and pretty much everywhere else, I guess) and I'm kicking the season off with an apple recipe. An apple dessert! An apple pie. Not just any ordinary apple pie though, an apple pie with chai in it! You should know that chai is one of mine and Grace's favorite cooler season drinks. In fact, if you love chai, too, I highly recommend the Chai Tea Latte mix from Trader Joe's. It's under $4 and lasts a decent amount of time.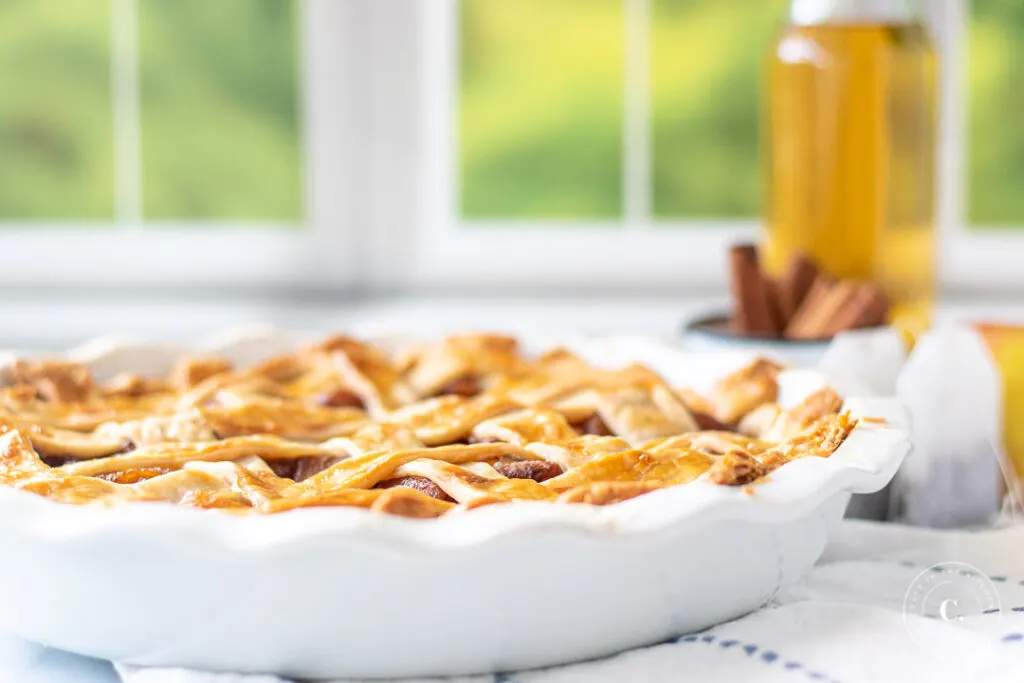 Back to this pie, though. In terms of pie-making, if you're nervous or unsure about your pie-making skills, don't be. This recipe uses a refrigerated, pre-made pie crust from the store, which I really think helps take out some of the insecurity that can come with making pie crusts. However, if you're up for a challenge or your pie-making skills are off the chart – go ahead and make your own homemade pie dough!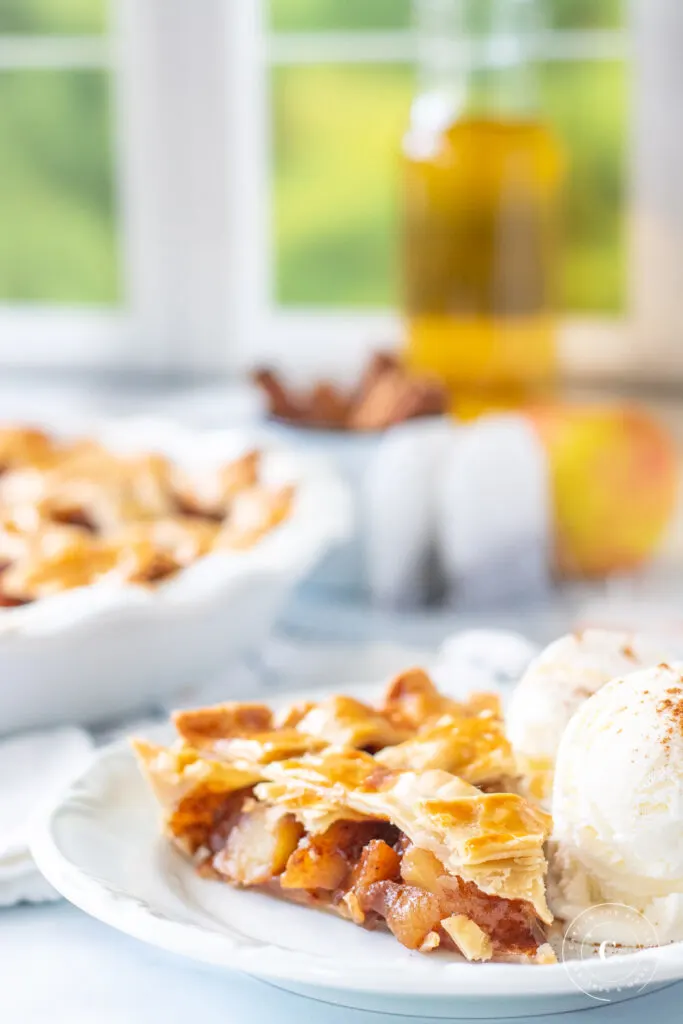 This chai apple pie uses actual tea bags to get some of the chai flavor and then we bring in additional spices like cinnamon, cardamom, ginger, and cloves. So you get this earthy, spicy flavor that is balanced out by the crispy and sweet honeycrisp apples. And they have to be honeycrisp apples! Not only are they my favorite, but they also hold up really well to the simmer heat on the stovetop, as well as being infused with all of those above-mentioned spices.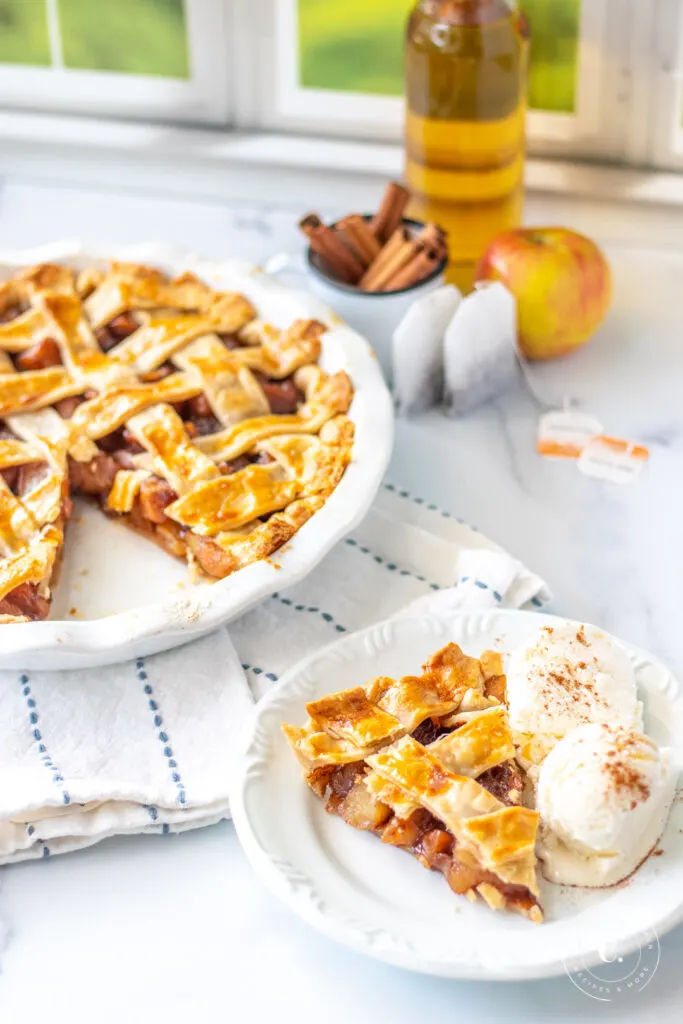 If you want to know what I think is the most challenging part of this recipe, it would definitely be the lattice pie topping. Grace and I worked on it together because I'm not so good at it, and it helped to have not only a second pair of hands, but also eyes, to make sure we were getting the pattern correct. But practice makes perfect, and that is one of the reasons why I love to write for our blog – I keep learning and growing in my baking and cooking endeavors!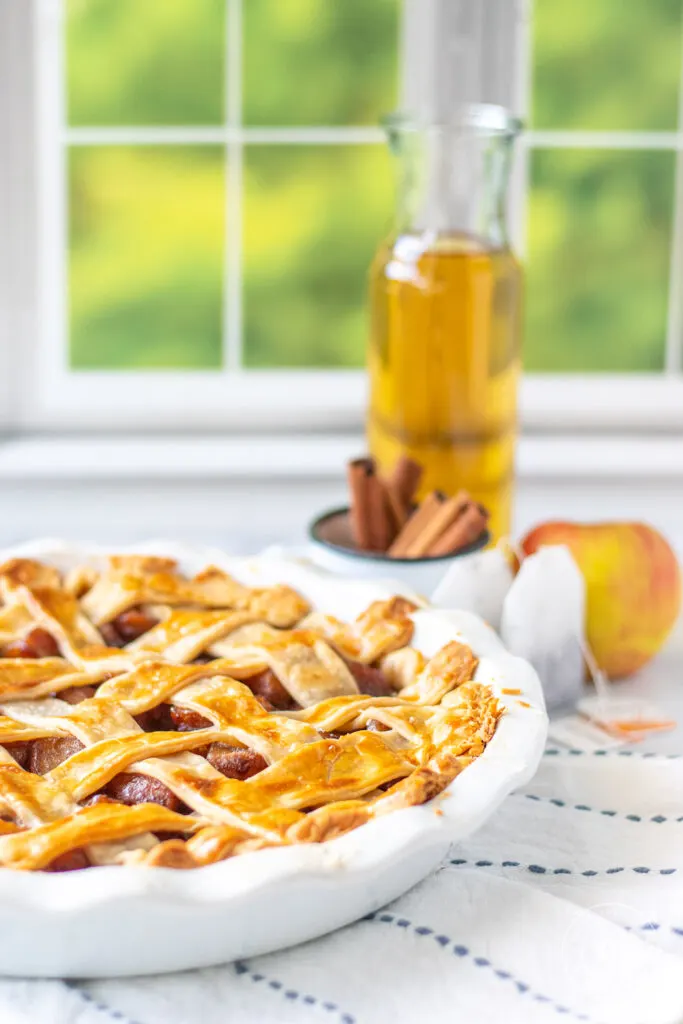 I just bought my apples from the store, but going apple picking would be a much more delightful way to go about purchasing the apples and then adventuring into the kitchen with maybe your little kids in tow, all sporting aprons while pushing up kitchen chairs to the counter while you have an afternoon of fall baking. So picturesque, too.
If you homeschool, that's a school lesson right there. Home ec and science in one! ;)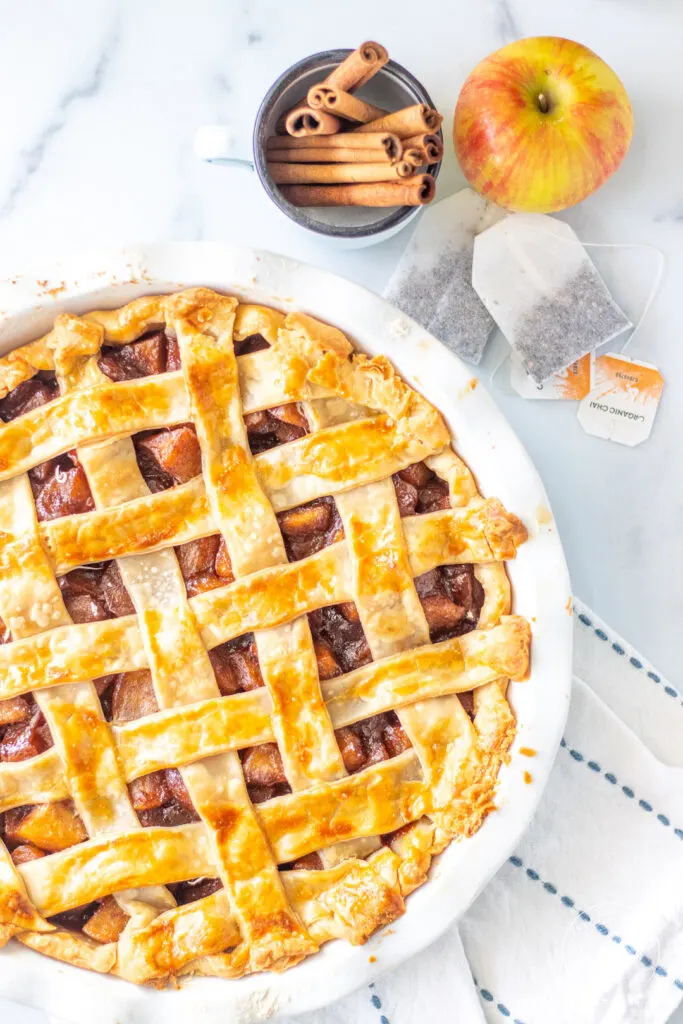 I hope you get a chance to spend an hour or two in the kitchen working on this beautiful and "spicy" pie. So much flavor in the apple pie filling! You might actually just want to make this again without the pie and turn it into a chai apple crisp – that would be simply heavenly, too!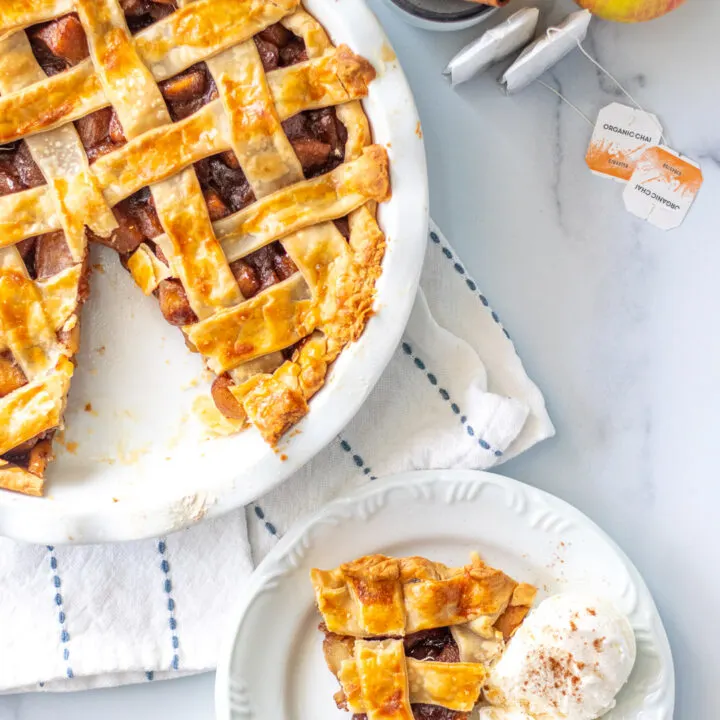 Chai Apple Pie
Total Time:
2 hours
25 minutes
This recipe for chai apple pie is an easy way to dive into autumn baking season! You can use a store-bought pie crust, or make your own!
Ingredients
1 cup apple juice or apple cider
2 chai tea bags
2 tbsp unsalted butter
1 1/2 lb. Honeycrisp apples, peeled and coarsely chopped
1/2 cup packed brown sugar
1 tbsp cinnamon
1 tsp ground ginger
1/4 tsp ground cardamom
1/4 tsp ground cloves
2 pinches black pepper
1 tbsp maple syrup
1 tsp vanilla extract
1/4 tsp salt
1 tbsp cornstarch
1 (15 oz) pkg. rolled, refrigerated unbaked pie crust (2 crusts)
1 large egg, lightly beaten
Instructions
Microwave juice or cider in 30-second intervals until hot, but not boiling. Add tea, cover, and steep for 10 minutes. Discard tea bags.
Meanwhile, melt butter in a large saucepan. Add apples, brown sugar, cinnamon, ginger, cardamom, cloves, pepper, maple syrup, vanilla, and salt. Stir in apple juice/chai mixture and bring to a boil, then reduce to medium heat. Cook uncovered and stirring occasionally, until apples are tender, about 30 minutes.
Transfer 1/4 cup of the liquid from the saucepan to a small bowl. Whisk in cornstarch until dissolved and smooth. Stir back into the saucepan and continue cooking over medium heat, stirring often, until the mixture begins to thicken, about 5 minutes. Pour into a bowl and allow to cool for one hour.
Meanwhile, preheat oven to 425 degrees. Roll 1 pie crust into a 12-inch circle on a lightly floured surface. Transfer to a 9-inch pie plate. Trim dough 1-inch beyond pie plate edge. Pour filling into crust.
roll remaining crust into another 12-inch circle. Cut into 14 (3/4-inch wide) strips. Put 1 strip horizontally across the center of pie. Lay another strip vertically on top of the first. Contine with remaining strips, alternating horizontally then vertically and weaving over and under to create a woven lattice. Trim strips 1 inch beyond edge of pie plate. Fold bottom crust over ends of strips; pinch to seal and crimp edges. Lightly brush crust with beaten egg. Cover edge with foil to prevent overbrowning.
Bake for 30 minutes. Remove foil and continue baking until golden and bubbly, about 10 minutes longer. Let cool for at least 1 hour before slicing. Serve warm with ice cream or whipped cream or both.
Notes
Pie can be made ahead and stored at room temperature for up to two days. Reheat 15-20 minutes in a 350 degree oven.
Recipe slightly adapted from Allrecipes.com
Nutrition Information:
Yield:

8
Serving Size:

1
Amount Per Serving:
Calories:

295
Total Fat:

11g
Saturated Fat:

5g
Trans Fat:

0g
Unsaturated Fat:

5g
Cholesterol:

31mg
Sodium:

207mg
Carbohydrates:

49g
Fiber:

3g
Sugar:

28g
Protein:

2g
Nutrition information isn't always accurate.