Granola can be expensive and full of sugar, but it doesn't have to be – this recipe for Maple Sea Salt Granola makes it easy to make your own!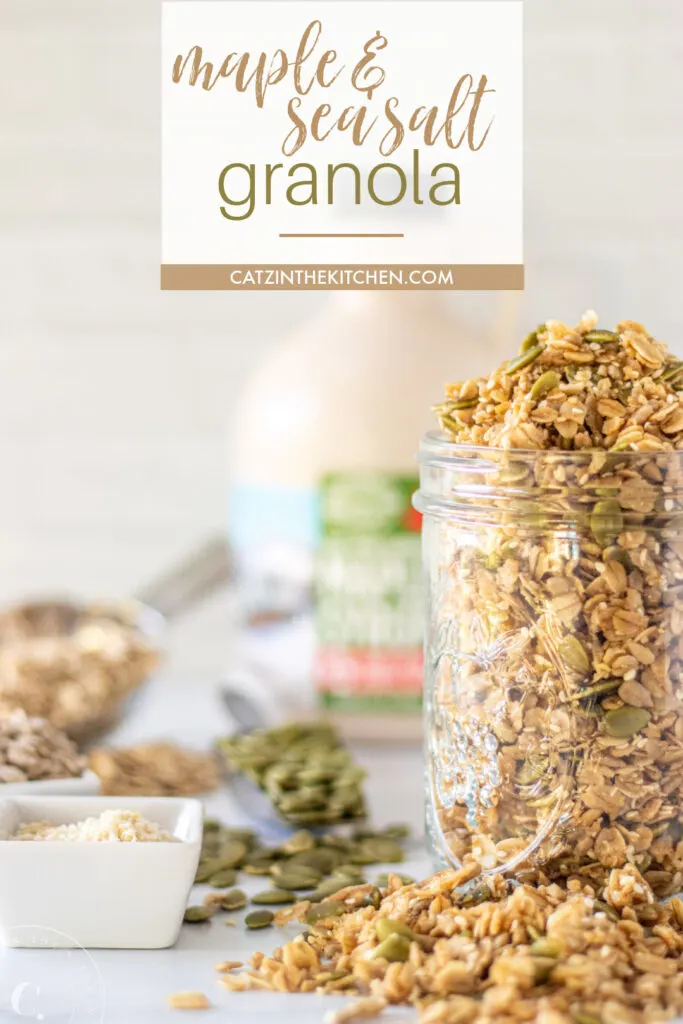 This granola is so good! Like, you just want to grab a handful as you're walking past the open pantry to munch on, kind of good! And we love granola so much in this house that when we run out, Josh and Grace kind of act like there is an emergency situation…"When are you going to put granola back on the grocery list?!"
Usually Josh and Grace just top their greek yogurt with it. Sometimes, Josh will fill a ramekin up with granola and add a bit of almond milk for a late night snack. My favorite way to enjoy granola is topping my smoothie bowls with a generous handful – texture, baby! But like I said, we've also been known to grab a handful directly out of the container, too.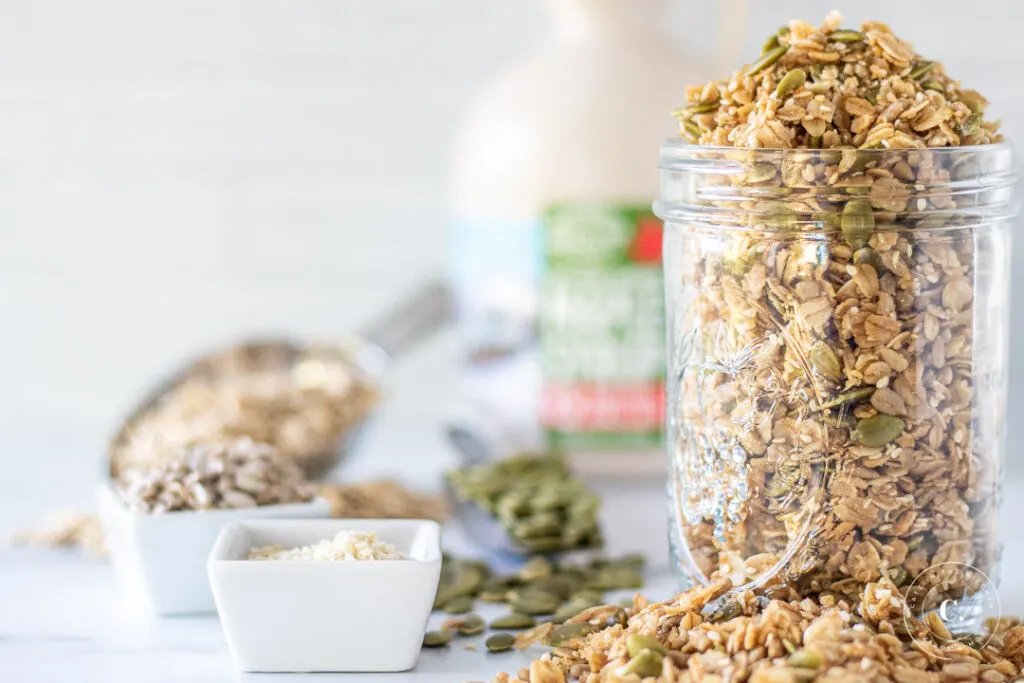 Over the years, I've bought so many brands and varieties of granola – one thing I've learned is that not all granola is created equally. Granola can actually be extremely high in calories and sugar…which if the calories are from good ingredients, I don't mind. But when the back of the nutrition label is also high in sugar, I start to get suspicious of what's actually in the bag.
I don't know why it took me so long to finally begin making it a habit to just make my own, but I sure am glad I did, because although it did take quite a bit of tweaking and testing, the recipe I settled on is delightful and so utterly simple…and did I mention easy? It's perfectly browned and crunchy thanks to the pepitas and sunflower seeds and sweetened and coated with maple syrup and sea salt. It's crunchy and flavorful. Clusters of perfection, if you ask me!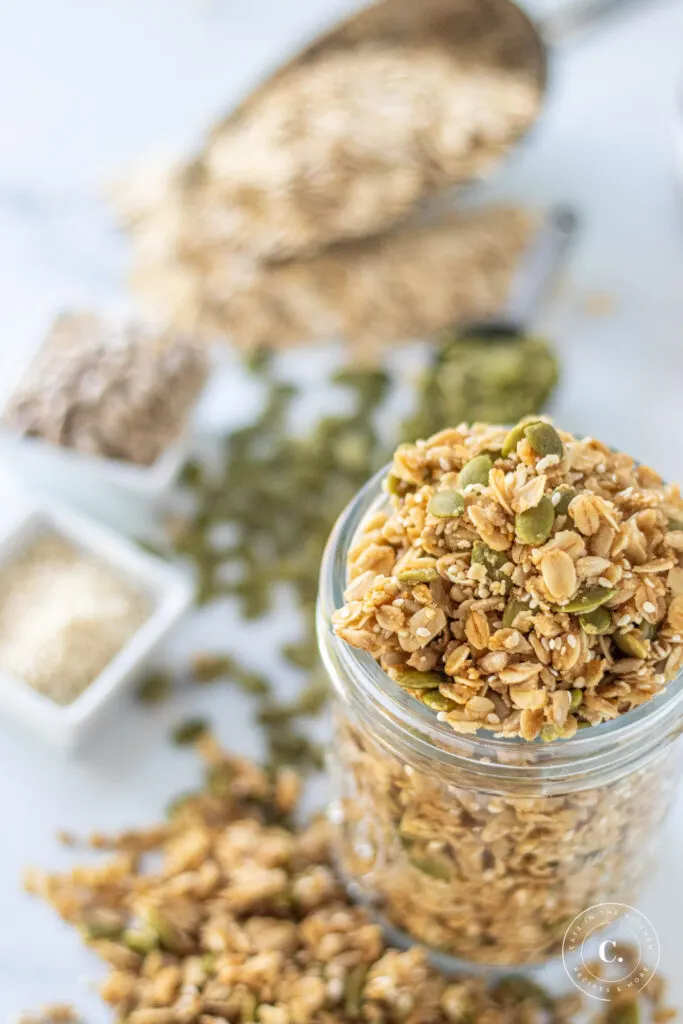 Ingredients I recommend:
Oats
Sesame Seeds
Pepitas (you can find these in bulk at Costco or Amazon)
Sunflower Seeds
Maple Syrup – real maple syrup…non of that sugary Mrs. Buttersworth stuff
Coconut Oil
Brown Sugar
Sea salt
I buy all of these items from either Costco or Amazon – they last me a long time because I buy the items in bulk, which is a considerably most cost-effective way to do it.
Now, maybe you don't keep some of these items on hand like the sunflower seeds or pepitas (AKA pumpkin seeds). Well, let me tell you one reason why I think you should (other than the fact that they are just good for you). Those particular ingredients are so good in a salad! I make homemade salads several times a week and after adding in my lettuces and veggies, my favorite thing to add in next are the "extras" for texture and crunch. Nuts, dried berries, and seeds are some of my favorite things, so if you think you won't use them…try adding them to a salad.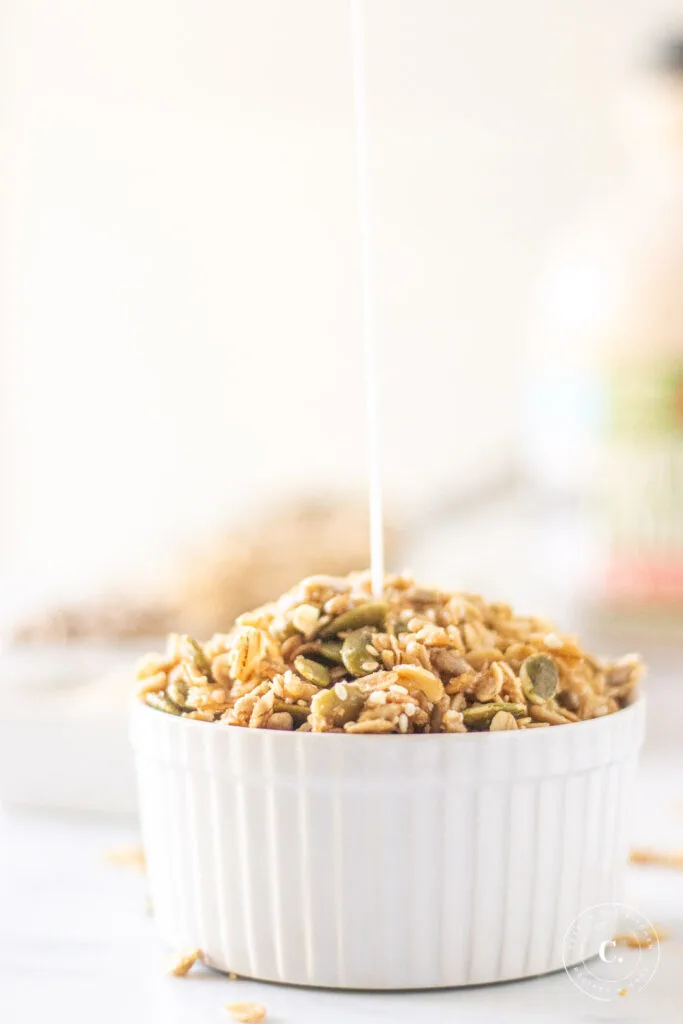 Also, oats should definitely be something you keep in your pantry. Other than the obvious use case of making oatmeal, there are oatmeal cookies, you can add oats to a smoothie or, our favorite easy breakfast is overnight oats! We took a break from making them for awhile, but we're back to making them on the regular thanks to Grace. She has been doing a lot of meal prep since she often works a double shift at the pizza restaurant where she works.
So these are all double-duty ingredients. By the way – try a little coconut oil on your toast or muffin next time instead of butter or jam – I'm a fan!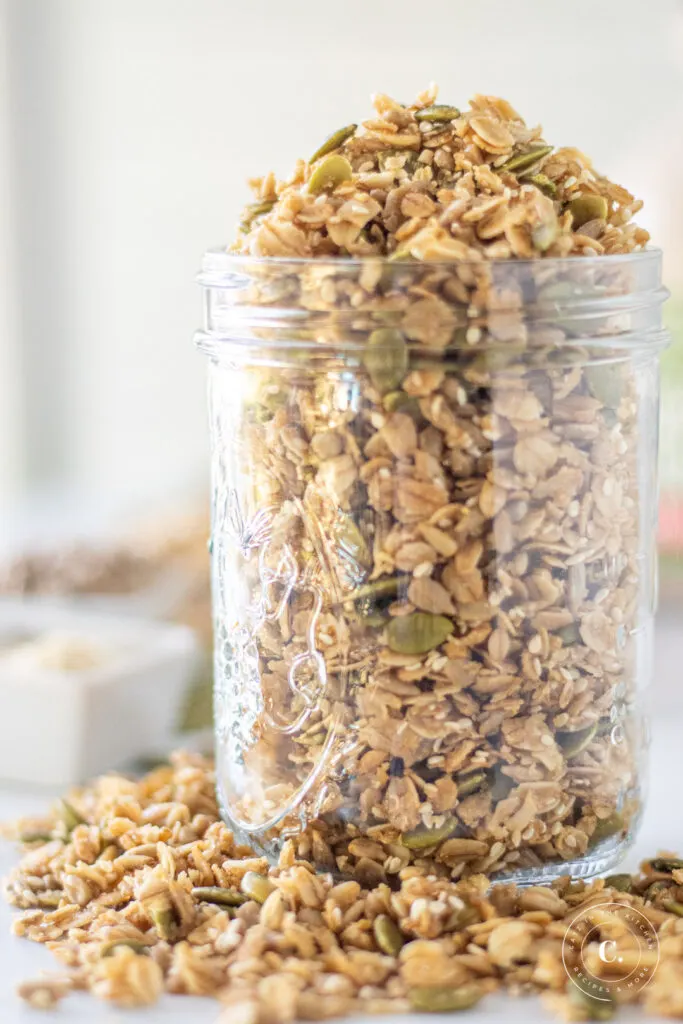 This recipe has just the right amount of sweetness due to the maple syrup and brown sugar and all of the crunch you want. It's not too salty…there is only 1 tsp of sea salt in the whole recipe (you could add more if you desired) but I think it is just enough to bring out the other flavors.
But my favorite part of the recipe, aside from the way the house smells after baking it, are the clusters of granola after it has cooled and you've decanted it. They aren't so big that a huge bite of granola is all you get, and it's not just falling apart either. It's just the perfect balance to top your yogurt or smoothie bowl (in my humble opinion…).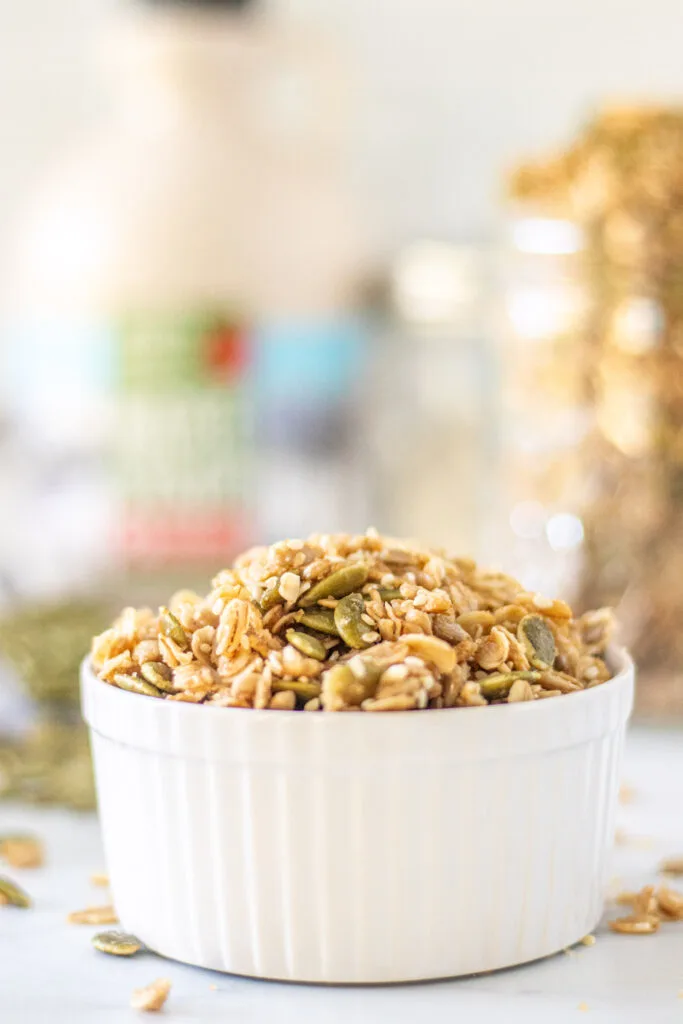 If you love granola, too, give this a whirl over the next week and let me know what you think. I think you will find that it is really hard to not nibble some while it cools fresh from the oven and even harder to not snack on as you wander in and out of the kitchen throughout the day… 😉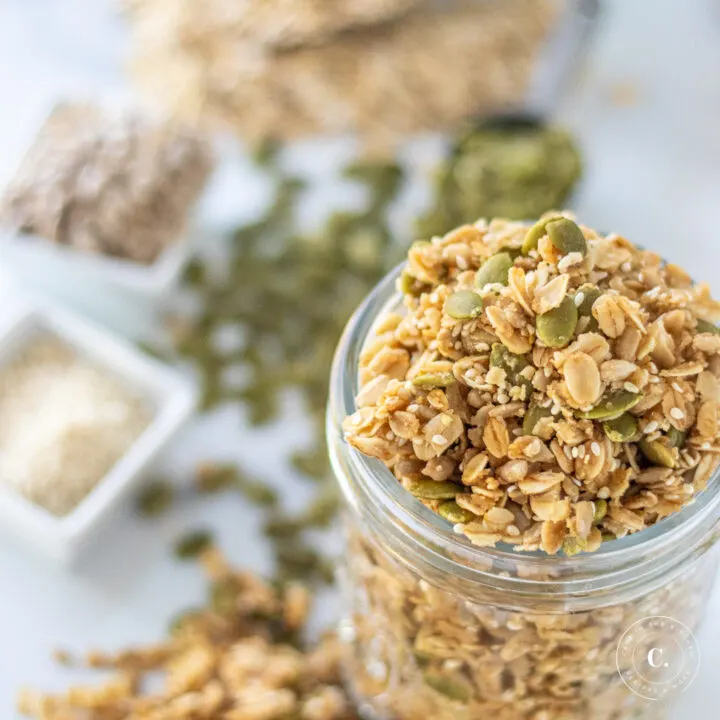 Maple & Sea Salt Granola
Yield:
12 (about 1/2 cup per serving)
Additional Time:
45 minutes
Total Time:
1 hour
55 minutes
Granola can be expensive and full of sugar, but it doesn't have to be - this recipe for Maple Sea Salt Granola makes it easy to make your own!
Ingredients
3 cups old fashioned oats
1/4 cup + 2 TB brown sugar
1 cup Pepitas (pumpkin seeds)
1 cup Sunflower Seeds
1/2 cup Sesame Seeds
1/2 cup Maple Syrup
1/2 cup Coconut Oil, melted
1 tsp Sea Salt
Instructions
Preheat oven to 250 degrees. Line a large baking sheet with parchment paper.
In a large bowl, combine oats, brown sugar, pumpkin seeds, sunflower seeds, and sesame seeds together. In a smaller separate bowl, whisk together maple syrup, melted coconut oil, and sea salt. Add the wet ingredients to the dry and stir to evenly combine.
Spread the oat mixture onto the prepared baking sheet, making sure to spread into an even layer and pressing down with a spatula into the pan.
Bake for one hour, stirring every 15-20 minutes and then pressing the mixture firmly back into the pan again.
Remove pan from oven and do not stir. Allow to cool completele before breaking up the granola into clusters and storing in an airtight container.
Nutrition Information:
Yield:

12
Serving Size:

1
Amount Per Serving:
Calories:

345
Total Fat:

23g
Saturated Fat:

9g
Trans Fat:

0g
Unsaturated Fat:

12g
Cholesterol:

0mg
Sodium:

840mg
Carbohydrates:

29g
Fiber:

4g
Sugar:

11g
Protein:

9g
Nutrition information isn't always accurate.