This ultra-simple, super-fast recipe for Polynesian Chicken is one of our busy week night go-to favorites! Five ingredients, 30 minutes, and so much flavor!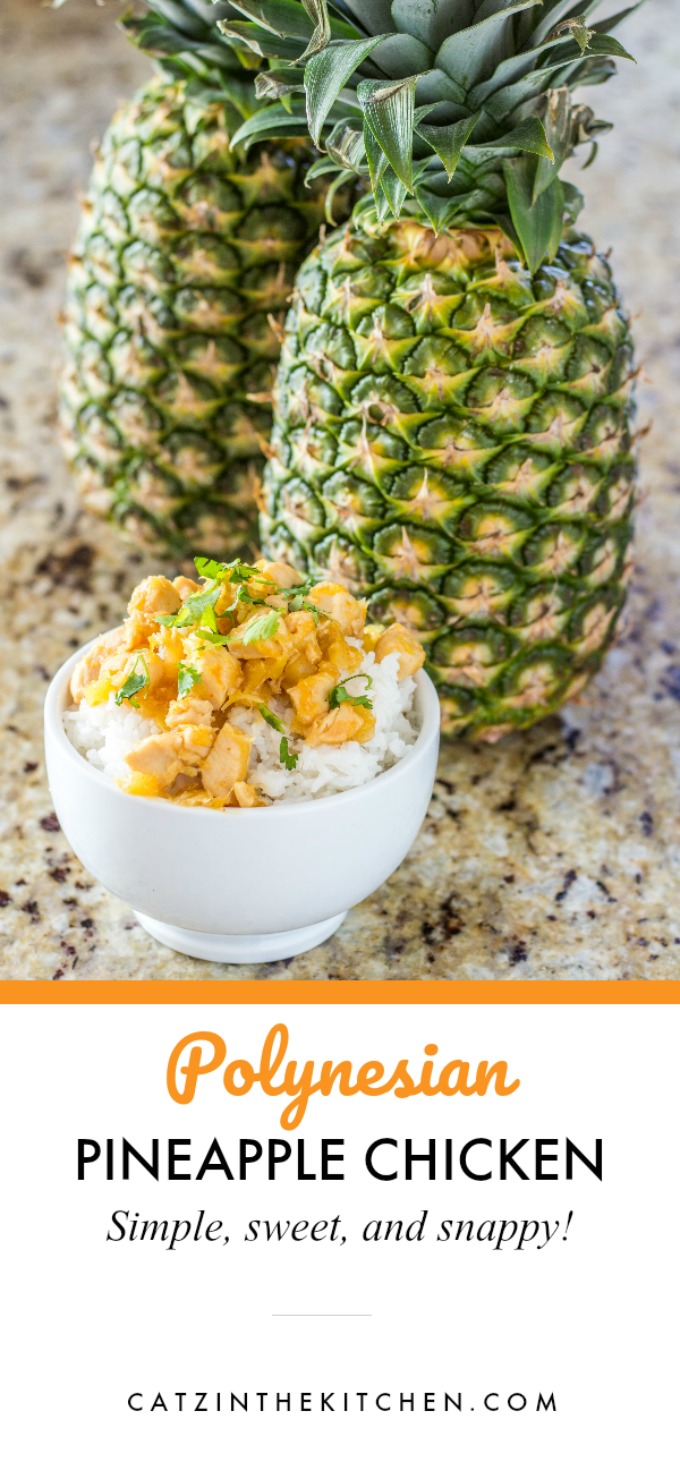 This recipe for Polynesian Chicken first appeared on Catz way back in July of 2010, just a couple of months after I started the blog in an effort to improve my grocery shopping game and the quality of our family meals! Since then, we've made the recipe over and over and over again. Its simplicity, combined with its speed and flavor, send us back to it again and again in busy weeks or when the pantry is getting bare. Also, it's just plain yummy! Some of the notes below are funny – the "six year old" is now 13 and regularly cooking on her own, while the "picky" two year old will eat almost anything! And Jewel is no longer 15 – she's soon to graduate from college!

At any rate, we've made a few little enhancements to the recipe, along with some notes about additional ideas to add even more flavor, and, of course, some updated photos. Enjoy!
You know when you're invited to someone's house for dinner and the meal is just so good that you have to have the recipe? This was such a meal for my family. Back in June, we were over at my in-law's house because I was going to meet one of my husband's cousins who he hasn't seen since he was a wee little boy. June is a crazy time for my in-laws and us because our family from Southeast Africa comes into town and we spend pretty much every night there. I enjoy seeing my husband's family and enjoying the perk of getting out of dinner…ha ha, mostly kidding – of course, we help out as much as we can! The food sure is tasty, though.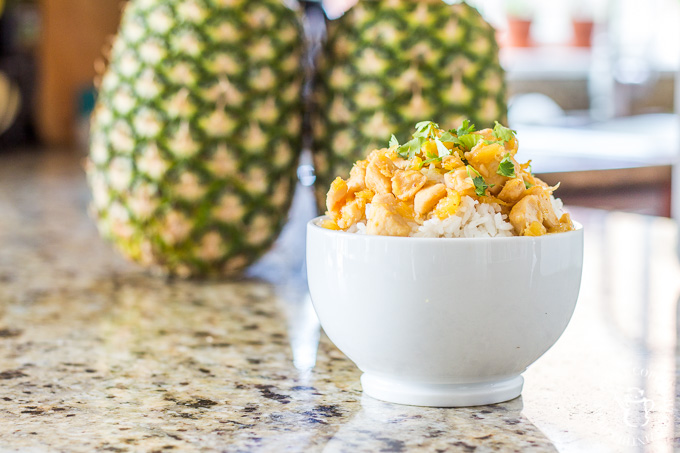 On this particular night, my sister-in-law, who is quite the little master in the kitchen for being only 15 years old, made dinner. She made Polynesian Chicken. Have you ever had it? Oh my, it's so good! It was so good in fact several people went back for seconds and by the time my hubby and I finished eating, any leftovers that would have typically existed were gone! I could tell Josh really enjoyed the meal so I inquired to my sister-in-law about the recipe. Now…not all cooks are alike. Jewel is more of the Rachael Ray type…she doesn't really measure. She has the gift of throwing things together and making them taste amazing! I do not have such a gift. I'm more of the Paula Deen type (not that I would ever compare myself to her…she is a goddess in the kitchen), in that I have to measure everything…perfectly! I blame it on my OCD. So after getting the gist of the recipe and remembering somewhere deep in my mind my other sister-in-law asking about this same meal and hearing it was an Uncle Ben recipe…I zipped on over to dear old Uncle Ben's page and found the recipe there.
So last week, I went ahead and decided to make the dinner.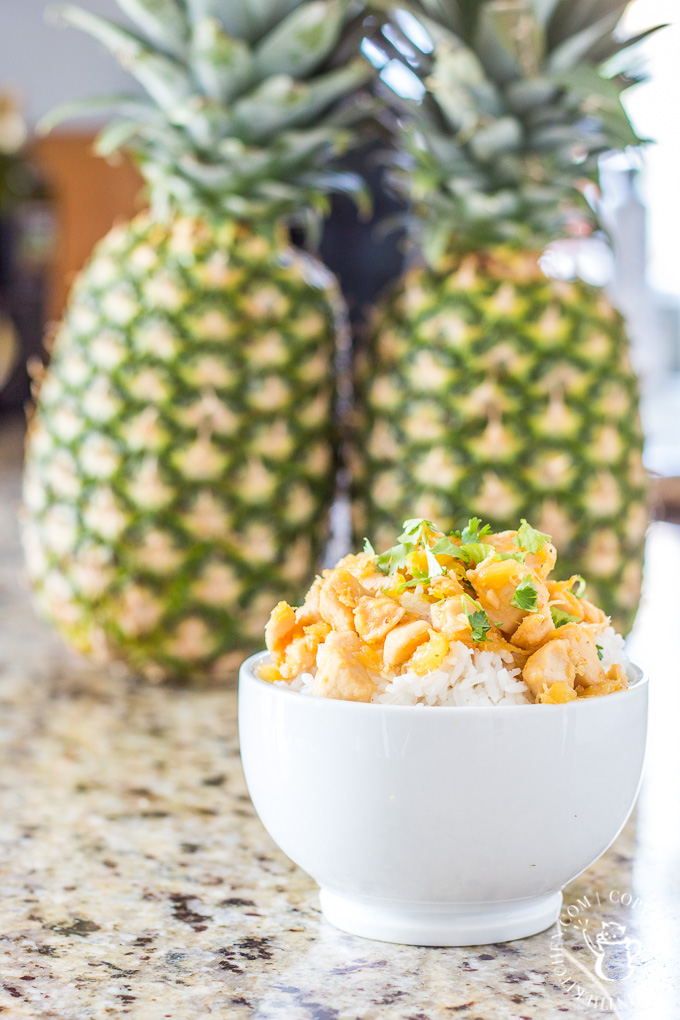 I took some advice from my sister-in-law Jewelissa, she used crushed pineapples instead of diced pineapples and I could only find apricot marmalade in the store and it worked just fine. Also I didn't have peanut oil, so I just used evoo and everything tasted amazing. My husband was in heaven, my six-year-old wanted more, and my nearly two-year-old…who we all know to be a picky eater, cleaned her plate! She even ate all the broccoli!!! This is a new family fave and one I will make many many times, I'm sure!
Polynesian Chicken
This ultra-simple, super-fast recipe for Polynesian Chicken is one of our busy week night go-to favorites! Five ingredients, 30 minutes, and so much flavor!
Ingredients
2-4 boneless skinless chicken breast, diced into bite sized pieces
1 tbsp peanut oil
1 can crushed pineapple in juice
2 tbsp soy sauce
1 cup apricot pineapple marmalade
4 servings cooked white or brown rice
Instructions
Prepare rice according to directions, or, preferably, using a rice maker.
Heat oil in a large skillet. Add chicken breast and cook 3-4 minutes or until nearly cooked through.
Add juice from pineapple to chicken in skillet just as chicken finishes cooking.
Mix pineapple, marmalade, and soy sauce together in a bowl. After pineapple juice has evaporated from skillet, add the marmalade mixture to chicken. Cook until sauce is a glaze.
Remove from heat and serve over rice.
Notes
Optionally, add a 1/4 tsp cayenne pepper, 1 tsp fresh ginger, and two cloves minced garlic for a very light kick, and top with chopped Thai basil.
Nutrition Information:
Yield:

4
Serving Size:

1
Amount Per Serving:
Calories:

187
Total Fat:

4g
Saturated Fat:

1g
Trans Fat:

0g
Unsaturated Fat:

3g
Cholesterol:

7mg
Sodium:

486mg
Carbohydrates:

34g
Fiber:

2g
Sugar:

25g
Protein:

5g