My kids are sick. Well, they are still sick from their colds, but last night, we think they got food poisoning from a restaurant. So they spent the entire night ridding their bodies of anything that wanted out. It was a looong night! Today they are on a liquid diet till we feed them something bland tonight and them tomorrow they start more antibiotics.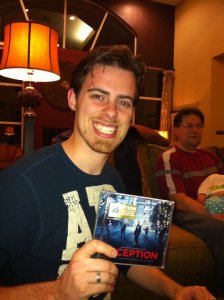 We celebrated Josh's birthday Saturday night and it was a lot of fun. He got the Inception Soundtrack which he was really excited about, a couple of giftcards to Macy's, books, money, and some Starbucks Love…not to mention the Panini Press the girls and I bought for him.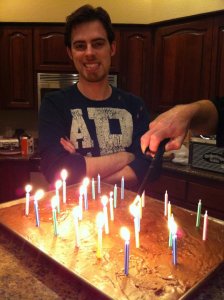 Josh's mom made him his favorite cake. Josh isn't much of a cake person, so every year his mom makes him his special Texas Sheet Cake…do you want to know how old my hubs is? He is 26 years old now!
We still have to go grocery shopping. I may run out and do it later or if the girls are feeling up to it, we might do it tonight. But I do have a menu for everyone.
I will say this in advance- we have more birthday cake in the house and so therefore, I will not be making any sweets this week. I know, I know, I said I would last week…but I guess I fibbed just a bit ;)
Monday
We're going to do eggs and toast for the girls tonight. Simple and Bland, but Josh will probably spice ours up a bit :)
Tuesday
Baked Potato Soup
Wednesday
I'm going to use the Honeybaked Ham in my freezer with artichokes and herbed rice.
Thursday
( Awana Night)
Chili Casserole
Friday
Homemade Margarita Pizza with a salad
Saturday
Josh is going to try out his Panini Press and make us sandwiches with chips
Sunday
Chicken Tostadas
Well, that's it. I'm looking forward to Sunday's dinner, it sounds good to me…but right now, everything sounds good to me since I haven't eaten all day because I didn't want to make my kids feel bad since they can't eat till tonight. Now, that's love right there ;)
Have a great week everyone, and please try and stay healthy!