Oh how I love potatoes. As I grew up, my dad was a potato man. He enjoyed baked potatoes and my mom's infamous scalloped potatoes the best. However, he's not much of a fan of mashed potatoes, which is a shame because that could be my favorite way to eat them.
The other night, I was contemplating side dishes to accompany the Honey Baked Ham my dad had sent for us as our Christmas gift. The oven roasted asparagus was one side I already had, but I wanted something with potatoes and I was leaning toward mashed. However, when I approached Josh about what he would prefer, he said, " A baked potato sounded good." So that's what I decided to do.
A few moments before I was set to fix dinner, inspiration hit. I wanted to twist up our baked potatoes and give them an edge. I decided to add flavor to our potatoes by salting the skin.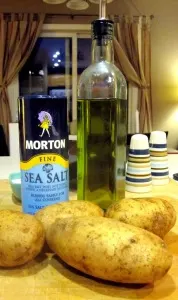 I had Idaho potatoes on hand, so that's what I used, but you could use probably any potato you wanted. I bet it would be delish with a sweet potato.
If you have not invested in a potato scrub brush yet, you should. They are so wonderful and make cleaning potatoes a cinch! To make this yummy side dish or meal ( depending on when you eat it) you need potatoes, sea salt, and some evoo.
Pre-heat your oven to 400 degrees and then you want to begin by cleaning your potatoes and drying them off. Stab or pierce each potato 6-8 times to help the steam escape during the cooking process, but be careful and don't cut yourself. I normally use foil to cook my potatoes in, but I used a baking sheet this time. Lay your potatoes on a small baking sheet and drizzle with olive oil, turning while you coat them so that they are completely oiled up. Then sprinkle some sea salt over each potato and rolling them around on the baking sheet.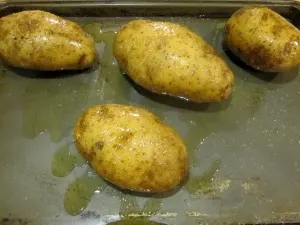 Place your baking sheet in the oven and set the time for 60 minutes. A normal cooking time for a potato at 400 degrees is anywhere from 45min- 60min. I've found that for us, 60 minutes is the perfect cooking time.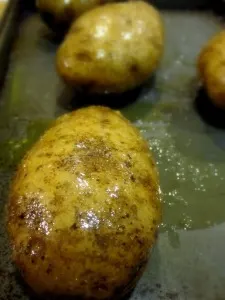 Now you're done. Go wander around or watch a show, kiss your hubby, or shop online until the oven beeps. When your potatoes they will come out smelling pretty good :) The oil sinks into the skin leaving the sea salt crystals to stick to the skin .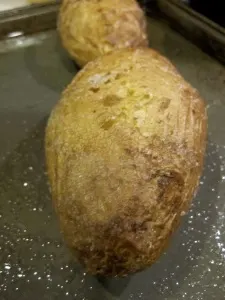 Now you can get creative with your toppings. I'm a butter, sour cream, and shredded cheese person myself. But sour cream and fresh chives would be yummy or a little cheese and some cooked bacon bits would also be divine with this :) Enjoy :)
Salted Crusted Baked Potato
by; Chels R.
Baking potatoes, or any kind you like
Evoo
Sea Salt
Preheat your oven to 400 degrees. Scrub and clean your potatoes. Dry them off and pierce them 6-8 times on all sides. Place on a baking sheet and drizzle evoo over them and sprinkle with sea salt. Bake for 45- 60 minutes until they are tender and done. Top with your favorite dressings :)
This Recipe is linked to: