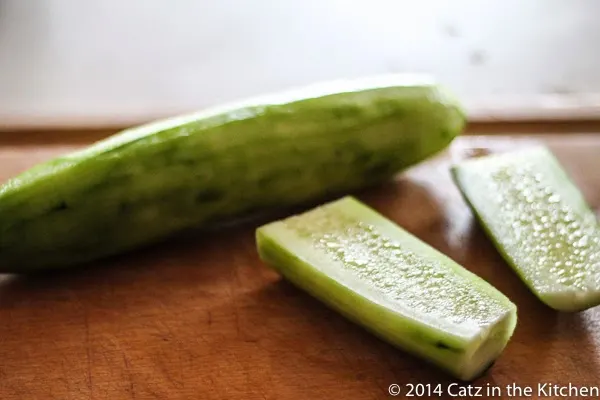 This post is a sister post to the one I'm sharing with you tomorrow. But in order to make the recipe I have for you tomorrow, you need to know how to blanch a vegetable. In this case, we're blanching a cucumber.
Why do we blanch vegetables? Sometimes we do it so we can properly freeze the ingredient so that when we go to use it when we're ready to, it won't become mushy. Other times, it's required for a specific recipe (as in our case) and in other times, it's a great way to ensure that your veggie is still crisp-tender when you bite into and still is holding onto all of its wonderful vitamins and enzymes.

Cucumbers are one of those vegetables that if you are going to bake it, sauté it, or whatever else that includes cooking, you are going to want to blanch it because there is so much water in the vegetable.
In the above picture, I've peeled the cucumber and cut into half length-wise. Bring a large pot to a rolling boil. In a large bowl, fill it with ice cubes and cold water. Set aside.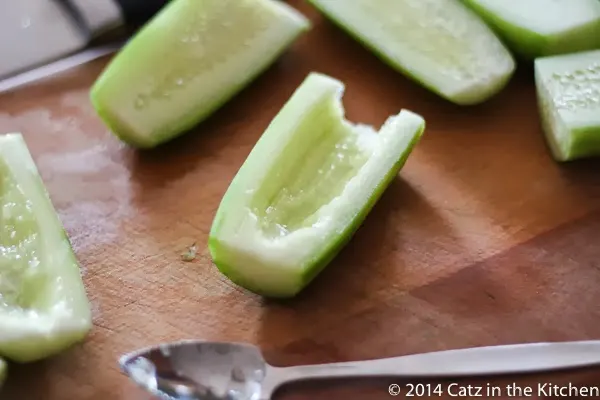 Once you've peeled the cucumber, scoop out the seeds. You can use a spoon, a knife, or what I find to be the most successful, is the grapefruit spoon. It's also what I used to scoop out the middle of the Taco Stuffed Zucchini Boats a few weeks ago.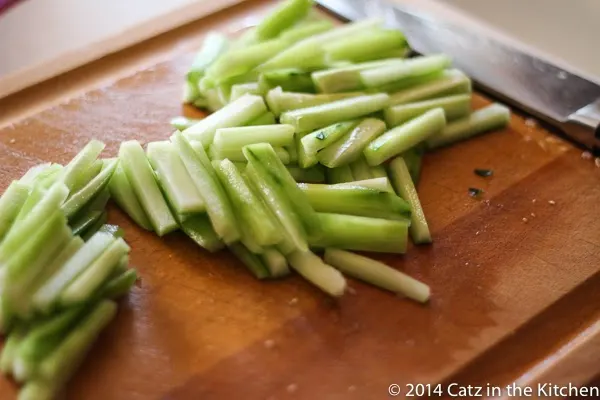 For the recipe I'm posting tomorrow, I needed my cucumbers cut into matchsticks. But other recipes may just require you to cut them into discs and maybe not even have the seeds removed. It depends on the recipe.
Once the cucumbers are cut into matchstick slices, plunge them into the boiling water for about 1-3 minutes, depending on the vegetable. (For the cucumbers, I boiled them for about one minute.) Remove with a spider spoon or a slotted spoon and immediately place them into the ice cold water. Leave them there until they've cooled and then drain and dry off with a paper towel.
If you want to make sure you've done it correctly, you should be able to take a bite of the vegetable you've just boiled and cooled and there should still be a crisp bite to it.
Now you can either freeze your vegetable or proceed to cook it till perfect as your recipe indicates.