I love Asparagus. Even as a young child, I loved it. I don't know how my mom made it, but she made it deliciously and I just grew up loving almost every green veggie there was!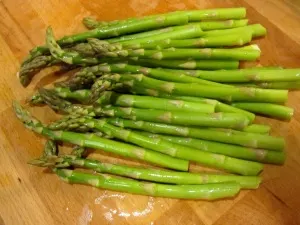 I roast my asparagus in the oven. I know some people like to boil it or steam it. But I just love the way it tastes after it's been in the oven. It still holds so much crispness, but it soaks up so much flavor too.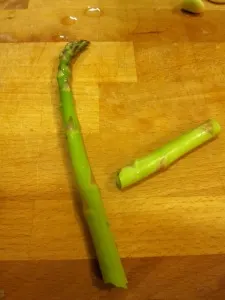 The first thing you want to do when roasting your asparagus is pre-heat your oven to 400 degrees. Then after you've cleaned your asparagus, give the ends a snap. Take your asparagus and hold each end in one hand. Wherever the end of the asparagus snaps, that's where it's at it's hardest and you don't want to use that end. However, I do hear people use the ends for soups. I've never done it, but if you want to get your moneys worth, just hang on to it. I prefer to snap each individual stem, because I like the "snap" sound of it and I think it's fun. But you can use that one stem that you snapped as a guide as to where you should cut the rest of the stems off.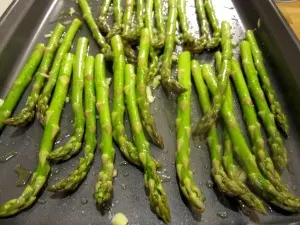 I love to dress up asparagus in flavor, but I keep it simple. First, arrange your asparagus on a baking sheet. Take 2 cloves of garlic and mince it and sprinkle it over the asparagus. Then, add some lemon juice. You don't need much. You can use fresh lemon juice and just juice the lemon over the veggies or you can use lemon juice in your fridge ( which is what I had on hand) and I poured 2 small cap fulls of the juice over the Asparagus. To give it a smidge of even more flavor, sprinkle some sea salt over the spears. It really gives it an edge. Then drizzle some EVOO over all the greens and mixed it all together so that it was all coated and call it a day.
Roasting your asparagus doesn't take long in the oven at all. You only need to roast it for 8-10 minutes before it's done. It should just start to get a little golden but still retain a crunch when you bite into it. Any longer than 10 minutes and your likely to over cook it and then you lose all that healthy nutrition that's hiding inside it. So don't cook it too long. :)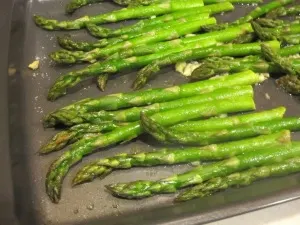 Oven Roasted Asparagus
This is such a wonderful and easy side dish for almost any meal and at this time of year, they are so affordable, that it would be a shame if you passed it up :)
Serves:4
Prep Time: 5 minutes
Cook Time: 8-10 minutes
Total Time: 23 minutes
Ingredients
1 lb asparagus spears
1-2 TB EVOO
1-2 tsp Sea Salt
2 cloves garlic, minced
1 TBS lemon juice
Directions
Pre-heat oven to 400 degrees. Snap off ends of asparagus and discard. Arrange your asparagus stems in single layer on a baking sheet.
Toss with evoo, sea salt, garlic, and lemon juice.
Roast for 8-10 minutes, until slightly browned, and crisp tender.