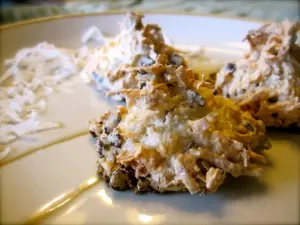 I remember my very first time eating a coconut macaroon. It was also the first time I had ever inhaled the amazing smell of garlic powder. I was over at a friend's house, playing with her brand new Midge Barbie doll that was getting married and playing kitchen with empty spice containers her mom had given her. While we were playing, her mom was in the kitchen baking up some coconut macaroons. It was love at first bite! I couldn't believe I had never ate this cookie before then! Her mom was kind enough to send me home with a little bag, which I quickly shared with my mom and told her she had to make these! Which she did and they were incredible too!
Last week, I was trying to come up with a new cookie recipe for Josh's lunches that called for ingredients which I already had. I had everything for these cookies except for the coconut. I can't tell you how excited I was to recreate this cookie for my family! I, however, added a very small twist to the recipe I was to use. I added those cute itty bitty little chocolate chips to the mixture. So Monday, I got to work in the kitchen to make these delicious little heavenly treats. And you know what? The cookie came out all wrong! I was devastated because I followed my recipe to a T…except of course I used the chocolate chips. But I doubted that was the reason the cookies came out wrong. The inside of the cookie was perfectly executed…but the appearance was not what I remembered it should look like. I think the recipe I used greatly under-estimated how much shredded coconut you should be using. I whined to my mom and Josh about my failed cookie (though they tasted great, they didn't look great) and I determined that I would try the recipe again the following day. Which I did. I added a lot more coconut than the recipe called for and you know what, the cookie came out a lot better. It looked like a coconut macaroon :) SUCCESS WAS MINE!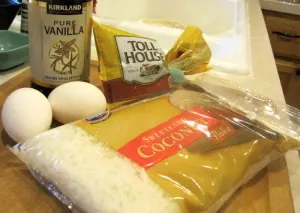 For this recipe, you'll need two eggs (egg whites that is), shredded coconut, vanilla extract, sugar (not pictured), and if you want…some mini chocolate chips.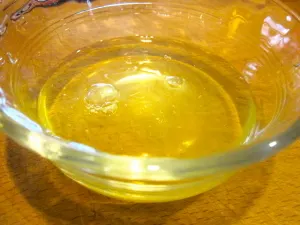 Start by separating the yolks from the whites when cracking your eggs. ( I don't throw away my yolks. I like to save them in a freezer bag for a recipe that may call for just the yolk later on).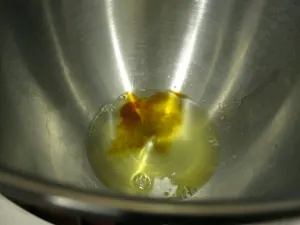 Combine the egg whites with vanilla extract and mix on a high speed until soft peaks form. Once you have soft peaks, start adding in your sugar about a tablespoon at a time until you have acquired stiff white peaks.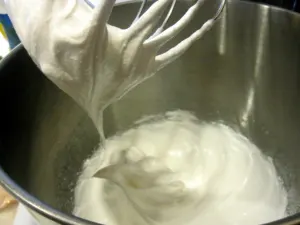 You'll know your have stiff peaks with the white fluff stands up all on it's own without falling over.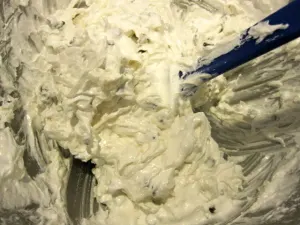 Fold in your coconut and chocolate chips until it's well combined.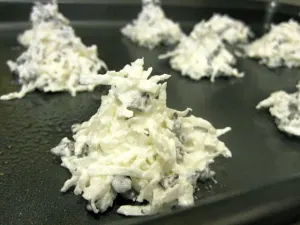 The fun thing about shaping macaroons is that they can really take any shape you want them too. You can make balls, or little squished cookie shapes. I shaped my cookies on a greased cookie sheet into adorably spiky pyramids. Bake at 325 degrees for about 20-25 minutes.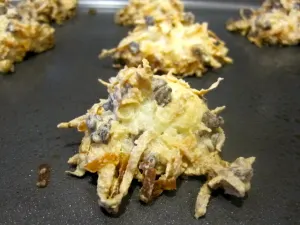 You'll know the cookies are done when they are lightly golden brown. Allow them to cool on a wire rack and that's it. You can start popping these cute little babies into your mouth almost right away. Just be careful not to burn yourself.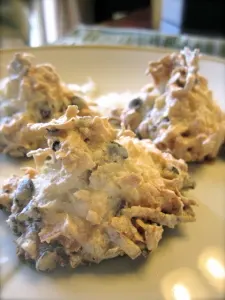 This is a great low fat cookie that's great for parties or hubby's lunches…or even late night guilt free snacks :) This was a pretty good recipe, but I am interested in trying out more. My mom has one she said I could have, so maybe in a few weeks, I'll give that one a try. The hubby isn't the biggest fan of coconut (which boggles my mind), but I plan on rectifying that :)
Coconut Macaroons
adapted from Better Homes and Garden Cookbook
2 egg whites
1/2 tsp vanilla extract
2/3 cup sugar
1 1/3 cups shredded coconut (I ended up using closer to 3 cups of shredded coconut the 2nd time around)
1/2 cup mini chocolate chips (optional)
Pre-heat oven to 325 degrees.
Lightly grease a cookie sheet and set aside.
In a mixing bowl, add 2 egg whites and vanilla extract. Mix on a high speed until soft peaks form. Gradually add sugar by tablespoons until staff peaks form.
Fold in coconut and chocolate chips and drop and shape on greased cookie sheets.
Bake for 20-25 minutes until edges are golden and lightly browned. Allow to cool on wire racks and then devour!
This recipe is linked to: