If you just read my post on my latest and greatest roasted chicken, this is like Part 2 to that post. I had never made my own homemade broth before. I had always wanted to, but never really planned for it. My husband is normally the one who always does the dishes and cleaning on nights when I've roasted a chicken, and everything has always gotten discarded in the trash can, but this time, I thought ahead and told Josh that I had big plans for the chicken carcass and all of it's goodies and I wanted to save it all to make some homemade broth.
As it turns out, the week that I was roasting my chicken and hoping to make my own broth, Finding Joy in my Kitchen has been doing a "31 days of cooking from scratch" post. And, the day I was going to make my own broth, her post for making your own broth came out. Her post about broth is full of a ton of information. I had no idea you could make your own broth by putting all of the ingredients you would need into your slow-cooker and you could simmer the broth all night while your asleep, and when you wake up, Voila, it's all done! I may just have to try that method next time.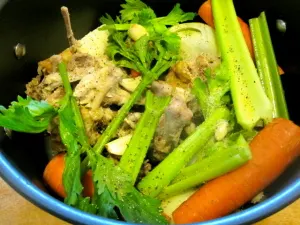 The day you want to make your broth, throw all the chicken goodies that you had saved, like the carcass and any skin or little bits of meat that is left and throw it into a large pot. Chop some carrots, celery, and onion in half (minus the skin) and place that into the pot. Add some cloves of garlic, pepper, sea salt, a splash or two of vinegar (which helps the bones break down their nutrients faster), and a couple of bay leaves if you have them, which I did not.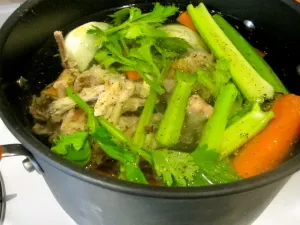 Fill the pot nearly all the way full with water, and let it simmer on low for 4-8 hours. You may need to add more water to the pot after a few hours.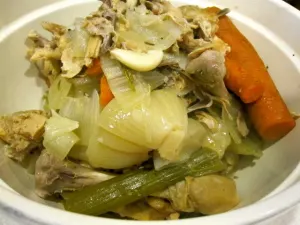 When your done simmering your broth, use a spider spoon or tongs and remove all the vegetables and big pieces of bones.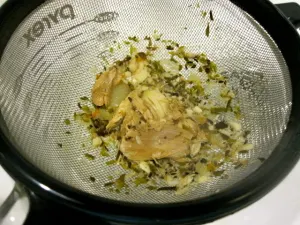 Using a mesh strainer over a bowl or a large measuring cup start pouring the pot of broth over the strainer. The broth will run through the strainer into whatever container is underneath the strainer, and the mesh strainer will catch all the smaller bits and pieces that you don't want going into your broth.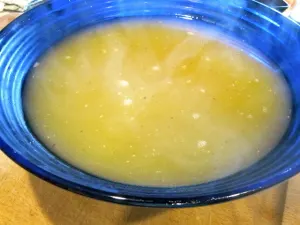 Let the broth cool quite a bit, and then you can transfer it to whatever container you're going to keep it in.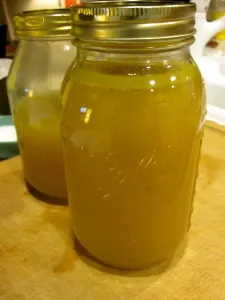 I poured my broth into glass jars and then put them into the freezer for when I need them. And out of my little young chicken that I used, I got 6 1/2 cups of broth.
If you plan to use your broth right away, it will keep in your fridge for 1-2 days – otherwise, in the freezer for up to 3 months. :)
Homemade Chicken Broth
Chicken carcass, with leftover skin, bits of meat and bones
2-3 carrots cut in half
2-3 celery cut in half
onions, skin removed and cut in half
1-2 bay leaves
Sea salt
pepper
vinegar
garlic
water
Toss all ingredients into a large pot and fill pot nearly to the top. Simmer all day on low if possible.
When broth is finished simmering, remove carcass and all big pieces. Throw away or save and repeat the broth making directions. Take a mesh strainer and place it over a container and pour the broth into the strainer, so it can catch all the little bits and let the broth run into your container. Allow broth to cool and then pour it into it's storage containers. Glass jars work great! Store in freezer for up to 3 months or in the fridge for up to 2 days.