Crazy Cooking Challenge #3
Mashed Potatoes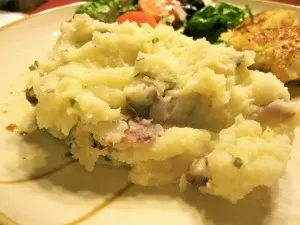 This is my 2nd time contributing to the
Crazy Cooking Challenge
and I am so excited about it. For this mashed potato recipe, there were so many options, but I decided I wanted to take a more traditional route. I love Garlic. Like I really LOVE garlic and when I saw this recipe posted on Steamy Kitchen's blog, I knew this was the one for me.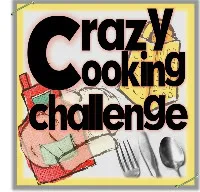 Join us next month for the next Crazy Cooking Challenge. The more the merrier :)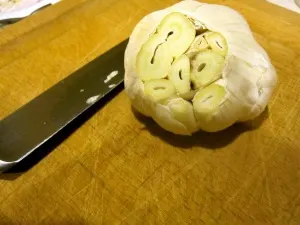 We are combining two of my greatest 2 food loves. Garlic ( Duh), and Potatoes! They go together like Peanut Butter and Jelly! Okay, back to the recipe, chop off the head of the garlic and expose some of the leaves.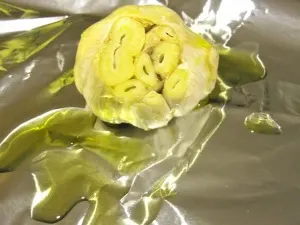 Place the garlic on top of a sheet of tin foil and drizzle some extra virgin olive oil over the garlic and seal the foil up into a nice tight packet and throw it into a 400 degree oven for 30 minutes or longer.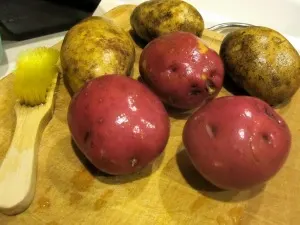 The recipe called for russet potatoes, but I love red potatoes so much that I had to add some in for color and water to a rapid boil and cook for about 20-25 minutes until tender and then drain.
When the garlic comes out of the oven, let it cool and then squeeze the cloves out of their little jackets and give them a rough chop.
Now, return the potatoes to the pan over very low heat and a few tablespoons a 1/4 cup of milk, salt and that delicious roasted garlic. Then, just mash it up! But don't mash it up to much because you don't want it to get sticky because of the garlic in there. Stir in some chives. ( I used dried, it was all I had on hand.)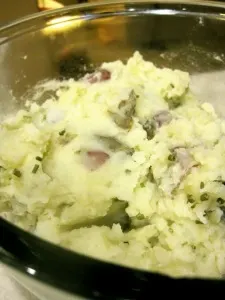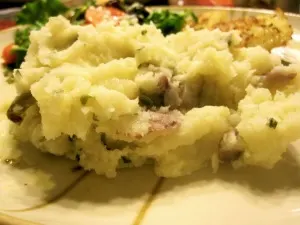 Roasted Garlic Mashed Potatoes
1 head of Garlic
1 tsp extra virgin olive oil
4-6 russet and red potatoes, scrubbed and skins on
3-4 TB butter
1/4 cup milk
3/4 tsp salt
1-2 tsp chives ( I used dried)
Pre-heat oven to 400 degrees. Chop off the top of the head of a garlic. Place the garlic on top of aluminum foil and drizzle with olive oil and close the foil up, wrapping it up tight and throw it in the oven for 30-45 minutes. When it's done roasting, allow to cool slightly. Squeeze the cloves out of the wrapper and give it a coarse chop.
Place the potatoes in a large pot with boiling water and cover with water by 1 inch. Cover and boil and cook for 20-25 minutes over medium heat. When the potatoes are fork tender, drain and return to pot.
On low heat, add 3 tablespoons, 1/4 cup milk, salt, and chopped garlic to the pot with the potatoes. Carefully mash the potatoes, leaving some lumps, but not mashing to much. Add additional salt or milk if needed. Stir in chives.
Enjoy!