What are two of the best things about Christmas? Eggnog and fudge, of course! Combine them in this easy, yummy recipe for eggnog fudge!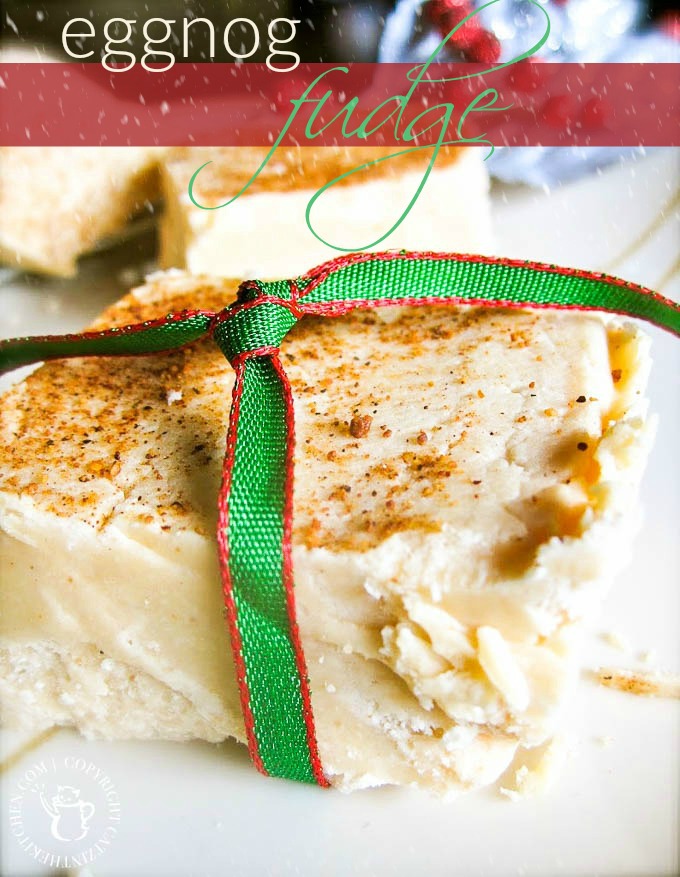 I've got to be honest, when I first read what the cooking challenge was for this month, I was not excited. Fudge is not my thing at all! Editor's note: I like fudge. Not only am I not a fan of the texture and flavor of fudge, but I have never ever attempted to make it before. I had never even watched my mom make her fudge before! I was dreading this challenge, and the thought of dropping out did cross my mind at least once.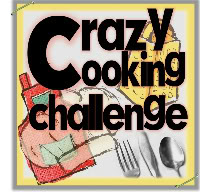 BUT…thank goodness
Pinterest
has popped up and caused such a craze, because it saved my life when I searched for Fudge!
I had such a fun time making this fudge recipe. I had my sisters-in-law come over and help me out, we had a blast, and we ended up making two different Fudge recipes and then chose between the two. This recipe was the winner for this challenge. Not only was the fudge process not as hard as I thought it would be (BTW- thanks mom for loaning me your candy thermometer), but this fudge is actually quite delicious and very indulgent. I swear, it actually tastes like you're drinking eggnog from a glass! How good is that?! Since you're using eggnog to help make this fudge, this is a great use up of whatever is left in the fridge. So, it's a frugal candy, too! :)
I ended up sharing this whole batch of fudge with my church last Sunday for our annual Thanksgiving Potluck, and the little bit that was left got eaten up at my husband's bank. I received a ton of rave reviews on this fudge, which thrilled me to no end, because that meant I didn't screw it up, lol!
Trust me, this is an addition you are going to want to make for your holiday dinners with your family! :)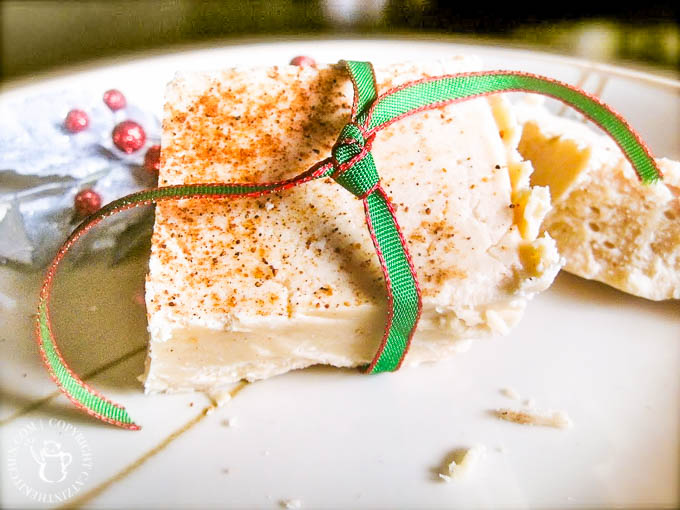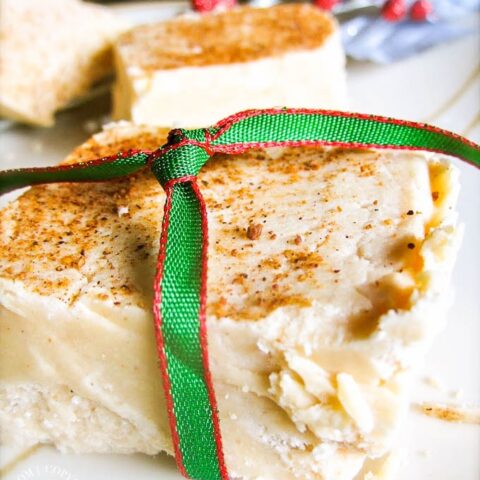 Eggnog Fudge
What are two of the best things about Christmas? Eggnog and fudge, of course! Combine them in this easy, yummy recipe for eggnog fudge!
Ingredients
2 cups sugar
1/2 cup butter
3/4 cup egg nog
10.5 oz white chocolate bars, chopped into small pieces
1/2 tsp freshly grated nutmeg, plus a little more for the top of the fudge
7 oz marshmallow creme
1 tsp rum extract
Instructions
Line a 8 or 9-inch square pan with foil and let it hang over the sides. Butter the foil.
In a heavy, 3-qt saucepan combine sugar, butter, and eggnog. Bring to a rolling boil, stirring constantly. Continue boiling 8-10 minutes over medium heat or until a candy thermemoter reaches 234 F, stirring constantly to prevent scorching. Remove from heat.
Using a wooden spoon, work quickly to stir in chopped white chocolate and nutmeg until chocolate is melted and smooth. Stir in marshmallow creme and rum extract. Beat until well blended and then pour into prepared pan. Sprinkle with a little freshly ground nutmeg on top. Let stand at room temperature until cooled. Refrigerate if you'd like to speed up the process.
When completely cool, cut into squares. Store in covered container.
Nutrition Information:
Yield:

30
Serving Size:

1
Amount Per Serving:
Calories:

162
Total Fat:

7g
Saturated Fat:

4g
Trans Fat:

0g
Unsaturated Fat:

2g
Cholesterol:

14mg
Sodium:

42mg
Carbohydrates:

26g
Fiber:

0g
Sugar:

24g
Protein:

1g
Nutrition information isn't always accurate.
This recipe is also linked to: