We have a tradition of watching The Polar Express the evening we set up and decorate our Christmas tree. And every year, my husband has perfect timing, because when the scene of the waiters serving Hot Hot Hot, Hot Chocolate comes on the screen, Josh walks in with 4 cups of deliciously made hot chocolate for us to enjoy for the rest of the movie.
As much as I love hot chocolate, I love cookies even more. So why not make Hot Chocolate Cookies? It combines two of my favorite indulgences in the holiday season.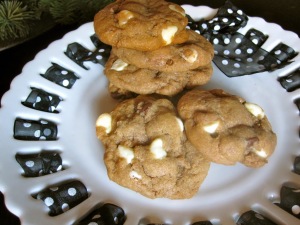 Cookies for me serves a multiple of purposes. I love snacking on them occasionally throughout the day, packing cookies as desserts for Josh's lunches, and sharing them with my family and friends. This particular batch of cookies didn't last long in our household. It was so hard keeping our hands out of the cookie jar and it was a sad sad day when we realized they were gone. :( I might just have to make another batch very soon, they are that good!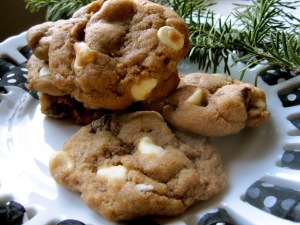 Hot Chocolate Cookies
3 1/4 cups all-purpose flour
1 pkg hot chocolate mix (not sugar free)
1 tsp salt
1 1/4 tsp baking soda
1 cup (2 sticks) unsalted butter, room temperature
1 cup sugar
2/3 cup brown sugar
2 eggs
1 tsp vanilla extract
2 cups chocolate chips; semi-sweet, white chocolate, or milk chocolate- whatever floats your boat
In a medium sized bowl, whisk flour, hot chocolate mix, salt, and baking soda together. Set aside.
In a separate bowl, use a mixer to cream the butter, sugar, and brown sugar until light and fluffy, about 3 minutes.
Add the eggs and vanilla to the butter mixture and mix until combined. Add the dry ingredients to the wet ingredients a little bit at a time, until incorporated.
Fold in the chocolate chips. Chill the dough for 1 hour.
Pre-heat oven to 350 degrees. Line baking sheets with parchment paper. Drop by rounded teaspoons about 2 inches apart.
Bake one sheet at a time for 10 minutes. Let cool on baking sheet for a few minutes before removing to wire racks to finish cooling completely.
This recipe is linked to: