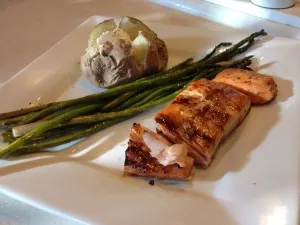 I wouldn't consider this a recipe in the traditional, full-blown sense. That being said, we've been experimenting with grilling seafood in general and salmon in particular quite a bit for the past few years, and I've gotten pretty comfortable with a base concept for tender, flaky, moist salmon fillets. There isn't necessarily anything incredibly original about my thoughts here – they are gleaned from a variety of magazines, blogs, and cooking shows. I've tried a number of different ideas, but this is the surest way I have found to hit a home run every single time. These directions also work very well for steelhead – if you see a better deal on that, grab it!
First, cut your salmon fillets into "steaks" about two inches wide down the length of the fish. Not only are these smaller pieces easier to portion, they are far more attractive for presentation, and much easier to grill evenly. In my experience, a one pound fillet will yield about four of these "steaks," and you'll probably want two for each adult you're feeding (one is fine for most children). Rinse your cut fish under cold water, dry it with paper towels, and lay it skin side down in a glass baking dish.
In a small bowl, mix a couple tablespoons of lemon juice, a couple of olive oil, and some freshly ground black pepper together with a wisk. Pour the mixture over the salmon in the baking dish, being sure to let the mixture run over each piece of fish. It will pool in the bottom of the baking dish. I normally complete this step of preparation about half an hour to an hour before grilling time, and then cover it and put it in the fridge until I'm ready for it.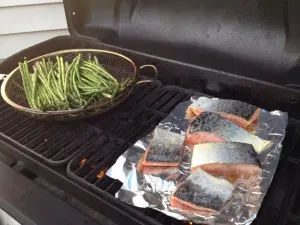 When dinnertime arrives, oil your grill and preheat to high. Reduce the heat to medium before putting the fish on the grilling surface. Take the salmon out of the fridge, and spread some loosely packed brown sugar on each piece. Take some foil, fold it in half (to provide a doubly thick barrier for your fish), spray it with a non-stick grilling spray, and lay it over the grill. Using tongs, very gently pick the pieces of salmon up out of the baking dish and place them "face down" (skin side up) on the foil. Depending on the thickness of your salmon fillet, you'll need to give the fish about five to eight minutes per side. When you turn the fish over so that the skin is facing down, spread a little more brown sugar on the top of each "steak." Once your cooking time has elapsed the second time, gently lift each piece of salmon and place it directly on the grill, skin side up (depending on the size of your grill, you may have to remove the foil to achieve this – for larger grills, simply leave one side of the grill uncovered). Let the salmon cook this way for about one minute, and then remove it from the heat and serve immediately. This final step puts some beautiful grill marks on the fish, and helps carmalize the brown sugar topping.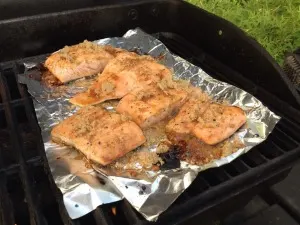 This is my favorite way to grill salmon and steelhead. It reliably produces moist, tender fish with a delicious carmelization. You can serve it with a variety of toppings, add limes, lemons, and oranges to the grilling process, spice it up with a chili carmelization instead of brown sugar, and add an infinite number of side dishes (potatoes, salads, breads – you name it!). Enjoy!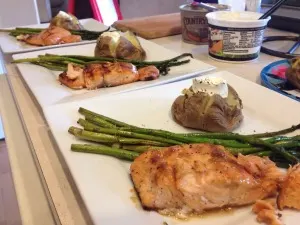 Ingredients
one to two pounds of fresh salmon fillets
two to three tablespoons of olive oil
two to three tablespoons of lemon juice
freshly ground black pepper
roughly half a cup brown sugar