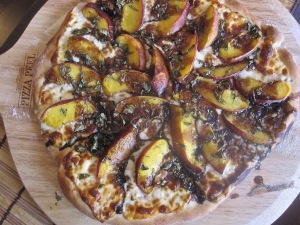 You are probably skeptical about a pizza with peaches on it. My suggestion to you skeptics, is don't knock it till you try it! It's amazing! The flavor of the peaches on this pizza bring the notion of summer flavors to a whole new level. Seriously, your flip-flops will be knocked off your feet!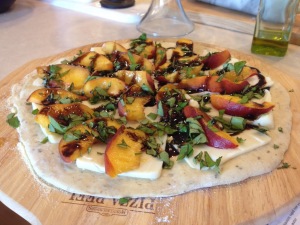 There is just something about browned mozzarella, combined with sweet basil, ripe peaches, and a delicious balsamic reduction that will have you oohing and awing till the last slice is gone! Be warned, whoever you make this pizza for, there could be a fight for that coveted last slice! A word of advice, it's worth fighting for!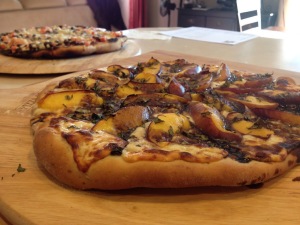 Peach, Basil, Mozzarella, and Balsamic Pizza
Makes 2 pizzas
For the Balsamic Reduction:
1 cup balsamic vinegar
For the topping:
2 TB evoo
8 oz sliced mozzarella
3-4 peaches, thinly sliced
1/2 cup, chopped fresh sweet basil
Assemble your pizza dough if your making your own or if you have bought some premade dough, have it ready to roll out.
Pour the balsamic vinegar into a saucepan and bring to a boil over medium-high heat. Reduce heat to medium-low and simmer until the balsamic has reduced down to about 1/4 cup. Set aside, and allow to cool at room temperature.
Pre-heat the oven to 500 degrees or as high as your oven will go. If you have a pizza stone, place it in the oven so it can get nice and hot.
Roll out your dough into a circle. Place the pizza on a pizza peel or pan that has been generously coated in corn meal. Lightly brush the pizza dough with 1TB of olive oil. Top the dough with the sliced mozzarella, peach slices, and fresh basil. Repeat these steps when making the 2nd pizza.
Place the pizza in the oven, directly on the pizza stone, if using or on oven rack. Bake for 10-15 minutes until the pizza crust is golden and cheese is browned and bubbly. Remove from oven and pop in your second pizza.
Let pizza cool slightly, and cut into slices. Eat and enjoy while warm!