With a newborn in the house, we are slowly adapting to our new "normal," whatever that is. We're officially two weeks in and we are lucky enough to actually be getting 5-8 hours of sleep every night. Granted, that sleep is interrupted every 2-3 hours for feedings, diaper changes, and snuggles, it's still quite a bit of sleep for only have a 2 week old.
Josh is being very protective of me while I recover and heal from the labor and delivery and I've only gotten away with being in the kitchen and cooking once since we've been home. It felt good to assemble a meal and a few side dishes, but it was a little exhausting too. Currently, our church is bringing us some meals every other day, so there isn't a huge need to be in the kitchen whipping up delicious meals, because most of the meals we're being brought, we can use again as leftovers.
I did want to share with you this yummy side dish I made last week while Josh was at the dr.'s office with Christian. I had an acorn squash from before I went into labor, sitting in our pantry. I had plans of cooking it before I went into labor, but cooking those last few weeks while so pregnant almost became an impossible thing for me. So, the squash got forgotten about…and thank goodness it did, because the side dish I made with it was really yummy!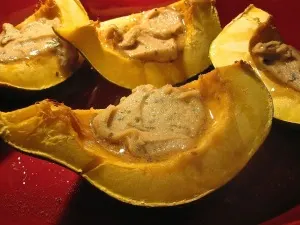 It's kind of a miracle that I had everything on hand that I needed to make this, considering we hadn't grocery shopped since being home. But I found some rosemary in my fridge that needed to be used up, just enough butter, and the rest of the staples I had on hand.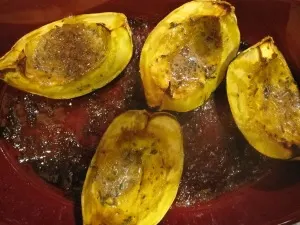 The squash is bathed in a delicious buttery herbed sugar mixture and roasted in the oven till the squash becomes soft and tender and full of flavor. This just might be one of my new favorite ways to cook an acorn squash!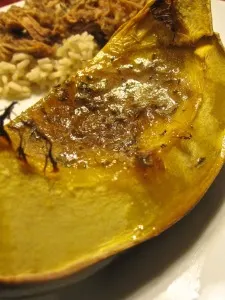 Sweet-Roasted Rosemary Acorn Squash Wedges
1 acorn squash, cut into 4 wedges
drizzle of olive oil
salt to taste
1/2 stick butter, softened
1/4 cup brown sugar, packed
1 TB rosemary, minced
Pre-heat oven to 350 degrees.
Place wedges on a baking dish and drizzle with olive oil and season lightly with salt. Roast for 20 minutes.
Combine, butter, brown sugar, rosemary, and salt in a bowl and mix into a paste.
After 20 minutes, remove the baking dish and raise the temperature to 400 degrees. Smear the paste over the wedges and return the baking dish to the oven for 30 minutes, until brown and caramelized.
Halfway through the 30 minutes, baste the wedges in the paste that has gathered at the bottom of the baking dish and continue cooking for the remainder of the time.
Drizzle the remaining bits of sauce over the squash right before serving and enjoy!