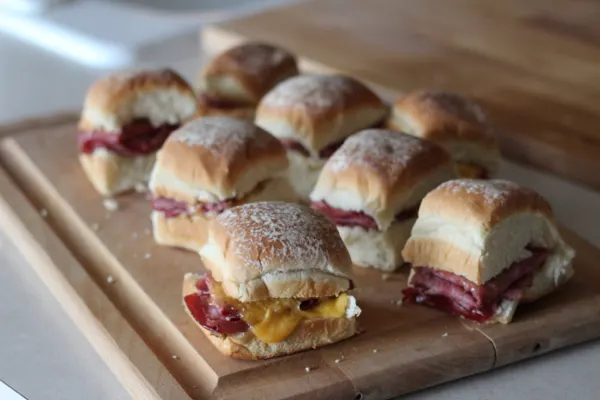 Well, it's Friday, and as we go into this St. Patrick's Day weekend, we thought we'd offer one additional Irish-themed recipe. This one is considerably simpler, faster, and more straightforward than the cake or lamb chop recipes we shared with you earlier in the week, and it also does not include any Guinness! These zesty little sliders are a great way to go for a quick lunch this weekend, or even a simple supper.

When it comes to food, there aren't too many things more Irish than corned beef and potatoes. Where are the potatoes in this recipe, you ask? Why, in the rolls, of course! If you don't normally buy potato rolls, you'll be in for a bit of a treat when you first taste them. The overall flavor is not dramatically dissimilar to a thick white bread roll, but the consistency is much thicker and dense, making them heartier and more filling – an excellent counterbalance to the in-your-face flavor of corned beef and deli mustard. The original recipe called for "Irish Cheddar" and "Stoneground mustard." While I can't testify to Irish Cheddar (we use Tillamook, as you know!), I will say that stoneground mustard is a treat. We had deli mustard, a close cousin, so that's what we used, and it was still quite tasty.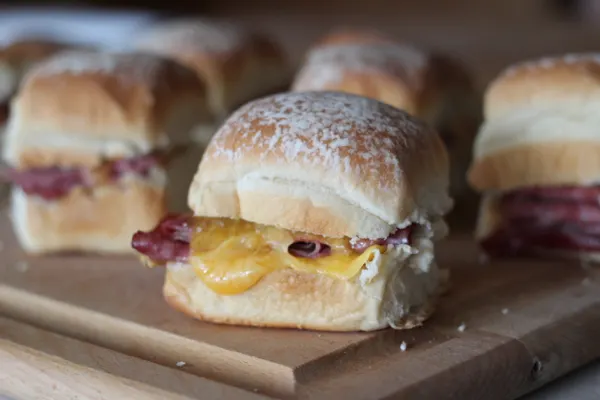 Corned Beef Sliders
Sourced from TheFoodChannel.com via Recipe.com
Searching for a zesty St. Patrick's Day lunch that you can throw together in just a few minutes? Look no further!
Servings: 4 (2 sliders a piece)
Prep Time: 1-2 minutes
Cooking Time: 15 minutes
Total Time: about 20 minutes
Ingredients
1/2 lb thinly sliced corned beef
8 slices cheddar cheese
3 tbsp mustard (preferably deli or stoneground)
8 potato rolls
Directions
Spray a glass baking dish with non-stick cooking spray and preheat oven to 350 degrees.
Separate corned beef into 8 separate stacks in the baking dish, and top each with a slice of cheddar cheese.
Cover with foil and bake for 15 minutes.
Meanwhile, cut rolls in half and spread mustard on bottom half of each roll.
Place one stack of corned beef on the bottom half of each roll and finish with top half.
Serve immediately.
Nutritional Information
Approximate, per serving (2 sliders)
Calories: 552
Total Fat: 13 g
Cholesterol: 34 mg
Sodium: 983
Total Carbs: 56 g
Protein: 27 g