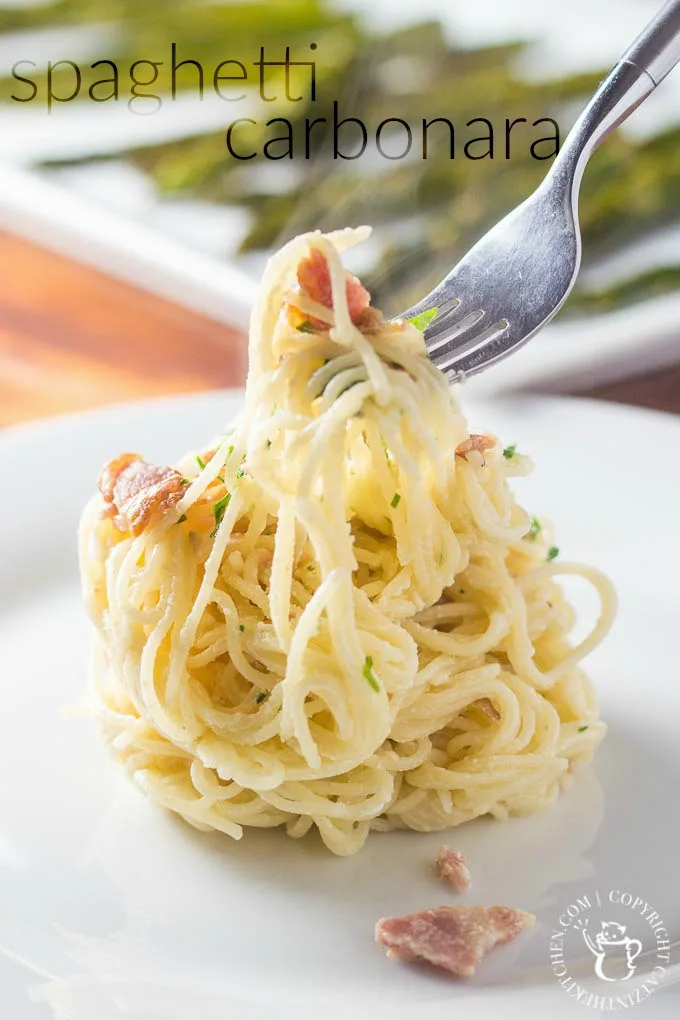 If I were to ask my daughter Grace what she would like to see for one of the dinners on my menu on any given week, 99% of the time she would request spaghetti carbonara. If I were to ask her why she likes it, she would just shrug her shoulders and say," I don't know. I just like everything about it!" Kids these days. They just can't give ya a straight answer.
I love it because it has bacon in it and any recipe with bacon is a winning one. The other thing I love about it – it's simple. Simple ingredients thrown together to make a hearty bowl of pasta that feeds a crowd…and when I say feeds a crowd, that's what I mean. Martha Stewart states that the recipe serves four people. I don't know who these four people are, but it fed the four people in my family (excluding little Christian because he's not on solids yet), plus, Josh had seconds. And Grace had seconds. And Eden had seconds. And I still had half a bowl of pasta left. These kids weren't having tiny helpings either. They had generous scoops of pasta placed onto their plates. So while Martha Stewart may be the Suzy Homemaker Queen B, in this case, she needs some help with her math skills. No offense, Martha!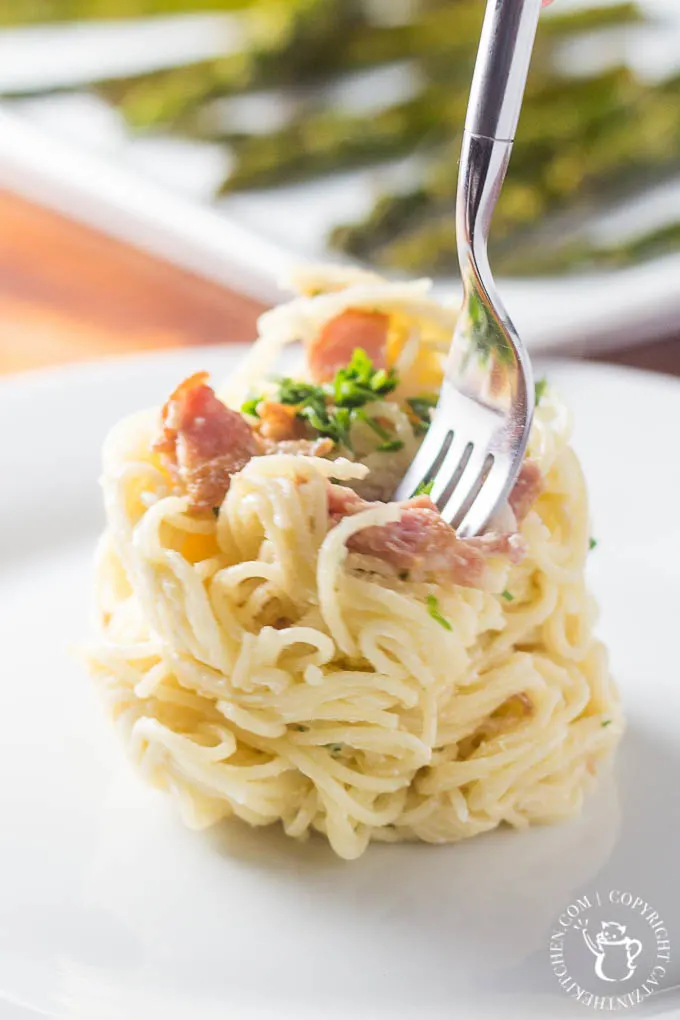 If you are a family of four devouring this dinner, each serving is only 333 calories. But you could lighten that up even more with whole grain pasta, turkey bacon, and reduced fat parmesan cheese. I love a meal that allows itself to be switched up like that, and if you are anything like my daughter, you will love this dinner, too!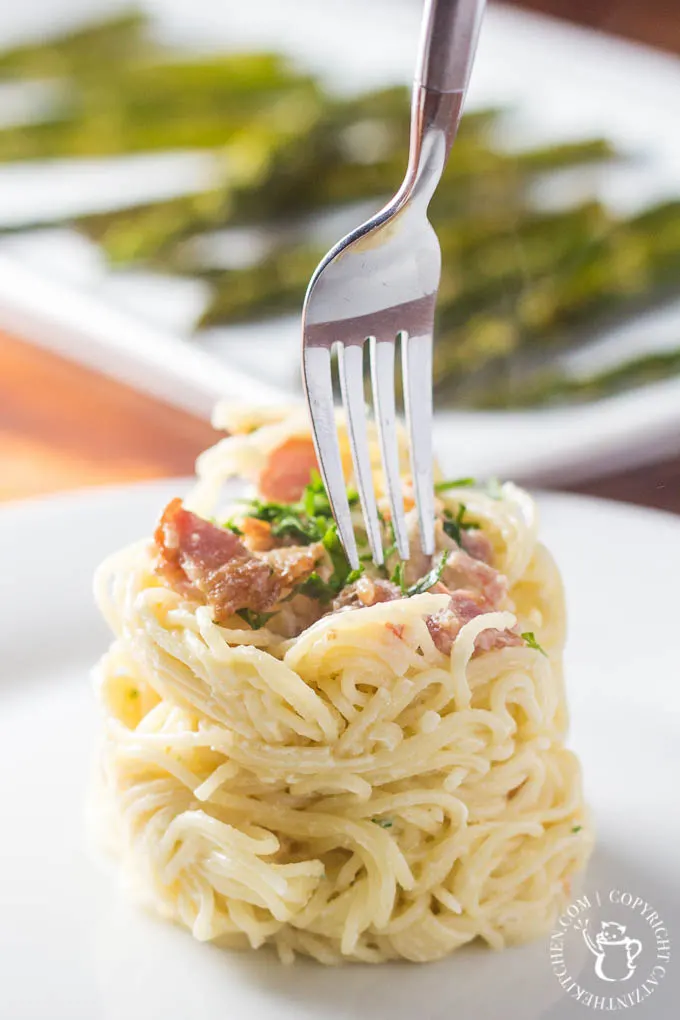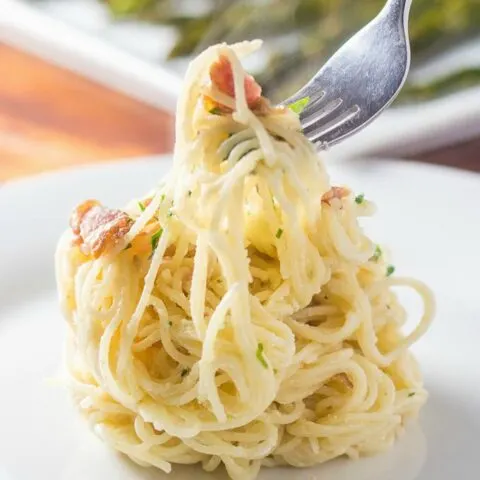 Spaghetti Carbonara
A silky pasta favorite whose star ingredients are bacon and cheese.
Ingredients
1 lb spaghetti pasta
8 slices of bacon, cut 1 inch thick crosswise
Coarse Salt and freshly ground pepper
3 eggs
3/4 cup grated parmesan cheese, plus more for serving if desired
1/2 cup fat free half and half
2 tbsp chopped fresh flat leaf parsley, divided
Instructions
Set a large pot of water to boil for pasta.
In a large skillet, cook bacon over medium heat, stirring occasionally, until crisp, 8-12 minutes; transfer to a paper-towel lined plate. Set aside.
Salt boiling water and pasta and cook until al dente, according the package directions.
In a medium sized bowl, whisk together eggs, parmesan cheese, and half and half. Set aside.
Drain pasta, leaving some water clinging to the noodles. Quickly add the pasta back to the pot and pour in the egg mixture into the pot, mixing together. Add in the bacon and season with salt and pepper, 1 1/2 tablespoons of the parsley tossing to combine.
Serve immediately, sprinkle additional parsley and parmesan cheese.
Nutrition Information:
Yield:

8
Serving Size:

1
Amount Per Serving:
Calories:

214
Total Fat:

9g
Saturated Fat:

4g
Trans Fat:

0g
Unsaturated Fat:

5g
Cholesterol:

90mg
Sodium:

444mg
Carbohydrates:

20g
Fiber:

1g
Sugar:

1g
Protein:

12g
Nutrition information isn't always accurate.