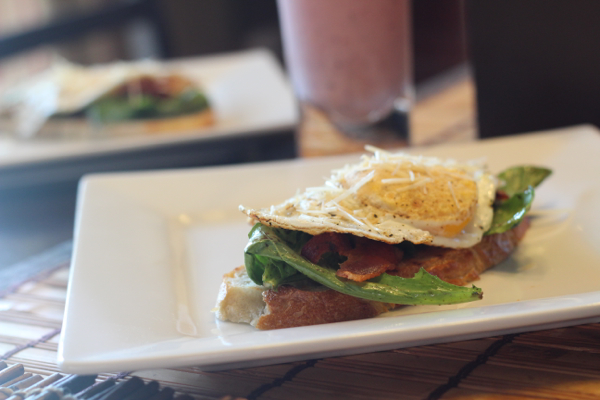 Okay, time for day two of fried egg sandwich week here at Catz! Though tomorrow's sandwich is a bit of a radical departure, today's is a simple extrapolation of the ideas that we built into yesterday's. Call it a process of refinement, if you will. What were the key ingredients of yesterday's sandwich? Arugula tossed in olive oil and balsamic vinegar, bacon, and cheese. So, what happens if we change the type of bread, remove the top piece, and change out the cheese? Believe it or not, we get a dramatically different "fried egg" experience…

On our second Sunday of adopting my sister and brother-in-law's traditional of fried egg sandwiches and smoothies, I was craving some freshly baked "artisan" bread. That happens to me a lot, actually. Luckily, most of the supermarkets here in town have bakeries in them, and most of those bakeries actually do bake fresh, high quality product on a daily basis. Our local Fred Meyer produces a fantastic artisan Italian loaf, and that's what I picked up. This particular batch had a really strong, crumbly crust around the outside and a beautiful, oblong shape to the loaf itself. As I looked at the loaves in the baskets outside the bakery, I wondered how the flavors we had developed in last Sunday's fried egg sandwiches would fare in an open-faced "salad" style application. There was only one way to find out, so I grabbed the loaf and headed home to give it a try.
I love the taste and texture of grilled bread, so I started out by getting some light grill marks on the sliced Italian loaf, using olive oil this time instead of butter. On top of the grilled bread, I piled on a more generous, salad-like helping of the same arugula mixture, bacon, the fried egg, and sprinkled parmesan cheese over the top. The result? Exactly as I had hoped! Whether we chose to eat them by picking them up with our hands or by cutting into them with a fork (we did a little of both), the punctured egg yolk ran down over the bread, negating the need for condiments like mayonnaise or horseradish. If you're looking for a more refined take on a fried egg sandwich, or one that's just a bit lower in calories, this is right up your alley.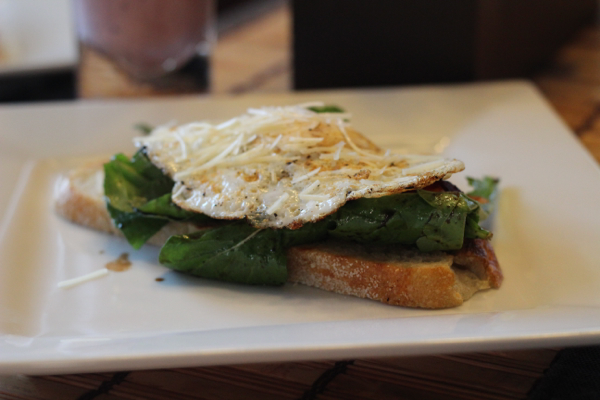 Gourmet Open Face Fried Egg Sandwich
Ready for a slightly more "Italian" fried egg sandwich? Try this salad-like entree!
Serves: 4
Prep Time: 5 minutes
Cook Time: 10 minutes
Total Time: 15 minutes
Ingredients
4 slices crusty bread, preferably Italian
4 eggs
8 slices bacon
4 tbsp shredded parmesan cheese
2 cups arugula
2 tbsp extra virgin olive oil
1 tbsp balsamic vinegar
lemon juice
sea salt
black pepper
Directions
Add arugula to a medium bowl. Add 1 tbsp olive oil, balsamic vinegar, a splash of lemon juice, and a sprinkling of sea salt. Toss by hand.
Pan fry bacon to desired doneness.
Brush remaining olive oil on one side of each slice of bread.
Heat grill pan to medium heat and lightly grill bread on oiled side. Keep warm in 200 degree oven.
Melt a small amount of butter in a large frying pan. When heated to medium heat, crack eggs into pan carefully, avoiding disturbing the yolk. Grind black pepper lightly over eggs while frying.
When eggs are well set, and underside is lightly browned, flip eggs gently. Fry for an additional ten seconds on the yolk side, and then remove from heat.
Lay one slice of bread grilled side up. Top with 1/2 cup of arugula, two slices of bacon, one egg, yolk side up, and a tbsp of parmesan cheese. Serve immediately.
Nutrition Info
Approximate, per sandwich
Calories: 339
Carbs: 29 g
Fat: 17 g
Protein: 18 g
Sodium: 669 mg
Sugar: 1 g