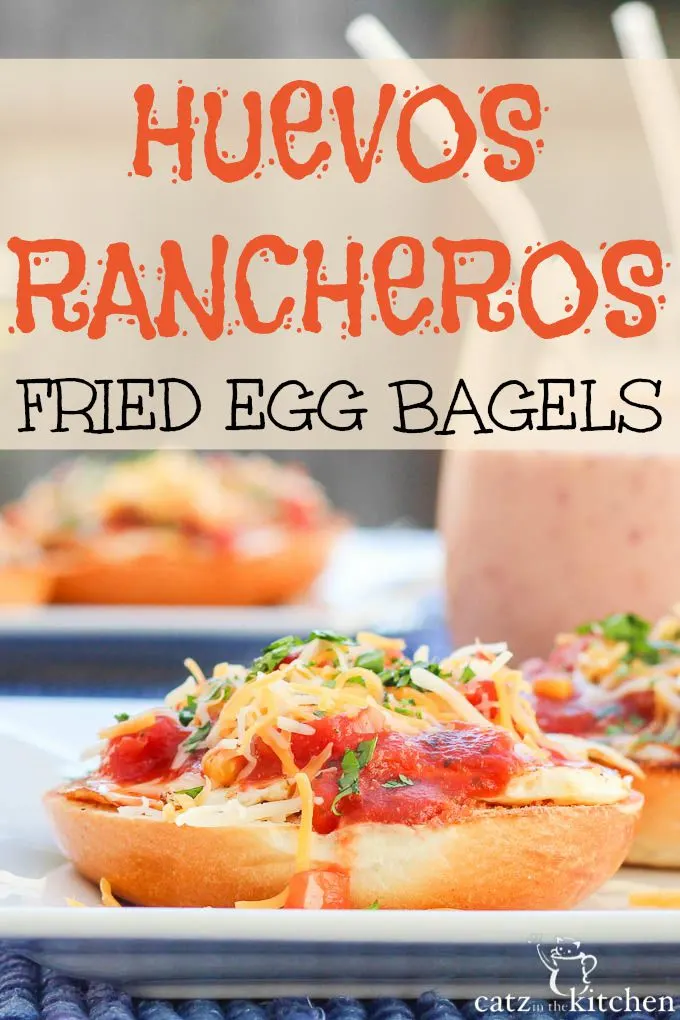 It's Friday, and that means it's time for our third and final offering for Catz' fried egg sandwich week! We've gone completely off the deep end with this one, and can personally testify that the deep end is a wonderful place to be. As has oft been stated, Chels and I both have a distinct weakness for Latin and Latin-inspired cuisine, and this certainly falls into the latter category. After all, is there anything Latin about bagels? Yeah, not so much. Well, not yet…

To those of you familiar with huevos rancheros, and I imagine that's most of you, the phrase probably makes your mouth water. The phrase literally translates to something along the lines of "ranch-style eggs," meaning there are a thousand different interpretations of what constitutes "ranch-style." In it's most basic iteration, huevos rancheros is generally some sort of dish involving fried eggs served over tortillas, topped with a salsa mixture. Beyond that, the creative license is basically endless. I've probably experimented with huevos rancheros five or six times, and my only regret is that I don't do it more often.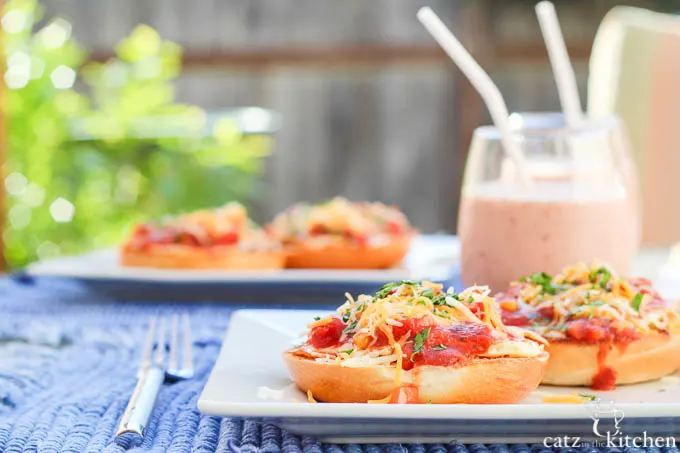 When we got to our third Sunday of the new "fried eggs and smoothies" tradition we mentioned earlier this week, I told Chels I had a crazy idea I wanted to try. Wonderful wife that she is, she indulged me, and we added a jar of black bean and corn salsa and freshly baked plain bagels to the grocery list that weekend. We always have eggs, some random mexican blend of shredded cheese, and Latin seasonings in the house, so I didn't need to grab any of that. Oh, remember Aruguzilla? Yeah, well, the humble cilantro plant we placed right next door isn't so humble anymore. The thing is literally three feet high. How in the heck am I ever supposed to use that much cilantro? I guess I can start by adding it to everything, this dish included (okay, maybe not everything – cilantro smoothies aren't sounding particularly appetizing).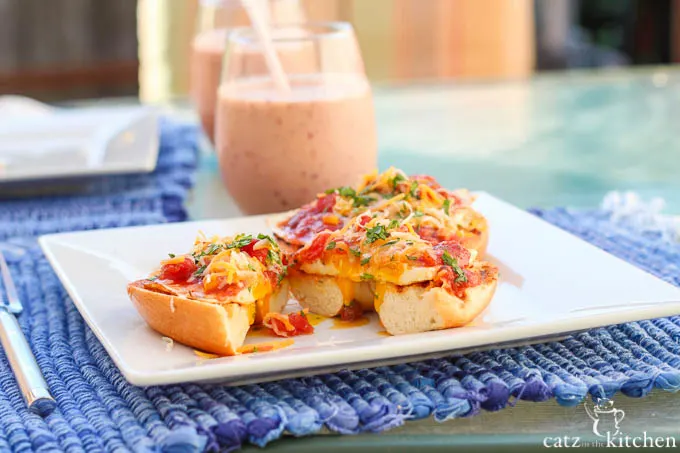 At any rate, my experiment turned out better than I expected – a lot better. In fact, I want to get up, go to the kitchen, and make more of these right now. Seriously tasty. And really simple, actually. The flavors are complex, but the preparation is incredibly quick. This is definitely a meal you could throw together on the fly, as long as you keep some of the basic ingredients around. So, in the end, is a grilled bagel topped with a fried egg, salsa, cheese, and cilantro stretching the definition of a fried egg sandwich too far? Maybe. I'll make you a deal – you can call it whatever you want, as long as you try it. Oh, and at only 265 calories each, you can probably afford to try a couple.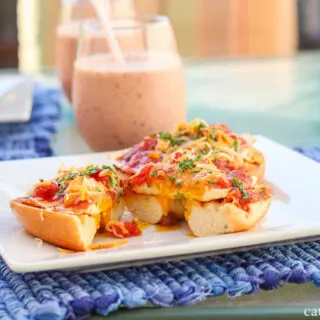 Huevos Rancheros Fried Egg Bagel Sandwich
If you're wanting to add some hearty Latin flavor to your fried egg, this is a great place to start.
Ingredients
2 large deli-style plain bagels, sliced in half
4 eggs
1/4 cup Mexican blend shredded cheese
1 cup salsa
1 tbsp chopped fresh cilantro
ancho chile powder
1 tbsp canola oil
butter for pan
Instructions
Heat grill pan to medium heat. Heat large skillet to medium heat.
Add salsa to small saucepan and heat slowly over low heat.
Brush canola oil lightly on cut side of bagels. Place in grill pan and grill lightly.
Melt a small amount of butter in skillet, and crack eggs into it delicately, avoiding disturbing the yolk. Sprinkle the eggs with ancho chile powder. When eggs are slightly brown on the bottom and well set, turn gently and cook for ten seconds on yolk side. Remove from heat and place on top of bagels.
Pour warm salsa over the top of each egg, and top with 1 tbsp of shredded cheese. Sprinkle cilantro on top and serve immediately.
Nutrition Information:
Yield:

4
Serving Size:

1
Amount Per Serving:
Calories:

353
Total Fat:

15g
Saturated Fat:

5g
Trans Fat:

0g
Unsaturated Fat:

8g
Cholesterol:

201mg
Sodium:

879mg
Carbohydrates:

40g
Fiber:

2g
Sugar:

9g
Protein:

16g
Nutrition information isn't always accurate.