This crockpot taco soup is easy, tasty, and works equally well in fall as well as summer – pair it with some simple quesadillas and you've got a full meal!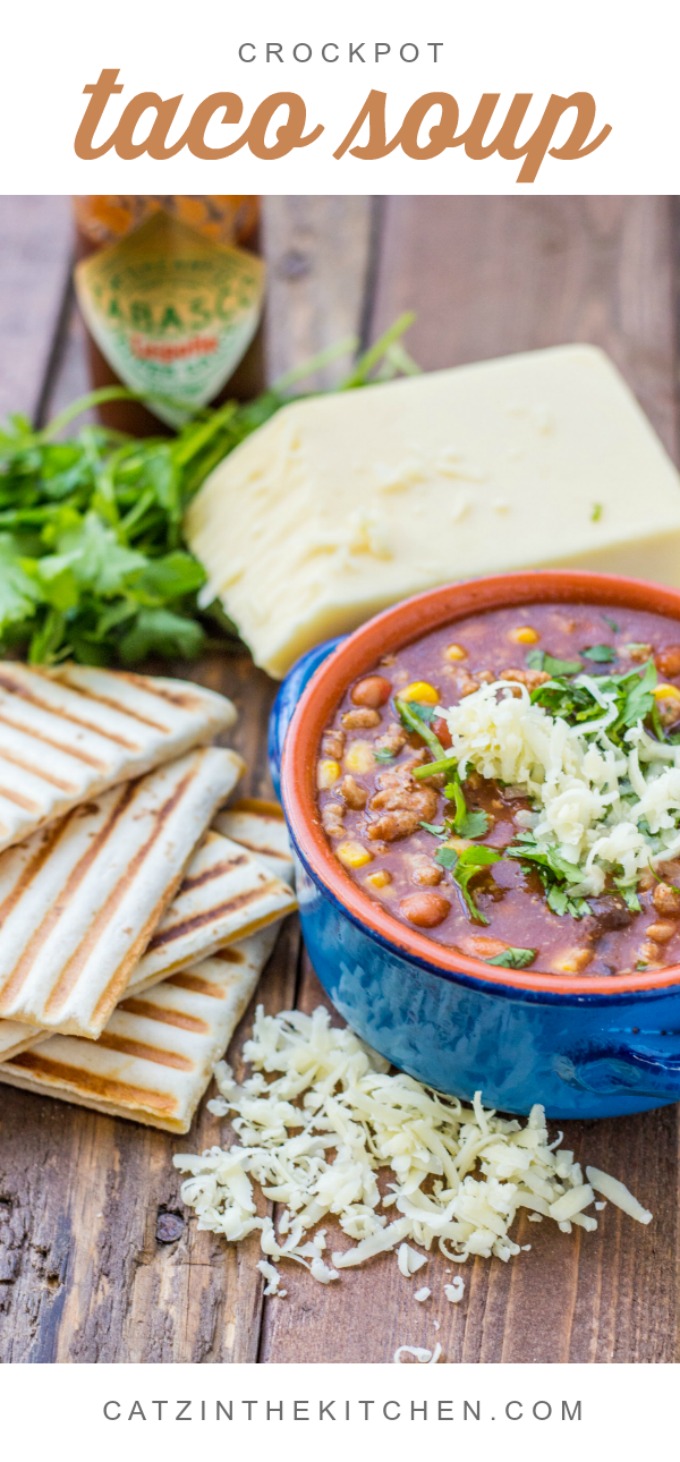 This post for crockpot taco soup originally appeared on Catz in August of 2013. The recipe and the photos have been updated (and we still make it ALL the time).
There are two kinds of people. The first kind, are the people that can't wait to let go of summer. They are ready to say," so long, short shorts and hot & sweaty days!" The second kind of group are the ones that cling to summer nights, tank tops, and warm weather. I do not fall into that second group at all! I'm all to happy and willing to welcome fall with open arms. I'm tired of having to shave my legs every other day, wear shorts and tanks, and kick the covers off of me at night because I get to hot. I'm ready to bundle up with a blanket in the evenings with a cup of tea. Pair scarves with cute shirts, and cover myself with sweaters and drapey cardigans. Also, I would like to sleep inside my bed sheets without the fan circulating above my head. (I have this fear that one day that fan is just going to spring right out of its socket and come flying down on me in the middle of the night and kill me.)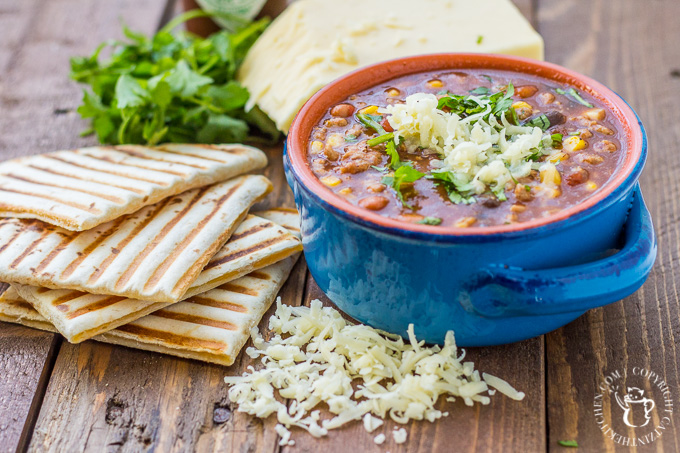 Dramatic is my middle name.
Since September is nearly here, count 'em and weep 'em only 4 more days! I'm already rushing fall into our home. I went out yesterday and bought the Glade air freshener in the Fall Hay Ride scent, and I almost bought a pumpkin spice candle, but I got that, "Chelsia" tone from my hubby. So I put it back on the shelf.
And then I burst into tears!
Just kidding! I did make a pouty face for effect, however it had no effect on my hubby because he was wearing his blue steel expression.
This soup is the perfect way to ease into fall and all those back to school schedules and it only takes a few moments to prepare! I promise!
Meet your cast of ingredients: black beans, chili, tomato sauce, diced tomatoes, golden corn, and taco seasoning!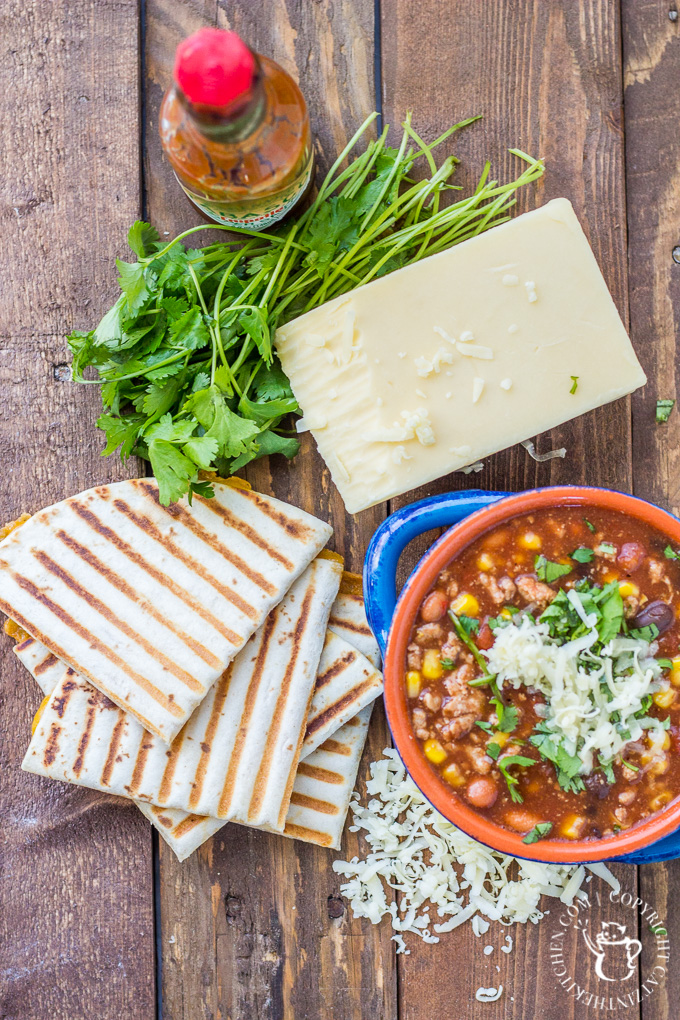 The hardest part of the recipe is right here, so stay with me. You ready? Here's what you do- open the cans with your can opener and dump the contents of the cans inside the crockpot, liquid and all. Then, measure out your taco seasoning. Pour that into the crockpot and give it a good stir until the seasoning is distributed evenly. Put the crockpot lid on and set your buttons for your desired temp and time and walk away. It is that easy!
We like to serve our taco soup with cheese quesadillas and top the soup with some shredded cheese and sour cream. But you can add whatever toppings you like. It's pretty customizable. :)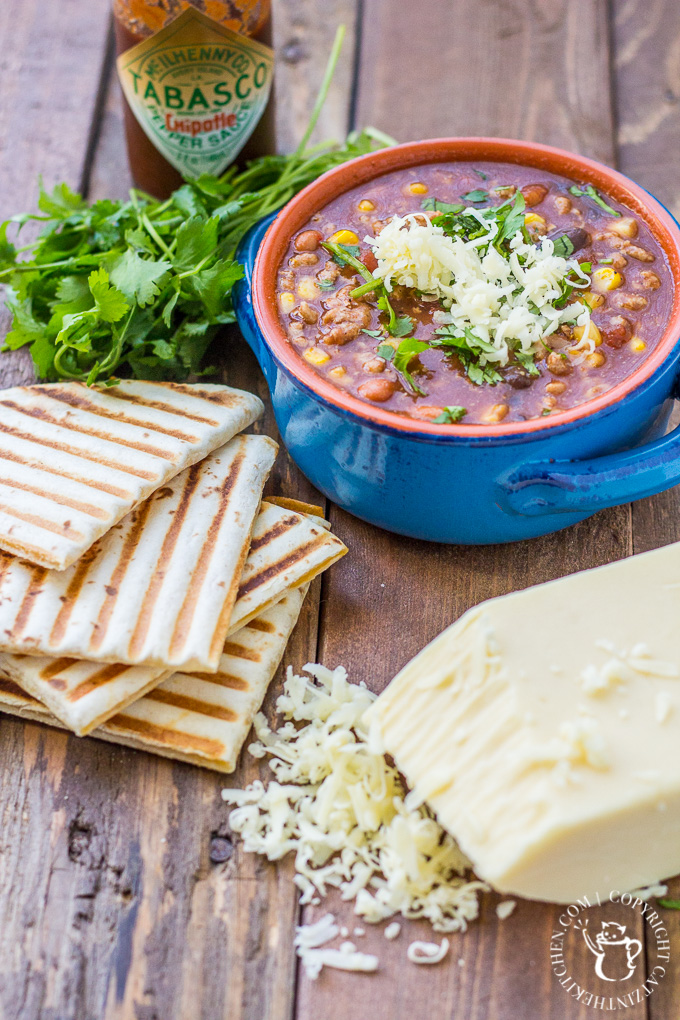 I normally set my crockpot on low and cook it anywhere from 6-8 hours. It usually depends on how early I got myself ready in the morning, so if I make it early in the morning, I set it for 8 hours so it will be ready around dinner time. If I do it early afternoon, I set it on low for 6 hours. But honestly, there have been many times when life takes over and it's been in the crockpot longer than 8 hours. I've never had burned soup and it always tastes awesome! And I usually always have the ingredients on hand to make this, so on the days I know that we're going to be really pushed for time and dinner needs to happen fast, this is one of my fallback dinners I always turn to and my family is always more than happy to gobble it up!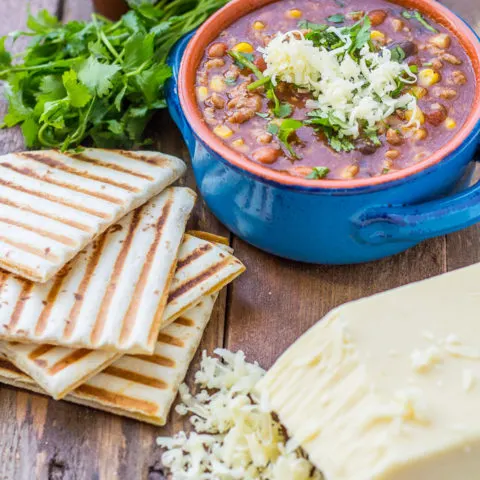 Crockpot Taco Soup
This crockpot taco soup is easy, tasty, and works equally well in fall as well as summer - pair it with some simple quesadillas and you've got a full meal!
Ingredients
1 lb ground turkey breast
2 tbsp tomato paste
1 (15 oz can) pinto beans, drained and rinsed
1 (15 oz can) black beans, with liquid
1 (15 oz can) corn, with liquid
1 (11 oz can) fiesta style corn, with liquid
1 (15 oz can) diced tomatoes with chilis
1 (15 oz can) tomato sauce
1/2 cup vegetable broth
2 1/2 tsp chili powder
2 tsp ground cumin
1/2 tsp ground coriander
Toppings
Sour Cream
Shredded cheddar cheese
Sliced Avocado
Tortilla strips
Instructions
In a large skillet over medium heat, brown ground turkey. Stir in tomato paste and pinto beans until heated through and combined. Pour meat mixture into crockpot.
Add the remaining ingredients and stir until combined.
Cook on low for 6-8 hours or high 3-4 hours.
Serve with cheese quesadillas.
Nutrition Information:
Yield:

6
Serving Size:

1
Amount Per Serving:
Calories:

306
Total Fat:

14g
Saturated Fat:

4g
Trans Fat:

0g
Unsaturated Fat:

7g
Cholesterol:

76mg
Sodium:

542mg
Carbohydrates:

14g
Fiber:

4g
Sugar:

3g
Protein:

33g
Save
Save