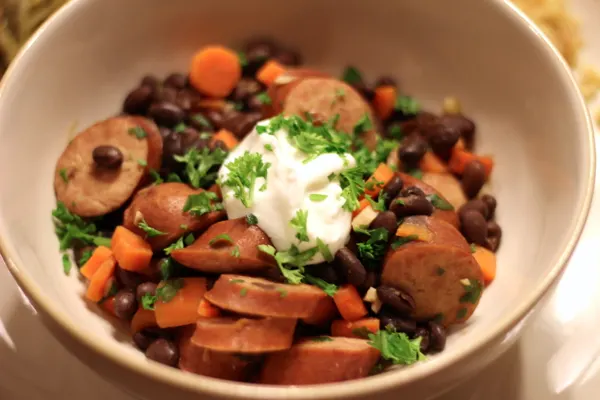 Lately, I've all been about using up some of the things I have hanging out in my freezer and making meals out of them. A lot of times, I'll buy things on a really good sale, and combine coupons together so I can save money. One of the things I buy almost every time it's on sale are the Hillshire Farms Smoked Sausages. We buy all sorts of different varieties and we use them in a ton of dishes. Josh makes a great southwest breakfast bowl with these sausages, and they work perfectly in the slow-cooker too!
Awhile back, I had pinned this Martha Stewart recipe and completely forgot all about it. While I was trying to make up my menu for the week (a few weeks back) I remembered I had a couple of those smoked sausages in the freezer and found the recipe in one of my many boards, and voila! The recipe was added to the menu. We actually didn't get around to making this recipe for a few more weeks because of weather and other things going on, so I just kept re-adding the recipe to the menu until we finally made it last week!
Unfortunately, due to the way the week worked out with my menu planning, this recipe which was supposed to be a Thursday night dinner got switched into a Wednesday night dinner instead. I normally don't make dinners longer than 30 minutes on Mondays, Wednesdays, and Fridays due to those being are workout nights (although, that's going to change a bit soon in October with our Fall schedule). Since I go to the gym and workout and Josh works out at home, he normally finishes his workouts first since I have to drive to and from the gym, so I had all the ingredients prepped ahead of time for him to go ahead and start dinner without me, and then I would join him as soon as I got home.
I'm so glad I kept this dinner on the menu and thought to prep the ingredients ahead of time because we would of missed out on a fantastic dinner that I would happily make again.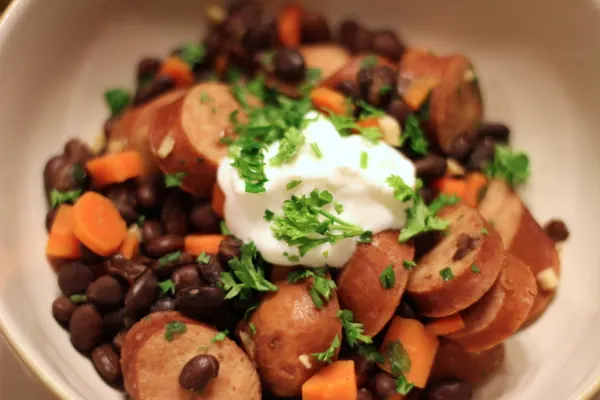 Black Beans and Sausage
Sourced from Martha Stewart
A hearty skillet dinner that is easy to prepare and packed with flavor!
Serves: 4
Prep Time: 15 minutes
Cook Time: 20-30 minutes
Total Time: 40-50 minutes
Ingredients
2 tsp extra-virgin olive oil
1 pound kielbasa or other smoked sausage, cut into 1-inch pieces ( We used a chicken sausage)
3 medium carrots, diced small
2 shallots, diced small
Salt and pepper
2 cloves of garlic, minced
2 can (15 oz) black beans, drained and rinsed
2 cups chicken broth
3 TB chopped fresh parsley, plus more for serving
1/4 cup plain greek yogurt, for serving
Directions
In a large skillet, heat oil over medium-high heat. Add sausage, and brown on all sides. (If sausage is not already pre-cooked, you will want to cook it until browned…about 8 minutes.) Transfer to a plate.
Add carrots and shallots to skillet and cook until beginning to soften, about 2-4 minutes; season with salt and pepper. Add garlic and cook for about a minute. Add black beans and broth and bring mixture to a boil. Add sausage, reduce heat to a rapid simmer and cook until carrots are tender and the liquid mixture has reduced, about 12-20 minutes.
Remove from heat and stir in parsley. Serve in bowls, top with more parsley and a dollop of plain greek yogurt.