Lately, I've been flooded with a ton of different recipe ideas. I recently just bought a notebook specifically for jotting down my ideas…different ingredients that those ideas might need, writing down different recipes I want to remake from the early days of this blog and making a list of all the holiday dishes I want to prepare.

This sandwich idea came to me a few weeks ago and I could not get it out of my head! I love chicken parmesan, but I never make it because I know its kind of icky for you, even though it tastes so dang good.
On Wednesday's, we have our Awana kids club nights and I've got to have something quick and easy for dinner that won't take to much of our time because at the latest, we've got to be out of the house by 6:15pm to make it to the church by 6:30pm.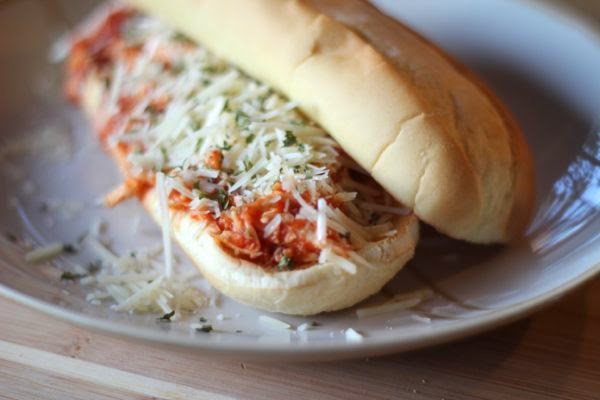 Let me tell you…I surprised myself with how good this was. It really does taste just like chicken parmesan…without all the fried stuff. It's got Italian flavor written all over it, with the cheesy flavor of parm…but all wrapped up together in a delicious sub-sandwich bun that's been toasted.
We all loved this so much. It's now a new family favorite of ours and we all can't wait till I make it again!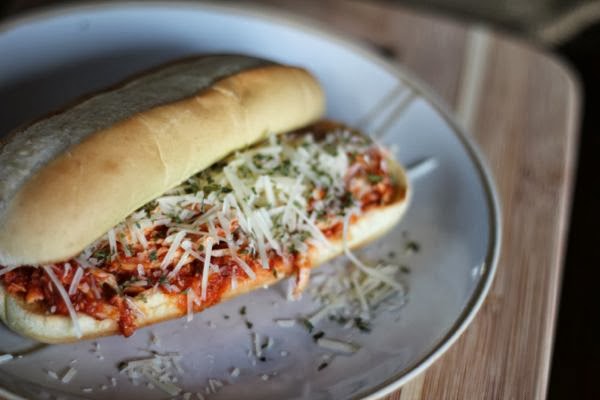 Slow Cooker Parmesan Subs
Recipe by Chelsia Rief
An Italian favorite remade into a sandwich. Cheesy chicken, rich marinara sauce, and a toasted bun…this is a sub that you'll want more than one of!
Prep time: 5 min
Cook time: 6 hrs on low
Total time: 6 hrs 30 min
Yield: 8 servings
Ingredients
2

boneless skinless chicken breasts (frozen or thawed)

1 jar (1 lb)

marinara/spaghetti sauce (your favorite brand…I used Prego Traditional)

1/2 cup

grated parmesan cheese

2

garlic cloves, minced

8 tbsp

shredded parmesan cheese (1 tbsp per sandwich)

2 tbsp

chopped parsley (dried parsley will work too)

8

sub sandwich buns, toasted
Cooking Directions
In your slow-cooker, place chicken breasts on the bottom of the pot. In a medium sized bowl, combine the spaghetti sauce, grated parmesan cheese, and minced garlic and still until it's incorporated. Pour over chicken and cook on low for 6 hours.
When the chicken is cooked, remove chicken and shred with two forks and return to slow-cooker and stir it together.
Place sandwich rolls on a baking sheet and place under the broiler for only a few minutes until lightly browned and toasted. Remove from oven.
Spoon some of the chicken mixture onto the bun. Top with 1 tablespoon of shredded parmesan cheese and sprinkle some of the chopped parsley on top, before topping with the top bun. Enjoy!