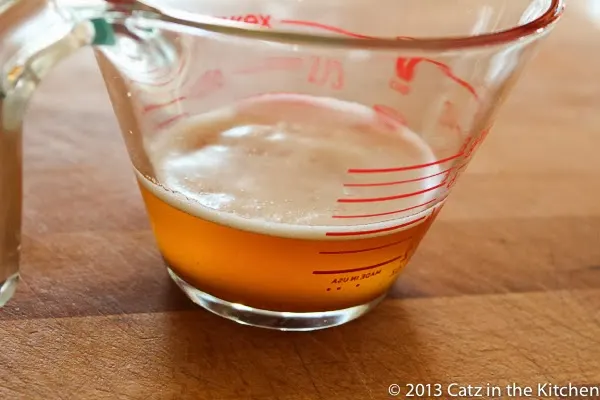 There are so many things in this life that just make food taste better. Dijon mustard, nutmeg, wine, and BACON being a few of those things. But browned butter is probably the most glorious of them all. Have you ever had browned butter before? If you've ever been to The Old Spaghetti Factory and gotten the Myzithra Cheese and Browned Butter pasta dish, then you've had it. Browned butter has a distinctive delicious smell and taste. It is almost nutty in flavor, and the smell, well, I can't even describe it properly. You'll just have to make it.
The reason for this post is because I have at least two recipes on this site using browned butter, Pasta with Myzithra and Brown Butter and Grace's favorite, Carrot Cake with Browned Butter Cream Cheese Frosting. I've got a third coming to you next week, but I've never written a tutorial on how to make it. So, here ya go!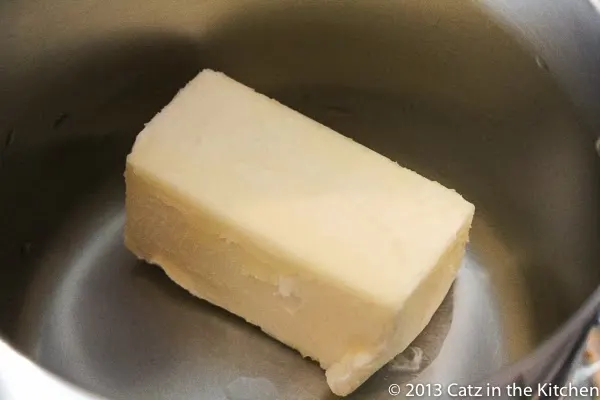 First, you are going to start with butter. The amount of butter you use can vary from recipe to recipe. In the recipe that I'll be sharing with you next week, I'm using one cup of butter, but only browning half a cup. So, place your butter in a small pot. (*butter does not have to be softened to brown. It can be cold and right out of the fridge.)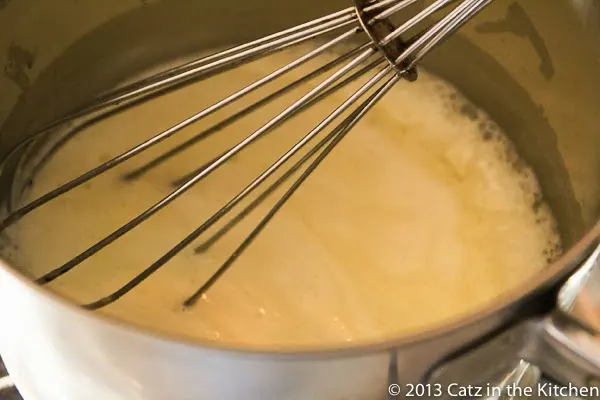 Have your whisk ready and be prepared to stay at the stove until the browning process is done. It only take a few minutes, but do not leave the stove or stop whisking. Turn your burner on to about medium heat and start whisking the butter and don't stop.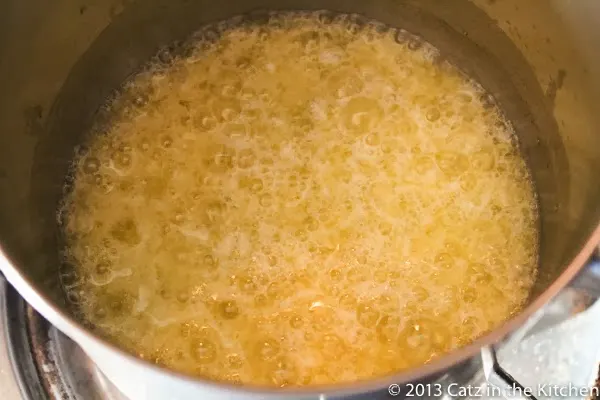 Once your butter starts bubbling, you're in business. This is the beginning of the browning process. Keep whisking. The butter may also foam a bit. Mine usually does; this is normal. This is also the point you should start to see and smell the browned butter. If you don't, keep whisking until you do.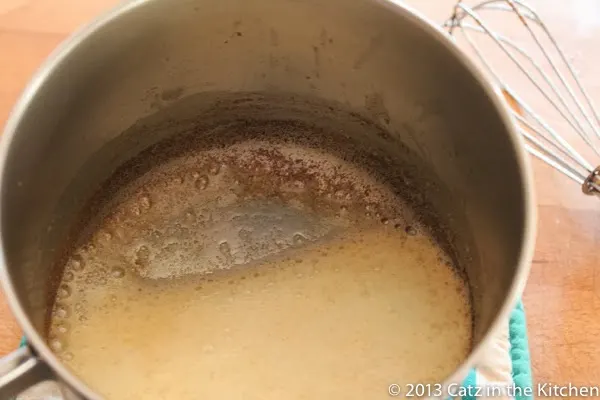 The moment you see the speckles of brown butter, turn the stove off, remove the pot from the hot burner and continue whisking for a tad bit longer. I usually, whisk for an additional 30 secs – 1 min. See all those glorious brown speckles-that's awesomeness right there!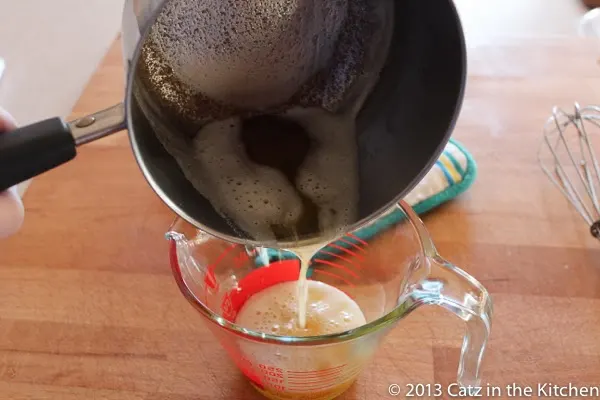 When you're done whisking, pour it into a little container, skimming the sides and the bottom of the potwith a spatula, making sure you get all of those little brown delicious bits.
In some recipes, you can use it immediately or cool it in the fridge. For baking, always cool it completely. Sometimes when I'm in a huge hurry, I'll pop it in the freezer for no longer than three minutes… that just speeds it up a bit for me because I'm kind of an impatient person, lol! But if you've got all the time in the world, let it chill in a special little place in your fridge until you are ready to use it. You could also make this with no special plans in mind. Just store it covered in your fridge and smear it on toast or use it the next time you bake chicken. It's kind of a nifty little thing to have hanging out in your fridge.
How to Brown Butter
Nutty in flavor…delicious in everything!
Total time: 5-10 min
Ingredients
Cooking Directions
Place butter in a small pot over medium heat and begin whisking right away.
Whisk as it bubbles and foams and after 2-5 minutes, depending on your stove and where your heat is set, you will being to see dark speckles appear on the bottom and sides of your pot.
Remove from heat and continue to whisk for an additional 30 secs – 1 min.
*Note* There are a few ways to brown butter, this is the way I prefer to do it so I ensure it doesn't burn.