So about dreams. Are you guys the type that thinks every dream means something or are you the type that says your mind went to the far corners of your brain and pulled stuff out of it and made a dream about it? I don't really know which category I fall into. Maybe a little bit of both. Sometimes I love my dreams. I'll wake up and it's like WHHHYYYY DID I HAVE TO WAKE UP! And sometimes I'm relieved to wake up.
Between Josh and I, I'm usually the one that has to rescue him from nightmares. But occasionally, I have to be rescued as well. Last night was one of those nights. I won't tell you what the dream was about because it still makes me kind of freaked out, but it was not fun. I hate those kinds of dreams. I hate them even more when it involves one of my kids, like it did last night.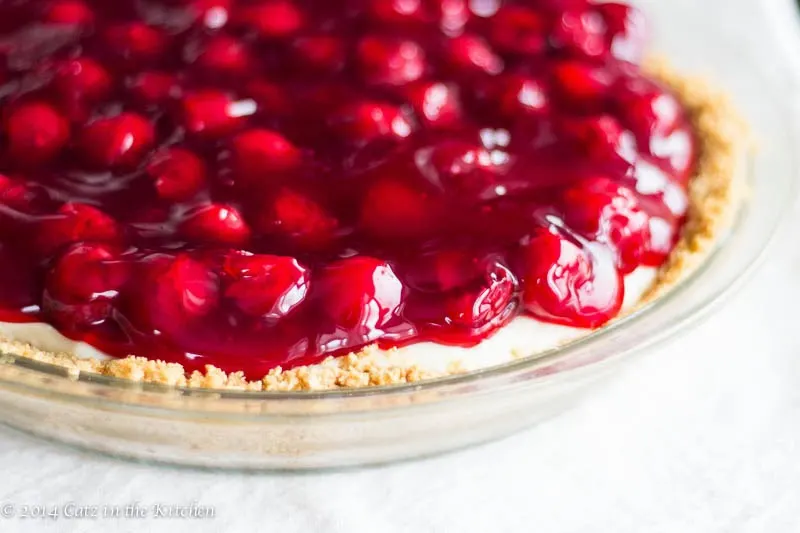 Thanks goodness for Josh because he managed to pull me out of it. He had to shake me a bit and I was like," Why are you shaking me." And he's all like," You were breathing really heavy and panicky." (Creepy right?) So we talked about the dream a little bit and it is so much of an Inception thing ya know. You remember the details so perfectly in the dream, then once you're pulled out, it's like your grasping for information. Anyways, I had to trick myself into falling back asleep after that. I had to play word games or word associations to get myself to stop thinking about the dream. Like, I was hungry because I had woken up in the middle of the night, so my stomach started grumbling (rumble, rumble) and I started thinking about different foods that sounded good to me and I was really really wishing that we hadn't eaten this entire pie because IT sounded really good to me.
You get everything you love about a cheesecake but in the form of a pie and it's easy. Oh, so easy! Sweet cherries, creamy cheesecake, and a buttery graham cracker crust! This is the stuff real dreams are made of and perfect for you and your sweetheart to share for Valentine's Day.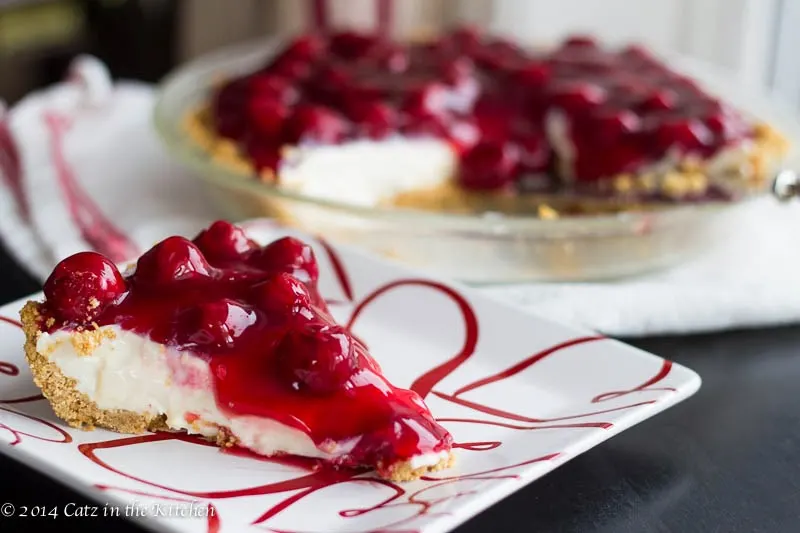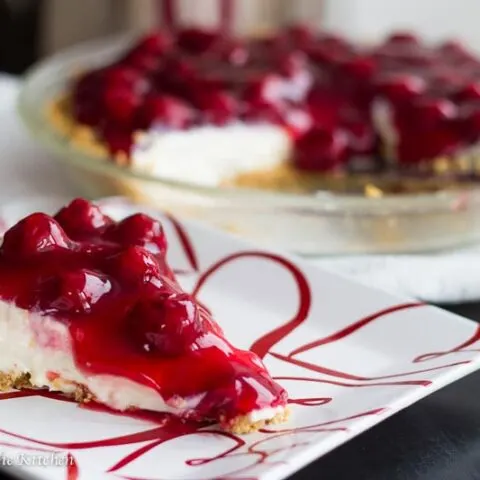 Cherry Cream Cheese Pie
Total Time:
4 hours
10 minutes
A creamy cheesecake center, sweet cherries, and a buttery graham cracker crust, it's everything you love about cheesecake but in the form of a pie and the perfect dessert for you to make for your Valentine.
Ingredients
1 (8 oz) package of cream cheese, room temp
1 (14 oz) can sweetened condensed milk
1/3 cup fresh lemon juice
1 tsp vanilla extract
1 (9-inch) pre-made pie crust or homemade
1 (21 oz) can cherry pie filling, chilled
Instructions
In a large bowl using a electric mixer or stand mixer with the beater attachment, cream the cream cheese until light and fluffy about 5 minutes.
Slowly add the milk on a low speed until well combined.
Stir in the lemon juice and vanilla and pour into the crust.
Refrigerate for at least 4 hours, or overnight until the pie is set up and well-chilled.
Top the pie with the cherry filling before serving.
Notes
Nutrition Information:
Yield:

8
Serving Size:

1
Amount Per Serving:
Calories:

148
Total Fat:

7g
Saturated Fat:

3g
Trans Fat:

0g
Unsaturated Fat:

4g
Cholesterol:

5mg
Sodium:

118mg
Carbohydrates:

18g
Fiber:

1g
Sugar:

4g
Protein:

2g
Nutrition information isn't always accurate.