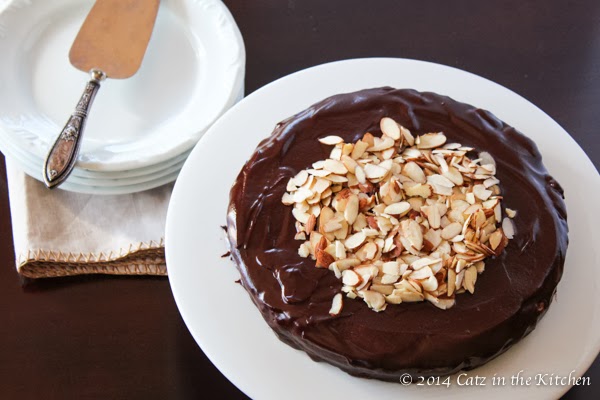 In my opinion, Valentine's Day is incomplete without chocolate cake. A few years ago I made a
Red Wine Chocolate Cake
that had such a beautifully deep and rich flavor that I thought it would be only fitting to celebrate this Valentine's Day with another chocolate cake. But not just any chocolate cake, Julia Child's Chocolate Almond Cake.
This is my second month featuring a Julia Child recipe from her cookbook Mastering the Art of French Cooking and I'm on the hunt for next month's recipe as we speak. But, we're talking about this recipe right now. This cake was briefly shown in the movie Julie and Julia. It's a rather quick scene in the movie where Julie is shown making several dishes, while the song," I love you a bushel and a Peck" is playing in the background. The scene in which this cake is featured shows Julia and her husband digging into it with their hands! I always thought how good that cake looked and I always wanted to make it.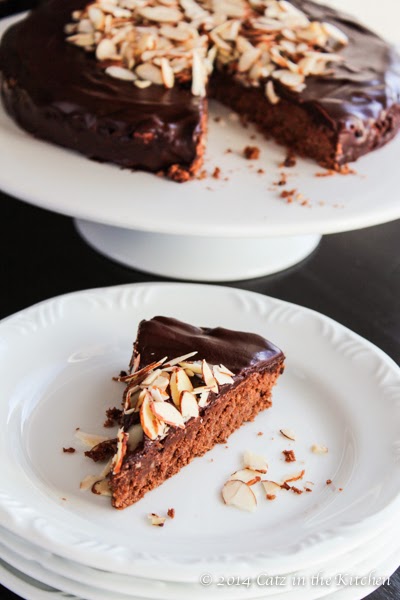 I'm so glad I did make it because it is fabulous! My daughters went a little nutty (no pun intended) for this cake, taking bites and slices whenever they could! The cake disappeared pretty dang fast in our house, which is always a good thing because when desserts linger, it makes the temptation to sneak bites here and there that much harder! This cake is going to WOW your Valentine so much that they'll have to give you a foot rub since you slaved away in the kitchen making it!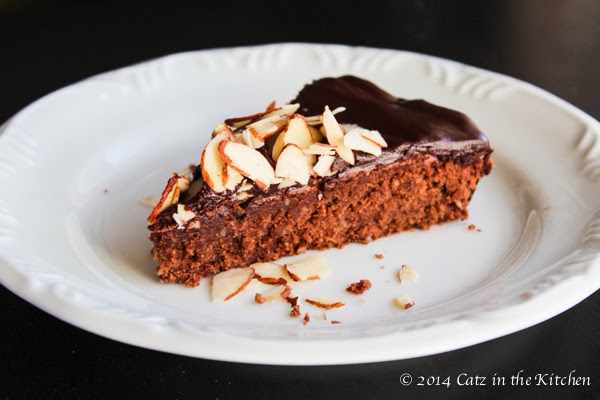 Julia Child's Chocolate Almond Cake
This classic French chocolate almond cake is bold, smooth, and decidedly different. If you find traditional cakes, shall we say, a bit on a the mellow side, the flavor in this one will be just your speed.
Prep time: 35 min
Cook time: 25 min
Total time: 1 hr, plus cooling time
Yield: 6-8 servings
Ingredients
4 oz

semi-sweet chocolate

2 tbsp

rum extract or coffee

1 stick (1/2 cup or 1/4 lb)

butter, softened

2/3 cup

sugar

3

egg yolks

3

egg whites

pinch of

salt

1 tbsp

sugar

1/3 cup

almond flour

1/4 tsp

almond extract

1/2 cup

cake flour, sifted
Cooking Directions
Preheat an oven to 350 degrees.
Butter and flour an 8″ cake pan.
Using a double boiler, set the chocolate and rum (or coffee) in the bowl over simmering water and stir while allowing the chocolate to melt. Set aside to cool.
In a mixing bowl, cream the butter and sugar together for several minutes or until it forms a pale, yellow, fluffy mixture.
Beat in the egg yolks until blended.
In a separate bowl, beat the egg whites and salt until soft peaks form.
Sprinkle in sugar and beat until stiff peaks form.
Using a rubber spatula, blend the melted chocolate into the butter/sugar mixture, then stir in the almond extract and almond flour.
Stir in 1/4 of the beaten egg whites to lighten the batter.
Carefully fold in 1/3 of the remaining whites, and when partially blended, sift in 1/3 of the cake flour and continue folding.
Alternate rapidly with more egg whites and more flour until all egg whites and flour have been incorporated.
Pour the batter into the cake pan, spreading it evenly around the pan with the spatula.
Bake for about 25 minutes. Do not over bake.
Allow the cake to cool in the pan for 10 minutes.
Run a knife around the edge of the pan, and carefully turn the pan upside down to release cake onto a cooling rack. Allow to cool for 1-2 hours. Frosting recipe follows.

Ingredients
2 oz

semi-sweet baking chocolate

2 tbsp

rum extract or coffee

5-6 tbsp

unsalted butter

1/2 cup

slivered almonds
Cooking Directions
In a double boiler, with simmering water, place the chocolate and rum (or coffee) in a bowl and allow to melt, stirring often.
Once melted, remove from heat and allow to cool for about 5 minutes, or until the mixture is smooth. Beat in butter one tablespoon at a time.
Allow mixture to cool an additional 15 minutes, or until it reaches a spreadable consistency.
Spread the icing over your cake with a spatula or knife.
Sprinkle almonds over the top of the cake.