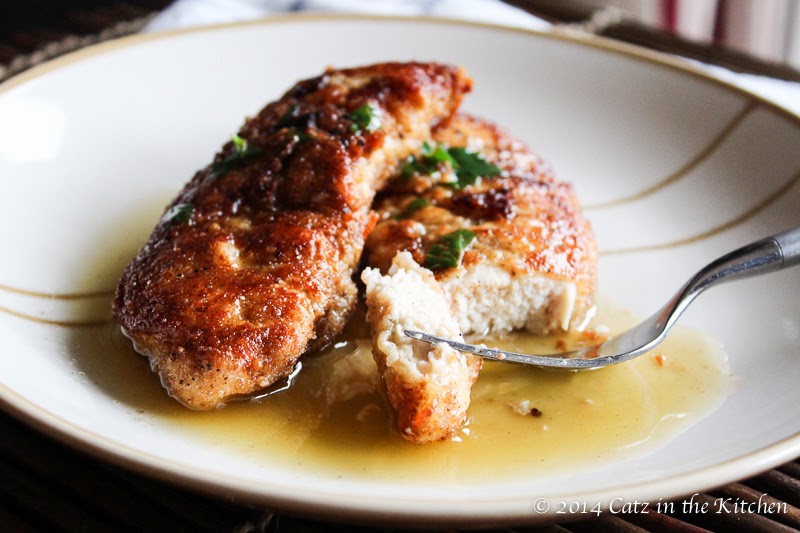 I had almost forgotten about my Julia Child monthly challenge when Sunday rolled around and I was making my grocery list for the week. With all of the kids various illnesses and things we had going on, I had kind of forgotten to plan ahead! I remember back in February thinking I wanted to make a dessert…but I think I'm going to leave the dessert for the April post since Easter isn't to far away.
The original name for this dish is Supremes de Volaille a la Milanaise…which translates to: Chicken Breasts rolled in Parmesan and Fresh Bread Crumbs. Either way, both titles are very long. So I shortened it to Parmesan Chicken which I think is perfectly acceptable.
For those of you paying close attention, you'll notice the above picture are not chicken breasts, but chicken tenderloins instead. Well…so I have a gas stove and I love it. But we buy our chicken breasts from Cosco and for anyone that buys their chicken there knows that their breasts are huge and it is a lot of work to get that thing cooked all the way through without burning it. Well…as you guess it, I burned the top of my breasts.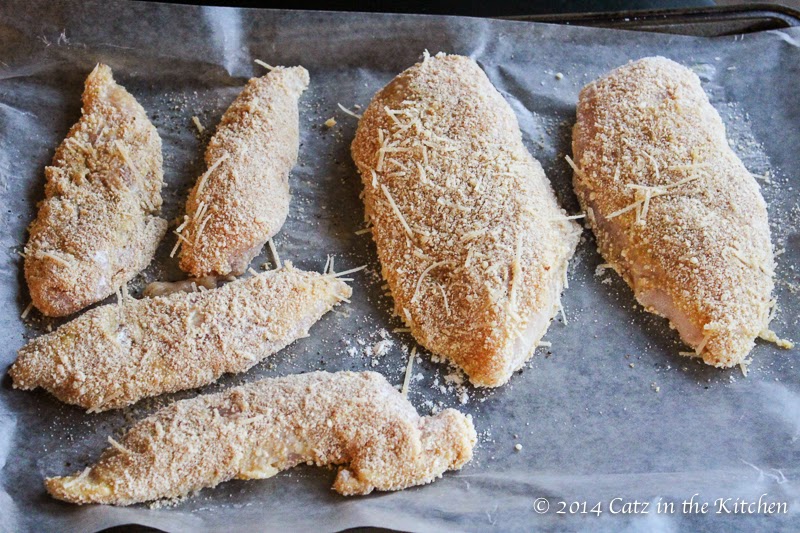 But lucky for me, I had thawed out some chicken tenderloin as well because the breasts are to big for our kids to eat. So I ended up using that for the picture. You could say that I'm swaying from the original recipe a bit, but really, who cares! The flavors are there and that's the main thing right? I don't think Julia Child would strike me on the hand for adapting the recipe a tad.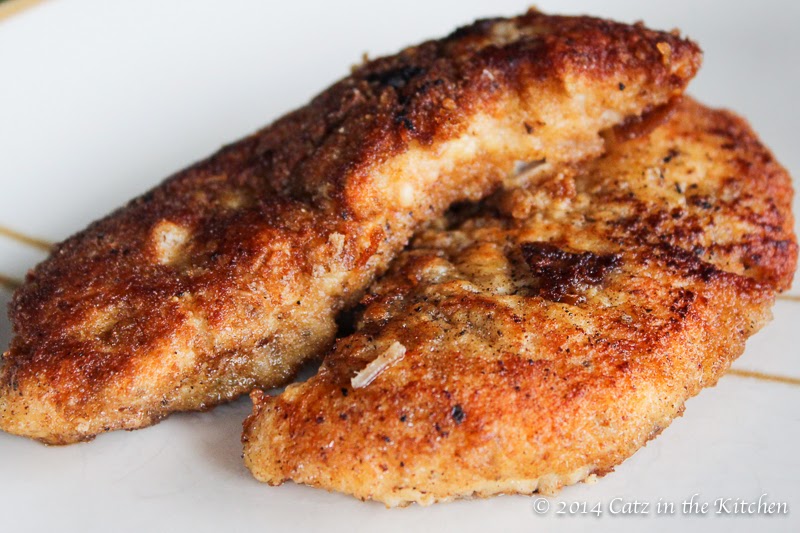 Funny that I mention adapting the recipe a tad…I did adapt it just a smidge so that I wouldn't burn these tenders too. What I found worked really well in the case of the breasts and the tenders was actually a lot simpler and easier to clean up. I sautéed the chicken in butter to get that great caramelization on the chicken and then once the crust was perfectly golden, I through it in the oven to finish baking the rest of the way through!
It was a perfect solution. You get that tasty, crispy crust and a completely cooked through and moist chicken tenderloin or breast. In my case, it was both. Seeing as my breasts weren't completely cooked through when I put them in the oven. But 20 minutes at 350 did the trick!
Because I'm on Spring Break with the kids right now, my goal has been to get a lot more cooking and baking done than I would usually do during the week, so I made these in the afternoon and once they cooled stored them in the fridge until we were ready to eat. I was scared that they would dry up…but I put them all back in the oven in a baking dish at 350 for 20 minutes and they were perfect! Julia says in the recipe that you can make these ahead and just reheat them…but I didn't buy it, because chicken dries up so easily. This was not the case, they heated up perfectly and the chicken was devoured, by all three of my kids…including Christian!
Because this dish is rather easy…now that I've adapted it for my kitchen and the chicken I keep on hand, I would make this a lot more often. It is actually really easy to make and it is so good. And the brown butter sauce is the perfect sauce to accompany the chicken with.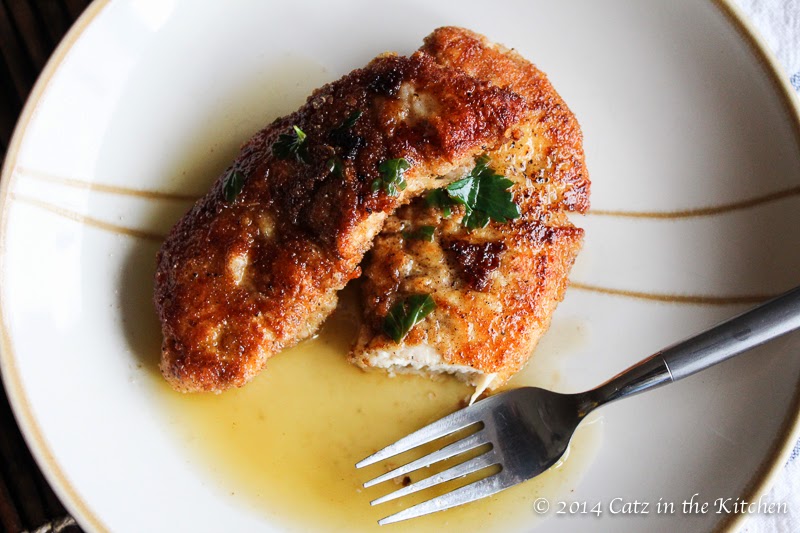 Julia Child's Parmesan Chicken with Brown Butter Sauce
Recipe by Julia Child's Mastering the Art of French Cooking cookbook
French cooking at its easiest! This chicken has a beautiful crispy parmesan layer and is finished by baking in the oven and topped with a drizzle of brown butter.
Prep time: 20-25 minutes
Cook time: 35 minutes
Total time: 1 hour
Ingredients
4boneless, skinless chicken breasts
1/4 tspsalt
Big pinchpepper
1egg
1/8 tspsalt
1/2 tsp extra-virgin olive oil
1/2 cupgrated parmesan cheese
1/2 cupplain bread crumbs
1 cupall-purpose flour
2-4 TB unsalted butter
Brown Butter Sauce
Ingredients
4 TBunsalted butter
3 TB minced parsley
1 TBlemon juice
Cooking Directions
In three separate shallow bowls, like a pie plate, pour the flour in one plate, the egg, salt, and olive oil beaten together in another plate, and the parmesan-bread crumb mixture in another plate.
Season the chicken breast with salt and pepper on both sides. One breast at a time, roll them in the flour and shake off excess. Dip in beaten egg mixture. Then roll in the cheese and bread mixture.
Lay the chicken on a baking sheet that's covered in wax paper and all the cheese and bread mixture to set for at least 10-15 minutes or for several hours.
Pre-heat oven to 350 degrees. Saute the chicken on both sides in butter, for about 3-5 minutes until a nice crispy, golden brown crust forms and transfer to a baking dish. Bake for 20-25 minutes or until cooked all the way through.
Drizzle brown butter sauce over the tops of the chicken breast.