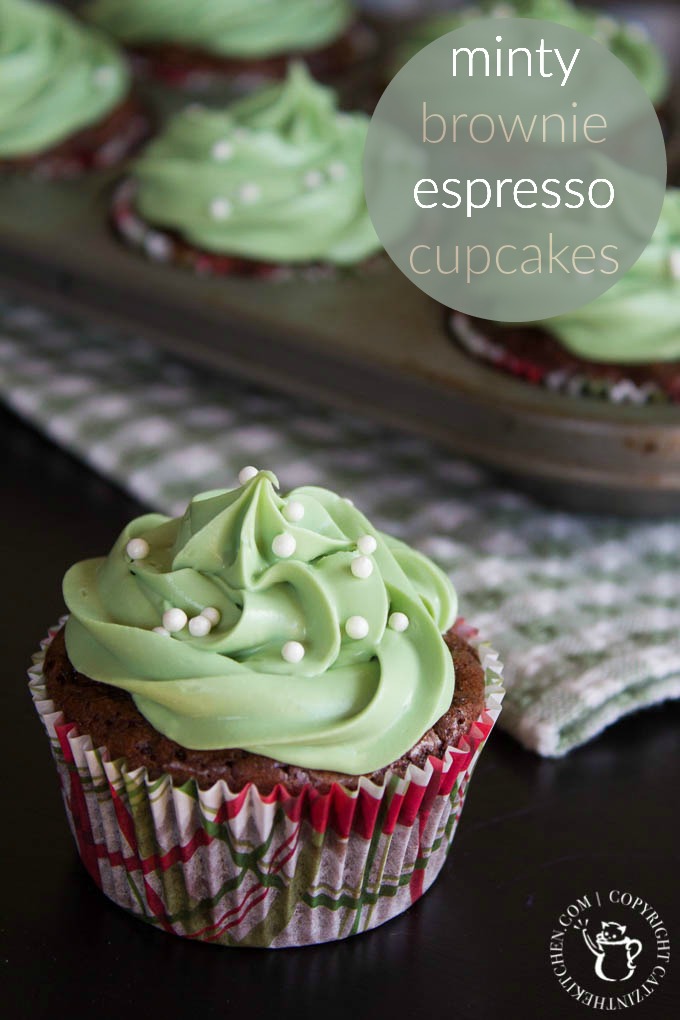 It has been one crazy last week and a half, lemme tell you! Christian's been teething and then he decided to start taking a few steps (bout time), then Grace came down with this awfully ugly cough virus, then I got just the cough. We thought we were in the clear until Tuesday morning when Eden and Christian both came down with the ugly cough virus. Its been fun guys. Oh, I would be lying if I said some of it hasn't been fun. There are benefits to your older kids being sick. You get sick days which means no school, extra cuddles for mommy, and you get THESE!
For the record, let me just state that these were more for me and Josh than the kids. I mean, being woken up six times a night by a teething baby who's sick has got to have some kind of perk right? I figured the espresso was a good idea for us, maybe not so much with the kiddos. But oh well. Maybe Christian got us up like ten times the night before was because he inhaled one of these brownie cupcakes! Yeah, that'll do it!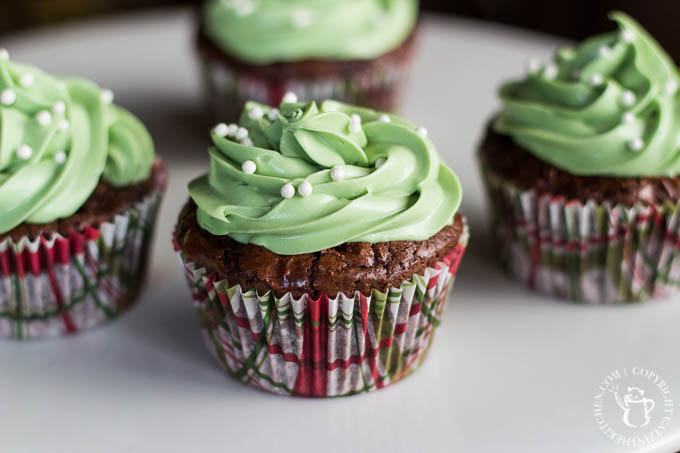 Moms not to smart in her sleepy stupor. GIVE ALL THE KIDS THE SUGAR AND CAFFEINE! I actually made a similar variation to this brownie cupcake at the cooking class I attend every month. Well, actually it's a hospitality and homemaking class, but cooking class is just shorter. I fell in love with these when we made them in February, but right away, my mind was going places in how I could transform them to fit into a St. Patrick's Day dessert. Let me tell you, I'm a little stoked about how these turned out.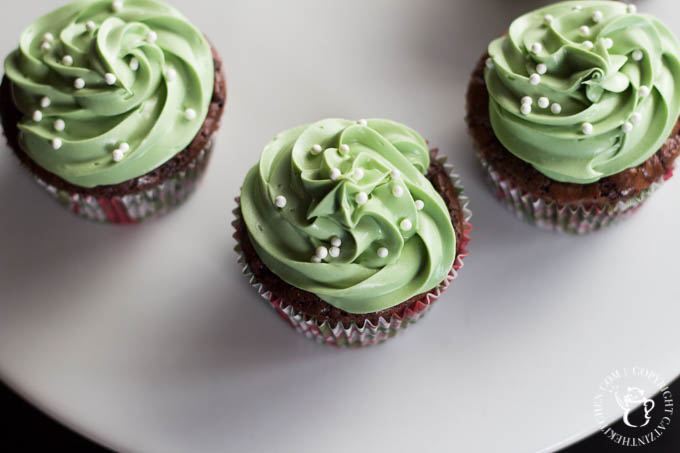 I'm not sure if you are anything like me, but if you are, you only want the brownies from the middle of the pan. Am I right? None of that edge of the pan stuff. But, in a cupcake form, there aren't any dreadful edges. Just pure chocolatey brownie glory. But then you top it with a minty cream cheese frosting with a hint of espresso and BAM, KA-POW! It's like you've found the pot of gold at the end of the rainbow!
I didn't want the mint to take away from the chocolate glory so I added it to the frosting which is where the espresso powder lies, and I was a little hesitant at first, because then I was all second guessing myself and thinking, "maybe I should of added the mint extract to the brownie batter and let the espresso flavor in the frosting really speak for itself." But I ended up dumping everything into the frosting and I really liked it that way and Grace and Josh even attested that they thought it was better the way I made it. So there you go. The espresso and mint has a really deep flavor that doesn't take away from each other at all. It's like the perfect Irish marriage. To much? Yeah, I thought so. I need some sleep people!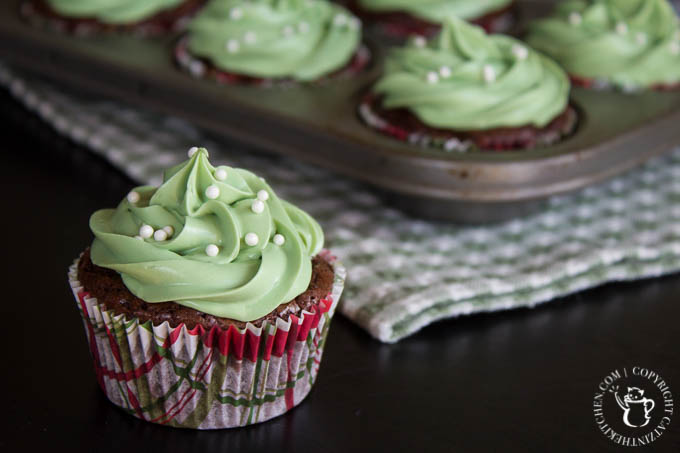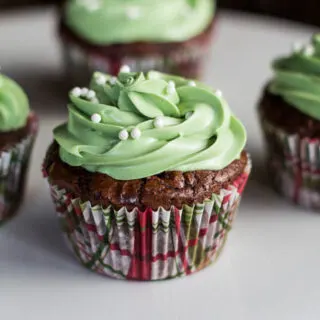 Minty Espresso Brownie Cupcakes
The green frosting is for St. Patrick's Day. The brownies and espresso are for blowing your mind. This recipe for minty espresso brownie cupcakes might just be the best thing about March!
Ingredients
1 box brownie mix
1 tub (16 oz) prepared cream cheese frosting
1 1/2 tsp instant espresso granules
1 tsp peppermint extract
1 tsp warm water
few drops green food coloring
sprinkles for topping
Instructions
Pre-heat oven to 350 degrees.
Prepare brownies according to the package directions. Fill a 12 cup cupcake pan with liners and fill about 1/2 full.
Bake for 20-25 minutes and let cool.
In a small bowl, combine mint extract, espresso granules, and warm water. Stir until coffee is dissolved. Scoop out the cream cheese frosting into a medium sized bowl. Pour the espresso mixture into the bowl of frosting and stir until blended. Place a few drops of green food coloring into the frosting and stir until the color is incorporated. Adjust the color to your own liking adding as few or many drops of food coloring as you want.
Scoop frosting into a piping bag with a frosting tip and frost cupcakes. Top with sprinkles.
Notes
Slightly adapted from Lisa Pearson
Nutrition Information:
Yield:

12
Serving Size:

1
Amount Per Serving:
Calories:

18
Total Fat:

1g
Saturated Fat:

0g
Trans Fat:

0g
Unsaturated Fat:

0g
Cholesterol:

0mg
Sodium:

9mg
Carbohydrates:

3g
Fiber:

0g
Sugar:

1g
Protein:

0g
Nutrition information isn't always accurate.