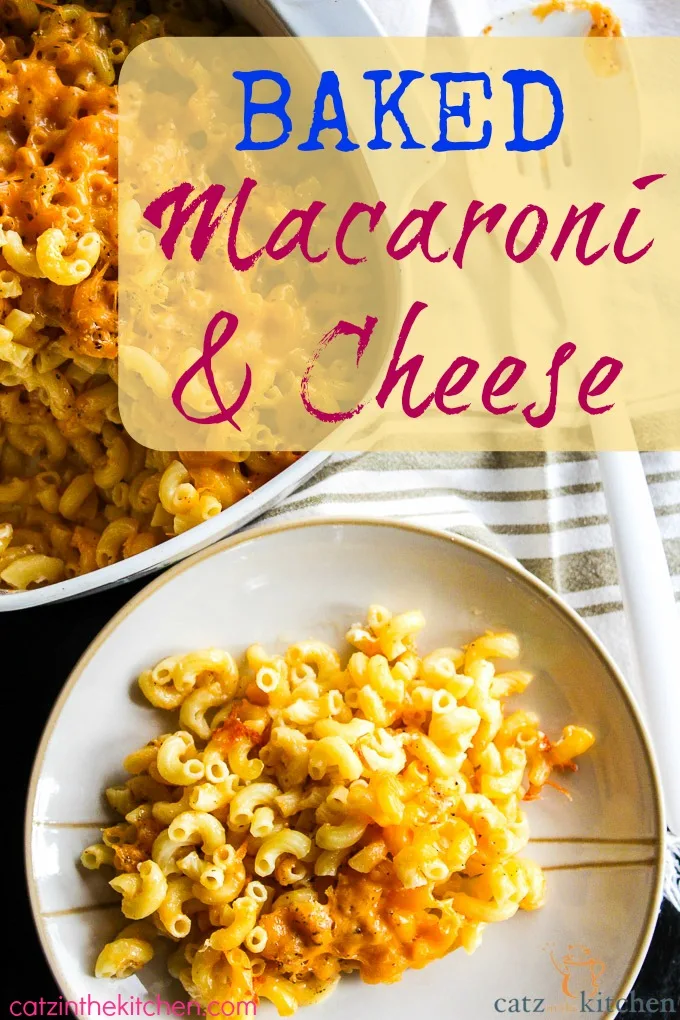 I'm basically a carb-o-holic! I love my pasta, bread, and anything else that is full of carby goodness. I will rarely pass up seconds on a roll or maybe even a tiny extra helping of pasta. I see pasta and my self-control kind of goes out the window and I just promise myself that I will workout extra hard the next day. Let me tell you, for seconds…the working out is totally worth it!
This baked macaroni and cheese is totally worth it too. I'm of the opinion that this is THE BEST MACARONI AND CHEESE EVER! But I could also just be saying that because it is the family recipe I grew up eating and maybe I'm completely biased, but maybe I love it so much because it's my mom's recipe.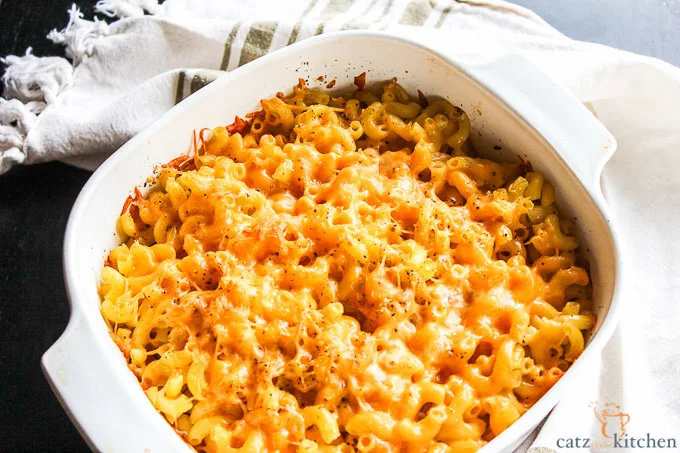 Over the years you would of easily seen this macaroni and cheese served at holiday meals, a side at a family gathering, or given as a meal to one of our family members who needed a meal brought to them. No one complains when they hear that we're having Nanny's (my mom's name from the grandkids) Macaroni and Cheese.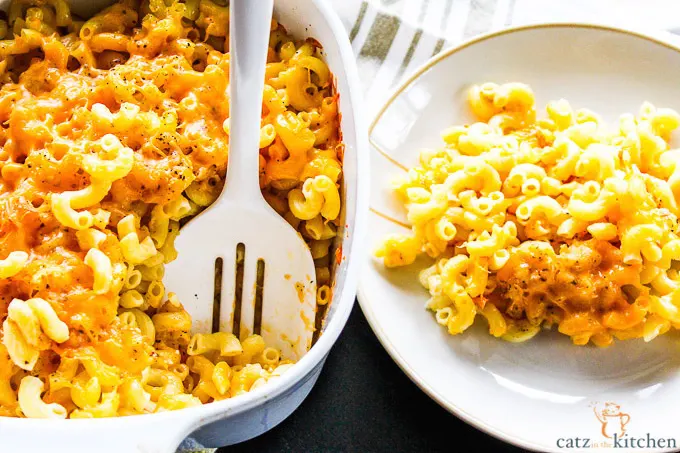 I gotta say one of my favorite things about this recipe is that it can be made in advance. I will usually make it in the morning and store in the fridge until I'm ready to pour in the milk and bake it. I've baked it in the morning and reheated it in the evening and it still tastes like it was just freshly made. The other thing I really like about this, is that I can usually adjust the amounts of cheese I use in it and still tastes good. Obviously, the more cheese you use, the cheesier it will be. But you can get by with 2 cups of grated cheddar cheese just fine. If you like your macaroni and cheese extra cheesy though, don't be afraid to use 3-4 cups of cheese. I think 3 cups of cheese is about perfect, but it's up to you.
Baked Macaroni and Cheese
A simple baked macaroni and cheese that's creamy on the inside and crispy on top. The perfect side dish for almost any occasion.
Ingredients
1 lb (one box) elbow macaroni
3-4 tbsp butter, chilled and cubed
2-4 cups grated cheddar cheese
3/4-1 cup milk
Salt and pepper
Instructions
Pre-heat oven to 375 degrees. Grease a deep and large casserole dish with non-stick cooking spray.
Bring a large pot of water to a boil and cook the pasta according to the box's directions. Drain. Put a small layer of pasta on the bottom of the dish. Sprinkle salt and pepper lightly over the pasta. Place five dots of butter over the pasta and sprinkle a decent helping of cheese over the butter.
Repeat this layer until you've run out of pasta or have came to the top of the dish.
Pour the milk over the pasta and place uncovered in the oven for 20 minutes. After 20 minutes, place a lid back on the casserole dish and continue baking for an additional 20 minutes.
Notes
Recipe courtesy of my mom, Connie Anderson
Nutrition Information:
Yield:

8
Serving Size:

1
Amount Per Serving:
Calories:

645
Total Fat:

56g
Saturated Fat:

33g
Trans Fat:

2g
Unsaturated Fat:

17g
Cholesterol:

160mg
Sodium:

924mg
Carbohydrates:

9g
Fiber:

0g
Sugar:

1g
Protein:

28g
Nutrition information isn't always accurate.