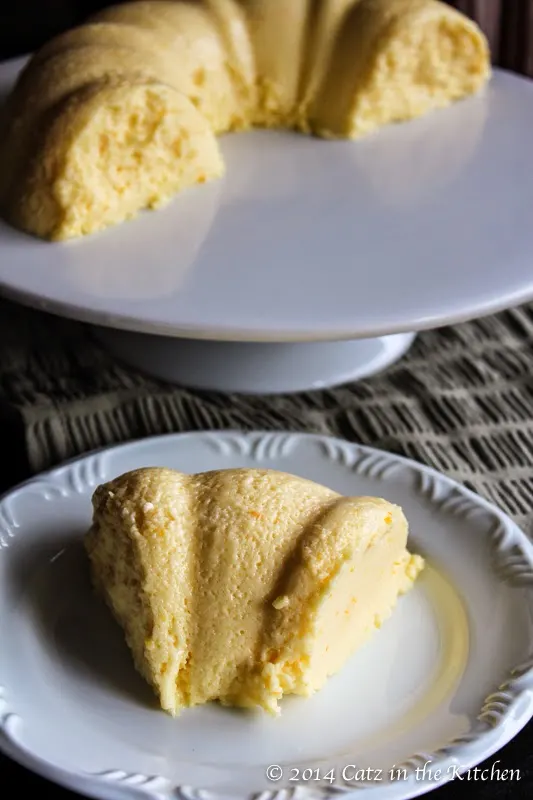 I did it again. The end of the month snuck up on me and I hadn't gone any farther in my Julia Child resolution other than picking out the recipe for April and buying the ingredients. Which would assume that I would remember to make the recipe right? Wrong!
I think with Christian coming out of being sick and me preparing for our trip (T-Minus 2 days) that I am just scatterbrain city! I even keep telling myself that I need to sit down and write out a "To Do" list of things to remember to pack and I haven't even done that yet. *sigh*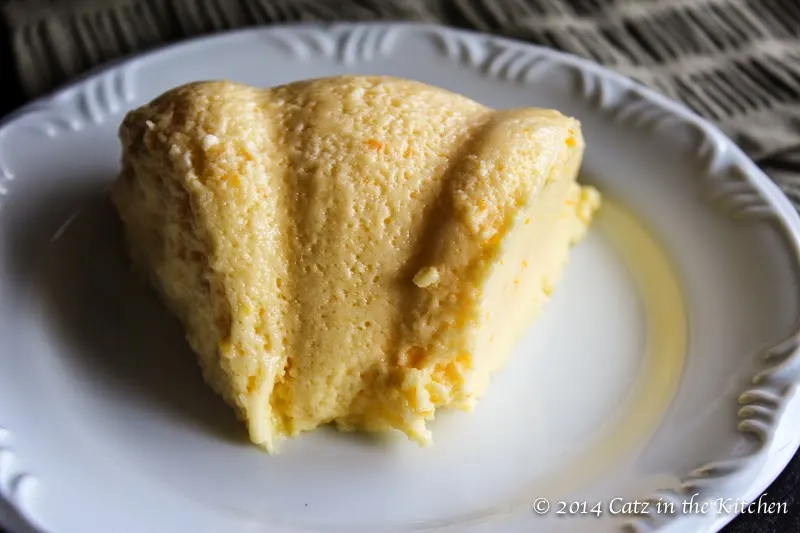 Today is going to consist of cleaning the house and doing laundry. I might even begin packing the kids bags, but we shall see how much I get done today. I'm a firm believer in cleaning before leaving on a trip. It just makes things so much nicer when you come back home and all you have to do is unpack.
So let's talk about this recipe! Like I said at the beginning, I knew what I was going to make for this month a few weeks ago and I had bought everything I needed. It was just sitting there waiting for me to use it. And I'm glad I finally got around to making this because it is EXCELLENT! Seriously, this is one fabulous dessert. I had intended on making the Raspberry Bavarian Cream like Julie Powell made in the movie. But, I just didn't feel like straining seeds from raspberries, lol! Yes, sometimes, I am that lazy. This version of Julia's Bavarian Creams is the original version and the others in her cookbook are just variations of what you could do to change the flavors up.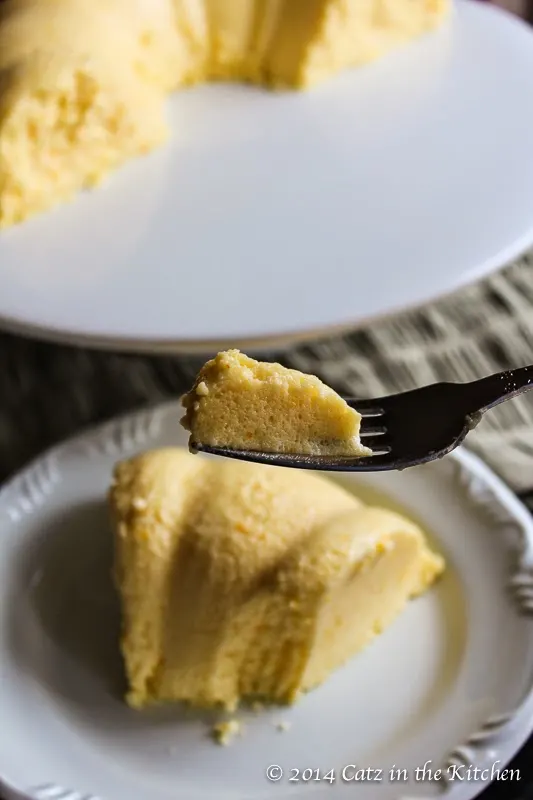 This dessert is pretty simple to follow, but it involves a lot of steps and you want to make sure you read it all the way through, at least a few times so you understand it. This orange bavarian cream tastes like a cream sickle. You guys know what those are right? Ice cream bars that are a mixture of vanilla cream and orange. Or from way back in the day, Henry Weinhard's Orange Cream soda. (I used to buy those all the time as a kid).
The trickiest part of this recipe is if you choose to mold it (like I did), removing the cream from the mold can be challenging. I stuck the pan ( I used a bundt pan) in hot water for just a couple of seconds and then I took a really small knife and carefully loosened the cream around the edges of the mold, placed my cake stand on top of the mold and then flipped it. I did this THREE times and nothing happened. So I just kept loosening it up around the edges. The last time I attempted to flip it, I had Grace telling me whether it was coming loose or not. Word was, it wasn't. But then I went to flip it back over again to try and loosen the side when it was to late, it was coming un-molded and half of the mixture fell on top of the other half. Grr! Grace felt so bad, but I assured her it wasn't her fault. So…if you are wondering why I only have pictured HALF a mold…this is why. So if you mold it, be patient! Or you could make a few pies with this cream. OH MY WORD-THAT WOULD BE HEAVEN!
The kids and I loved this dessert and I would totally make it again. Josh has yet to try it because he honestly can't eat things that taste like this. Long story, it just makes him sick from a time when he was a kid and had surgery. So I'm pushing for him to have a nibble…but I don't expect him too. So I think I'll be attempting the Raspberry Bavarian Cream soon.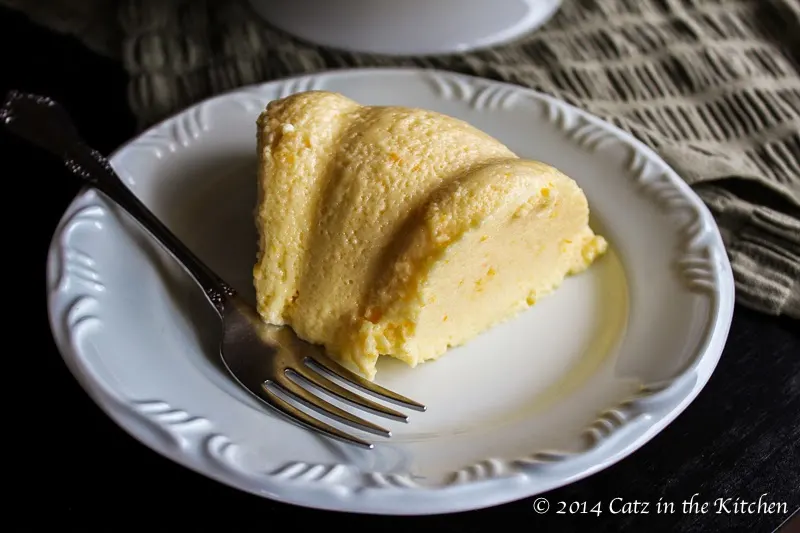 Julia Child's Orange Bavarian Cream
Recipe by Julia Child's Mastering the Art of French Cooking cookbook
This beautiful cold molded dessert tastes just like a cream sickle! It's creamy, flavorful, and light and worth every single step it takes to make it!
Prep time: 1 hour
Cook time: 3-4 hours or overnight, chilled
Total time: 5 hours +
Yield: 8-10
Ingredients
2 large oranges
2 tsp granulated sugar
1/2-3/4 cup squeezed orange juice from oranges
1 1/2 TB gelatin
7 egg yolks
1 cup granulated sugar
2 tsp cornstarch
1 1/2 cups boiling milk
5 egg whites
pinch of salt
1 TB granulated sugar
1/2 cup chilled whipping cream ( I used heavy)
1 tsp vanilla extract
Cooking Directions
The Orange Flavoring: In a small bowl, zest the two oranges and stir together with 2 tsp of sugar. Set aside. Squeeze the juice from the oranges and pour into a measuring cup to make sure you have at least 1/2 cup of juice. Pour into a small bowl and sprinkle the gelatin over the orange juice and set aside to soften.
To make the custard: Place the egg yolks and orange zest in a large mixing bowl. Using an electric mixer, gradually beat in the granulated sugar and continue beating for 3-4 minutes until the mixture is pale yellow and forms a ribbon. Beat in cornstarch.
Beat the milk in a thin stream of droplets into the egg mixture (you don't want to scramble the eggs). Pour into a saucepan and set over medium heat. Stir with a wooden spoon until the mixture thickens enough to lightly coat the back of the spoon. Remove from heat and add the gelatin mixture right away, beating for a moment or two until the gelatin has completely dissolved. Rinse out the mixing bowl and pour in the custard mixture.
The Egg Whites: Using an electric mixer or the whisk attachment on your Kitchenaid, place the egg whites and pinch of salt into a mixing bowl, beating until soft peaks form. Sprinkle 1 TB of sugar over the peaks and beat until stiff peaks form. Using a rubber spatula, fold the egg whites into the hot custard. Set the bowl over another bowl with ice and continue folding delicately with spatula while the mixture is cooling, to keep it from separating until the mixture is cold, but not quite set. Set aside.
Whipped Cream: With a whisk, beat the cream and vanilla until the cream has doubled in volume and the whisk leaves faint traces on the surface. Fold the whipped cream into the custard, until completely incorporated.
Using an 8-cup mold, like a bundt pan, pour the bavarian cream into the mold. Cover with wax or plastic wrap and chill in the fridge for 3-4 hours or overnight.
To remove the cream from the mold, dip the mold into very hot water for a few seconds and run a knife around the edge of the cream and reverse the mold onto a chilled platter.