This blackberry coffee cake offers the best of both worlds with blackberries scattered throughout a buttery, crumbly cake topped with streusel.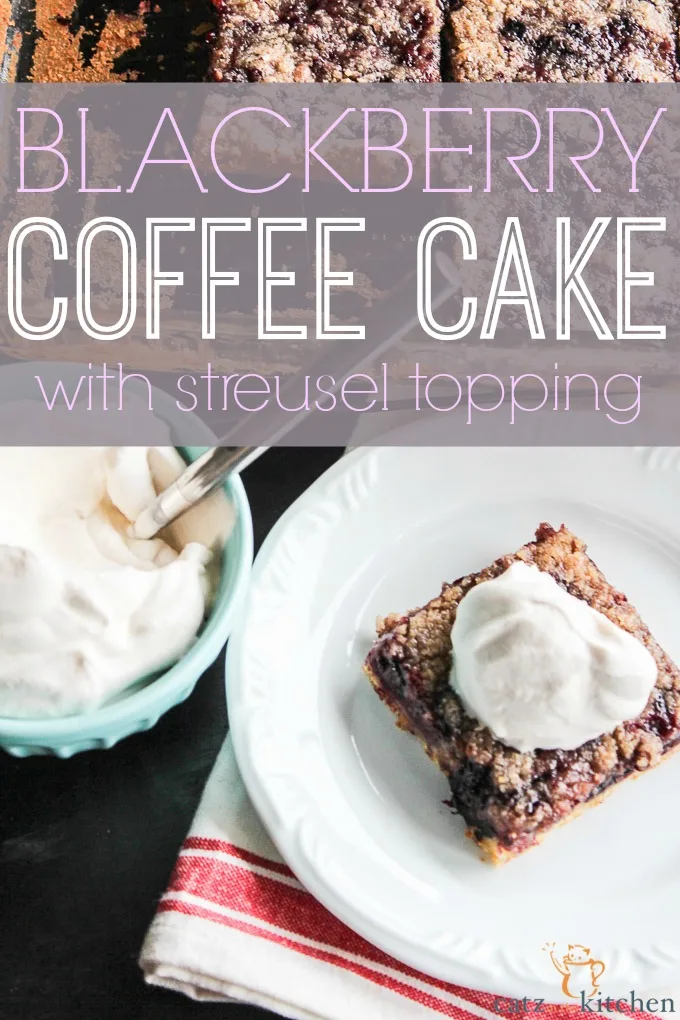 I've gone grocery shopping, checked all of Grace's school work, put the groceries away, and the last load of laundry is drying in the dryer. It's quiet right now. Christian is taking his second nap of the day, which is something of a rarity anymore and the girls are playing quietly in their room. It's quiet. Quiet aside from the dryer tumbling the laundry dry. I'm afraid to press down on the keys of my laptop too hard in case my little one wakes up. I want this silence to last a bit longer. I'm tired. Just thinking of our last four weeks makes me want to crawl into my bed and pull the covers over my head. Do you ever have months, weeks, or days like that?
These last two weeks for us have included four birthday parties (two of which were for my kid), Mother's Day, and a few late nights for us that had us gathered with some of our family from out of town. This last weekend-Friday, we had Grace's birthday slumber party with her friends. Saturday it was yard work, running errands, allergy fits, beginning the teaching of showing Eden how to ride a 2-wheeler bike, Josh finding time to write a message for church as he was filling in for his dad, and Sunday was church and a birthday party. I was pretty much a zombie after church and came home right away and took a nap till 3:45pm.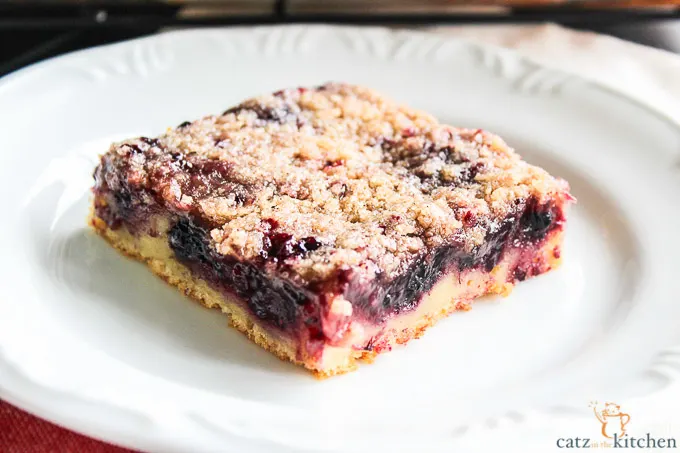 And I made coffee cake for brunch Saturday morning for all the girls! It's funny, Josh and I planned out dinner for the kids. We made homemade individual pizzas for the girls which they got to decorate, and the girls made cheesecake for dessert. But for breakfast the following morning-I drew a blank! I had forgotten about breakfast and I had no idea what I was going to do. I didn't want to make Josh run to the store for more groceries. I was still feeling bad for going over our budget on the last shopping trip. I wanted to make something, but it was Friday night and we usually do our grocery shopping on Sunday afternoons, which meant I was running low on pretty much everything. I thought about doing a baked french toast, but after all of the birthday excitement after dinner and dessert, I was exhausted.
I wanted to make coffee cake, but for the life of me, I could not find my go-to recipe and apparently, I never got around to posting it on the blog because it wasn't there either. At 11pm Friday night, I had a pile of cookbooks on my bed, looking for a basic coffeecake recipe and so many looked amazing. But I was missing ingredients for them. I finally, hauled all the cookbooks back to the desk and went to Pinterest and started going through my breakfast board when I came across this recipe. Magically enough, I even had every ingredient on hand! It was meant to be. I printed it out and went to bed sleepy and happy!
I'm so glad I came across this recipe because it was really very simple even though I kept forgetting steps. It smelled amazing while it was baking and it looked perfect when I pulled it out of the oven. The only thing that was missing was the homemade whipped cream, which I almost forgot to make! The original recipe only made enough for an 8×8 baking dish, so I doubled it for a 9×13 baking dish because I had a lot of hungry girls in my house and the recipe below is the doubled version. Seriously, I'm really glad I didn't come across my other recipe because this one is my new favorite!
That silence that was so golden at the beginning of my post? That's over now. The little man is awake, lol! #norestfortheweary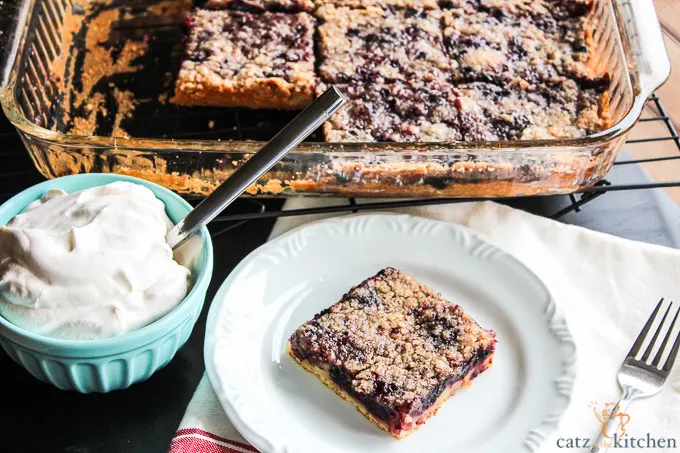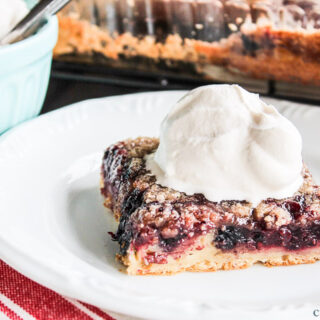 Blackberry Coffee Cake with Streusel Topping
This blackberry coffee cake offers the best of both worlds with blackberries scattered throughout a buttery, crumbly cake topped with streusel.
Ingredients
Topping
2/3 cup all-purpose flour
1/2 cup sugar
4 tbsp packed brown sugar
1 tsp ground cinnamon
1/2 cup (1 stick) unsalted butter, cubed
Coffee Cake
2 cups all-purpose flour
2 tsp baking powder
2 tsp ground ginger
1/2 tsp salt
1/2 cup (1 stick) unsalted butter, softened
1 cup sugar
2 large eggs
2 tsp vanilla extract
2/3 cup milk
3 cups blackberries, thawed
Instructions
Grease a 9x13 baking dish with butter. Pre-heat oven to 350 degrees. Set aside.
To make the topping, stir together flour, sugar, brown sugar, and cinnamon in a medium sized bowl. Using a pastry blender, blend the butter into the mixture until it resembles coarse crumbs. Set aside and keep in the fridge until ready to use.
To make the cake, in a medium bowl whisk together flour, baking powder, ginger, and salt. In a large bowl, cream softened butter with an electric blender. Add in the sugar and beat until light and fluffy. Beat in eggs and vanilla. Alternate flour mixture and milk until just combined.
Pour the batter into the greased baking dish. Scatter the blackberries over the top of the cake. Spoon the streusel over the berries. Bake for 45-60 minutes, or until a toothpick inserted in the middle comes out clean. Cool on a wire rack.
While the coffee cake is cooling, whip up some homemade whipped cream to go on top of the coffee cake.
Nutrition Information:
Yield:

12
Serving Size:

1
Amount Per Serving:
Calories:

259
Total Fat:

2g
Saturated Fat:

1g
Trans Fat:

0g
Unsaturated Fat:

1g
Cholesterol:

35mg
Sodium:

207mg
Carbohydrates:

55g
Fiber:

3g
Sugar:

30g
Protein:

5g
Nutrition information isn't always accurate.