Cooked apples, crunchy crumble, drizzled caramel sauce, and creamy vanilla ice cream equal a seriously yummy apple crumble sundae recipe!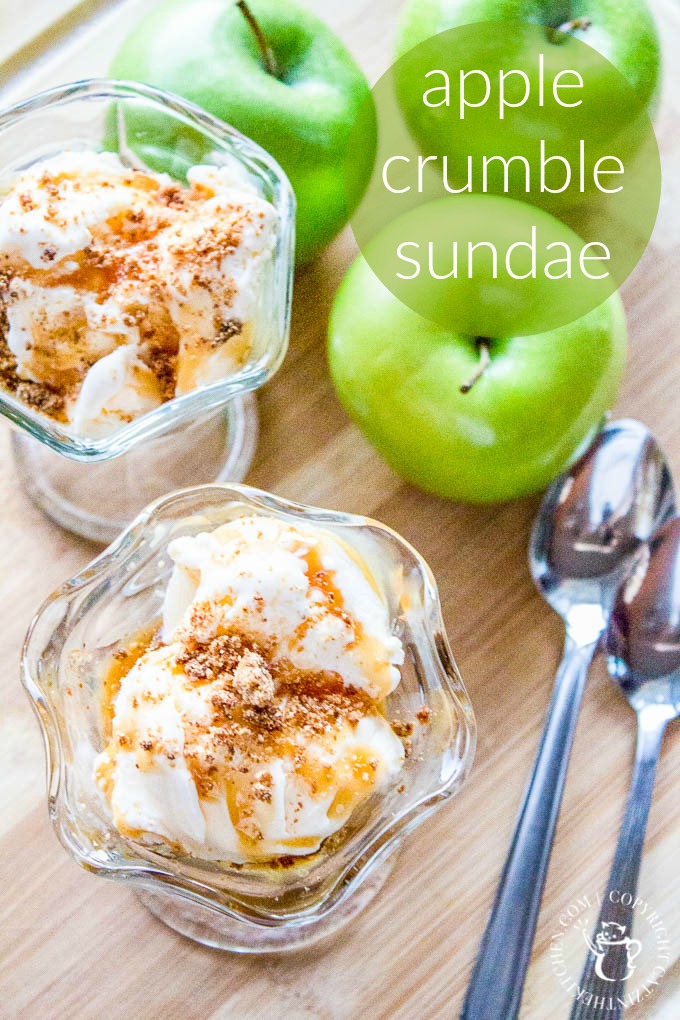 One of the new things Christian has started doing lately is showing off how strong he is. For instance, he'll take one of my reusable grocery bags that's full of groceries (usually the lightest bag) and lift it up as high as he can and make I'm sure what he thinks is manly grunting noises.
We get quite the kick out of this, because he is so serious at showing us what a strong boy he is but it is such a comical thing to watch.
He recently pulled this little stunt at church with a bag full of apples. One of the sweet ladies in our church brought a ton of apples from her farm to share with all of us. Christian found one of the bags in the back of the church and proudly grunted all the way up to where my father-in-love was preaching at the podium. Needless to say, that was quite the distraction for the congregation as everyone started giggling and laughing at the cuteness that is my son.
Later when we were about to leave for home, one of the guys came up to us saying, "You won't want to forget Christian's bag of apples." Haha! So we took them home.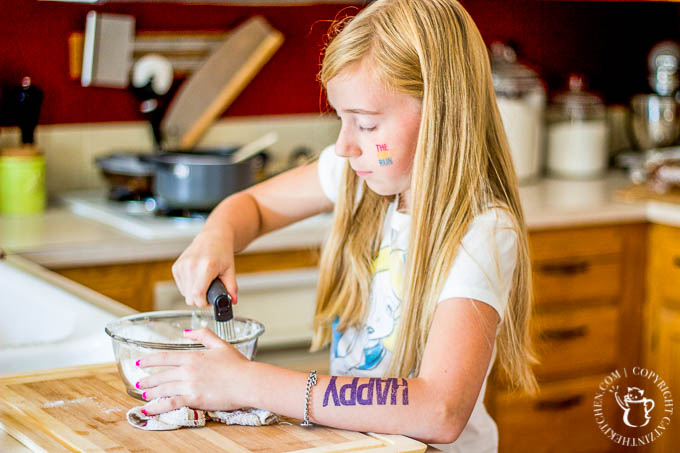 Grace and I were going through her Cookbook for Girls, when we came across an apple crumble sundae recipe and I suddenly knew just what to do with the apples and Gracie got a cooking lesson. I peeled the apples and worked on the apple compote and she learned how to use a pastry blender and made the crumble. She and I make a pretty good team in the kitchen. She's a great student because she is eager to learn how to do everything. :)
So this sundae, while very simple, is aaaamazing. We made the apple compote and crumble earlier in the day and stored the cooked apples in the fridge and the crumble in a container until we were ready to eat it, and even a few hours later was completely delish.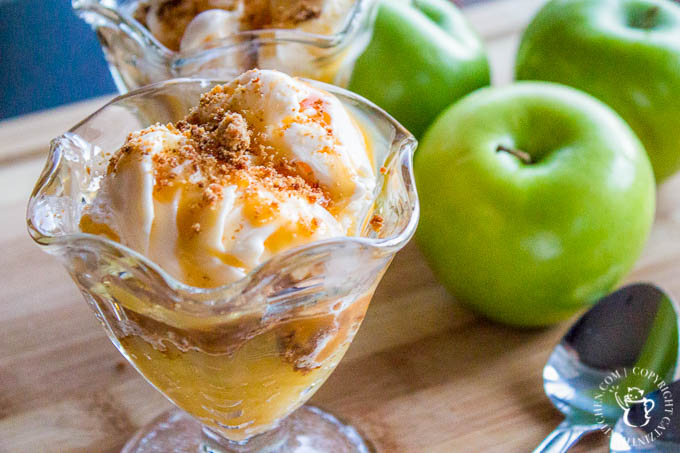 If you've got a few good baking apples lying around, I highly suggest making this easy treat and surprising your family with it for after dinner.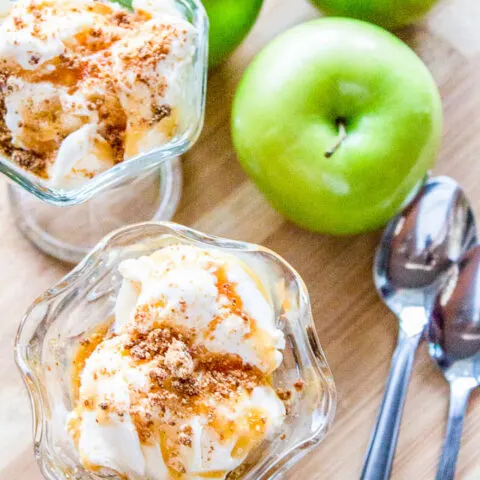 Apple Crumble Sundae
Cooked apples, crunchy crumble, drizzled caramel sauce, and creamy vanilla ice cream equal a seriously yummy apple crumble sundae recipe!
Ingredients
3/4 cup all-purpose flour
2 TB cold butter, diced
1/4 cup sugar
3 baking apples, peeled cored, and chopped
1/4 cup sugar
1/2 lemon, juiced
4 TB caramel sauce
4 scoops vanilla ice cream
Instructions
Place the flour and butter in a bowl and using a pastry blender, work the butter into the flour until the mixture resembles fine bread crumbs. Pre-heat the oven to 400 degrees and line a cookie sheet with parchment paper and our the mixture on top. Cook for 8-10 minutes or until golden.
Place the chopped apples, sugar, and lemon juice in a medium-sized pan. Cover and cook over a gentle heat for 10-15 minutes, stirring occasionally.
Allow the apple compote to cool with the lid off. Using a fork, break up the cooled cooled crumble topping.
Layer each sundae or parfait glass with apple compote, crumble, ice cream, a drizzle of caramel sauce, and top it with a sprinkle of remaining crumble. Serve immediately.
Nutrition Information:
Yield:

4
Serving Size:

1
Amount Per Serving:
Calories:

486
Total Fat:

13g
Saturated Fat:

8g
Trans Fat:

0g
Unsaturated Fat:

4g
Cholesterol:

44mg
Sodium:

171mg
Carbohydrates:

89g
Fiber:

4g
Sugar:

65g
Protein:

5g