This simple slow cooker butternut squash and sweet potato soup recipe is full of flavor and spice – a perfect fall family dinner!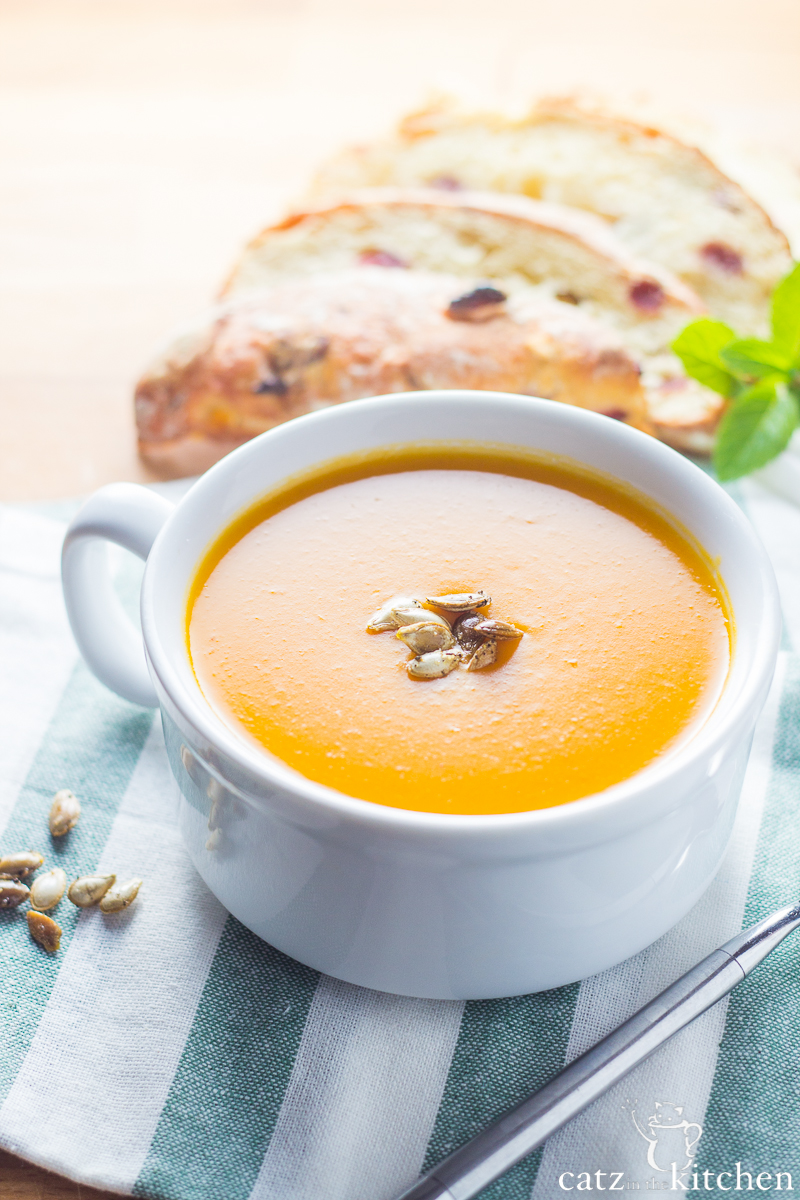 This post was originally published in December of 2011. We've brought it back from the archives for you to enjoy as a perfect side or soup course this Thanksgiving!
I love and adore my crockpot something awful. I mean, it's way up there on the list. When I say up there, I mean smack dab in between my KitchenAid Mixer and my zester. My crockpot is like a best friend. Trust- worthy, smart, and always there to lend a helping hand.
Normally, I don't use my crockpot on the weekends due to the fact that Josh and I tend to cook together on those days and we don't need to rush. But on this particular weekend day, Josh wasn't going to be able to cook with me since he was going to be working on a podcast for The MacMob. (If you've missed reading some of Josh's posts, it's because he's been moonlighting as a writer for an Apple tech website. I promise, he'll be back writing for us soon though). And since he was busy, I thought it would be best to not worry about dinner too much and let my crockpot help me out for a few hours.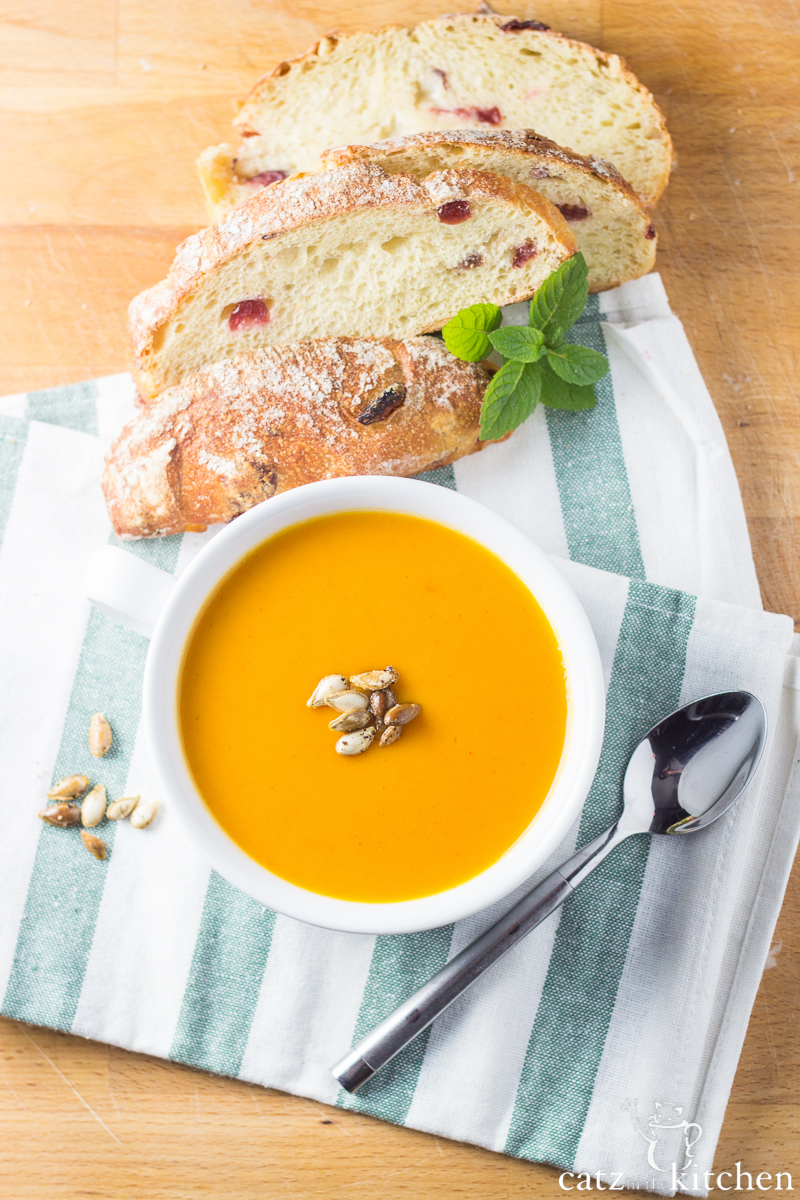 This soup was such a delightful and sassy change from the kinds of soups we're normally used to. It's sweet and spicy soup, and it goes perfectly when paired with some rolls and a drizzle of honey which really compliments all the different flavors in the soup. For extra garnish and flavor, I toasted and seasoned some of the seeds from the squash and placed them in the soup, and my 7 yr old went crazy for it, haha! She's into crazy little garnishes like that.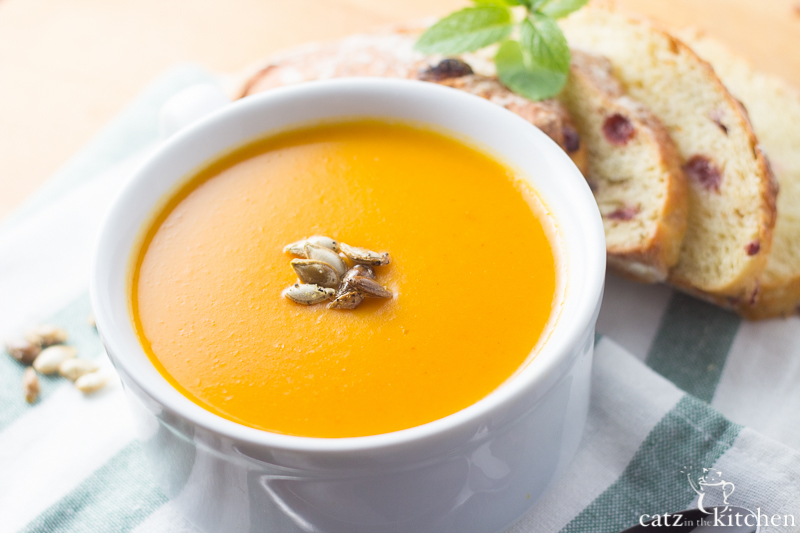 This soup is a must slurp eat for the Fall and Winter Seasons!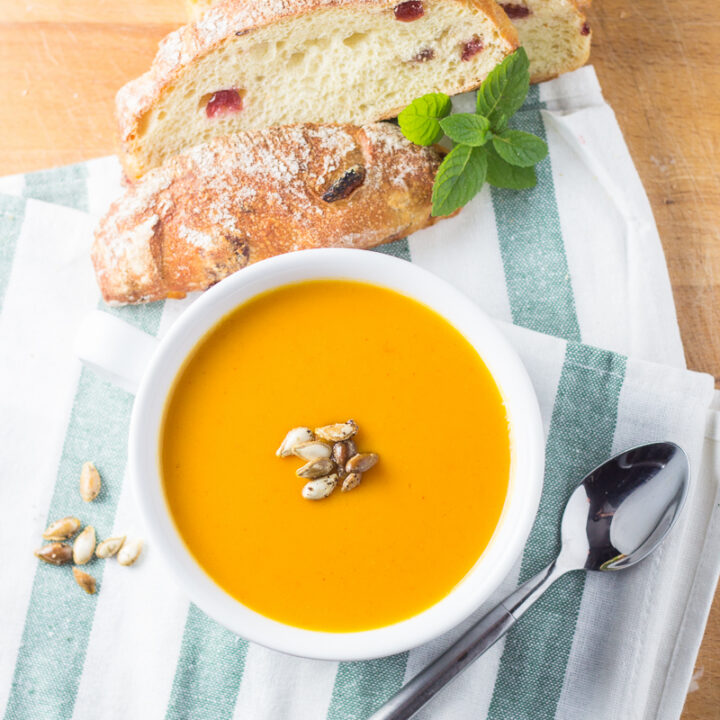 Creamy Slow-Cooker Sweet Potato & Butternut Squash Soup
Cook Time:
4 hours
15 minutes
Total Time:
4 hours
45 minutes
This simple slow cooker butternut squash and sweet potato soup recipe is full of flavor and spice - a perfect fall family dinner!
Ingredients
1 lb sweet potatoes, peeled and cut into 1-inch cubes (about 3 cups)
1 lb butternut squash, peeled and diced into 1-inch cubes (about 3 1/2 cups)
1/2 cup chopped onion
1 can (14 ounces) chicken broth, divided
1/2 cup (1 stick) butter, cubed
1 can (13 1/2 ounces) coconut milk
1/2 tsp ground cumin
1/2 tsp ground red pepper, or more to taste
1 1/2 tsp salt, or more to taste
3-4 green onions, green and white parts, finely chopped (optional)
Instructions
Combine sweet potatoes, squash, onion, half of chicken broth and butter in 4 1/2-quart crockpot. Cover and cook on high for 4 hours, or until vegetables are tender.
Puree until smooth in blender 1 cup at a time, returning batches to crockpot. Stir in remaining broth, coconut milk, ground cumin, ground red pepper, and salt. Cook on high for 15 minutes or until heated through. Ladle into bowls and sprinkle with chopped green onions or toasted seeds.
Nutrition Information:
Yield:

6
Serving Size:

1
Amount Per Serving:
Calories:

146
Total Fat:

2g
Saturated Fat:

1g
Trans Fat:

0g
Unsaturated Fat:

1g
Cholesterol:

4mg
Sodium:

693mg
Carbohydrates:

30g
Fiber:

5g
Sugar:

8g
Protein:

5g
Nutrition information isn't always accurate.