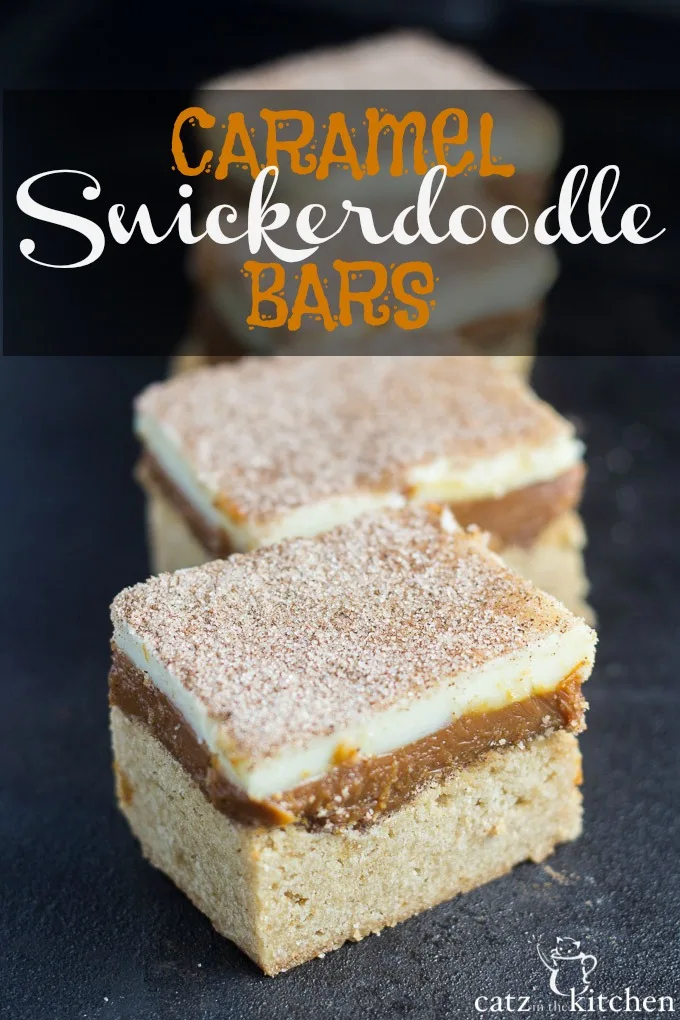 A few months ago I was telling Josh how much I missed my foodie subscriptions. For a few years now, I've regularly been receiving The Food Network Magazine, but we let my subscriptions to Taste of Home and Everyday with Rachael Ray run out. So I was hinting to Josh about how much I missed them and the next thing I knew he was online looking for a good deal and I ended up walking away with Taste of Home, Everyday with Rachael Ray, Better Homes & Gardens, and some travel magazine that I can't remember the name of, lol! (Editor's note: That would be Condé Nast Traveler)
Every month, I let the magazines pile on top of each other until I can take advantage of Christian's nap time to bring downstairs all of my recipe binders (there are four of them now!), the hole puncher, and my scissors, and start flipping through the pages, reading the articles, and examining recipes.
As soon as I came across these Caramel Snickerdoodle Bars I knew I wanted to make them and I knew I wanted to share them. I finally got the opportunity last Friday!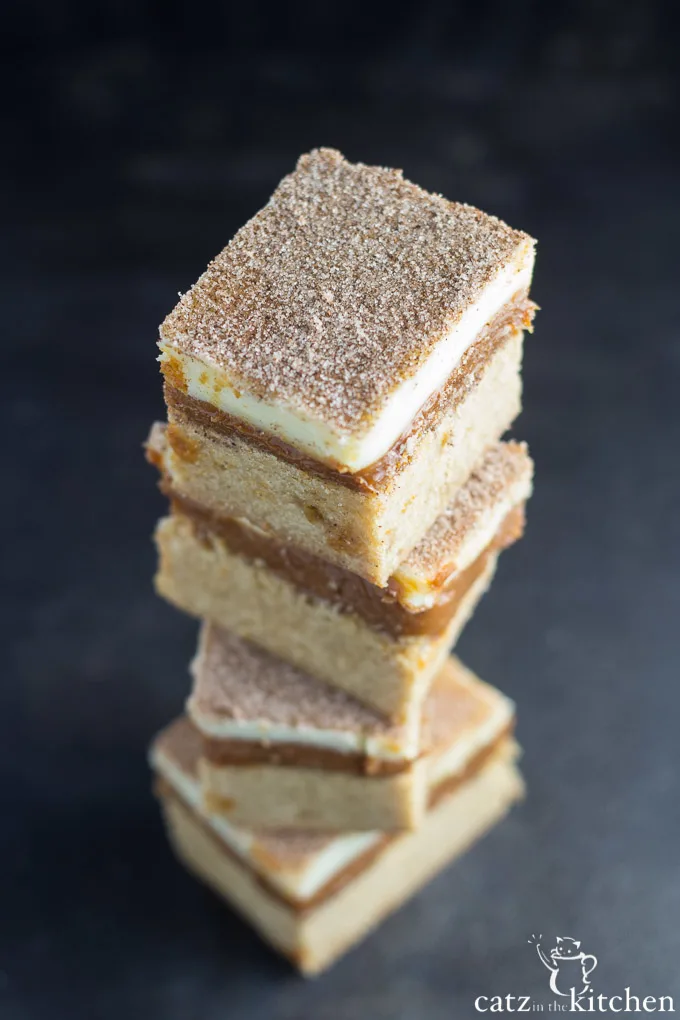 This is the first year since I was dating Josh (that's 12 years) that I've been able to attend the women's Bible study at our church. I've done some of the studies off and on over the years, but because of either where we were living, or young babies in the house, I never was able to make it work to actually go. In truth, part of that was an excuse – I just didn't want to make time for it – and the other part was truth. There have been times where it just wasn't a season for me to attend. But, I've been living seven miles from our church for awhile now, and I have the added blessing of the pastor's family being my family – meaning my father-in-law (the pastor) is more than happy to watch little Christian so the girls and I can attend the women's study!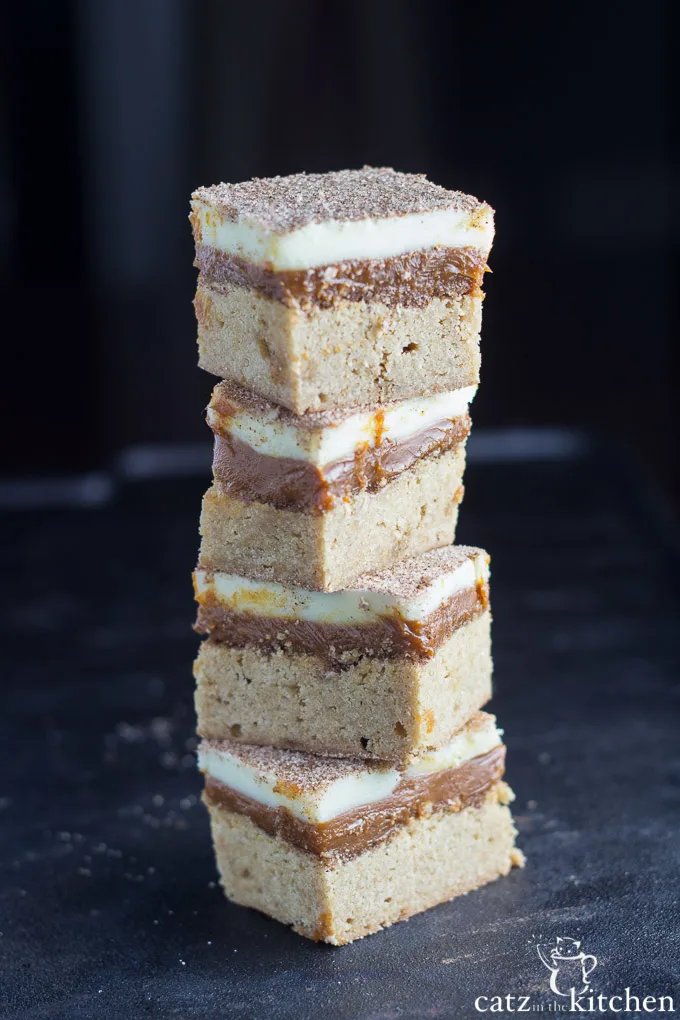 After I made the bars, I kind of started second-guessing myself. I mean this is a sweet treat, and while I love sweet things, I wasn't sure all the women would. But they loved them! Even Josh loved them, and I thought for sure he would say they were too sweet for him! But he thought they were perfect and that they tasted just like the cookie!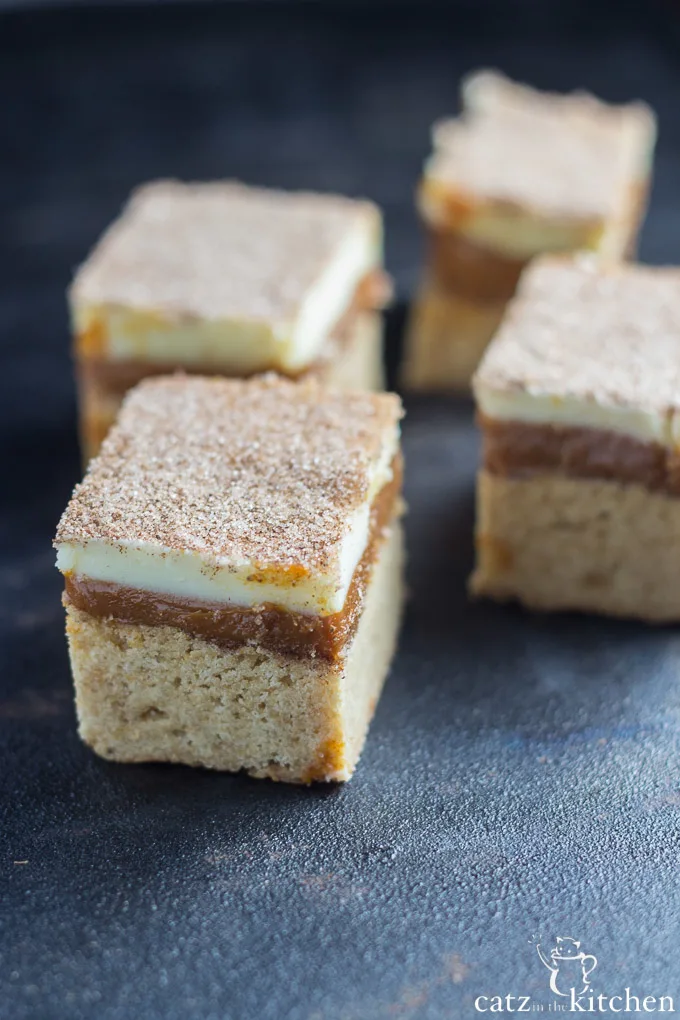 These are the kind of treat that you want to cut into smaller squares because a little bit goes a long way and they are rich. But, let me tell you – these are amazing and I am going to have to make them every Christmas season going forward!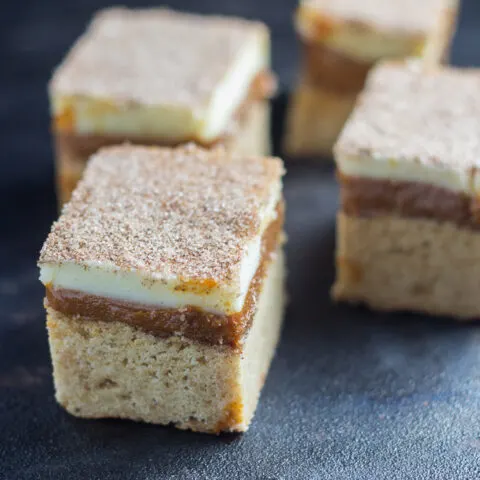 Caramel Snickerdoodle Bars
A perfect little blondie topped with caramel, cinnamon sugar, and white chocolate. These caramel snickerdoodle bars are unforgettable and totally festive for the holiday season!
Ingredients
1 cup buter, softened
2 cups packed brown sugar
2 eggs
2 tsp. vanilla extract
2 1/2 cups all-purpose flour
2 tsp. baking powder
1 tsp. salt
1/4 cup sugar
3 tsp. ground cinnamon
2 cans (13.4 oz each) Nestle dulce de leche
12 oz. white baking chocolate, chopped
1/3 cup heavy whipping cream
1 tbsp. light corn syrup
Instructions
Pre-heat oven to 350 degrees. Line a 9x13 baking dish with parchment paper, allowing the ends to extend over the sides of the pan by 1 inch.
In a large bowl, cream butter and brown sugar until light and fluffy. Beat in eggs and vanilla. In another bowl, whisk flour, baking powder, and salt; gradually beat into creamed mixture. Spread onto bottom of prepared pan- carefully. The batter is thick.
In a small bowl, mix sugar and cinnamon; sprinkle 2 tbsp of the mixture over the batter. Bake for 25-30 minutes or until the edges are light brown. Cool completely in pan on a wire rack.
Spread dulce de leech over crust. In a small saucepan, combine white baking chocolate, cream, and corn syrup; cook and stir over low heat until smooth. Cool slightly before spreading over the dulce de leech. Sprinkle with the remaining cinnamon and sugar. Refrigerate, covered, for at least 1 hour.
Lifting with parchment paper, remove from the pan. Cut into bars. Refrigerate leftovers.
Notes
Recipe from Taste of Home magazine
Nutrition Information:
Yield:

48
Serving Size:

1
Amount Per Serving:
Calories:

115
Total Fat:

5g
Saturated Fat:

3g
Trans Fat:

0g
Unsaturated Fat:

2g
Cholesterol:

10mg
Sodium:

77mg
Carbohydrates:

17g
Fiber:

1g
Sugar:

9g
Protein:

2g
Nutrition information isn't always accurate.