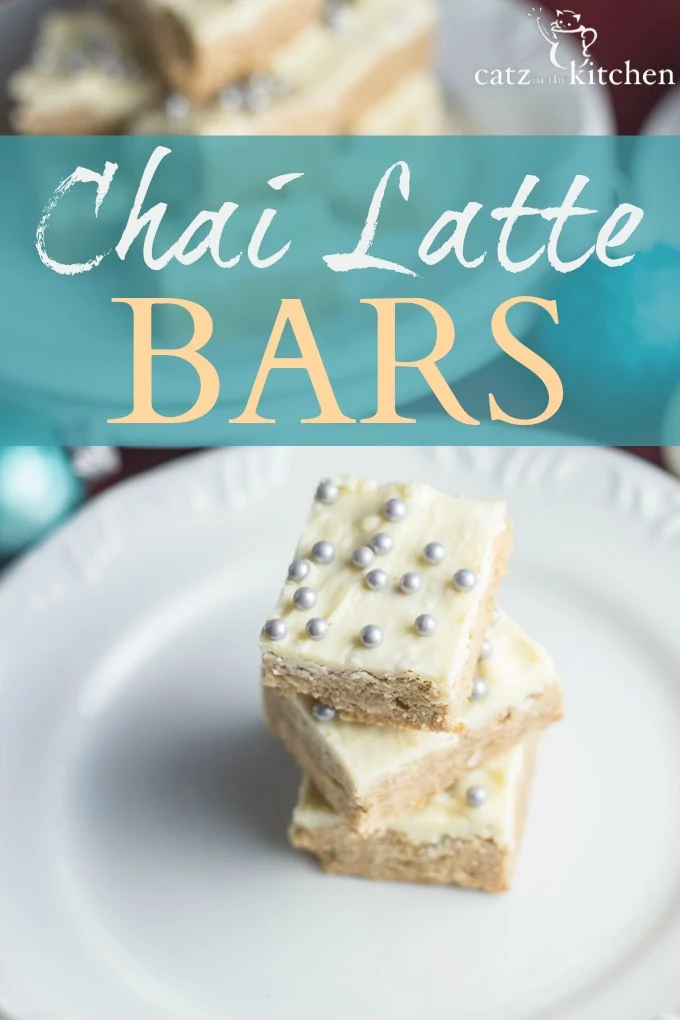 I rarely bake. It's just not my thing. I like to work over open flame (the grill is my favorite, but a gas stove will do), a panini grill, a griddle, or even a deep fryer. But a mathematical combination of ingredients inserted in the oven for a prolonged period of time amid fervent hopes and prayers that upon removal delectability will ensue? I want to tweak. I want to adjust. I want to sprinkle salt and drizzle olive oil.
But I do like to eat baked goods. Heck, who doesn't?
I generally don't have to bake treats in order to eat them. Chels bakes enough for both of us. She bakes enough for our entire block! Bless her.
Every so often, though, a baked treat will grab my attention. Chels was showing me holiday treat ideas from her Food Network Magazine, and I noticed these beautiful, simple little chai latte bars. As a flavor, chai has become very trendy – rather saturated in modern culture, actually. Be that as it may, I continue to enjoy chai tea (though not really chai lattes so much). The flavor is complex, a dynamic layering of spices that is seemingly sweet and spicy all at the same time. I love it.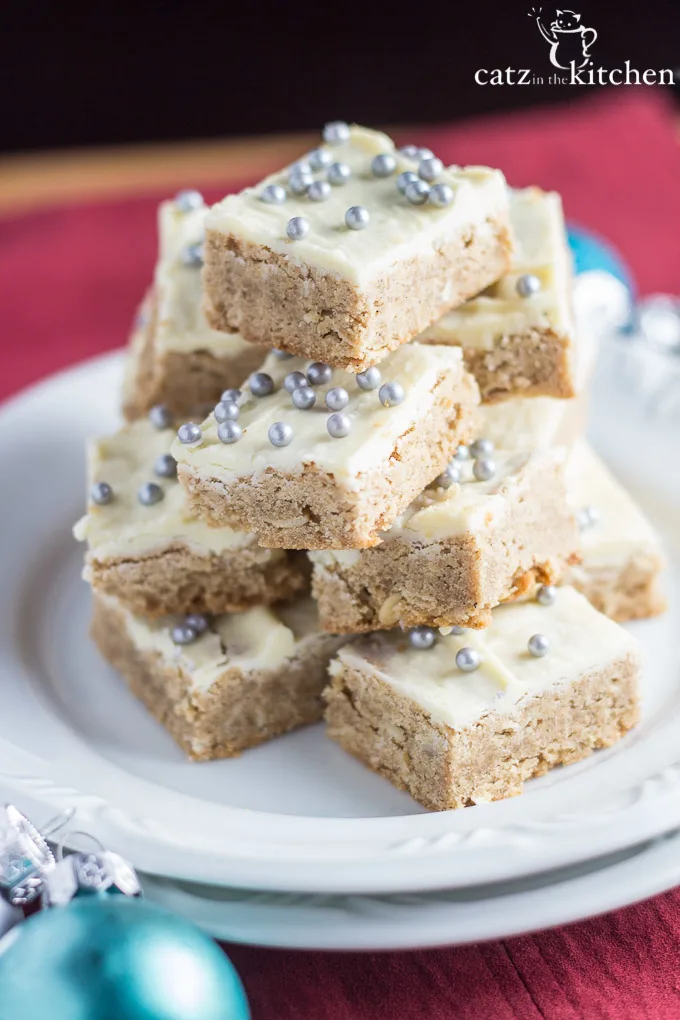 I was intrigued. How would the recipe author translate the flavors of chai to a baked treat? Were there teabags involved? Some sort of "chai latte spice" mixed and distributed by Spice Island? My curiosity was piqued, and I decided to undertake one of my rare forays into the wide, wild world of baking.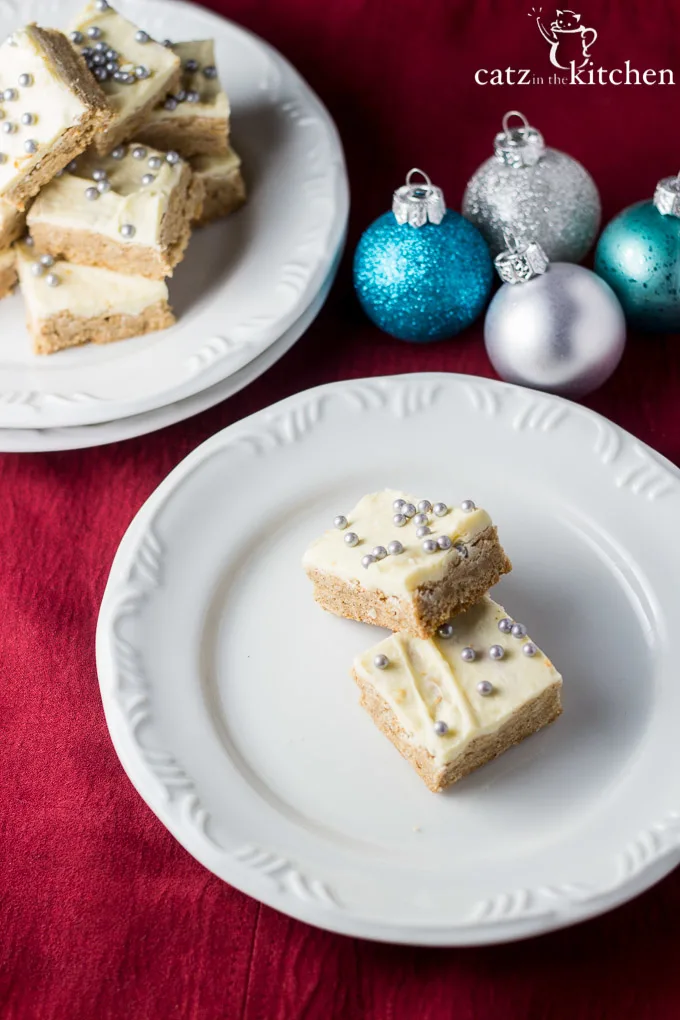 As it turned out, the answer was infinitely more satisfying. Unlike most baked treats, which are inevitably variations on butter, flour, and sugar, this recipe called for cardamom, cinnamon, ginger, cloves, and…wait for it…malted milk powder! All in the batter! In fact, refreshingly, the flavor emphasis was not on the frosting, as in many bars and brownies, but on the batter itself.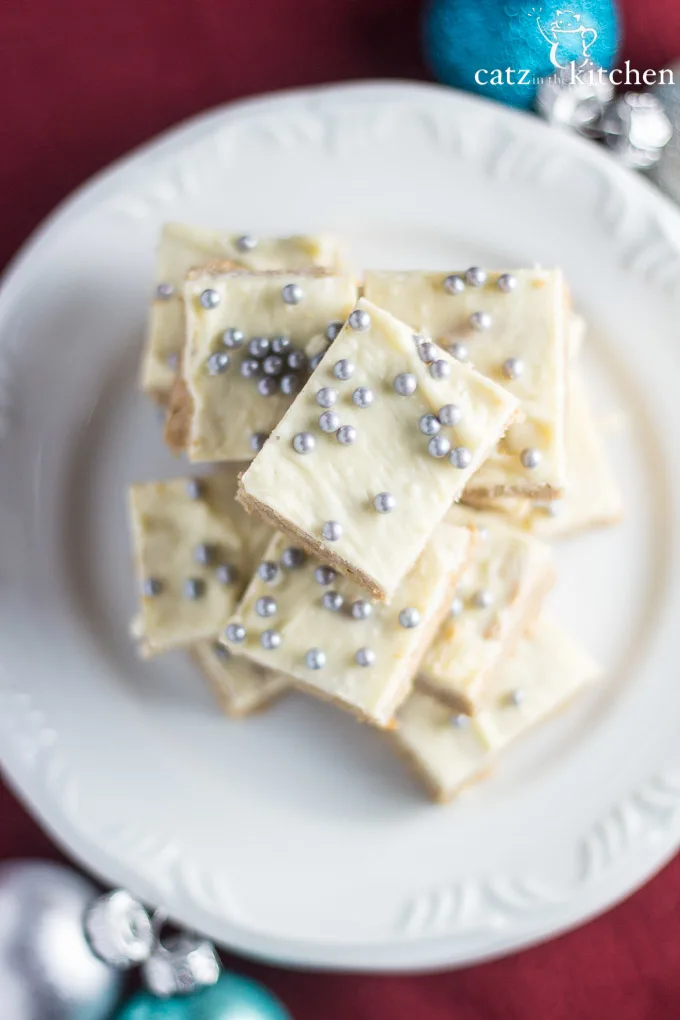 As I began to assemble the ingredients, the KitchenAid (a foreign and frightening machine to me for many years!) dutifully whipping the butter and brown sugar in ways I could only dream of achieving by hand, my large bowl of dry ingredients began to emanate a strong, familiar smell – the aroma of chai tea rose strikingly from the mixture of flour, oats, and spices under my spoon.
I LOVE the idea of adding so many flavorful spices to a baked dessert.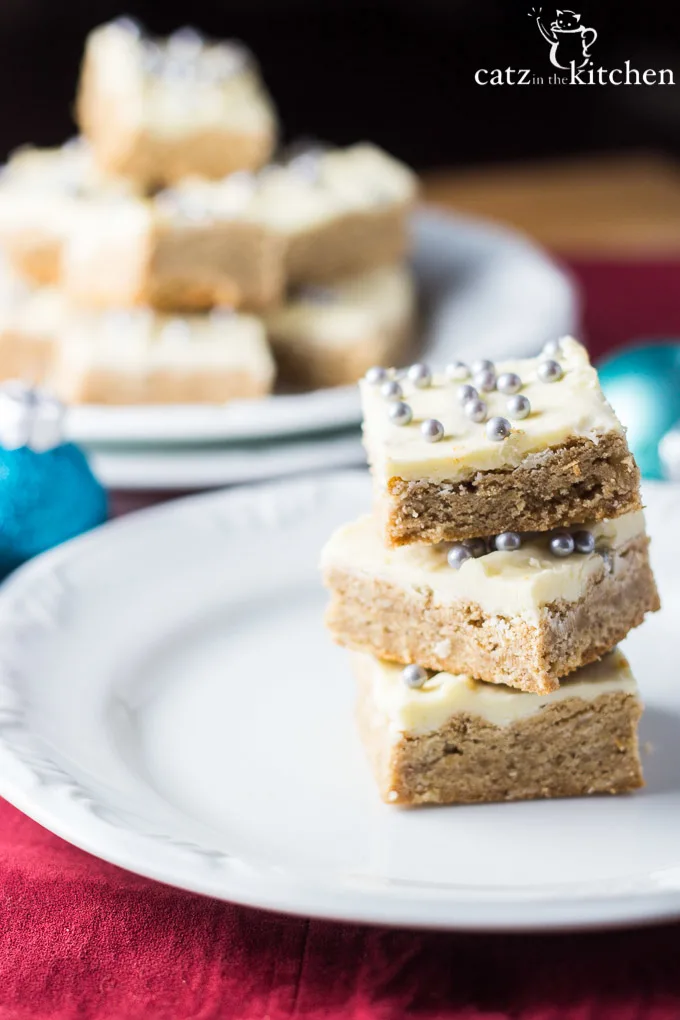 The end result was excellent – and decidedly different. Chels and I both tasted and mused, "Interesting…" But, after the first little bar had surprised and startled our tastebuds, we found we craved more! The spicy sweet flavor proved to be quite addicting. The topping is simple – it's just white Ghirardelli chocolate. And it's insanely good. Pseudo-Indian tea spices in a baked bar topped with San Franciscan cocoa blanca? Sign me up.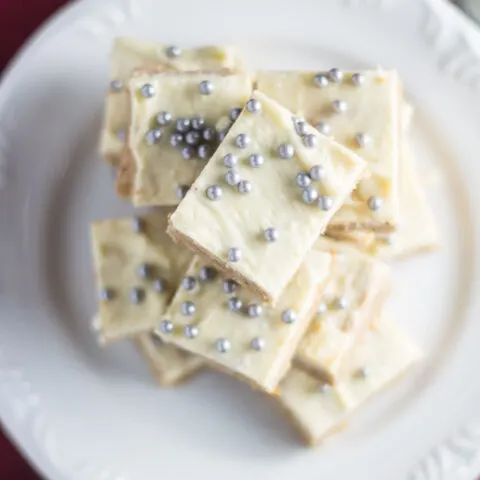 Chai Latte Bars
This recipe for Chai Latte Bars sweet-talks your tastebuds with an mildly exotic assortment of spices and a topping of pure white chocolate.
Ingredients
2 1/3 cups all-purpose flour
1/2 cup rolled oats
3 tbsp malted milk powder
1 tsp ground cardamom
1 tsp ground ginger
1 tsp ground cinnamon
1/4 tsp ground cloves
1/2 tsp salt
1 3/4 cups packed brown sugar
1 large egg
2 tsp vanilla
8 oz Ghirardelli white baking chocolate, finely chopped
1 cup (2 sticks) unsalted butter, at room temperature
2 tbsp sugar pearls for topping, if desired
more butter for pan
Instructions
Pre-heat oven to 350 degrees. Butter a 9x13 baking dish and line with buttered parchment paper, leaving an overhang to facilitate removing the bars after cooking.
Combine the flour, oats, malted milk, cardamom, ginger, cinnamon, cloves, and salt in large bowl.
Add butter and brown sugar to a large bowl in a stand mixer and beat until light and fluffy.
Add egg and vanilla and beat to combine.
Beat in the flour mixture on a lower speed until just combined.
Spread batter evenly in pan (over parchment paper).
When lightly browned and slightly pulling away from the edges of the pan (about 25 minutes), remove from the oven and sprinkle with the chopped white chocolate.
Return the oven immediately for about a minute, or until the chocolate is softened.
Remove from the oven and spread the chocolate evenly.
Sprinkle with sugar pearls while still warm. Allow to cool completely. Slice into squares and serve.
Nutrition Information:
Yield:

30
Serving Size:

1
Amount Per Serving:
Calories:

151
Total Fat:

4g
Saturated Fat:

2g
Trans Fat:

0g
Unsaturated Fat:

1g
Cholesterol:

9mg
Sodium:

57mg
Carbohydrates:

27g
Fiber:

1g
Sugar:

16g
Protein:

2g
Nutrition information isn't always accurate.