This fun, easy homemade sugared cranberries recipe is a great topping, snack, or even gift for the Christmas season!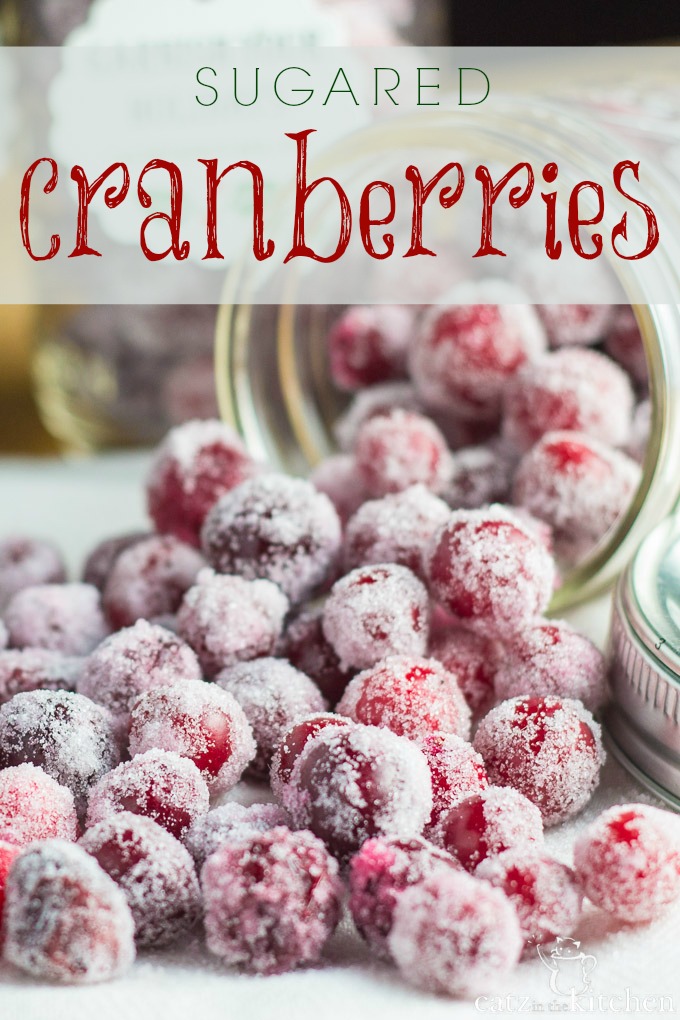 This post originally went up on Catz in Dec 2014. We've added an actual recipe card and updated things just a bit, so for those of you who missed it five years ago…here it is!
Hi guys, I've over at Evermine's blog today sharing this recipe for Sugared Cranberries! I don't usually share two recipes in one day (if you missed today's earlier post for some amazing Caramel Snickerdoodle Bars, then you should check it out), but with Christmas Eve tomorrow and Christmas the day after that, I want to make sure you are completely covered with holiday goodies!If you're looking for a last minute holiday treat for a salad or to top a Brie Bite with or even just to munch on, then you will want this recipe.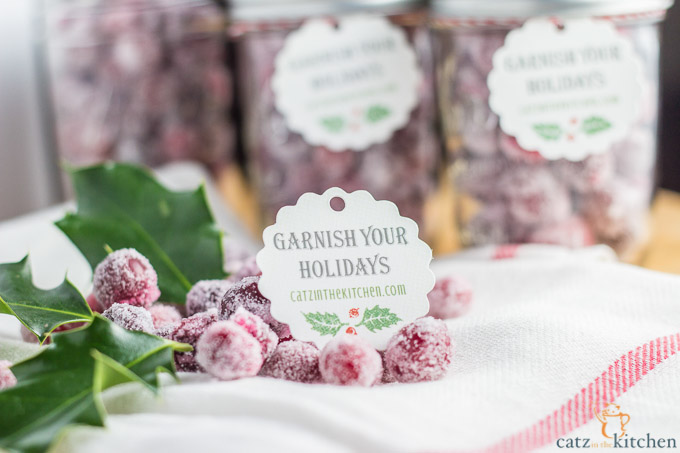 Sugared cranberries are such a simple little treat that don't take a lot of time at all, and you could easily have little hands help you if you have children in the home. I would have let Christian help me, but I think he would have helped eat them…and not so much make them.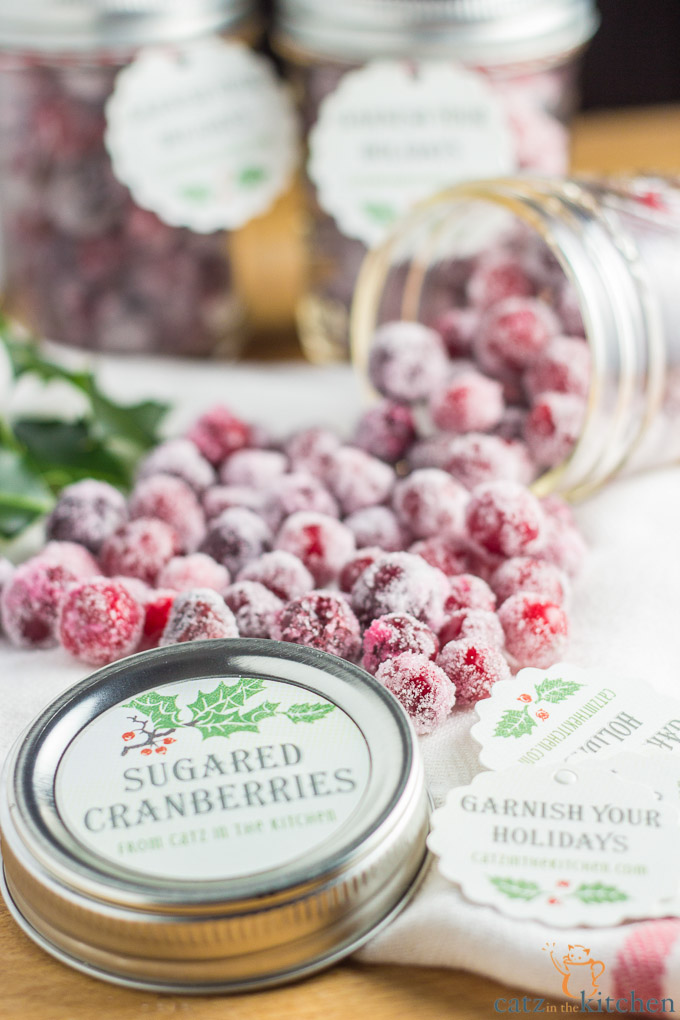 If you don't have time to make these in the next few days, then definitely make them for New Year's Eve. The sugar makes them look sparkly and shimmery, much like New Year's, and these would be such a fun addition to so many tasty baked goods – like cupcakes?
By the way, isn't this picture of Noel adorable? She often likes to join in on our photoshoots, so whenever she gets curious I always make sure we snap a pic of her. Ya know, cause Catz in the Kitchen? Get it? HAHA! I'm here all day, folks! LOL!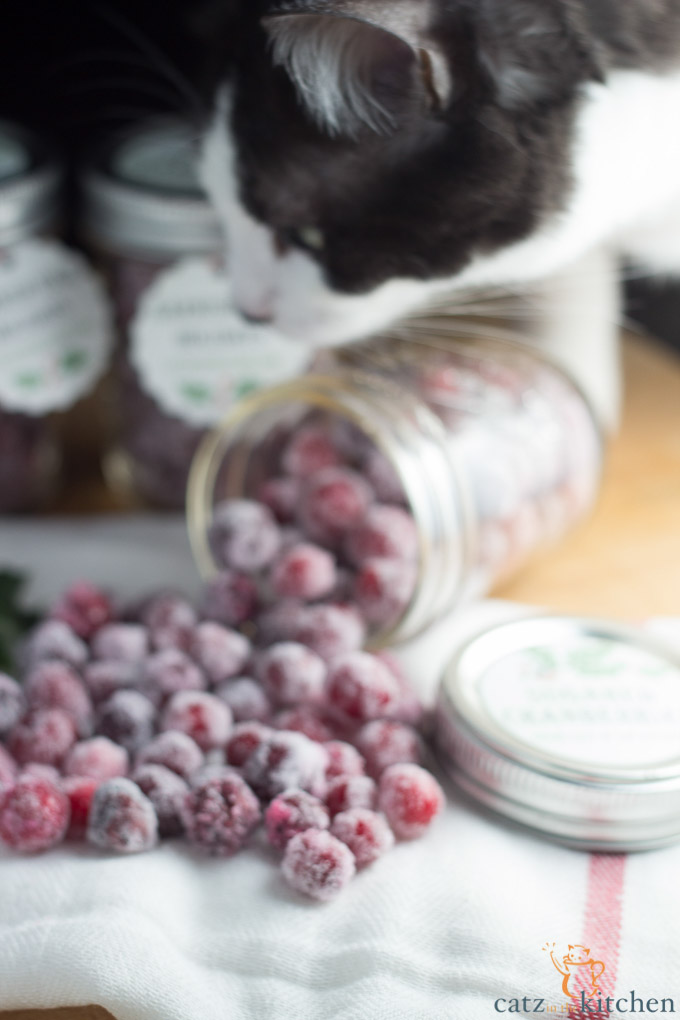 These sugared cranberries make a sweet homemade hostess gift, treat for a neighbor, or it just might be the finishing touch your cheese board needs. Such a simple treat that not only looks festive, but tastes jolly, too!
Sugared Cranberries
Total Time:
2 hours
15 minutes
This fun, easy homemade sugared cranberries recipe is a great topping, snack, or even gift for the Christmas season!
Ingredients
2 cups heaping fresh cranberries
1/2 cup water
1/2 cup sugar
3/4 cup sugar for rolling the cranberries in
Instructions
Combine the ½ cup water and ½ cup sugar in a pot and bring it to a simmer, stirring occasionally until the sugar has dissolved. Remove from heat and cool allow to cool briefly.
About one cup at a time, pour the cranberries into the pot, tossing to coat in the simple syrup and using a slotted spoon, remove the berries from the pot and allow the excess liquid to drip off.
Move the berries to a foil lined baking sheet that has a wire rack placed over it. The rack will catch the berries and its okay if some fall through. Allow them to dry for 1-2 hours.
In a shallow bowl, pour the 3/4 cup sugar in it and a handful at a time, rolls the cranberries through the sugar, making sure they are equally coated and move them back to the wire rack. Repeat this process until all the berries have been rolled in sugar.
Store the berries in an airtight container. These will keep for up to one week in the fridge.
Nutrition Information:
Yield:

8
Serving Size:

1
Amount Per Serving:
Calories:

139
Total Fat:

0g
Saturated Fat:

0g
Trans Fat:

0g
Unsaturated Fat:

0g
Cholesterol:

0mg
Sodium:

2mg
Carbohydrates:

36g
Fiber:

1g
Sugar:

33g
Protein:

0g