This Chicken Cordon Bleu Burger recipe has it all. Ready in 30 minutes. Swiss cheese, ham, apple chutney, and chicken – all for 560 calories! MUST. EAT.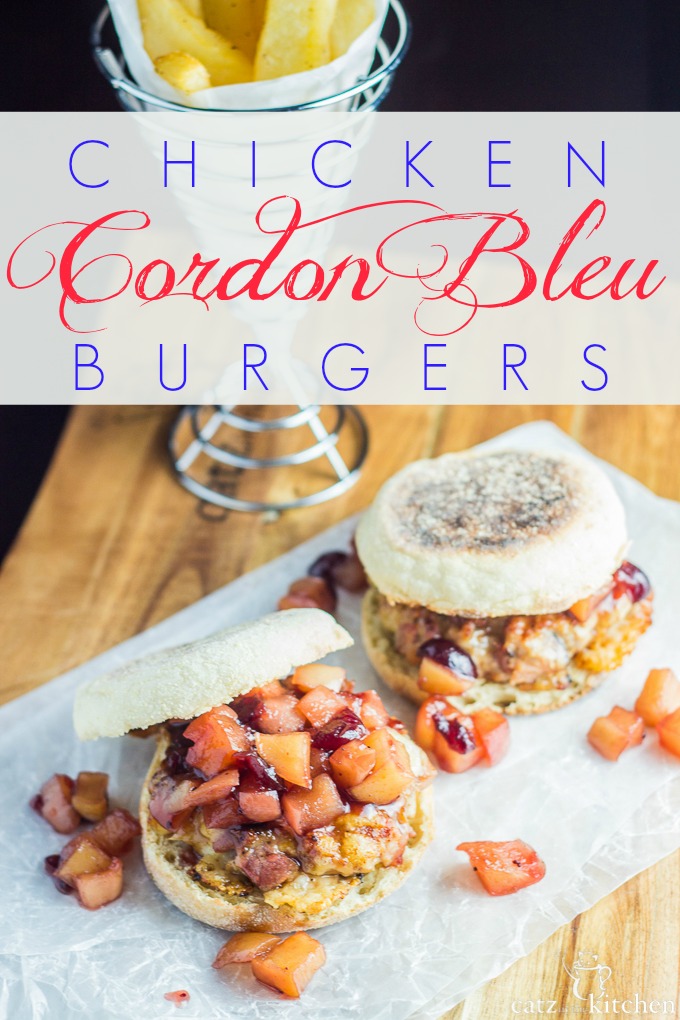 You guys, I have a confession to make. I've actually already shared this recipe with you. Many moons ago, when I was just a food blogger starting out and taking really bad pictures of food and not even thinking about food styling or if it even looked good. I was a "snap & go" (don't confuse this with the bend & snap – hey, name that movie) kind of girl.
Out of pure embarrassment, I deleted the post a few months ago because I just couldn't bare the sight of the pictures and having readers scrolling through my recipe archive and coming across this post and so, so, so many others! Truth be told, I would still be deleting all of those bad-pictured recipes if it weren't for Josh telling me that every time I do that, I'm creating more work for him in fixing something called "broken links."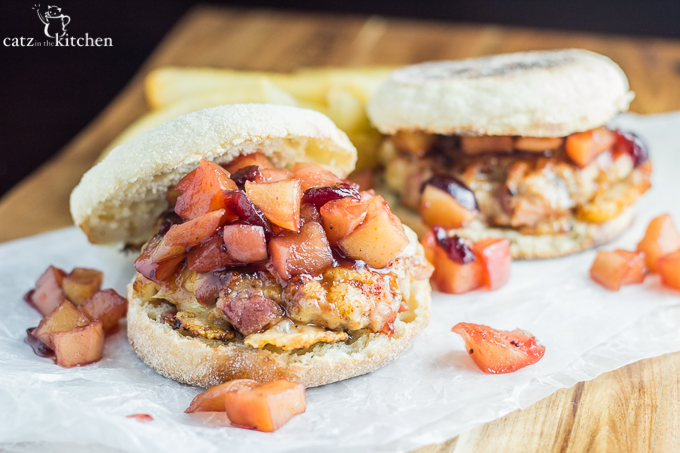 Josh, if you are reading this (which I'm sure you will because you have to go back into every post I write and edit all of my grammar/punctuation mistakes – I'm a type & go kind of girl, people), I just want to apologize from the bottom of my heart for creating more work for you. I'm only simply playing out the role I was made for by being a woman. We create work. Hey, you don't hear me judging you because you open the fridge looking for a bottle of hot sauce and shut the door immediately because you can't find it (Actually, I take that back. You do. I make snarky comments all the time about your lack of spending more than five secs searching for said hot sauce).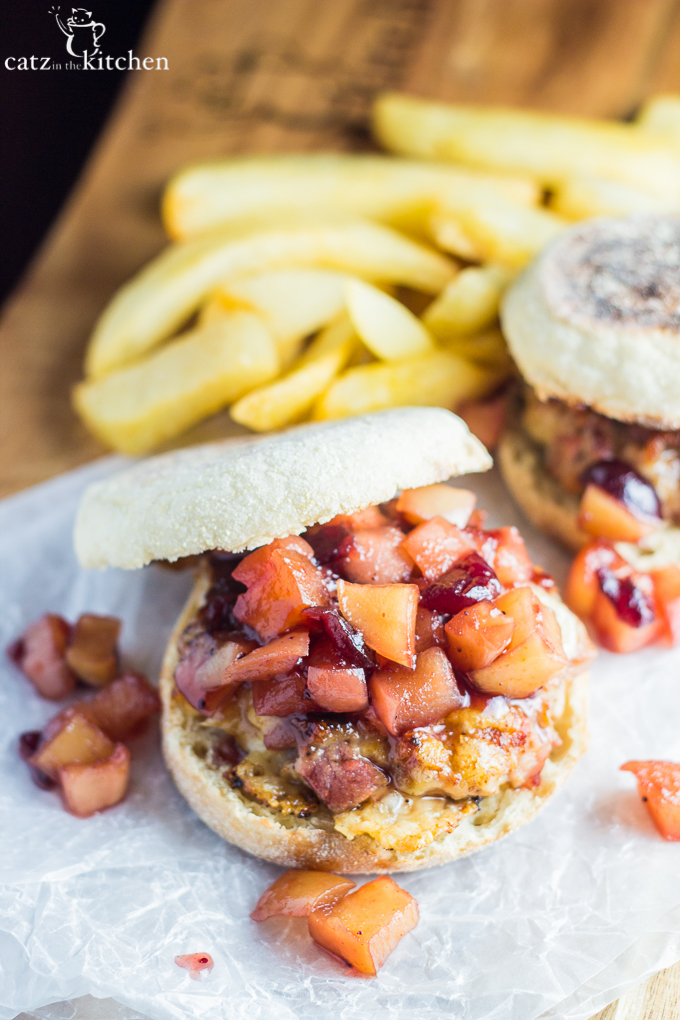 Actually, I tease you for that and for not being a stalker at the mall when trying to find a good parking spot and you know what. Just going to stop now. Love you! Thank you for fixing all the broken links that I created over the years!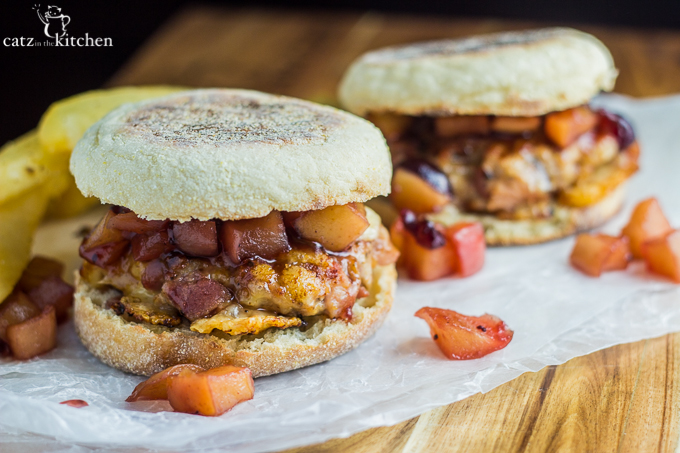 Okay, now that I've put my foot in my mouth (ew, who really does that and how did that ever become a thing?), I'm going to talk about these burgers. So, we're past the point of me dishing on why I deleted the post in the first place. These burgers are amazing! I remember the first time I made them for Josh. We were living in a rental house that had my favorite kitchen of all the places I've ever lived and I had some leftover honey baked ham that my dad had sent us for Christmas. I knew that chicken cordon bleu being one of Josh's favorite dinners, and one I've never really made, that this version would be amazing! Wow – was that a run on sentence if I ever saw one. (Editor's note: Corrected.) Leave that sentence there, Josh! It adds personality to the post. Personality is way more important than punctuation! (Editor's note: Yeah, no.)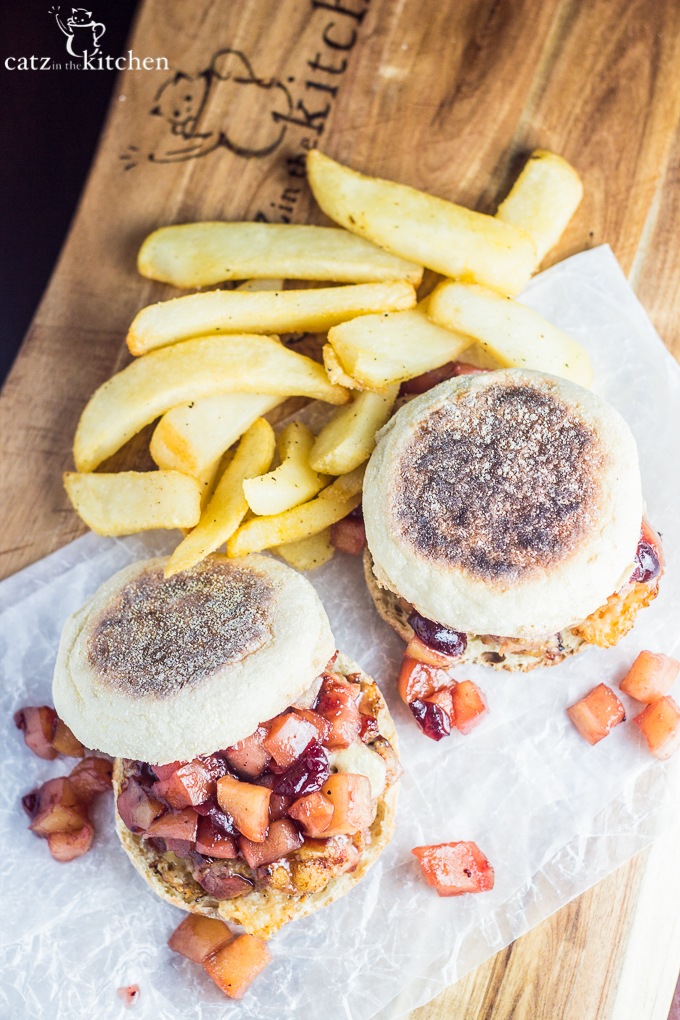 If you've got a grill pan, I highly suggest you use it, though pan frying will work, too. The swiss cheese that gets mixed into the chicken just creates the most delicious cheese pockets when you bite into them. The apple chutney is sweet and savory and adds that texture and moistness the burger needs. The English muffin is a just a fun replacement for a regular old burger bun. This burger is whimsy and tasty and I promise you will never ever regret making this burger!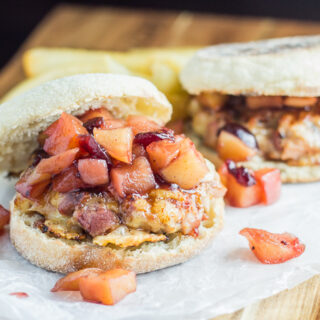 Chicken Cordon Bleu Burgers
This Chicken Cordon Bleu Burger recipe has it all. Ready in 30 minutes. Swiss cheese, ham, apple chutney, and chicken - all for 560 calories! MUST. EAT.
Ingredients
For the burgers
3 slices ham 1/4-inch thick, diced into cubes
1 (4 ounce) chunk of swiss cheese, diced into 1/4-inch cubes
1 1/4 lbs ground chicken breast
2 sprigs thyme, chopped
2 tbsp grill seasoning
6 English muffins
For the chutney
4 apples, cored and chopped-we used gala
1/4 cup apple cider vinegar
1/2 light brown sugar
1/2 tsp ground nutmeg
1/2 cup whole-berry cranberry sauce
Instructions
In a small saucepan, cook the apples, cider vinegar, brown sugar, and nutmeg until the apps are soft, about 10-15 minutes. Once the mixture has reduced and is thickened, add in the cranberry sauce. Allow to sit while you make the burgers.
In a large bowl, combine the ham, cheese, chicken, thyme, and grill seasoning and season with salt and freshly ground pepper. Once mixed together, flatten the meat in the bottom of the bowl and score into 6 equal parts. Form patties about 1-inch thick. (You can use a burger press for this too).
Pre-heat a large non-stick skillet or grill pan with 2 tbsp of extra-virgin olive oil, Add the patties and cook for 5-6 minutes on each side or until cooked through.
Place each burger on a toasted english muffin, top with some of the apple chutney and serve with fries or potato chips.
Notes
Original recipe by Rachael Ray
If using standard size english muffins, you can get 6 burgers out of the meat. If you have larger english muffins, I would score the meat to make 4 burger patties instead of 6 patties.
Nutrition Information:
Yield:

6
Serving Size:

1
Amount Per Serving:
Calories:

595
Total Fat:

19g
Saturated Fat:

7g
Trans Fat:

0g
Unsaturated Fat:

10g
Cholesterol:

140mg
Sodium:

2224mg
Carbohydrates:

68g
Fiber:

7g
Sugar:

31g
Protein:

40g
Nutrition information isn't always accurate.